Floyd Mayweather: 4 Games Being Played in the Mayweather Sweepstakes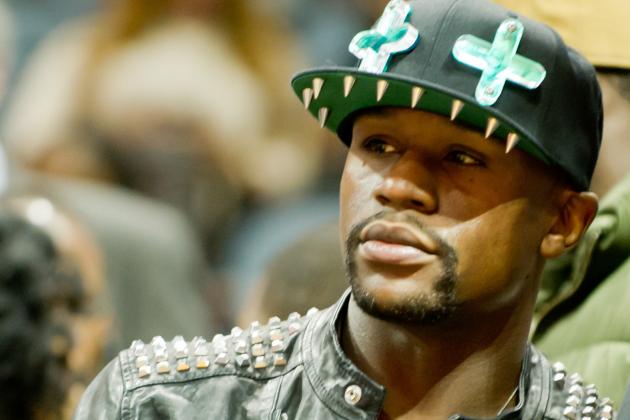 Kevin Liles-USA TODAY Sports
Floyd Mayweather waiting in the wings for his next ring foe.
A fight with Floyd Mayweather is the highest prize in boxing simply because it's the biggest payday in boxing.
It's also a chance to beat the man whom pound-for-pound experts have been looking for someone to beat for years now.
And now that Mayweather is locked into a six-fight deal with CBS, his next few opponents are being mapped out in elaborate strategies to hype the next ring foe.
It usually takes an effectively convincing victory to sell Mayweather's latest victim as someone who can threaten his perfect record.
Find out here what fight games are being played to try to nail down Mayweather's next logical opponent.
Begin Slideshow

»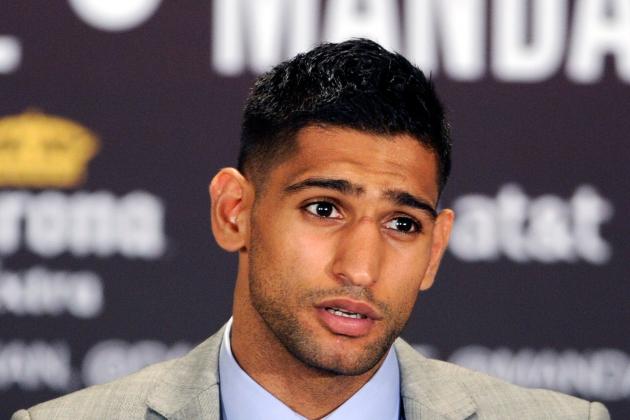 David Becker/Getty Images
Amir Khan doing his best Regis Philbin impersonation.
When Golden Boy Promotions put together a tournament featuring four very hungry and talented young junior welterweights, they dangled one prize: a multimillion-dollar clash with British star Amir Khan.
Due to his U.K. fanbase, Khan is clearly the biggest payday available at junior welterweight.
The winners of an April 27 clash between Danny Garcia vs. Zab Judah and a May 18 clash between Lamont Peterson vs. Lucas Matthysse will fight in the finals sometime in September.
Now what does this all have to do with Mayweather? Simple. The winner becomes a highlight-reel-packed young gun who's battle tested against the best competition available.
Between the action-packed fights and the story of going through such a gauntlet of talent, whoever wins this tournament will be an easy sell against Mayweather during a possible fight in 2014.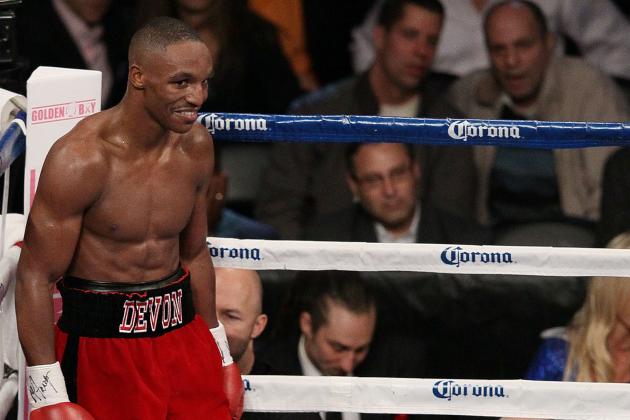 Alex Trautwig/Getty Images
Will Devon Alexander make the right deal?
Devon Alexander was mentioned by Floyd Mayweather on Twitter one slow afternoon in boxing news as the original front-runner for a May 4 clash this year, and the Internet exploded with opinions on it.
The mention that IBF welterweight champ Alexander might be getting the opportunity over a perceived better challenge in Robert Guerrero ruffled some feathers.
But with Alexander's latest defense coming on May 18 against a talented, undefeated British rising star in Kell Brook, Alexander may be able to land the signature victory that has seemed to allude him.
Guerrero's pounding and disfiguring of Andre Berto's face is the signature win last November that earned Guerrero his shot. If Alexander can clearly dominate or, better yet, stop Brook, he could land the deal.
On the flip side, if Brook stops Alexander, he may be in line for a big-money clash. Whether that clash will be against Mayweather is questionable. British rival Amir Khan is making his welterweight debut soon.
On April 27, Khan will test the welterweight waters at a catchweight of 143. If he feels comfortable and Brook defeats Alexander for the IBF title, a deal could be in place to match the two Brits.
Though Mayweather isn't signed to Golden Boy Promotions, he often works extensively with the company, meaning they will prefer to have him face one of their fighters.
While Golden Boy promotes Alexander and Khan, Brook is not one of them. Should Brook defeat Alexander, Khan will be given to Brook in hopes of snatching the title back for Golden Boy.
But the Khan-Brook fight would instantly sell out a stadium and present Mayweather with a bona fide ticket seller in England, which is a place where he wants to fight at some point.
No matter who holds the IBF title by the end of 2013, be it Alexander, Brook or Khan, he will have certainly notched a notable enough victory to become a possible Mayweather opponent.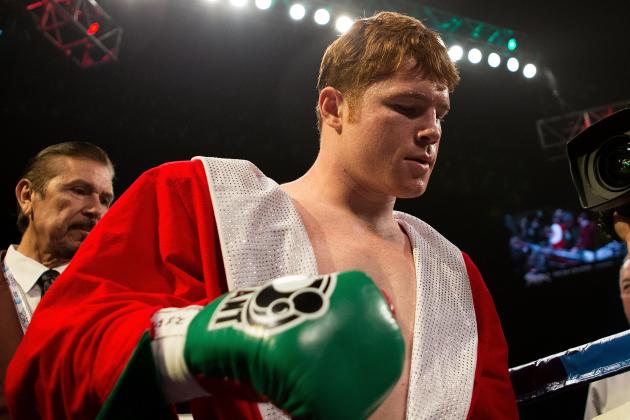 Josh Hedges/Getty Images
Saul "Canelo" Alvarez will risk his "0" to take Austin Trout's "0."
When two undefeated world champions as talented as Saul "Canelo" Alvarez and Austin "No Doubt" Trout step up against each other to put their "0's" in jeopardy, the world takes notice.
The two junior middleweights clash on April 20 in San Antonio at the famous Alamodome. The winner will become a clear front-runner to face Mayweather as early as this September.
With Mayweather's past four opponents, they were each either coming off a big upset win over an Al Haymon-managed fighter or a popular Mexican.
No matter who wins between popular Mexican Canelo Alvarez or Al Haymon fighter Trout, he will fit in line with that trend.
The only possible problem with this fight is that it's a junior middleweight fight, a weight Mayweather hasn't looked his best at the two times he's ventured there.
In his first visit north to 154 pounds, Oscar De La Hoya gave Mayweather the only split-decision victory of his whole career, the first time he lost on any scorecard.
Upon his second visit last year against Miguel Cotto, Mayweather lost arguably four rounds and had a rare bloody nose during the encounter. Now that he's defending his 147-pound title, he may remain there.
The pound-for-pound king may not want to put himself in jeopardy again with another weight gain. Only time will tell if he's willing to head north at least one more time.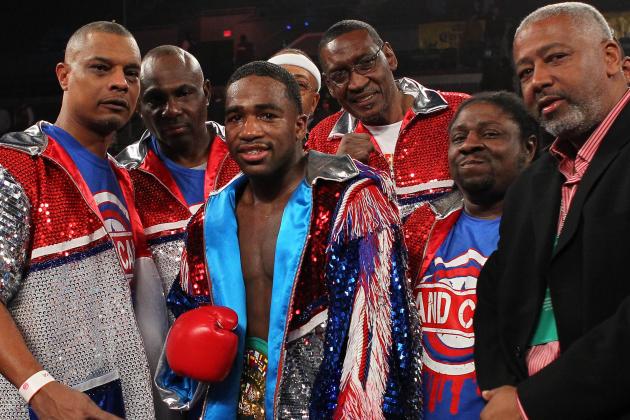 Ed Mulholland-USA TODAY Sports
Adrien Broner and his fight-night crew
Adrien Broner is a talented student who's always looked up to his teacher Mayweather. Mayweather has publicly expressed approval of Broner as a pupil and future star.
The two say they won't fight, but they're prize fighters, and if the price is right, they'll do battle. The only reason they're holding back is Broner's popularity is still growing.
When it peaks, this fight can and will happen. With his recent ascension from the lightweight division immediately two divisions up to the welterweight division, Broner is clearly seeking something.
Golden Boy, who promotes Broner, is looking to move him into the same division as Mayweather in order to see how much they can make audiences clamor for the inevitable showdown to happen.
Rising stars need to defeat fading stars to propel their careers to the next level. Mayweather beating Oscar De La Hoya did that for his career. Broner will aim to use Mayweather for the same.