Penn State Football: Power Ranking Nittany Lions with Best NFL Potential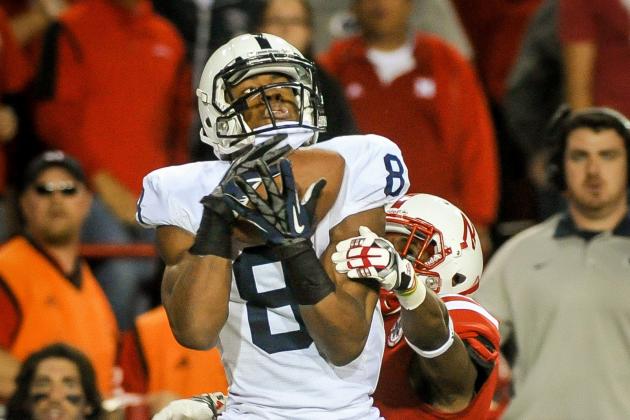 Eric Francis/Getty Images

With the NFL Draft just one month away, former Nittany Lions like Jordan Hill and Gerald Hodges will be hoping to hear their names called sooner rather than later.
And considering the impending hype surrounding the draft, it's worth looking ahead a bit to those with NFL potential on the current Penn State football team.
Sure, recruits like Adam Breneman and Christian Hackenberg could eventually be thinking of the NFL—especially with Bill O'Brien's track record with quarterbacks.
But while there are multiple players with professional aspirations, the following list features the five players on O'Brien's roster with the most NFL potential midway through spring camp.
So, let's take a look.
Begin Slideshow

»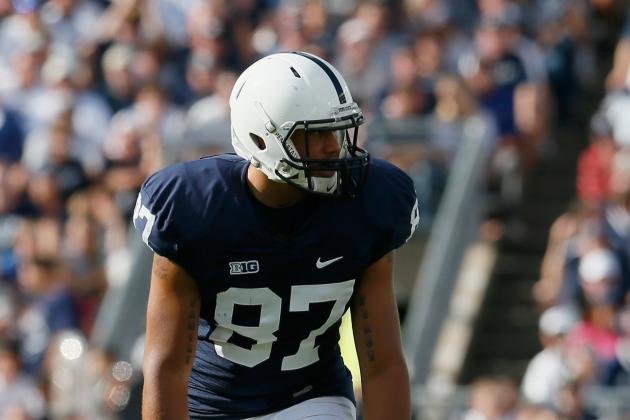 Rob Carr/Getty Images

Even though he's split out wide in the inset photo, Kyle Carter is now wide receiver—even if he looks the part.
A freshman last season, Carter stepped up in O'Brien's offense, catching 36 passes for more than 450 yards and collecting First Team All-Big Ten honors by the end of the season.
Standing at 6'3'', Carter creates serious mismatches for cornerbacks and has the elusive quickness to beat linebackers off the snap.
Penn State hasn't traditionally used the tight end position as an offensive weapon—at least not since Andrew Quarless and Mickey Shuler, Jr. in the "spread HD" late in the 2008 season.
However, that success was short-lived until O'Brien and his tight end-heavy scheme came to Happy Valley.
Demonstrating his success at implementing tight ends in New England with Aaron Hernandez and Rob Gronkowski, O'Brien has shown he can help develop premier tight ends.
That experience, coupled with the sheer physical prowess of Carter, points right in the tight end's direction.
Don't be surprised if he's playing on Sundays in two years or so.
Eric Francis/Getty Images

After being a featured starter in the secondary last season, Adrian Amos is ready to take on the leadership role former Penn State cornerback Stephon Morris left open.
Not only does he have leadership potential, but Amos also possesses the superb athleticism able to get him to professional football.
Amos stands at a lanky 6'0'' on the corner and exhibited his competence in reacting to the ball in the air.
Even though he may need work in straight-up coverage, newly-promoted defensive coordinator John Butler knows what he's doing with the secondary and can help Amos get to the next level.
It obviously depends on how he progresses this offseason and throughout the 2013 season, but Amos has the attributes to get him in the NFL if he keeps at it.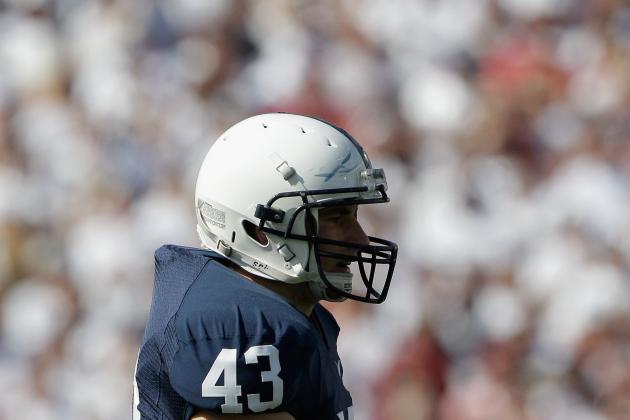 Rob Carr/Getty Images

After choosing to stay at Penn State following the sanction announcement, Mike Hull quietly propelled himself into a fourth "starter" role in the linebacking corps last season.
Playing on the outside behind Michael Mauti and Gerald Hodges, Hull was surrounded by good company but still shined in his time on the gridiron.
Also, he comes from a football-heavy family, which includes his dad, Tom, who played linebacker at Penn State and for the San Francisco 49ers and Green Bay Packers at the next level.
Not only that, but let's also remember what the football team's nickname is.
"Linebacker U" has seen quite a few hard hitters go on to NFL careers, including current pros Dan Connor, Sean Lee, Tim Shaw, Paul Posluszny and NaVorro Bowman.
Penn State linebackers coach Ron Vanderlinden knows how to produce cerebral backers ready for the next step.
Expect Hull to follow his predecessors.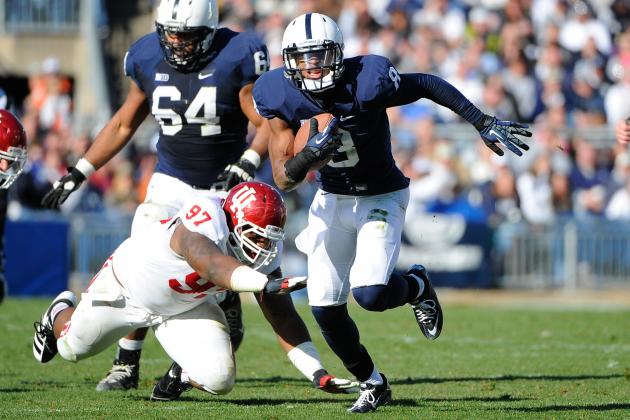 Rich Barnes-USA TODAY Sports

Unlike linebackers, wide receivers at Penn State haven't fared too well in searching for NFL employment.
Currently, the Lions have only four wide receivers in the NFL: Bryant Johnson, Derrick Williams, Deon Butler and Jordan Norwood.
That considered, pro wideouts from Happy Valley aren't a normal product.
Allen Robinson can buck that trend.
Robinson, who broke out for an incredible year in 2012, went from having three receptions before the season to a First Team All-Big Ten selection by year's end.
Before thinking about the NFL, Robinson has to keep a solid head on his shoulders, stay focused and contribute the same numbers and impact he did last season.
But, to put it in simplest terms, Robinson is a bona fide stud.
Whether it's leaping over cornerbacks or adjusting mid-air to snag a seemingly uncatchable pass, Robinson has all the makings of a potential early round selection in a year or two.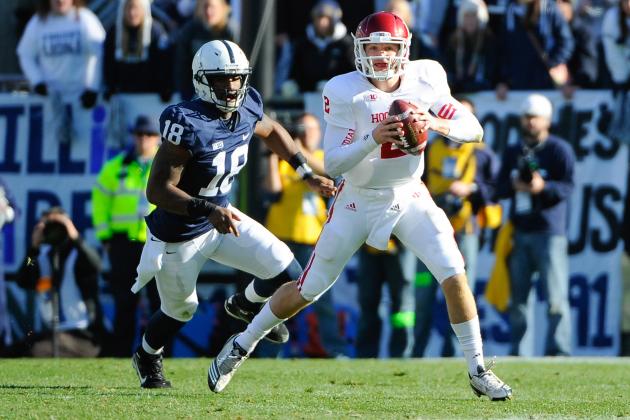 Rich Barnes-USA TODAY Sports

Chasing down the quarterback and causing havoc in the backfield is what defensive end Deion Barnes does best, and it shows in his stat line.
Barnes, a redshirt freshman last year, led Penn State in sacks and drug down ball carriers 10 times for a loss in 2012. Those numbers should only skyrocket this season.
Bursting onto the scene after injuries to veteran linemen, Barnes took advantage of his chances on the field to establish his pass-rushing ability.
In terms of accolades, Barnes rightfully earned First Team Freshman All-American honors last season.
Now, to complete the package of a potential first or second-round pick, Barnes needs to become more disciplined and not over-commit on trap plays and the like.
But, Barnes should be off to the NFL in a couple of years if defensive line coach Larry Johnson Sr.'s track record is any indication.
Current NFL linemen and linebacker hybrids like Jared Odrick, Cameron Wake, Tamba Hali and Aaron Maybin have had success, so why can't Barnes?
If he's able to have another prosperous year, bulk up a bit and continue using his quick hands to make plays in the backfield, the NFL shouldn't be out of reach for Barnes.