Are This Year's Steelers Better Than Last Year's Steelers?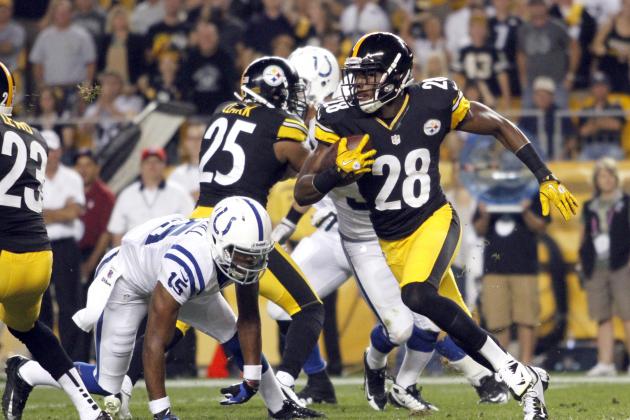 Justin K. Aller/Getty Images
Cortez Allen is one reason to be excited about the 2013 Pittsburgh Steelers.
One could argue that the 2012 Pittsburgh Steelers were one of the most talented teams in the league. When healthy, they appeared to be one of the strongest competitors in the AFC and a legitimate Super Bowl contender.
But then injuries to their offensive line—Ben Roethlisberger, Troy Polamalu, Ike Taylor and others—began to pile up and it became too much for the Steelers to overcome.
As a result, the team faded out of contention and had their worst season since they finished at 8-8 in 2006.
So while on the surface it may seem as though the Steelers are in a rebuilding mode from their 8-8 record in 2012, they are in reality just retooling their roster.
Assuming everyone is healthy to begin the season, the Steelers will have eight returning starters on offense and eight returning starters on defense.
While a lot of work for the Steelers' front office remains to be done, it is never too early to evaluate where the team stands heading into the 2013 season.
The Steelers still have free agency and the draft to upgrade their roster, but in its current state, how does it stack up to the 2012 roster?
I will examine six new starters and how they compare to the starter in 2012 and then evaluate whether or not the 2013 Steelers are in a better position than last year's Steelers.
Begin Slideshow

»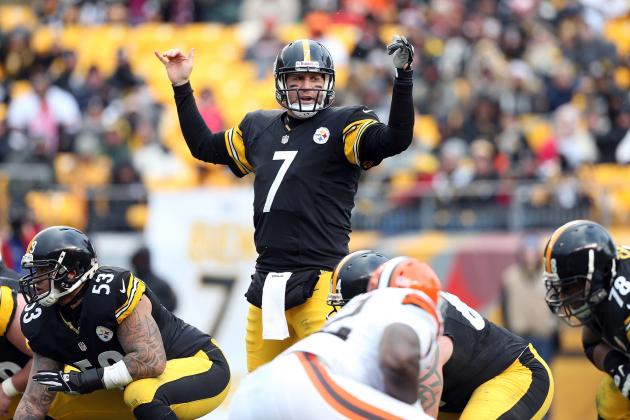 Karl Walter/Getty Images

Ben Roethlisberger has struggled with late-season injuries the past two years, which have negatively impacted his play. But he will be healthy to begin his second season in Todd Haley's offense and could be in position to have the best year of his career.
In front of Roethlisberger are Maurkice Pouncey, David DeCastro and Mike Adams. I am evaluating all three returning starters based on their experience last year.
Pouncey is established at center while DeCastro finished the year starting at right guard. Adams played well when he took over for an injured Marcus Gilbert at right tackle and would have finished the season there if not for a season-ending ankle injury.
As long as DeCastro and Adams develop and begin to reach their potential, the offensive line has a chance to be quite good.
The biggest concern will be the playmakers at offense, as Heath Miller will be coming off of an ACL injury and may not be ready for the season, meaning that David Paulson will start.
That will put a lot of pressure on Antonio Brown to improve as the top option for Roethlisberger.
In the backfield, Jonathan Dwyer established himself as the team's starting back last season and should be the starter heading into next year. With a good line, Dwyer could easily hit 1,000 yards if he is the full-time starter. Will Johnson should once again be his lead blocker.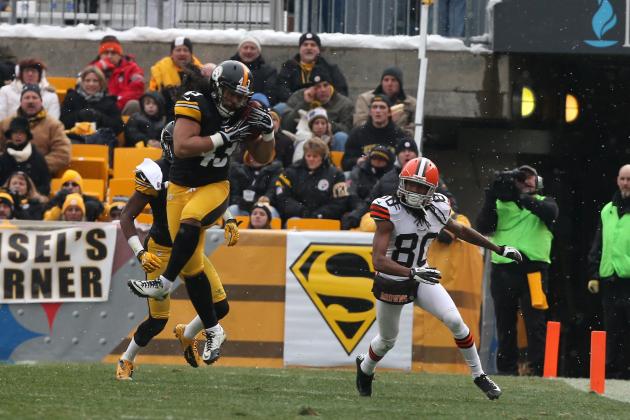 Karl Walter/Getty Images

Ziggy Hood and Brett Keisel will be expected to anchor the defensive line without Casey Hampton in the middle.
Hood has struggled in his career so far, but he may step up his play considering this is a contract year.
On the opposite side of the line, Keisel is a solid player whom the Steelers can count on, and they also have Cameron Heyward, who should receive a significant amount of snaps this season.
Besides James Harrison, the Steelers linebacker corps remains largely intact with LaMarr Woodley coming back at full strength and Lawrence Timmons and Larry Foote in the middle.
If healthy, Woodley's play should be much better than last season, and Timmons is playing some of the best football of his career and could be even better next season.
The Steelers will also be getting Troy Polamalu and Ike Taylor back to health, which will help boost an already strong defense.
Even at their old (for the NFL) age, Polamalu and Taylor are two of the best defenders on the roster and, combined with Ryan Clark, will give the Steelers one of the best secondaries in the league.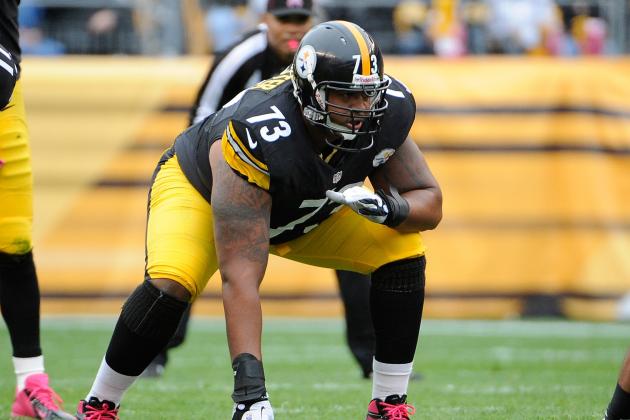 Joe Sargent/Getty Images

In a rather surprising move, the Steelers were able to lock up Ramon Foster for three more seasons. As a result, they were able to release their starting left guard, Willie Colon.
Colon transitioned from right tackle to left guard last season to accommodate the Steelers' depth on the outside. The team felt Colon's power, ability to move and nasty demeanor would be a good fit on the inside.
But the move didn't turn out to be as good as the Steelers had hoped.
Colon never developed into the dominant guard the team thought he could be before suffering a knee injury that would plague him through the final six games of the season.
Injuries aside, Colon had other struggles that held him back from becoming a dominant guard.
The main issue with Colon was penalties. He had 10 penalties for 82 yards last season, including three false starts and seven holding penalties. He also allowed four sacks for 25 yards.
By comparison, Foster only had one false start and one holding penalty while allowing four sacks for 27 yards.
Foster may not have the same athleticism as Colon, but he is a powerful blocker and is far more durable. He is also a cheaper option who can play every position on the line except center.
While Colon may have the bigger upside at left guard, Foster is a younger, cheaper and more dependable option. He is a solid starter, and the Steelers are in better position moving forward than they would be with Colon.
Edge: 2013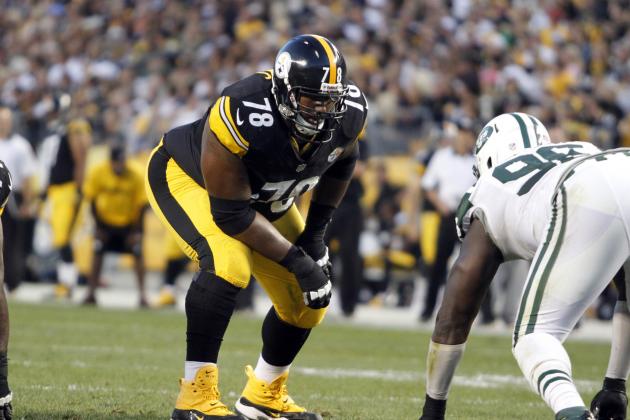 Justin K. Aller/Getty Images

Max Starks may be the most underrated Steeler in recent memory.
The Steelers have had an on-again, off-again relationship with Starks over the years. He performed well, but they always seem to try to replace him. Last season was no exception.
Starks started all 16 games at left tackle last season and allowed only three sacks for eight yards and was flagged just three times, including two for false starts.
Now he is expected to be replaced by former second-round pick Marcus Gilbert.
Gilbert suffered through injuries last season, starting just five games at right tackle. In those games, Gilbert did not allow a sack but was penalized twice, including once for holding.
There are concerns over whether or not Gilbert can transition from the right side to left tackle, where he will be responsible for protecting Ben Roethlisberger's blind side.
The big problem with Gilbert is his footwork and quickness. He could struggle with the speed rushers he has to face on the left side.
Gilbert has had limited experience filling in at left tackle and has struggled against the better pass-rushers. As a rookie, he allowed seven sacks for 41 yards. Now in his third season, it would be expected that Gilbert has improved, but it will be an adjustment as he shifts to the left side.
Meanwhile, even though Starks isn't elite, he does a solid job in pass protection and run-blocking. You know what you're getting out of Starks each week. He does a more than adequate job protecting Roethlisberger and is an asset in the ground game.
It is understandable that the Steelers want to give their young tackles their opportunity to start, but Starks is still the best option at left tackle, and the Steelers are taking a risk going with Gilbert in 2013.
Edge: 2012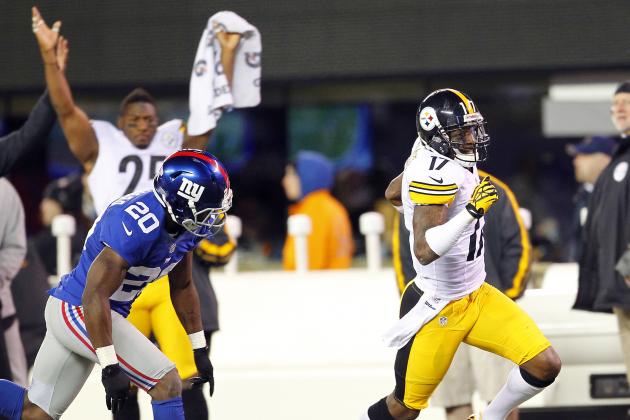 Rich Schultz/Getty Images

There is no comparison when it comes to Emmanuel Sanders and Mike Wallace. The Steelers are nowhere near as good with Sanders starting in place of Wallace.
When Wallace signed with the Miami Dolphins, the Steelers not only lost one of the best deep threats in the league but also a player who has scored 32 touchdowns in four seasons.
Meanwhile, Sanders has barely shown the ability to play a full 16-game season. But not all is bad with Sanders.
Sanders is probably the best route-runner on the team, and he demonstrated this with his 44 receptions for 626 yards and an impressive 14.2-yard average in 2012. However, he only had one touchdown last season and just five for his career.
One of Sanders' strengths is his quickness and ability to go over the middle of the field. He is a very good fit for the quick passing attack that Todd Haley began to implement last season.
But while Wallace did not go over the middle, he could back off of a defense and command double coverage, which would free up other receiving options for the Steelers. He was someone a defense could fear because they had no choice but to respect his deep speed.
Sanders cannot match those physical attributes and in reality is best suited to play the slot for the Steelers. And speaking of physical attributes, without deep speed, defenses can easily press Sanders, who can struggle beating cornerbacks off of the line.
Expect the Steelers to actively look for a potential No. 1 receiving option in the draft because Sanders paired with Antonio Brown is not a dynamic option.
Edge: 2012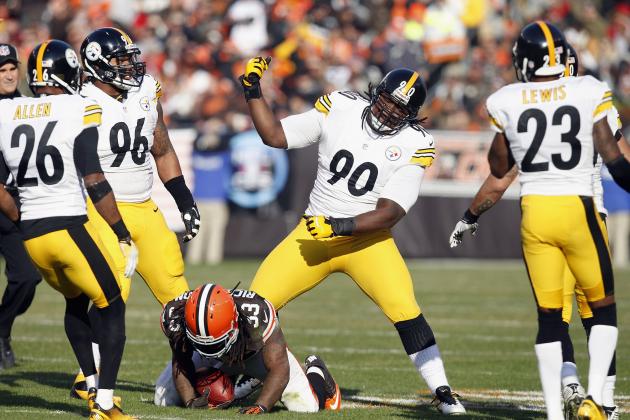 Matt Sullivan/Getty Images

After watching Steve McLendon dominate in the preseason, it appeared as though 2012 would be a breakout year. That wasn't the case, as Casey Hampton once again earned the start.
The veteran nose tackle improved as the season went on, but it was quite clear that Hampton was near the end.
Hampton could no longer command double-teams, and as a result, teams were able to gash the Steelers' defense for yards on the ground and the pass rush suffered for a second straight season.
McLendon did not get a lot of snaps last season, but he did make the most of his opportunities, picking up two sacks and a forced fumble.
On the surface those numbers aren't too impressive, but when you consider the position he plays and the limited playing time that he received, the numbers look much better.
For the first time since Hampton was in his prime, the Steelers have a nose tackle that could potentially make some big plays. Unlike Hampton, McLendon also has the ability to penetrate the line to put pressure on the quarterback. That is important for a team that has struggled in this area over the past two seasons.
McLendon won't be able to apply the same type of dominance against the run, but if he can at least match Hampton's level of play last year in this area and bring an element of pass rush to the defense, the Steelers will be in much better shape at nose tackle.
Edge: 2013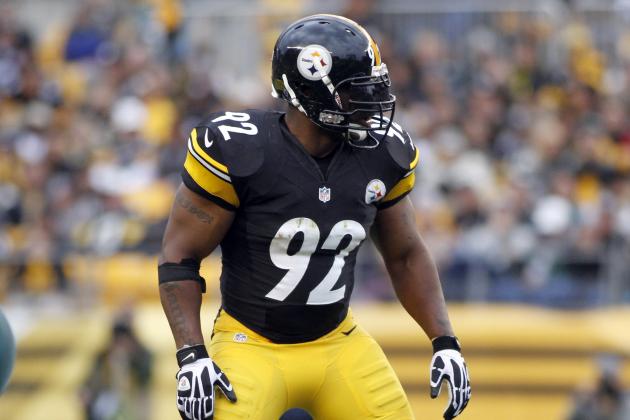 Justin K. Aller/Getty Images

It is never easy to move on from a great player, but the Steelers decided it was time to go with Jason Worilds over James Harrison.
The fact that they tried to work out a deal with Harrison before releasing him, though, indicated that the Steelers do not have full confidence in Worilds' ability to take over at outside linebacker.
Harrison was dominant for so long that it would be easy for the coaches to still feel comfortable with him, even as his body breaks down.
Even though he has been banged up the past two seasons, Harrison still put up a combined 15 sacks and four forced fumbles.
Over that same time period, Worilds accumulated eight sacks and one forced fumble in limited playing time.
But there is still a world of difference between the two players.
Harrison is a more consistent pass-rusher who is also excellent against the run. Oftentimes he can make a stop at or behind the line of scrimmage with his backside pursuit. He can also drop into coverage still, though his abilities in this area are fading.
Worilds also can get to the quarterback, but while his sack numbers may be impressive, he just has not demonstrated the ability to put the same type of pressure on the passer that Harrison still can. He is also relatively weak against the run, which could have teams heading his way next year.
Despite his negatives, Worilds has fresher legs and could help reinvigorate the pass rush if he is able to put it all together. That is a big "if."
When healthy, Harrison is still the best all-around outside linebacker on the roster, and he probably has one more solid season left in him.
The Steelers likely made the right move to go younger and move on from Harrison, but it will mean they'll be starting a less talented player.
Edge: 2012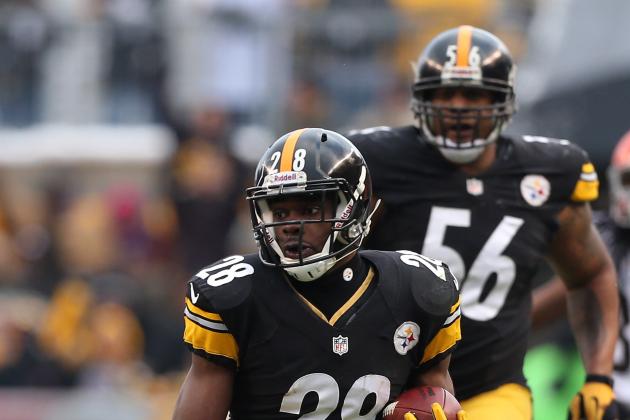 Karl Walter/Getty Images

With Mike Wallace and Rashard Mendenhall all but certain to leave in free agency, it was thought that Keenan Lewis would be the Steelers' top priority. That wasn't the case.
Lewis was allowed to walk as well, leaving Cortez Allen as his replacement.
After watching him in training camp for two seasons, now is the perfect time to go with Allen as the starter.
Allen is a tall, fast cornerback who has the upside of Ike Taylor in coverage, but with much better hands. He demonstrated his abilities at the end of last season when he had a more prominent role in the defense as he became a turnover machine.
For the season, Allen had two interceptions, 10 passes defended, three forced fumbles and a fumble recovery. After struggling to generate turnovers, Allen's presence in the starting lineup should help in this area.
That's not to say Lewis wasn't a valuable player, he was, but he is a replaceable player.
In four seasons, Lewis had just one interception and didn't have any last season despite leading the NFL with 23 passes defended last season.
The only issue with losing Lewis is the trickle-down effect.
Now that Allen is in the starting lineup, William Gay will likely earn the nickel role. That is a downgrade from last season.
But as far as the starting lineup goes, Allen is the most exciting new starter that the Steelers will have in their lineup in 2013.
Edge: 2013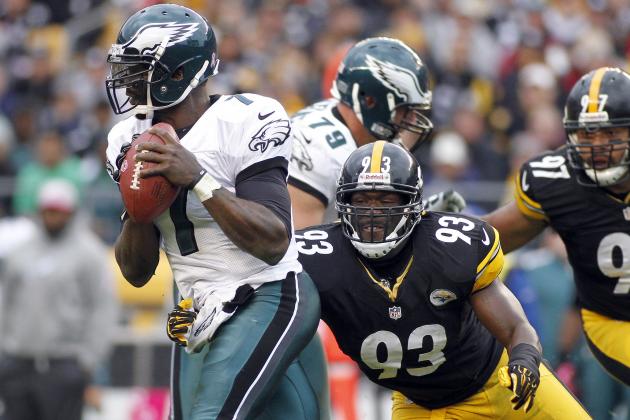 Justin K. Aller/Getty Images

The final tally is a push at 3-3. So does this mean that the 2013 Steelers are equally as talented as the 2012 Steelers? Not quite.
The potential downgrades from losing Wallace, Starks and Harrison are far greater than the upgrades the Steelers have in replacing Colon, Hampton and Lewis. It can even be asked if the replacements for these players are capable of playing as full-time starters as opposed to part-time role players.
McLendon, Worilds and Allen have all flashed potential in their limited roles, but playing full-time will be a different experience. The same could be said for Sanders shifting into the No. 2 role and Gilbert moving to left tackle.
Beyond this, the Steelers need their veteran stars to remain healthy and live up to expectations.
The 2012 Steelers proved to be a solid team when healthy last season, but injuries got the best of them. As it stands now, there are too many "ifs" on the 2013 roster.
Because of this, the edge goes to the 2012 team, but don't count the 2013 version out just yet. A healthy team with young players who can live up to or exceed expectations will result in an improvement over their record of 8-8 last season and a return trip to the playoffs.