Breaking Down Every Spot on Arsenal's Roster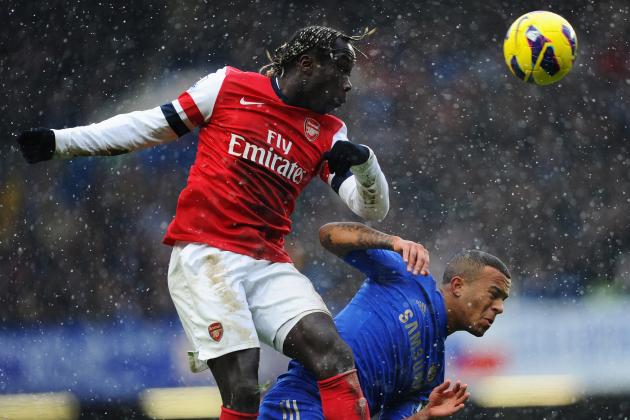 Laurence Griffiths/Getty Images

Arsenal fans don't need to be told how many holes their squad has in it—by now, they're well aware of the shortcomings.
Here's a look at each position in Arsene Wenger's 4-3-3/4-2-3-1, judging where additions need to be made and which areas underperformed.
Feel free to add your ideal summer in the comments as we turn our attention toward next season rather earlier than many will have wanted.
Begin Slideshow

»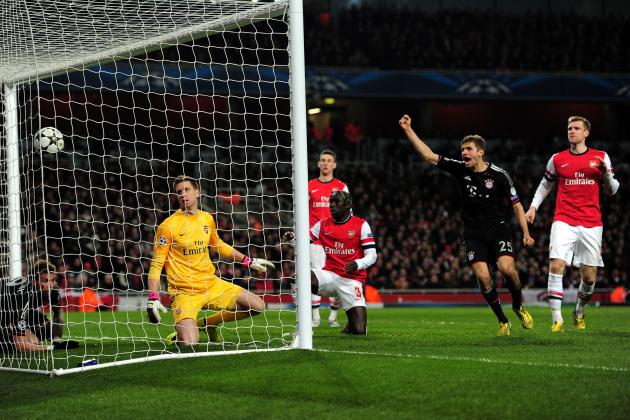 Shaun Botterill/Getty Images

At a glance: Uncertain
Wojciech Szczesny was supposed to be the long-term answer in goal for Arsenal, but the Pole has come under scrutinous eyes once more this season.
Rested for mental fatigue in Bavaria, compatriot Lukasz Fabianski seized his chance, kept a clean sheet and followed that up with another shutout away to Swansea City.
That places both Szczesny—who admits to searching for some semblence of form since February (The Mirror via Sky Sports)—and Vito Mannone, the Italian third-choice goalkeeper who Fabianski was preferred to despite going 13 months without a game, firmly under the microscope.
There have been suggestions (via The Telegraph) of Pepe Reina, Asmir Begovic and even Petr Cech coming to the Emirates this summer. Whatever happens, goalkeeping changes are afoot and rightly so.
Experience must be brought in to take over from Szczesny or provide competition.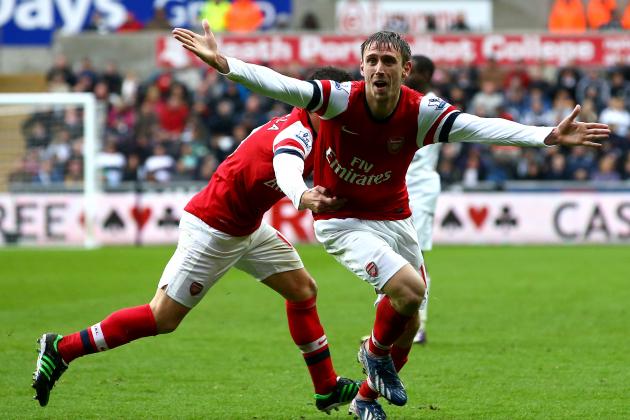 Jan Kruger/Getty Images

At a glance: Sorted
There are no issues at left-back whatsoever for Arsenal to address in the summer.
Kieran Gibbs looks set to become the understudy and that's probably for the best—it's not that he's not talented, it's that his legs are seemingly matchsticks that are all too happy to break.
You can't rely on him, but you can rely on the proven quality and fitness of Nacho Monreal.
The Spaniard has been one of the best left-backs in world football this season and shone the season before, too. With these two on the roster and Thomas Vermaelen a capable third-choice emergency selection, no problems are foreseen.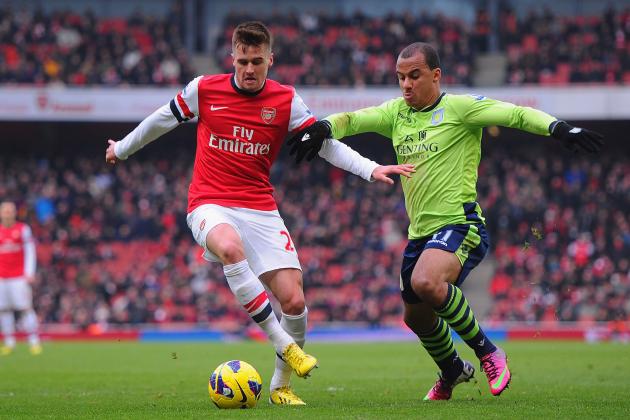 Michael Regan/Getty Images

At a glance: Out with the old, in with the new
Arsenal need to turn over a new leaf at right-back.
Bacary Sagna is a man in decline. As good as he's been over the past five years, Arsene Wenger needs to look at a new long-term option.
The Frenchman's deal will expire in the summer of 2014, and Arsenal will take action this year by either signing him to a new deal or selling him to a new suitor. Two broken legs and 18 months of average form will hopefully sway the club to make the correct decision.
Carl Jenkinson, who has looked good in patches, should be given the starting job. At the very least, he should share the role with a newly acquired capable full-back to aid his development.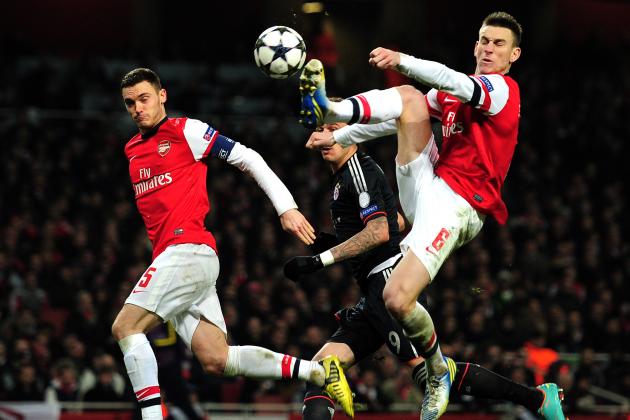 Shaun Botterill/Getty Images

At a glance: One addition needed
Arsenal's central defence has been creaky all season and needs a bit of a cleanup.
Laurent Koscielny has been the Gunners' best centre-back by a mile this season, while Thomas Vermaelen is a candidate for the English Premier League's most disappointing player.
After setting the bar incredibly high, the Belgian has flopped hard and looks far from the assured rock he represented in his maiden campaign.
Is Per Mertesacker suited to the EPL? Each to their own on that one, but he's not leading this club back to glory even with a renewed Vermaelen to help.
An addition is badly needed here, if not to heap the pressure on Arsenal's captain then to take his place. There are lots of value buys in the Eredivisie, and the Gunners could do a lot worse than Stefan de Vrij, Bruno Martins Indi or Douglas.
It would be nice to see Mertesacker deployed as and when it's suitable—not all the time—as the type of opposition very much dictates whether he can be a success or not.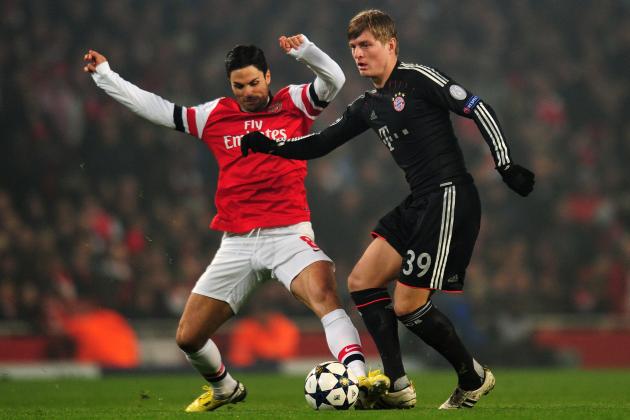 Shaun Botterill/Getty Images

In a word: Dire
Arsenal need serious, serious help in defensive midfield.
In my piece looking at No. 1 priorities for each club this summer, this is the position I selected for Arsene Wenger to rectify.
The Gunners need a defensive midfielder who was born and bred in the art, not a converted one who still harbours hopes of being the creative No. 10 he was at Everton.
Mikel Arteta is a good player, but he doesn't have the defensive instinct to play the holding role on his own. Arsene Wenger needs to push him slightly further forward and play a true holder behind or change formation and play them together.
Maxime Gonalons, anyone?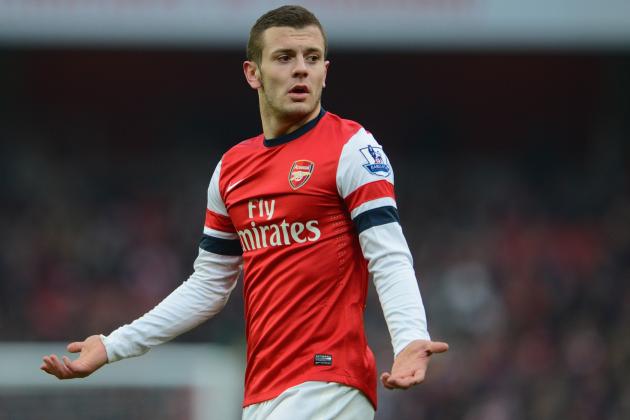 Michael Regan/Getty Images

At a glance: Maddeningly inconsistent
Just ahead of Mikel Arteta is yet another position that causes Arsene Wenger headaches.
Jack Wilshere—the saviour of Arsenal Football Club—is revered by the fans and rightly so. Keep him fit and they've got a chance of winning any game.
It's who partners him that's the problem. Ideally, he could use a big, commanding figure to aid him in his box-to-box cause. Abou Diaby is sensational when healthy, but for the cumulative four months the Frenchman misses per season, the Gunners look stretched.
Aaron Ramsey divides opinion, but at 22 he's got a lot to learn. The pressure of playing for Arsenal affects him, and a physical midfielder in the summer could do wonders for everyone.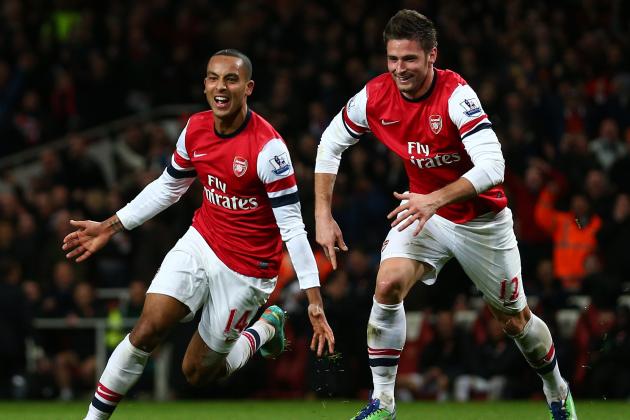 Clive Mason/Getty Images

At a glance: Unpolished but potent
Poll 100 people on their thoughts on Olivier Giroud—50 will suggest he will become a good player once acclimated, 50 will suggest he's garbage.
Perhaps it's not as clean-cut as that, but there is no single resounding opinion on Giroud and what he can bring in the future. For the record, I think he's got a lot to offer once settled.
Santi Cazorla is a dream player to have floating around and dancing in off the touchline, while Theo Walcott's explosive pace and eye for goal makes him a valuable right forward.
I still believe Walcott to be too one-dimensional to play 38 games as a striker, but he's a nice change of pace option and can split his time between the roles.
A new striker is not necessary, and the Gunners won't be able to attract Edinson Cavani et al anyway.
Obviously the forward line isn't the strongest in the English Premier League, nor is it the formidable unit the fans of 2002 admired. However, if the club can solve its problems at the back first, it might see a little more cohesion—and less inconsistencies—further forward.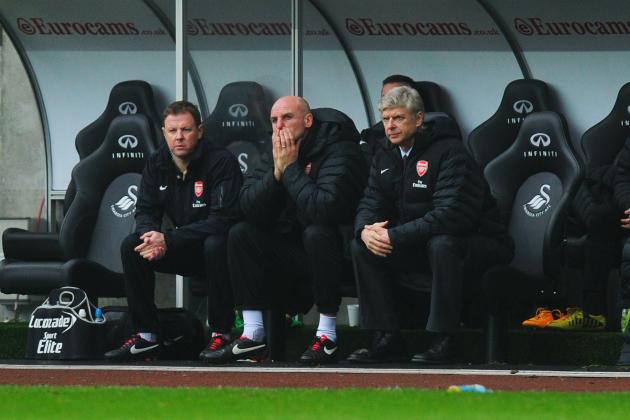 Stu Forster/Getty Images

As commenters and fans of the club, don't hesitate to share your ideal plan for the summer.
An experienced goalkeeper would be a valuable addition to the team, while a new centre-back is a must. Carl Jenkinson would rapidly improve if given 38-plus games a season, but some healthy competition could see the Gunners in a safer position.
A holding midfielder who can track, tackle and look defensively aware is the No. 1 priority this summer, and sinking up to £15 million (if that's what it takes) into Maxime Gonalons would be a smart, smart investment.
Teams are built from the back, so solve the crooked defence and shore up the midfield, then see how your forwards perform. Hold fire on the striker.