Ohio State's 5 Keys to Beating Arizona in Sweet 16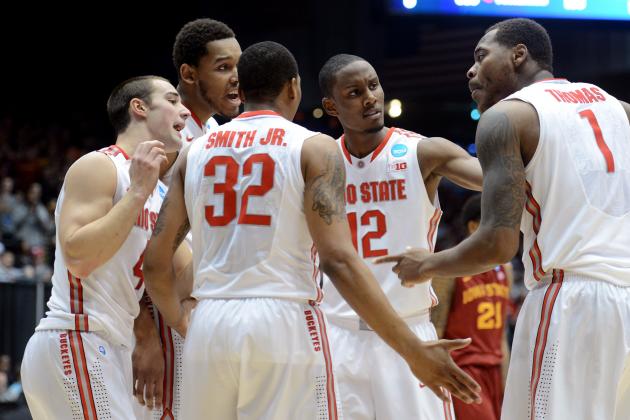 Jason Miller/Getty Images

Aaron Craft and the Ohio State basketball team may have had the defining moment of the NCAA tournament's opening weekend that didn't involve a team from the Gulf Coast of Florida, but it's time to move forward toward the ultimate goal of reaching the Final Four.
Standing in the way is the Arizona Wildcats of the Pac-12, arguably the most talented team on the entire West Coast. Former Thad Matta assistant Sean Miller has the program humming again, and he would love nothing more than to dispatch his former boss in the Sweet 16 (even if they are still friends).
What do the Buckeyes have to do to ensure this doesn't happen and earn a trip to the Elite Eight against either upstart La Salle or Wichita State? Read on to find out.
Begin Slideshow

»
Mark Lyons, much like Thad Matta and Sean Miller, used to consider himself a Xavier Musketeer before transferring to Arizona. He is no stranger to the tournament and is playing like he understands this is his last chance at collegiate glory.
Lyons poured in 23 points against Belmont and followed that up with 27 against Harvard. He doesn't rack up the assist totals because he is not a true point guard, but if Lyons is scoring like that then Arizona is nearly impossible to beat.
That is where Aaron Craft comes in. He is one of the best on-ball defenders in the country—if not the best—and thrives by making life miserable for opposing ball-handlers. If he can prevent Lyons from scoring in an efficient manner, the Buckeyes can make the Wildcat offense look rather pedestrian.
As talented as Lyons is, he has averaged nearly three turnovers per game this season and tends to get frustrated with himself when he loses the ball. That often leads to more turnovers and an Arizona loss.
Craft has to make sure that happens Thursday.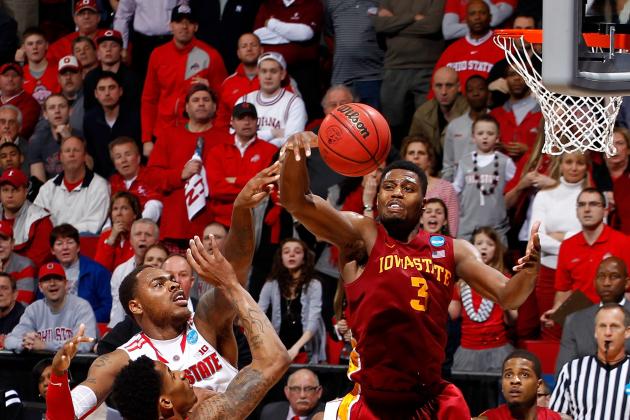 Joe Robbins/Getty Images

As exciting as Aaron Craft's game-winning dagger was against Iowa State, it ultimately overshadowed the fact that the Buckeyes put forth a putrid and rather embarrassing effort on the glass.
The Cyclones outrebounded Ohio State 35-20 and grabbed 12 offensive rebounds in the process. Considering Iowa State shot 48 percent from behind the three-point line, there should not have even been that many offensive rebounds available.
If the Buckeyes didn't turn Iowa State over 16 times, then any preview article concerning Thad Matta's club this week would be discussing next season and whether Deshaun Thomas was entering the NBA draft.
The Scarlet and Gray must do a better job on the boards Thursday night against Arizona. The Wildcats are loaded with athletes who will take advantage of second opportunities and build momentum in the process.
As many steals as the Buckeyes rack up, a Sweet 16 victory will require a good old-fashioned defensive stop down the stretch at some point. Ohio State's bigs have to be there to rebound when it does.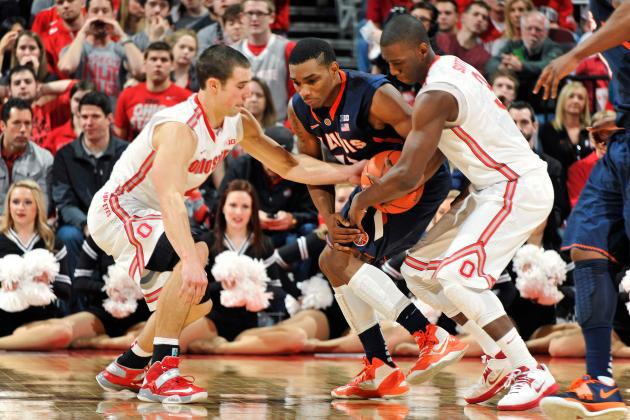 Jamie Sabau/Getty Images

This was discussed briefly in the Aaron Craft versus Mark Lyons slide, but Arizona is prone to turning the ball over when it is not playing at a high level. In fact, that is often its undoing in defeat.
In every Wildcat loss this season, they had double-digit turnover totals. Inconsistent ball-handling is how one team beats Florida and eviscerates Miami in the same season it loses to USC and Colorado.
Ohio State thrives on creating turnovers and getting easy baskets in transition as a result. The Buckeyes would have lost without that facet of the game against Iowa State because they got killed on the glass and behind the three-point line.
Arizona's primary ball-handling duties fall on the shoulders of makeshift point guard Mark Lyons. The fact that he is truly a shooting guard will undoubtedly be discussed among highway robbers Aaron Craft and Shannon Scott as they prepare to make life miserable for yet another backcourt.
How often the Buckeyes turn the Wildcats over will likely decide the outcome of this matchup.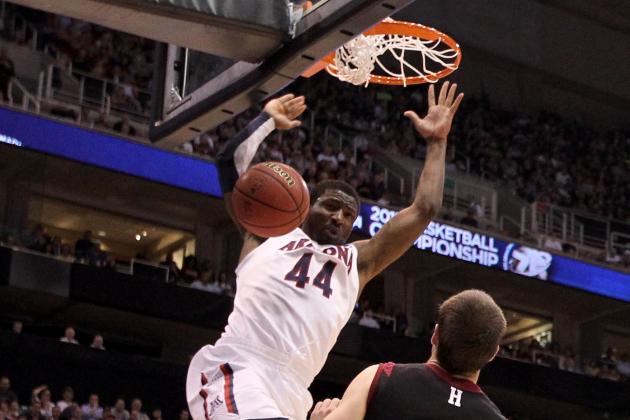 Streeter Lecka/Getty Images

Mark Lyons receives much of the attention when commentators are discussing Arizona, but Solomon Hill is nearly as vital to the Wildcats' success as the former Xavier guard.
He was second in the team in scoring with 13.3 points per game, and he also grabbed better than five rebounds a contest and dished out nearly three assists per night. He is an underrated defender who will likely match up against the Buckeyes' go-to guy in Deshaun Thomas.
Thomas usually takes big guys outside and smaller defenders down low, but Hill is a very similar player. Both are particularly lengthy at 6'7" and can hit from downtown or in the post. Thomas will not have the type of space to operate he has become accustomed to in the early rounds of the tournament.
Stretch four has become the buzz word of the postseason, and it is meant to describe players of Thomas and Hill's nature. Whichever one has a better game on Thursday will likely find himself in the Elite Eight as a result.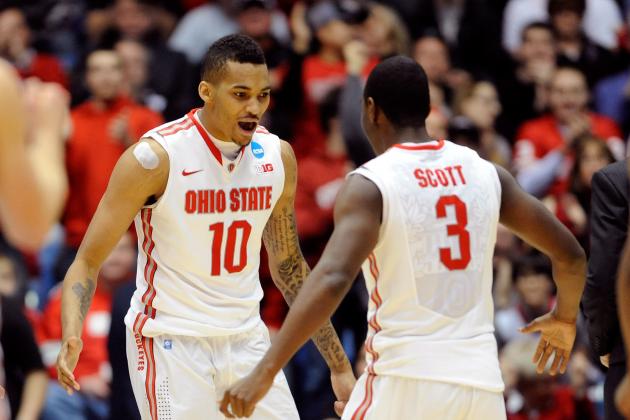 Jason Miller/Getty Images

Deshaun Thomas and Aaron Craft garner all the headlines for this Ohio State basketball team, and rightfully so. After all, Thomas led the best conference in the nation in scoring while Craft has established himself as one of the premier defenders in program history and hit the biggest shot of the NCAA tournament thus far.
As great as the Thomas and Craft combo is, the Buckeyes cannot win a Sweet 16 game on the back of only two players, especially against a squad as talented as Arizona.
Nick Johnson, who is a tenacious defender in his own right, will likely at least contain Craft, while Thomas is always the focus of opposing game plans. That means the role players will once again have to step up and provide Thad Matta with critical contributions.
LaQuinton Ross was instrumental in the victory over Iowa State, finishing with 17 points on six-of-10 shooting, including three-of-five from behind the arc. His second-half scoring spurt gave the Buckeyes a double-digit lead that they were barely able to maintain.
Sam Thompson, who is perfect from the free-throw line in the NCAA tournament, stepped up his game against Iona, finishing with 20 points and 10 rebounds.
The Scarlet and Gray are going to need more of the same from Ross, Thompson and even Evan Ravenel if they hope to advance to the Sweet 16. Craft and Thomas can only do so much.