NHL Trade Rumors: Which Sharks Will Follow Douglas Murray Out of San Jose?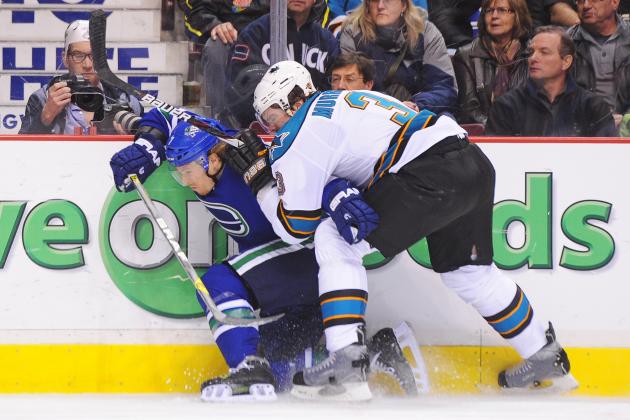 Derek Leung/Getty Images
Douglas Murray is not likely to be the only San Jose Sharks player traded in the final days before the NHL trade deadline.
On Monday morning local time, the San Jose Sharks traded away a mainstay of their defense since 2007-08.
Douglas Murray was sent to the Pittsburgh Penguins for draft picks. That is the very definition of being a seller leading up to the NHL trade deadline April 3.
That does not necessarily mean general manager Doug Wilson is going to have a complete sell-off of his talent. However, it does say that he is willing to hear offers even when he gets no immediate return.
This situation called for it.
Two second-round draft picks is a good return for Murray. He was unlikely to be on the team going forward, while it is likely one of the two picks will pan out for San Jose.
Though Murray offered penalty killing, blocked shots and hits, the Sharks were in need of more offense. With extra blue-line depth because they can pull Brent Burns from the forward position, they can now play every young defenseman and still absorb one injury.
This is almost certainly not the last trade. Wilson has said renting a player for a Stanley Cup run is "very doubtful," seemingly because no move is going to change the culture. He called the Sharks "a 57-minute team in a 60-minute game," according to Mark Purdy of the San Jose Mercury News.
Maybe if the Sharks show 60 minutes of play every game until the NHL trade deadline, Wilson will change his mind. But given his stated value of 2013 draft picks, he is unlikely to trade them. The same goes for the San Jose's narrow pool of prospects.
That means a player could be leaving even if Wilson does decide to bet on this team one more time. In the more likely event he does not, there is no point in standing on talent that cannot be part of a rebuild. (It is a rebuild, no matter what it is called or how quickly a turnaround is expected.)
Thus, the following list focuses on the players likely to be traded if the team becomes sellers at the deadline, beginning with the most likely to be traded. (A list of those safe from being traded was prepared for Examiner.com.)
Begin Slideshow

»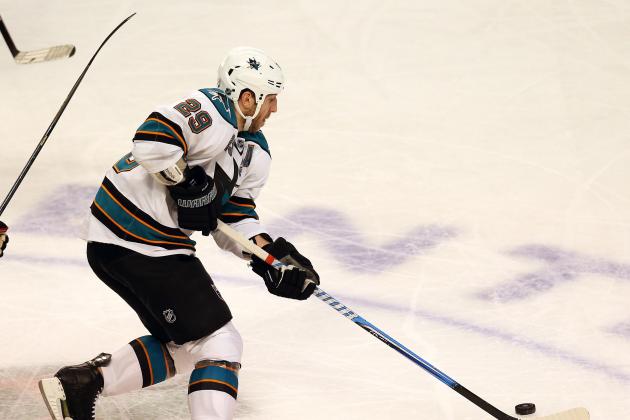 Jonathan Daniel/Getty Images

If the San Jose Sharks want to make room for a "refresh" (as Doug Wilson calls the coming rebuild), they would have to move Ryane Clowe. He has value on the open market, yet has underperformed to date.
That makes him a candidate to move if the team is selling, but he could also be gone even if the Sharks want to give this roster one more chance to win the Stanley Cup.
They could absorb his loss without fully giving up on the season by dangling him for an upgrade or simply trading him for a top prospect or draft pick. He can also be used as part of a package to get a better scoring-line forward.
Either way, he is not likely in the team's future plans. The 30-year-old power forward's best days may already be behind him, and he is an unrestricted free agent this summer that the Sharks don't have the cap room to re-sign.
The main thing holding back a trade is his health. CSN Bay Area is reporting Clowe will return to the lineup Wednesday vs. Anaheim. If teams see what looks like a healthy forward, his price will get high enough for Wilson to pull the trigger.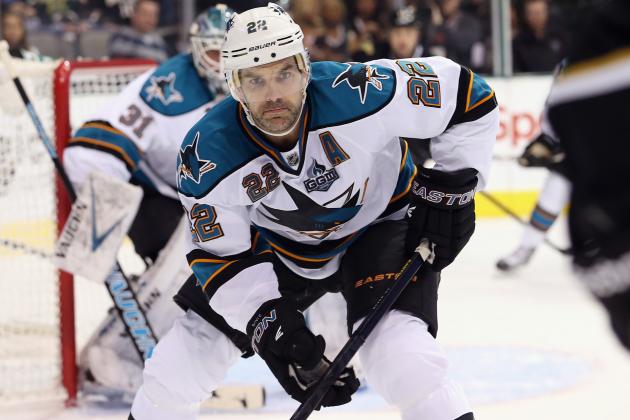 Ronald Martinez/Getty Images

Trading Dan Boyle is absolutely counter-productive to the chances of the San Jose Sharks winning the 2013 Stanley Cup.
At best, he could help the team get a scoring line forward that solves either cap issues or a foundation going forward. That still will not make the Sharks better right now because his skill would be too sorely missed on a blue line that lacks it—not to mention his skating on a team lacking it throughout.
But if a "refresh" is the path Doug Wilson takes, there is no reason to keep Boyle. As elite as he still is, he is certainly on the decline at age 36. His cap figure is not friendly in a year when the payrolls drop around the NHL.
Even his no-trade clause is believed to be limited. He could face the threat of being cut in order to to bypass the clause, but there are several destinations that might help persuade him to waive it altogether.
It is likely that the Sharks will sell at the trade deadline. If that is the path chosen, it is likely Boyle will be moved. But since the second is contingent on the first, there is a fair chance he at least finishes his season where he started it.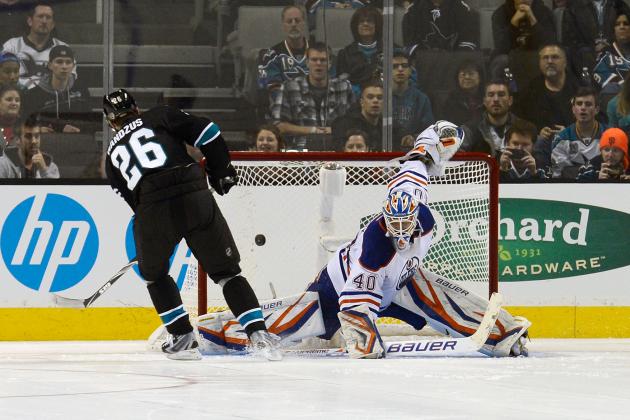 Thearon W. Henderson/Getty Images

Despite his success in shootouts, defensive play (particularly on the penalty kill) and ability to handle the puck, the San Jose Sharks would like to convince Michal Handzus to waive his no-trade clause to go to a contender.
Checking-line and penalty-killing centers have as much value to contenders wanting to add depth as Douglas Murray had for the Pittsburgh Penguins' blue line. But he plays a slow-down game; while that is a good thing on the defensive end, the Sharks need scoring.
Handzus mirrors Murray in many ways. He has been scratched while healthy and has not performed any better than other players scratched on a given night. Already 36, he is not part of the future in San Jose, and could be moved without seriously affecting the team on the ice.
That being said, the stars have to align for him to be moved. Only contenders might have interest, and many of them have solid depth forwards. He would have to be willing to be traded and those few destinations would have to appeal to him.
While most of the Sharks' roster could be moved and there is a good chance that at least one more player does get traded, each player is likely to play out 2013 in San Jose for one reason or another.