5 Reasons Jose Iglesias Will Be the Everyday SS for the Red Sox in 2013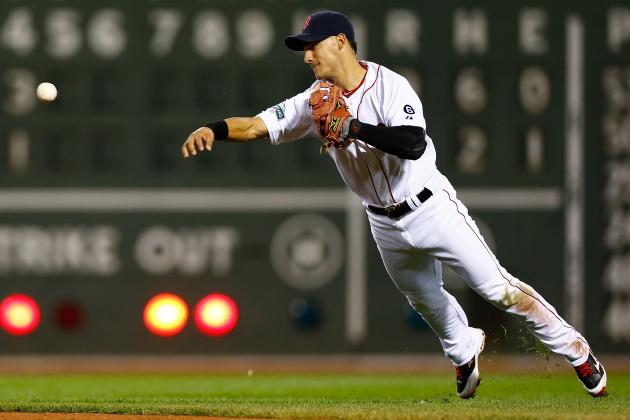 Jared Wickerham/Getty Images

Entering his fourth season of professional ball, Jose Iglesias hopes to finally earn the elusive job of starting shortstop for the Boston Red Sox.
During the past three seasons Iglesias has battled numerous health issues which prevented him from making a longstanding impact within the organization. Concerns over his consistent lack of offensive production also hindered his progress through the Red Sox's farm system, as well as at the major-league level.
Last season his woes were amplified in a September game, when he was lifted for pinch hitter Daniel Nava midway through an at-bat, after he worked a 2-2 count against Toronto Blue Jays reliever Brandon Lyon.
But with Stephen Drew likely to start the season on the disabled list, the door is wide open for Jose Iglesias. Whether Iglesias is the long-term solution remains to be seen, but he can certainly make an early bid to be Boston's everyday shortstop in 2013.
Begin Slideshow

»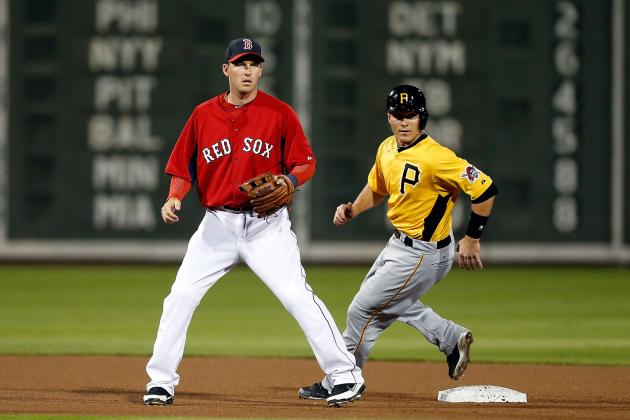 J. Meric/Getty Images

As previously mentioned, Red Sox shortstop Stephen Drew is still suffering concussion-like symptoms more than two weeks after he was hit in the head with a pitch from Minnesota Twins prospect Caleb Thielbar. Although he has been cleared to return to baseball activities after visiting Dr. Michal Collins, a concussion specialist in Pittsburgh, there is still no timetable for his return to the lineup.
With Opening Day exactly one week away, it is becoming increasingly apparent that he will likely begin the year on the disabled list. With his injury history (he has played in just 165 regular-season games since 2011) there is always the possibility that he could find himself on the DL throughout the year in 2013.
If Jose Iglesias can take advantage of his opportunities to get steady playing time, he could pry the starting job away from Drew—or at the very least, expect to platoon at shortstop.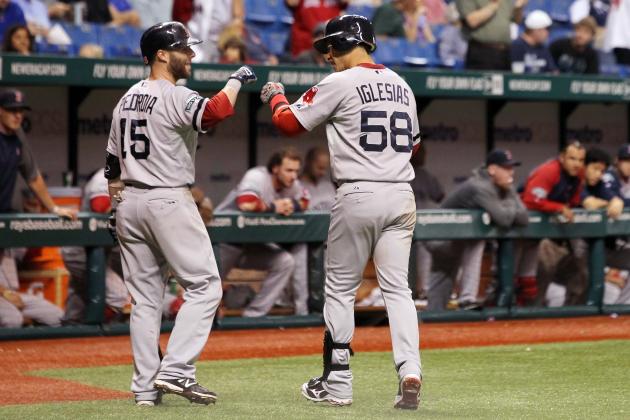 Kim Klement-USA TODAY Sports

Sometimes in order to be the best one has to learn from the best. Hopefully the same is true of Jose Iglesias. The 23-year-old spent part of the offseason training with Red Sox second baseman Dustin Pedroia at Athletes Performance Institute in Arizona.
Pedroia, who is known for his grit, work ethic and never-say-die approach to the game, helped Iglesias prepare both mentally and physically for a 162-game grind.
Speaking to Joe McDonald of ESPNBoston.com, Pedroia said of Iglesias:
"I talked to him about how to eat because that stuff's important. If you're eating McDonald's every day, I'm sure it tastes great but you're a major league baseball player. You're a pro athlete. You have to make sure you prepare the right way because that stuff matters."
The results were apparent when Jose Iglesias showed up in Fort Myers at the start of spring training. He bulked up, putting on 10 pounds of muscle, and flashing it after bombing a towering home run over the Monster at JetBlue Park in the Grapefruit opener.
Although he has not hit for average (.231 in 52 at-bats) this spring, Iglesias' power numbers did improve considerably (one HR, four doubles, seven RBI). But once again it must be reiterated; Grapefruit League numbers only count for so much. It is what Iglesias does after April 1 that will determine whether he deserves a permanent role at the major-league level.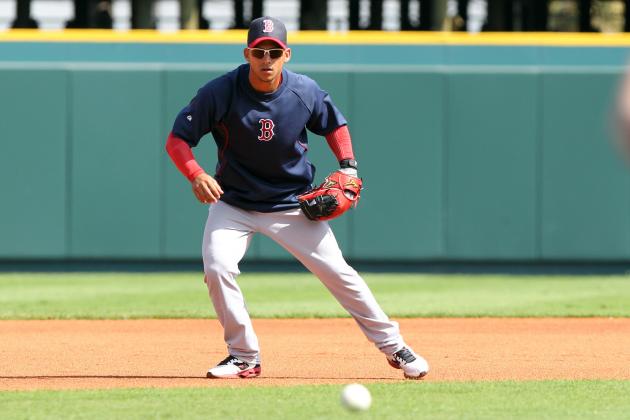 Kim Klement-USA TODAY Sports

Iglesias will never be a .300 hitter at the big-league level; that much is clear. He owns a .264 career average in three seasons of minor-league ball, along with an enormously underwhelming .626 OPS.
Perhaps his calling card will be his defensive prowess.
The following is an excerpt from his scouting report, courtesy of SoxProspects.com:
Elite defensive skills highlighted by extremely fluid hands and soft glove. Excellent instincts and anticipation produces his well above-average range. Will get to balls that most, if not all, will not. Plus, accurate arm. Adept at throwing on the move and has outstanding body control. Future perennial Gold Glove shortstop.
When former Red Sox shortstop Alex Gonzalez (now with the Milwaukee Brewers) signed with the Red Sox in 2006 he made an immediate impact with his glove. His stellar defense (.985 fielding percentage in 475 chances) and dazzling plays at shortstop made him an instant fan favorite despite a .255 average and .696 OPS.
Perhaps that can be Iglesias' MO as well. Only time will tell if he is in fact the next coming of Omar Vizquel (11-time gold glove winner), but he needs steady playing time in Boston to prove it.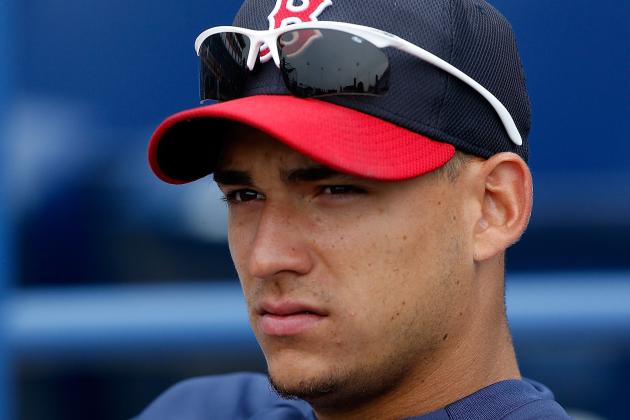 J. Meric/Getty Images

While Iglesias is vying for the everyday shortstop job in 2013, he doesn't seem to fit into the Red Sox's long-term plans. As of right now it appears top prospect Xander Bogaerts is the heir to the throne.
As a result, Iglesias is reduced to being the seat-warmer for Bogaerts until he is ready to take over the everyday role.
That being the case, it is in the Red Sox best interests to showcase Iglesias' defensive talents to potential trade partners. Barring a sudden and unforeseen change of events, don't expect Jose Iglesias to stick around in the Red Sox system beyond next season.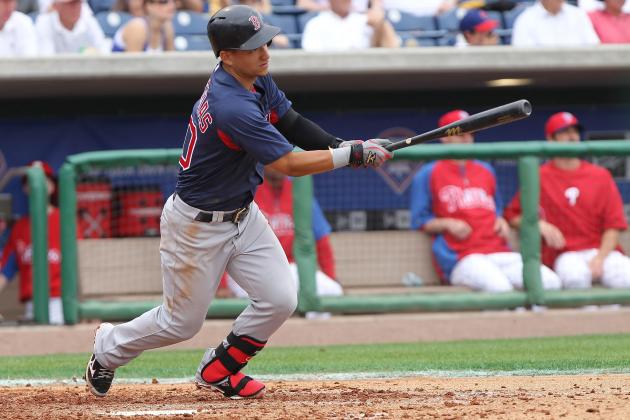 Kim Klement-USA TODAY Sports

And finally, the Red Sox just don't have a better option than Iglesias.
The aforementioned Xander Bogaerts—who is not on the 40-man roster—is unlikely to make an appearance until next year. That leaves Stephen Drew and Pedro Ciriaco as the only other available shortstops.
Despite another strong spring in which he hit .333 with 5 RBI, the Red Sox are likely to use Ciriaco as a utility man off the bench.
Although Drew is a more legitimate offensive threat than Iglesias, his production has dwindled the past two seasons. Since 2011 (165 games), Drew has batted a measly .238 with 12 homers and 73 RBI. Of course, the Red Sox are hopeful Drew can get in the lineup and make somewhat of an impact in 2013—after all they did sign him to a hefty $10 million deal. But the way his numbers have rapidly declined, fans shouldn't count on it.
For that reason it is most probable that Jose Iglesias will emerge the No. 1 shortstop for the Boston Red Sox in 2013.