Detroit Red Wings: 4 Important Players the Wings Need to Get Signed ASAP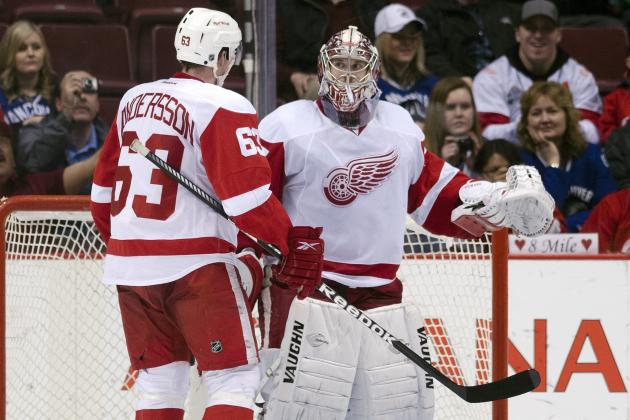 Rich Lam/Getty Images

For the Detroit Red Wings, the trade deadline is usually pretty quiet.
But while thinking of adding players to their roster, now is the time when NHL general managers consider extending the contracts of their team's current roster players.
Detroit Red Wings GM Ken Holland is no exception.
Holland has some work to do ahead of the trade deadline, meaning that there might be some holdup in regards to getting new contracts signed. Once the deadline passes, expect to see some re-signings of players that will be key to the Red Wings' future.
Here are four key players that Ken Holland must sign (or re-sign) as soon as possible.
Begin Slideshow

»
The TSN clip above is from last season, but it still summarizes how talented of a player Dan DeKeyser is. Seven people from the Red Wings' organization scouted Dan DeKeyser last season.
DeKeyser will likely take some time to garner interest from teams around the league before making his decision. DeKeyser's Western Michigan Broncos were eliminated in the CCHA playoffs last week by the Michigan Wolverines, meaning DeKeyser is eligible to leave college to join the NHL.
DeKeyser is a puck-moving defenseman, and according to Red Wings' assistant GM Jim Nill, DeKeyser is "hard to beat one-on-one because of his range, his reach and his skating ability" and is "a very good skater for a big man" (via Ansar Khan of MLive.com).
The Red Wings have many average (third-line) defensemen, but they are really lacking in top-pairing defensemen. DeKeyser isn't a player that would be able to step into the top-four of Detroit's defense right away, but under the right circumstances, he could flourish.
The key is getting him signed.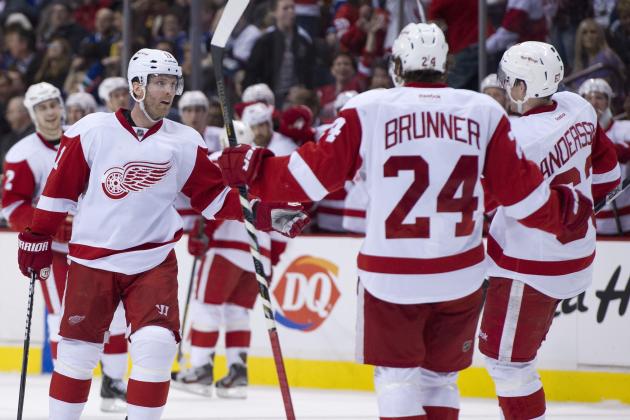 Rich Lam/Getty Images

Damien Brunner brings too much to the Red Wings to not re-sign him. The 26-year-old Swiss forward has 21 points in 31 games with the Red Wings this season.
Not bad for a rookie.
Ironically, even though it is paramount that the Red Wings re-sign Brunner, he was a healthy scratch in Sunday night's game in Anaheim. Nothing against Brunner, but it was a good move because the Red Wings needed to bring in some grit (in the form of Jordin Tootoo) for the second of back-to-back games in Anaheim.
Brunner needs to be re-signed to a long-term, cap-friendly deal. Perhaps somewhere in the neighborhood of $2.3 million for four years would suffice.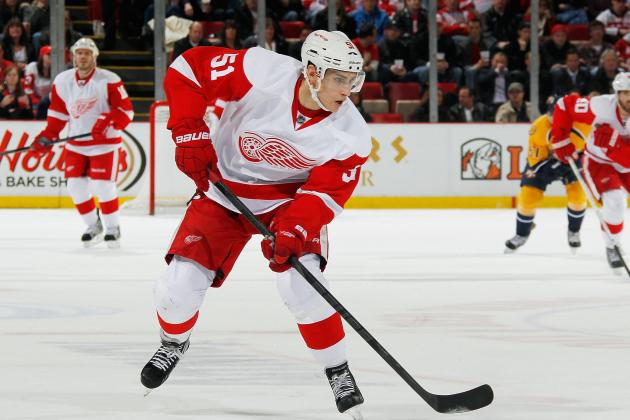 Gregory Shamus/Getty Images

Assuming Ken Holland doesn't do the unthinkable and trade Valtteri Filppula, the Red Wings need to lock up Filppula with a contract in the vicinity of six or seven years.
Filppula is nothing short of a catalyst up front, and his offensive diversity means that he can play either left-wing or center. Filppula is winning more than 60 percent of faceoffs at home, as well as over 53 percent of draws on the road.
The 29-year-old Finnish forward had a career year last season with 66 points. When healthy, Filppula can be one of the best two-way forwards on the team.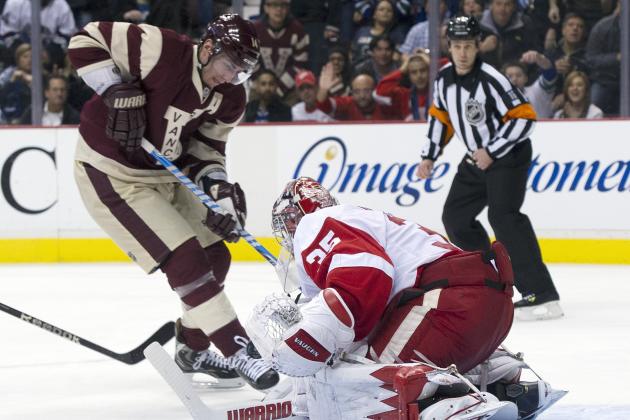 Rich Lam/Getty Images

Jimmy Howard has an 8-2-2 record in his last 12 games to go along with a 2.37 GAA and a 91.9 save percentage.
Not bad numbers for a guy in his contract year.
But Howard hasn't just performed in his contract year. As a matter of fact, Howard has amassed 124 wins in a Red Wings' uniform in his four years as a starting goalie. Howard has been fairly consistent since the start of last season. Howard had a chance to bring his GAA below 2.00 last season, but a late-season injury hurt his numbers as well as the Red Wings' playoff chances.
MLive.com's Ansar Khan wrote a couple of weeks ago that Howard and the Red Wings were close to a long-term extension.
As Howard has proven that he can sustain success over a multiple seasons, it is important that the Red Wings continue discussions with Howard's agent to extend him past this season.
For more article updates, follow @isaacesmith91