Breaking Down the Houston Texans' Depth Chart After the Peak of Free Agency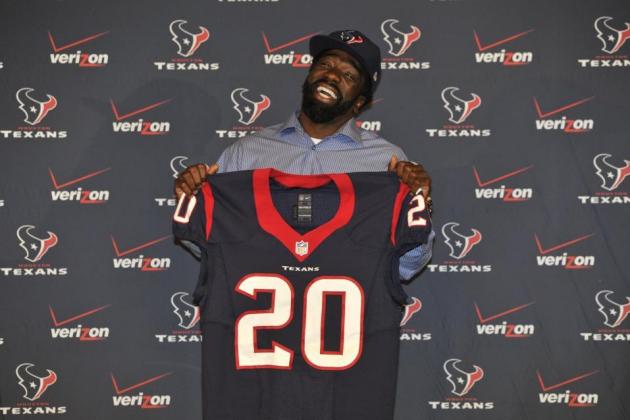 So far in free agency, the Houston Texans have lost many, many more players than they have gained.
Glover Quin, Connor Barwin and James Casey all signed elsewhere. Capable players such as Shaun Cody, Quintin Demps, Ryan Harris, Tim Dobbins, Bradie James, Jesse Nading, Antoine Caldwell and Rashad Butler all remain un-signed.
So far, only Ed Reed, Brice McCain and Shane Lechler have accepted contracts with the Texans.
Needless to say, the Texans have an exorbitant amount of spots to fill on their roster. Free agency, however, will not be the means through which the Texans stock up on depth.
Instead, they will have to fill their roster through the draft.
Regardless, the somewhat scary amount of open spots on the roster will not deter us from breaking down the Texans' current depth chart.
Which players will be starters? Which players will be bona fide backups? Which players should be cut immediately after their replacements are drafted?
Read and find out.
Begin Slideshow

»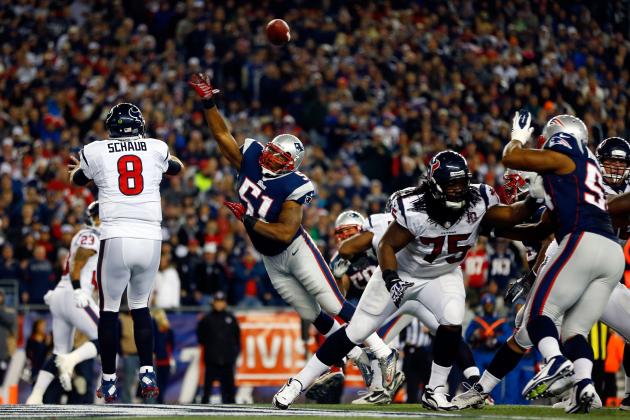 Jared Wickerham/Getty Images

Starter: Matt Schaub
Backup: T.J. Yates
Third String: Casey Keenum
This one's pretty easy to call.
Matt Schaub, without a doubt, will be the starting quarterback for the Texans next season. No matter what some fans think about him, Schaub is currently the best option the team has.
Franchise quarterbacks do not go on trees, and they certainly do not exist in this year's draft. T.J. Yates is a trustworthy backup, but he is definitely not even close to being ready to fully take over the offense.
Whether you like it or not, the Texans are stuck with Schaub for the conceivable future.
Casey Keenum, meanwhile, might not even end up on the active roster next season. The Texans tend to only keep two quarterbacks, and they will likely try to re-sign Keenum to the practice squad.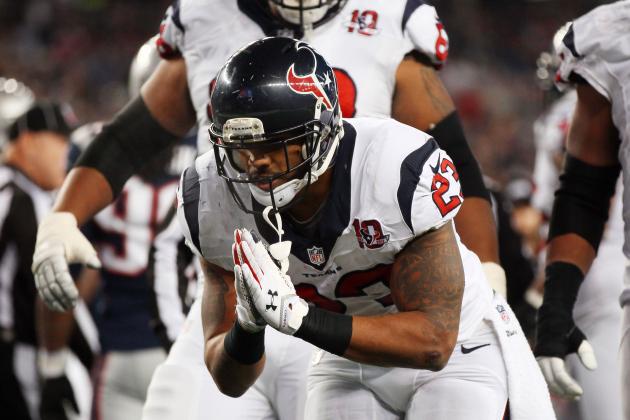 Elsa/Getty Images

Starter: Arian Foster
Backup: Ben Tate
Third String: Unknown
Fullback: Tyler Clutts
Backup Fullback: Unknown
Like with the quarterback position, the running back position for the Texans is well-structured. Arian Foster, the team's superstar running back, will be the starter.
Ben Tate, who had a great campaign in 2011, will undoubtedly be Foster's backup. Although Tate struggled last year with multiple injuries, he is still a vastly talented player who could perfectly complement Foster when healthy.
The Texans, however, do not currently have a third-string running back on the roster. Justin Forsett recently signed with the Jacksonville Jaguars, leaving the Texans with only Foster and Tate.
Expect the Texans to fill the open spot with a late-round draft pick or through an undrafted free-agent signing.
At fullback, Tyler Clutts is currently the only one on the roster. He's a banger who can certainly hit, but before he can be thrust into the starting role, he must improve his understanding of the offense.
The Texans do not have a second fullback on the roster right now, so they will likely either draft or sign one to compete with Clutts in the offseason for the starting job.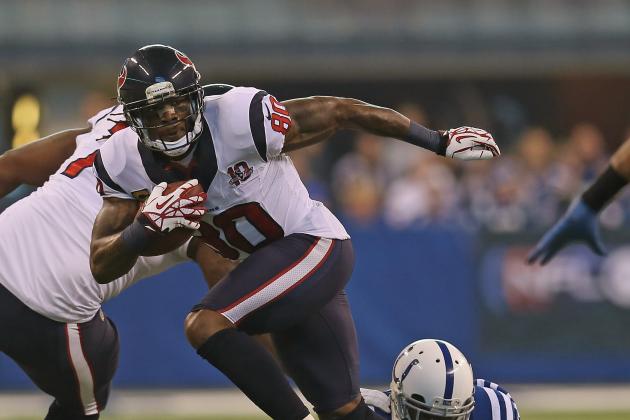 Jonathan Daniel/Getty Images

1st Starter: Andre Johnson
2nd Starter: Lestar Jean
Backup: Keshawn Martin
Backup: Jeff Maehl
Backup: Unknown
Injured Reserve or PUP: DeVier Posey
Looking at the current Texans wide receiver depth chart, it is easy to see why nearly every single draft expert has the Texans drafting a receiver in the first round.
Andre Johnson is a superstar, and he proved last season that he can still play despite his advanced age. However, Johnson will not last forever, and his eventual replacement must be found. Sooner rather than later, preferably.
Behind Johnson, the depth is miserable.
Both Lestar Jean and Keshawn Martin have flashed playmaking ability, but both are extremely inconsistent. Jeff Maelh, the current second backup in the receiving corps, has not caught a single pass in his short career.
DeVier Posey, the most promising of the Texans' young receivers, will likely be out until midseason; he suffered an Achilles injury in the Texans' playoff loss to the New England Patriots.
The Texans need to draft one or more talented receivers in this year's draft, or their depth at the position would be downright terrible.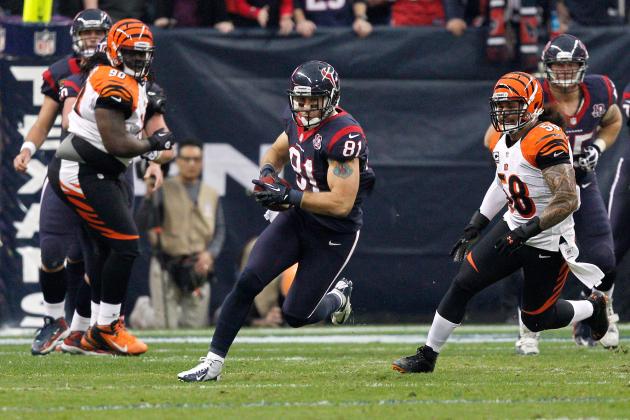 Bob Levey/Getty Images

Starter: Owen Daniels
Backup: Garrett Graham
Backup: Phillip Supernaw
Owen Daniels, a Pro Bowl tight end, has the starting job completely locked up. A dangerous receiving threat, Daniels is one of Matt Schaub's few reliable targets on the team, and he's one of the few reasons why the Texans' passing attack has any semblance of consistency.
Garrett Graham proved himself to be more talented than many had originally though last season. Graham is a solid blocker, and he has the ability to get open downfield. A dependable player, Graham will definitely be Daniels' backup next season.
Currently, Phillip Supernaw is the third-best tight end on the Texans' roster. He is a strong force in the blocking game, but has very little pass-catching ability.
Supernaw could end up staying on the team, as third-string tight ends are usually just extra blockers, or the Texans could replace him in the draft.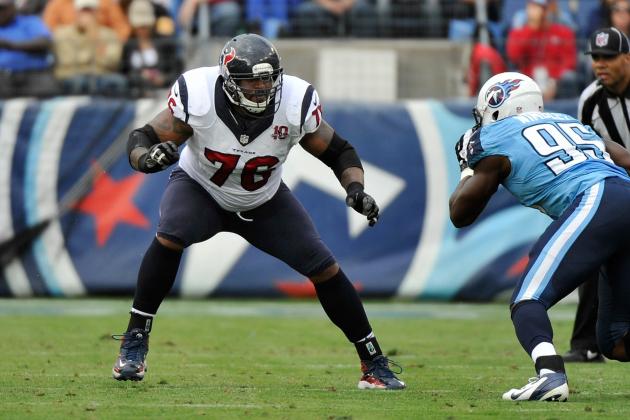 Frederick Breedon/Getty Images

Left Tackle: Duane Brown
Left Guard: Wade Smith
Center: Chris Myers
Right Guard: Brandon Brooks
Right Tackle: Derek Newton
Backup: Ben Jones
Backup: Andrew Gardner
Backup: Nick Mondek
Backup: Cody White
Look at the Texans offensive line depth chart right now. In about a month, it will look drastically different.
The Texans offensive line collapsed at the end of last season, and it was a major reason why the they stumbled into the playoffs.
Come draft day, the Texans will likely be adding multiple offensive linemen. The starting offensive lineman who is in the most danger of getting replaced in the draft is Derek Newton. He struggled mightily throughout last season, and a more talented tackle could really solidify the line.
The Texans will likely draft a guard to compete for the starting job with Brandon Brooks and Ben Jones. Also, it is unlikely that Andrew Gardner, Nick Mondek and Cody White will all remain on the roster. At least one of them will likely get cut to pave the way for incoming rookies.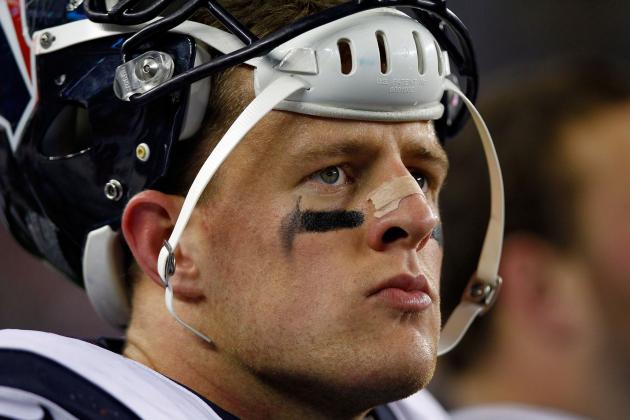 Jared Wickerham/Getty Images

Defensive End: J.J. Watt
Nose Tackle: Earl Mitchell
Defensive End: Antonio Smith
Backup (DE): Jared Crick
Backup (DE): Tim Jamison
Backup (NT): Terrell McClain
At defensive end, the Texans have one of the most solid corps in the league.
J.J. Watt is the reigning Defensive Player of the Year, coming off one of the most impressive defensive seasons in NFL history.
Antonio Smith, despite not being close to the talent of Watt, is a pass-rushing star who can consistently pressure the quarterback.
Both Jared Crick and Tim Jamison are solid backups who can fill in for a tired Watt or Smith on a moment's notice.
At the nose tackle position, however, things get pretty shaky. Earl Mitchell is currently the best nose tackle on the roster, but he is no better than a backup. Terrell McClain will likely get cut before next season starts.
It is expected that the Texans will address their nose tackle concerns early in the upcoming draft.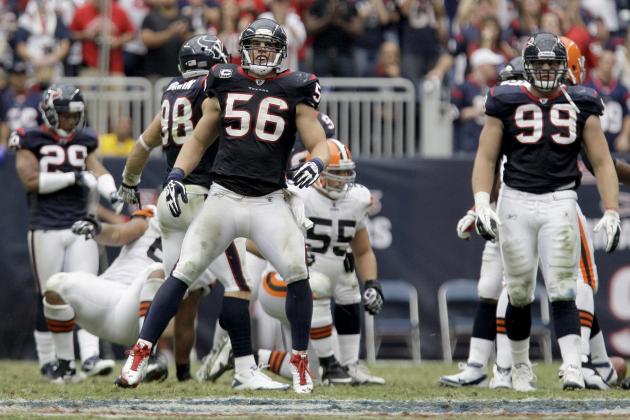 Thomas B. Shea/Getty Images

OLB: Brooks Reed
MLB: Brian Cushing
MLB: Darryl Sharpton
OLB: Whitney Mercilus
Backup: Bryan Braman
Backup: Cameron Collins
Backup: Delano Johnson
Next to the wide receiving corps, the linebacker one is one of the most unstable on the entire team.
The Texans have three very good linebackers in Brian Cushing, Brooks Reed and Whitney Mercilus. All three have proved themselves capable of stardom, even superstardom in Cushing's case.
Behind those three, however, the depth is extremely shaky and scary. Darryl Sharpton is the only proven player, but he consistently gets injured. It's a rare time when Sharpton can manage to stay on the field for an extended period of time.
Out of the remaining three backups, Bryan Braman is likely the only player who will remain on the roster, strictly for special teams purposes. Cameron Collins and Delano Johnson will both likely get cut.
The Texans will address their linebacking corps heavily in the upcoming draft. It is imperative that they do so.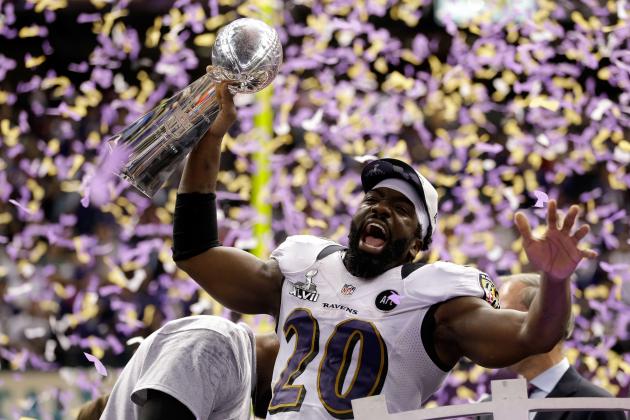 Ezra Shaw/Getty Images

Cornerback: Johnathan Joseph
Cornerback: Kareem Jackson
Free Safety: Ed Reed
Strong Safety: Danieal Manning
Backup (CB): Brice McCain
Backup (CB): Brandon Harris
Backup (CB): Roc Carmichael
Backup (S): Shiloh Keo
Backup (S): Eddie Pleasant
The Texans secondary consists of a very solid, very dependable starting four.
Johnathan Joseph proved himself to be a star in 2011, and although he struggled slightly in 2012 due to injuries, he is still an extremely talented cornerback.
While Kareem Jackson struggled mightily for the first two years of his career, he stepped up his game last season. He was much more confident, and his ability to tightly cover opposing receivers dramatically improved.
Danieal Manning is a consistent safety who loves to make plays. Whether it's on an interception or kick return, he almost always manages to find extra running room and open space. When he gets the ball in his hands, he's nearly unstoppable.
Ed Reed is the final starting member of the Texans secondary. Just signed from the Baltimore Ravens, Reed is a future Hall of Famer who still has plenty of game stored in him. A dangerous ball hawk, Reed always makes quarterbacks think twice about throwing it his way, which will grant the Texans' pass rush a few more moments to reach the quarterback.
Behind the starters, the Texans' cornerback depth is very dependable, and the safety depth is terrifying.
Brice McCain, Brandon Harris and Roc Carmichael are all young and improving cornerbacks who will continue to improve each day they spend in the NFL.
Shiloh Keo and Eddie Pleasant, however, represent the complete opposite. Both have proven no ability to play at a high level in the NFL, and neither of them can be counted on to be primary safety backups. The Texans will have to draft a more trustworthy safety this year.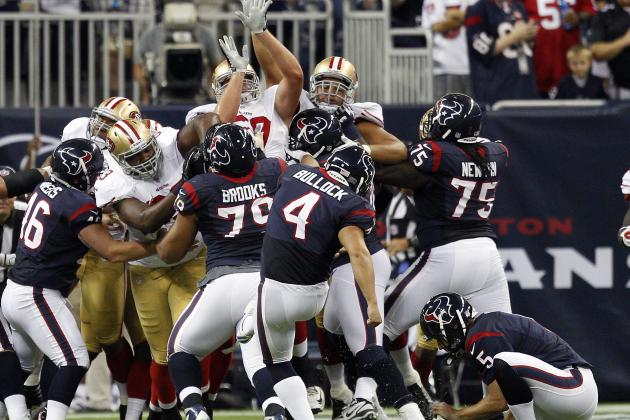 Bob Levey/Getty Images

Kicker: Randy Bullock
Punter: Shane Lechler
Returner: Keshawn Martin
Long Snapper: Jonathan Weeks
Since the Texans have announced no plans of re-signing Shayne Graham, the starting kicking job will likely fall into the hands of Randy Bullock.
Bullock was drafted by the Texans in the fifth round of last year's draft, but he spent the entire year on the injured reserve with a groin injury. Now, he will have to handle all of the Texans' kicking duties.
After the Texans decided to not pursue re-signing Donnie Jones to be the team's punter, they went out and signed Shane Lechler, one of the best punters in NFL history, to a multi-year contract. Despite getting old, Lechler will surely provide some assistance to the Texans' dreadful special teams unit.
Keshawn Martin will in all likelihood remain the team's returner, as the coaching staff does not wish to endanger Danieal Manning by forcing him to return punts and kicks.
Jonathan Weeks is the Texans' reliable long snapper, and he will surely not need to be replaced in this year's draft.