Breaking Down the Pittsburgh Steelers' Depth Chart After the Peak of Free Agency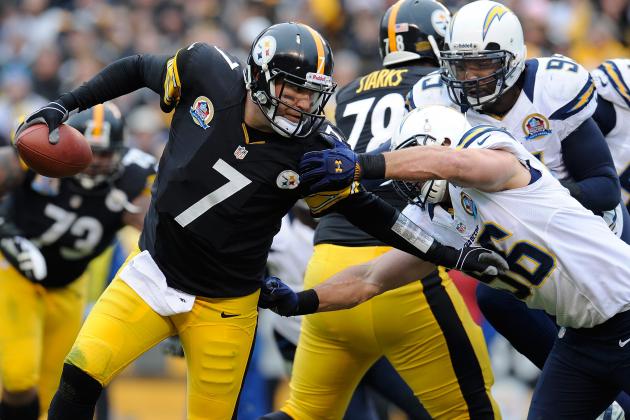 Joe Sargent/Getty Images

The Pittsburgh Steelers have been very active with their own free agents and a handful of others from other teams. As free agency goes from a flurry of deals each day to a small trickle each week, its time to take stock of the depth chart and see how things are shaping up as teams hurtle toward April's draft, the next big event on the league calendar.
Here's a look at the Pittsburgh Steelers and how they look at each positional unit.
Begin Slideshow

»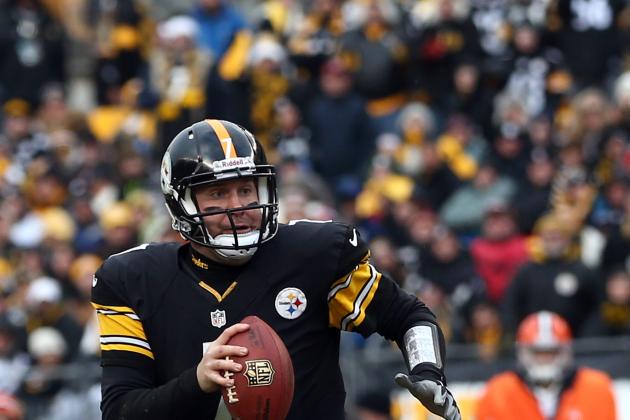 Karl Walter/Getty Images

Starter: Ben Roethlisberger
Backups: Bruce Gradkowski, John Parker Wilson
Analysis
Pittsburgh is set at quarterback after a year in which the Steelers found out just how bad things could get when Ben Roethlisberger is hurt. Byron Leftwich and Charlie Batch were among the league's oldest backups and looked like complete misfits in Todd Haley's offensive scheme.
Roethlisberger restructured his contract to give Pittsburgh cap room but remains entrenched at the top of the depth chart. Until his injury, he was among the league's finest quarterbacks and an MVP candidate.
Leftwich and Batch are gone. Bruce Gradkowski has come over from the Cincinnati Bengals and John Parker Wilson was signed as a potential project quarterback from the Jacksonville Jaguars.
Gradkowski represents a clear upgrade behind Roethlisberger and a perfect fit for Haley's system. He's smallish, but he's got a quick release and is reasonably accurate. For a good comparison, think of him as Charlie Batch in 2002.
Wilson will likely be replaced by a draft pick, but for now he is a fine camp guy and someone who has been around the league for awhile.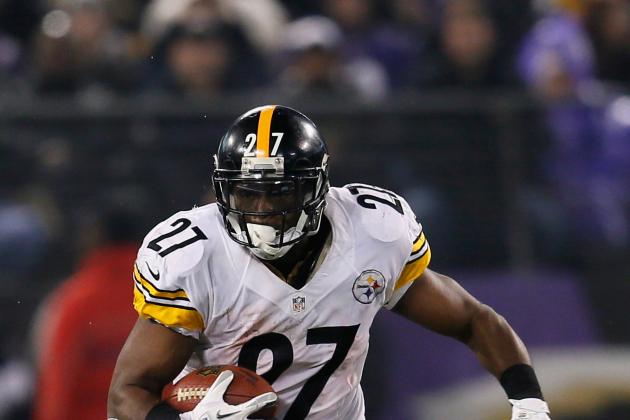 Rob Carr/Getty Images

Starter: Jonathan Dwyer, Will Johnson (FB)
Backups: Isaac Redman (RFA), Baron Batch
Analysis
This position won't be settled until the draft. Even then, it will take training camp to officially fill out the depth chart in the right order.
Right now, Jonathan Dwyer is the starter after quickly signing his tender. He showed some ability in 2012 by averaging over four yards per carry, but was far from effective at times. He seems to best fit as a pounder who can force a defense to switch gears from a more versatile starter.
Isaac Redman was tendered by Pittsburgh but wouldn't cost another team much. No one has bothered with him to this point, but he could become a commodity if a team doesn't get a running back in the draft. If he stays, he'll battle for a roster spot in camp.
Redman is an effective third-down back, but that spot could easily go to Baron Batch, who must prove he can stay healthy after consecutive injury-marked campaigns to open his career.
This position is far from fixed. Expect a draft pick like Montee Ball or Le'Veon Bell to be added to give the team a true starter.
Will Johnson will remain the fullback. David Johnson is back with the team after recovering from an ACL injury, but he will face an uphill battle after Will Johnson put together a very productive rookie season.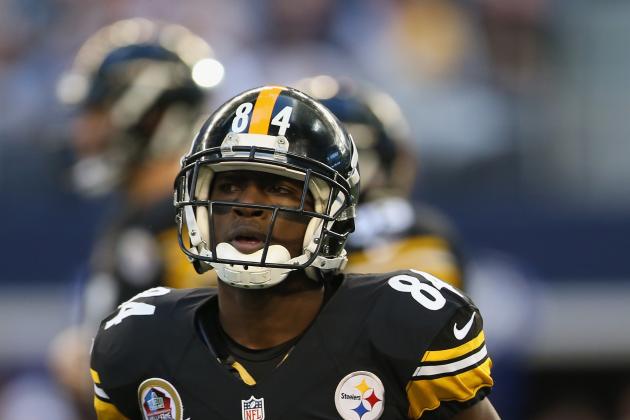 Ronald Martinez/Getty Images

Starters: Antonio Brown, Emmanuel Sanders (RFA)
Backups: Plaxico Burress, Jerricho Cotchery, David Gilreath, Derek Moye, Bert Reed, Kashif Moore
Analysis
The key story at this position this offseason centers around Emmanuel Sanders and whether or not a team will be willing to surrender a third-round draft pick, which Pittsburgh could use, for a player that has been mildly disappointing in the two years since a marvelous rookie season.
To this point, New England has shown some interest but has stopped short of giving Sanders an offer. That could change. Sanders has plenty of upside and is still young.
Antonio Brown will return as one of the starters and restructured his deal to help Pittsburgh with the cap. If Sanders returns, he will be opposite him. The potential is there for Pittsburgh to have a very dangerous one-two punch.
Behind them, Plaxico Burress was re-signed and will combine with Jerricho Cotchery to give Pittsburgh some excellent red-zone targets. Cotchery's excellent hands and Burress' size will create matchup problems for defenders that will help offset the early absence of tight end Heath Miller.
Pittsburgh would be wise to add a top receiver, especially a fast one like Tavon Austin or Keenan Allen, in the draft this year. If it doesn't wish to spend an early pick there, Stedman Bailey would be a nice mid-round choice. The Steelers need some fresh blood at the position.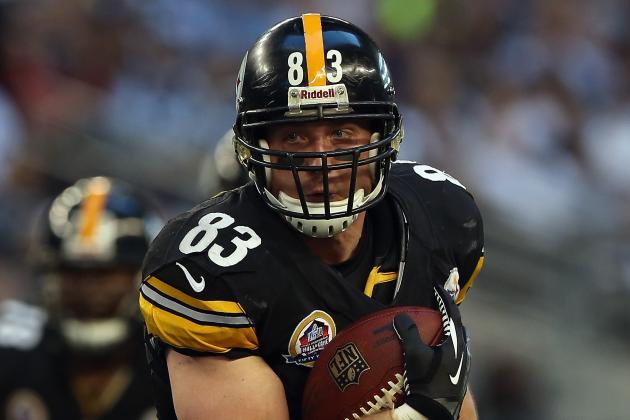 Ronald Martinez/Getty Images

Starter: Heath Miller (injured)
Backups: Matt Spaeth, David Paulson, David Johnson (Fullback), Jamie McCoy, Zack Pianalto
Analysis
Pittsburgh added Matt Spaeth from the Chicago Bears to help cover for the loss of Heath Miller, who will miss part of the season while he recovers from a knee injury suffered near the end of last season.
Spaeth is a solid add for many reasons. He's familiar with Pittsburgh after beginning his career with the Steelers. He's a good blocker and can help shore up the run blocking that has been so poor recently. His size will make him dangerous in the red zone as well.
David Paulson returns after a decent rookie season and could get some time while Miller is out as well. Pittsburgh has a couple of other players in camp, but the team will likely only keep Miller, Spaeth and Paulson once everyone is healthy and rosters are complete.
Pittsburgh may opt for a draft pick late at the position, but would be just fine with what is already on the roster. Tight end/fullback David Johnson is also back on the roster and could fill in if needed.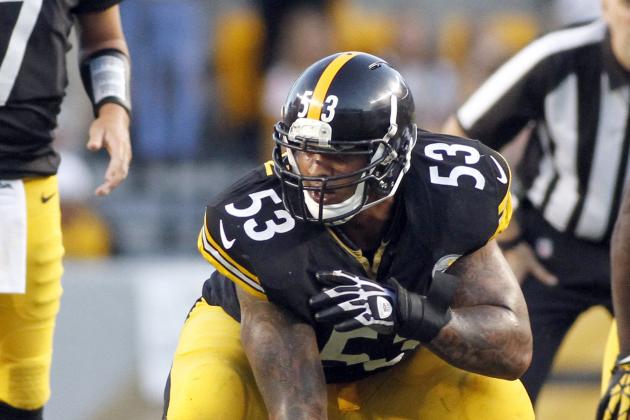 Justin K. Aller/Getty Images

Starters: Mike Adams (LT), Ramon Foster (LG), Maurkice Pouncey (C), David DeCastro (RG), Marcus Gilbert (RT)
Backups: Kelvin Beachum (T/G), John Malecki (G/T), Justin Cheadle (G), Joe Long (T)
Analysis
Beyond Maurkice Pouncey at center and David DeCastro and Ramon Foster at the guard spots, things could change a whole lot between now and the first regular-season contest of the 2013 season. Pittsburgh's offensive line is under new management, as Jack Bicknell, Jr. takes over as position coach.
Bicknell favors linemen who are athletic and versatile, so bigger players like Max Starks are not going to be kept around or re-signed. Luckily, Pittsburgh has put a premium on those qualities in recent drafts.
Ramon Foster was brought back and will be a valuable starter at left guard. Foster is under-appreciated but finally got a contract that shows how important he's become to Pittsburgh.
The tackle spots are the biggest issue. Marcus Gilbert spent the majority of last season injured. He should be solid at right tackle but may be more effective on the left side where Mike Adams is currently projected.
Adams showed little in his first season and could be overcome by second-year man Kelvin Beachum, who played well at guard as an injury substitute.
The other backups aren't very enticing and the free-agent market isn't very good here. The draft class along the offensive line is very deep and Pittsburgh should be able to find some value there whether they look there early or late.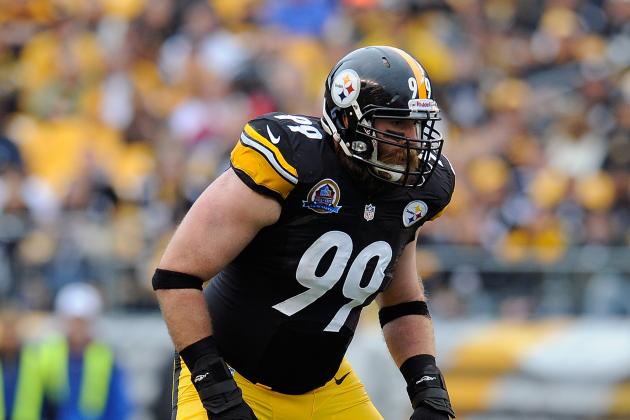 Joe Sargent/Getty Images

Starters: Brett Keisel (DE), Steve McLendon (NT), Ziggy Hood (DE)
Backups: Cameron Heyward (DE), Al Woods (DE), Alameda Ta'amu (NT), Loni Fangupo (NT)
Analysis
As long as no one takes a shot on Steve McLendon, who was given a low tender by Pittsburgh, as a restricted free-agent, the starting defensive line is virtually set.
The one question will be Ziggy Hood, who is coming off a season in which he just did not play very well. Cameron Heyward wasn't much better in backup duty, but there's a chance he could unseat Hood with a strong preseason.
McLendon should be ready to break out now that Casey Hampton is gone, but Pittsburgh won't give him any kind of long-term contract until they're sure he's the future of the position. He's been great in limited looks, but that is not enough to warrant a deal.
Al Woods and Alameda Ta'amu are back as backups along the line. Ta'amu will need to prove that his off-field and on-field issues are behind him and that he can be the touted prospect he was in last year's draft.
Pittsburgh could make an addition here to strengthen the defensive tackle position and could even, if it accumulates some extra picks, add a defensive end to the mix to stir up some more competition.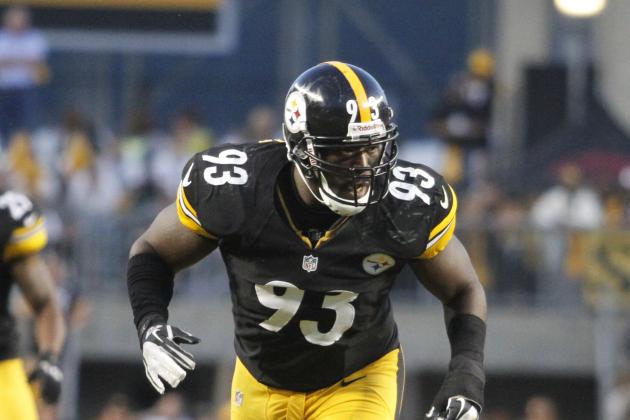 Justin K. Aller/Getty Images

Starters: Jason Worilds (OLB), LaMarr Woodley (OLB), Lawrence Timmons (ILB), Larry Foote (ILB)
Backups: Chris Carter, Adrian Robinson, Sean Spence, Marshall McFadden, Brian Rolle, Kion Wilson
Analysis
This is another position that will need to be strengthened during the April draft. With the departure of James Harrison, one of the team's signature defensive players, Pittsburgh is officially in transition on defense.
Jason Worilds projects as Harrison's replacement, but he's unproven and has been injured at times during his brief career. He had some tantalizing moments early last season when Harrison was injured, but nothing to confirm he can be a permanent fix.
LaMarr Woodley will need to bounce back after a very lackluster 2012 in which he looked out of shape and during which he couldn't stay off the injury report.
Lawrence Timmons had another solid season on the inside and will be helped once the team finds a permanent replacement for James Farrior. Right now, Larry Foote will man the position again after getting a new deal in free agency. That could change if Sean Spence gets healthy or if the team finds talent in the draft.
The backups at the linebacker positions aren't compelling at all and, save for Spence, could all be replaced before the season opens. Spence still remains a top prospect for Pittsburgh if he can get healthy.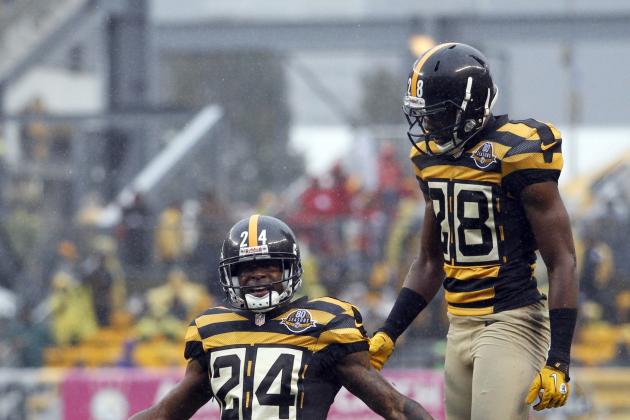 Justin K. Aller/Getty Images

Starters: Ike Taylor, Cortez Allen
Backups: William Gay, Curtis Brown, DeMarcus Van Dyke, Josh Victorian, Ross Ventrone, Justin King
Analysis
Pittsburgh didn't make a run at Keenan Lewis after an impressive 2012 season. He won't return. Cortez Allen will replace him as the starter unless something changes between now and the regular season. While that's not out of the question, rookies don't often start on this defense.
William Gay was brought back after a year in Arizona to stabilize the position and give Pittsburgh an effective nickel corner.
Curtis Brown heads an unimpressive cast of backups that should be augmented in the draft by a pick or two. There are several excellent cornerbacks in this year's draft class. A player like Desmond Trufant or Johnthan Banks could end up with the Steelers.
Pittsburgh has been able to get a lot out of corners who aren't necessarily household names, so there's plenty of reason for optimism with guys like Allen, who showed last year he could contribute on defense.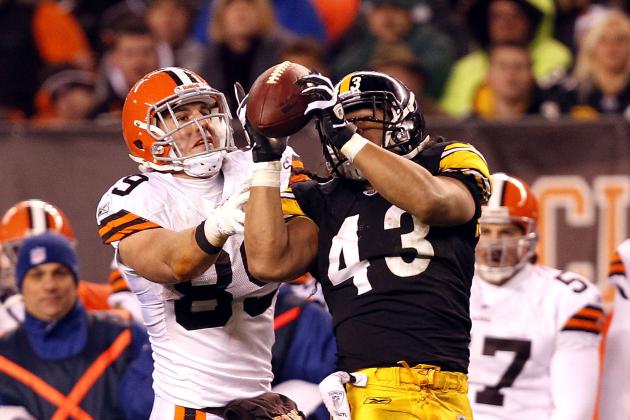 Matt Sullivan/Getty Images

Starters: Troy Polamalu (SS), Ryan Clark (FS)
Backups: Da'Mon Cromartie-Smith, Robert Golden, Isaiah Green
Analysis
Pittsburgh will be fine at safety as long as Troy Polamalu and Ryan Clark can stay healthy. Polamalu failed miserably at that in 2012 and looks like a player who could be on his last legs. One or two more years remain before he'll need to be replaced, but the end is near.
Clark is two years older but could potentially hang around longer because his body isn't as battered. He's no spring chicken either.
Pittsburgh elected to let backups Ryan Mundy and Will Allen walk in free agency, so they'll be looking for new backups.
Robert Golden is a prospect to watch. He's the only useful backup on the list above and could develop into a nice piece. The team must spend a draft pick or two at the position, perhaps on Florida's Matt Elam, to shore things up and potentially get a replacement for Polamalu on board.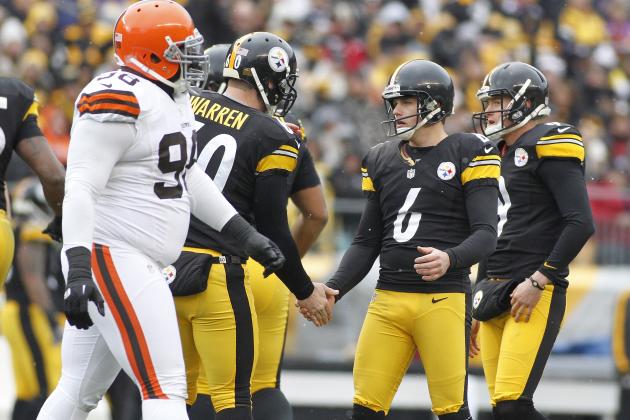 Justin K. Aller/Getty Images

Kickers: Shaun Suisham, Daniel Hrapmann
Punter: Drew Butler
Long Snapper: Greg Warren
Analysis
Pittsburgh re-signed long snapper Greg Warren to return the same specialist units from 2012. The move was a good one, as both the kicking and punting units were quite effective. The coverage units gave the special teams a bad name, however.
Shaun Suisham had an excellent season and justified the confidence Pittsburgh has shown in him despite shoddy accuracy numbers early in his career.
Drew Butler had a solid first season as Pittsburgh's punter, but he had some rocky moments that could cause Pittsburgh to bring in some competition to keep him honest heading into next season.