10 Reasons Reading Match Is a Must-Win for Arsenal
Jan Kruger/Getty Images
Arsenal will return from the international break with a home matchup against relegation-zone dwellers Reading.
The Gunners currently sit fifth in the Premier League and were able to conjure up a string of impressive successive wins.
Although the Gunners have played well as of late, they are by no means out of the woods. A win is still imperative for Arsene Wenger's men, and here's why.
Continuation of Form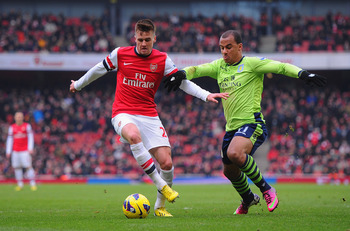 Carl Jenkinson has been fantastic for the Gunners in their last two matches.
Michael Regan/Getty Images
Arsenal went into the international break fresh off of a pair of consecutive 2-0 wins. It was the second time the North Londoners had cobbled together successive winning performances in 2013.
If Wenger's men can keep their pre-break good form, it will be the first time Arsenal have won three matches in a row in 2013. It would be the third time the Frenchman's side had won three matches in a row this season.
The Gunners have yet to win four in a row this campaign.
Arsenal will need to keep their form as high as possible if they are going to finish in the top four, which brings us to our next slide.
Champions League Finish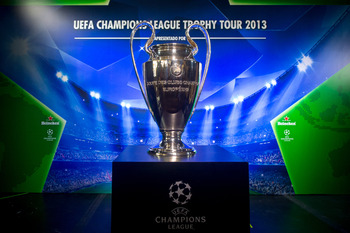 Buda Mendes/Getty Images
If Arsenal hope to claim a top-four finish and Champions League qualification that goes along with it, they're going to have to pick up points against teams like Reading.
When looking at the Gunners' remaining nine matches, Wenger's men will be favored in eight of them.
The only match in which the North London side will be underdogs will be their April 28 matchup against Manchester United.
However, it is likely that Sir Alex Ferguson's men will have wrapped up the Premier League title by that time, which would make for an interesting match as the Red Devils would only be playing for pride.
Regardless, a matchup against a Reading team that will in all likelihood be relegated is the kind of match Arsenal have to win.
Keep Ahead of the Pack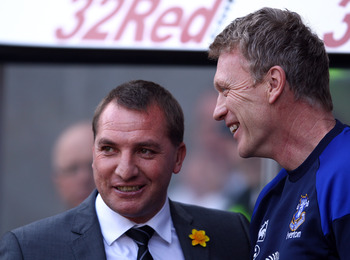 Brendan Rodgers and David Moyes will be hoping that Arsenal drop points.
Richard Heathcote/Getty Images
With 50 points, Arsenal currently sits fifth in the Premier League table. However, the Merseyside clubs are not far behind.
Liverpool and Everton lay five and two points back, respectively. If Arsenal drop points, not only will it make their attempt to catch the sides currently occupying the top four difficult, but they'll be inviting more competition into the race.
Everton have been fantastic this season. David Moyes' men will not go down without fighting.
Liverpool, a more distant rival, have shown decent signs of improvement and will be pushing to finish as high as possible.
It is imperative that the Gunners pick up as many points as possible just to keep the other teams out of the race. And points against Reading are ones that must be collected.
Proof in the Squad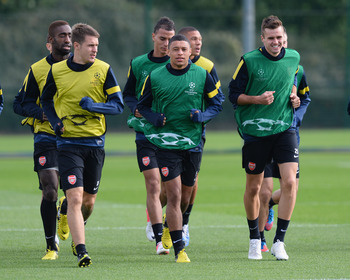 Mike Hewitt/Getty Images
Arsenal have injuries in the squad. Theo Walcott was released from the England squad due to a hip injury. Jack Wilshere is in Dubai resting his ankle.
Squad players will have their opportunity to step in and prove they belong at the club.
Heading into the international break, the likes of Carl Jenkinson, Aaron Ramsey and Lukasz Fabianski all stepped up and performed well.
The Reading match will be the perfect forum to further illustrate their credentials.
However, if the squad does come in and fails to get three points, some players might be facing the exit door once the summer transfer window comes around.
Reading's Managerial Chaos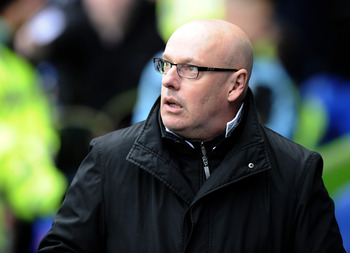 Tony Marshall/Getty Images
Less than two weeks ago Reading sacked manager Brian McDermott. The Englishman, who was integral in Reading's promotion to the Premier League, was let go due to his side's poor form.
A similar scenario played out last season, when Wolverhampton Wanderers sacked coach Mick McCarthy due to the team's dismal league record. Wolves were promptly relegated after the change.
The Royals have now been left to caretaker manager Eamonn Dolan, whose first result as manager was a 1-0 loss to likely champions Manchester United.
This general state of chaos at Reading is what makes this a must-win match for the Gunners.
If Wenger's side can't put in a match-winning performance against a hopeless Reading, things would be much worse than previously thought.
We Want to Finish Ahead of Tottenham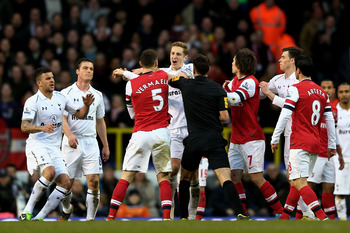 Paul Gilham/Getty Images
Every Arsenal fan wants to finish ahead of North London rivals Spurs. But speaking from an objective point of view, Andres Villas-Boas has our North London rivals playing better than they have in recent seasons.
Luckily, their yearly collapse has begun a tad early this season, and it is not unrealistic to think Arsenal can finish ahead of Tottenham.
Tottenham are on 54 points, four ahead of Arsenal. Arsenal's game in hand means that Spurs will have to further drop points in their remaining eight fixtures.
In those remaining eight matches Tottenham face Swansea City and Chelsea away, and they host Everton and Manchester City.
All of those will be difficult games in which a point would be considered a good result.
If Arsenal are to catch their rivals and finish ahead of them, they will have to do so by winning their bread-and-butter matches, like home ties against Reading.
The Crowd Will Turn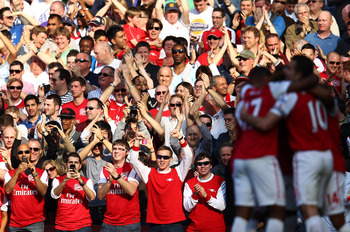 Julian Finney/Getty Images
If Arsenal do not secure a win against the Royals, the Emirates crowd will turn vicious. We've already seen instances earlier in the season with the players being jeered off the pitch.
This would be disastrous because the second the crowd turns, the confidence of the players will be gone.
Arsenal went into the international break with a supreme amount of confidence, having secured successive 2-0 away victories against Bayern Munich and Swansea City.
If the crowd turn, that confidence will be deflated and the remaining nine fixtures will be dismal.
Arsenal needs to keep the crowd on its side, so a home win against relegation-zone dwellers Reading is vital.
Finish in Third?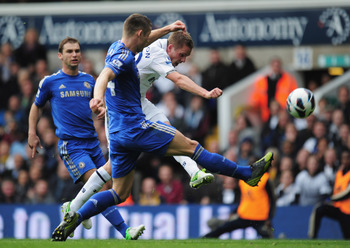 Tottenham and Chelsea are within reach of the Gunners.
Shaun Botterill/Getty Images
Although unlikely, Arsenal are still in position to possibly finish in third.
A third-place finish would secure automatic qualification into the group stage of the Champions League, a benefit since it would relieve the fixture congestion Wenger detests.
The Gunners sit five points behind Chelsea, but the Blues are still competing in the FA Cup and the Europa League.
In the Premier League, the West Londoners still face away trips to Liverpool and Manchester United, and they will be hosting Tottenham, Swansea City and Everton.
None of those matches will be easy, and if Chelsea drop points, Arsenal will have the opportunity to take advantage of that.
The key will be winning as many matches as possible. If the Gunners fail to pick up three points against Reading, a third-place finish is all but impossible.
Attract Top Players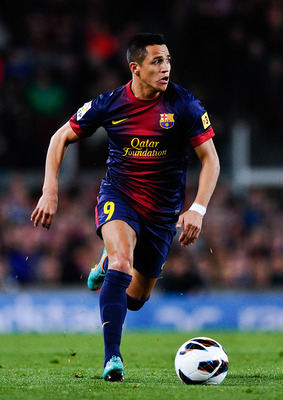 Alexis Sanchez has been linked with a possible transfer to Arsenal.
David Ramos/Getty Images
If Arsenal are to qualify for the Champions League next season, they are going to have to pick up points against Reading.
It is no secret that Arsenal's squad needs to be improved. A defensive midfielder would fit in quite nicely, and reinforcements in other areas would be welcomed.
In order to attract top-quality talent to the Emirates, the Gunners will have to be playing in the Champions League.
A failure to qualify would be disastrous. With rumours swirling around that Arsenal are set for a summer spending spree, a Champions League qualification would ensure that top talent will be open to a move to the Emirates.
A failure to win against Reading would be damning in Arsenal's push for that Champions League spot.
The Season Will Officially Be over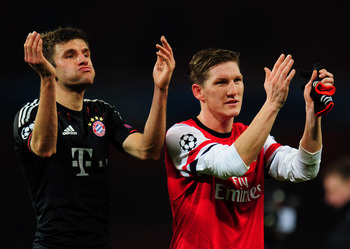 Shaun Botterill/Getty Images
If the Gunners fail to secure three points against lowly Reading, it will be difficult to see how the Gunners will secure a Champions League finish.
The minute Arsenal is eliminated from Champions League qualification, their season is over.
There will be nothing more to play for. The league title, FA Cup, Champions League title and League Cup will all have evaded the Gunners for yet another season.
If Arsenal don't win at Reading, the season is essentially over.
Keep Reading

Arsenal: Like this team?