Oregon Football: 3 Toughest Road Trips of 2013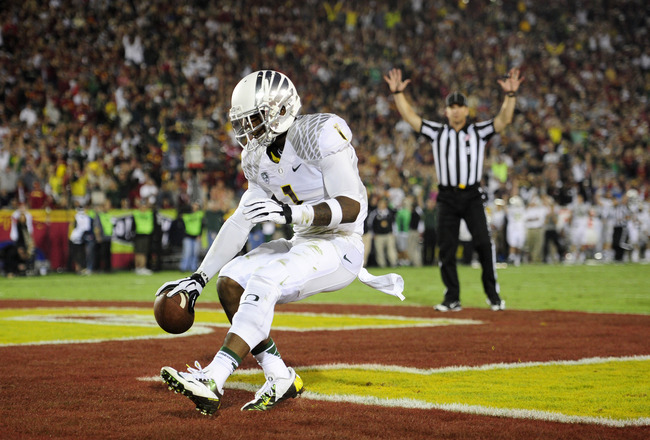 WR Josh Huff had his best games on the road last season
Robert Laberge/Getty Images
This whole "hostile environment" thing has worked out pretty well for the Oregon football team over the past few years.
The Ducks haven't lost a true road game since the 2009 season, an impressive feat no matter how you look it. (Though it's fair to note that playing LSU in Dallas was hardly a neutral site contest.)
Will that trend continue in 2013?
If you look at the slate of away games, the first inclination you might have would be to say "yes," unless you are a Stanford fan.
But despite Oregon's road success, playing away from the friendly confines of Autzen Stadium rarely means a relaxing Saturday for fans. Be confident all you want (and you have plenty of reason to be), but the team better show up and be ready to play ball if it hopes to escape those hostile environments with W's.
Out of the five road games on the schedule for next season, here are the three (with a bonus fourth!) that could present major challenges to another run at the BCS title.
Note: Sorry Colorado, you didn't make the cut for toughest away games. But I will say Folsom Field is a great place to catch a game!
Arizona Wildcats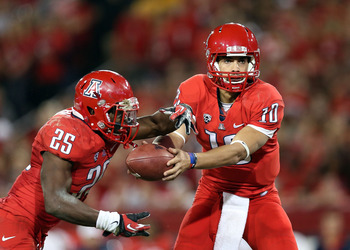 RB Ka'Deem Carey takes the handoff
Christian Petersen/Getty Images
Everything about the Ducks' late-November trip to Tucson gives cause for concern.
If everything goes according to Mark Helfrich's plan, the team will be 10-0 heading into this contest with a chance to get back to the BCS title game. With the following week's Civil War back at home, this game could be more pressure-packed than any other on the schedule.
The Wildcats lose quarterback Matt Scott, and that will hurt more than people think given the season he just had. But playing the game in November also means that whoever winds up at quarterback will have had plenty of time to get comfortable with Rich Rod's system.
On paper, Arizona should have an improved defense and its receiving corps, led by Austin Hill, will be scary. Then of course there's Ka'Deem Carey, who's among the best backs in the country.
The Ducks have a history of thrilling games at Arizona, from (gulp) the infamous 2007 contest where Dennis Dixon tore his ACL to the 2009 game when Masoli led a game-tying drive in the final seconds and helped the Ducks win in overtime.
I see the Wildcats struggling out of the gate, but if they can put it together by the time November rolls around, things could get very tricky for the Ducks in the desert night.
Washington Huskies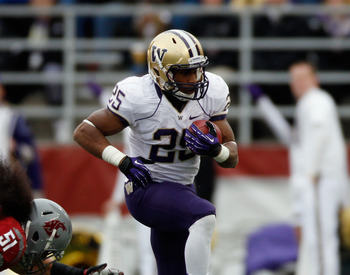 RB Bishop Sanker
William Mancebo/Getty Images
This won't be a popular selection among the Duck faithful, but the team better be ready to play when it visits the newly-renovated Husky Stadium next October.
Yes, the Ducks smoked the Dawgs this past season and yes, there are plenty of reasons why next year should be no different.
But from a Washington perspective, what better way to open up the new stadium (I know it's not the first home game) than with a win against the Ducks, a team it's lost to nine years in a row?
If Keith Price returns to the form he displayed during his sophomore season, the Huskies are going to be a tough draw for everybody they face. Bishop Sankey has turned into a great running back and both Austin Seferian-Jenkins and Kasen Williams are elite targets in the passing game.
The place will be rocking, as the Ducks' visit is basically the Super Bowl for Washington.
I realize the Huskies tend to get hype every offseason and rarely has that manifested into real results come football season. But the talent is there and everything points to next season as a now-or-never campaign for the Dawgs. Price and Sankey will be seniors, and both Seferian-Jenkins and Williams could turn pro after the year is over.
Clearly the Oregon Ducks are still the better team in this rivarly. But that doesn't mean things won't get dicey on the shores of Lake Washington in the fall.
Stanford Cardinal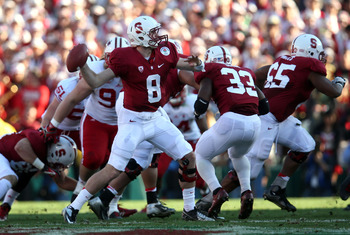 Stanford QB Kevin Hogan
Stephen Dunn/Getty Images
Finding motivation to show up and play hard in Palo Alto shouldn't be very difficult for the Ducks.
After all, it was Stanford that ruined Oregon's chances of making the BCS title game and the Cardinal did it in a way that few thought was possible—by holding the quack-attack to just 14 points.
While the first two teams on this list present potential trap games, the Ducks' visit to Stanford sets up as the Pac-12 game of the year, with both teams coming off multiple BCS appearances.
The environment may not be as hostile as Tucson or Seattle, but the team Oregon faces will present a much bigger challenge. The Ducks are out to prove to everybody that the 2012 contest was a fluke and that they still own the conference.
Meanwhile Stanford, led by blossoming dual-threat quarterback Kevin Hogan, wants to feel like it's arrived at the mountaintop of college football's elite. Another win against the high-flying Ducks would leave little doubt in anybody's mind.
This game will be circled on every preseason list of best games, and you can bet it has already crept into the minds of Oregon's players.
Stanford is a team that nobody wants to play, and Oregon's trip to the Bay Area easily sets up as its toughest road test of the season.
*Bonus* Virginia Cavaliers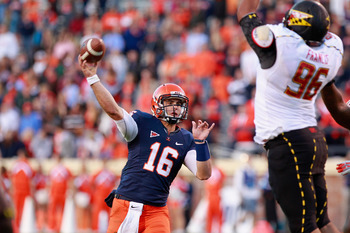 UVA quarterback Michael Rocco
Geoff Burke/Getty Images
I'll make this short and sweet: if Virginia beats Oregon next season you might want to dust off your doomsday bunker in preparation of the apocalypse.
But the Cavaliers make the list because crazier things have happened and a trip to the East Coast for Pac-12 teams rarely goes as planned.
Just as Cal, who flew up to Maryland in 2008 in anticipation of an easy victory and left with a 35-27 smack in the face. Granted, the Ducks are much better than that particular Bears team and Virginia isn't half the team Maryland was, either.
Still, in a brand new environment with eyes watching around the country, it would be a good idea for the Ducks to set the tone early and leave little doubt.
This game shouldn't be close, but you never know, and that's a major reason why we all love college football.
Keep Reading

Oregon Ducks Football: Like this team?