Oregon Football: 5 Ways Mark Helfrich Can Endear Himself to Duck Fans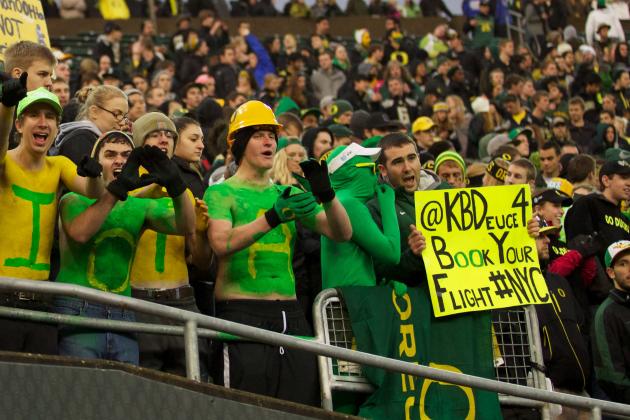 Scott Olmos-USA TODAY Sports

It's gotta be tough to follow a legend. Oregon head coach Mark Helfrich says he has his dream job coaching the Ducks, but how will he endear himself to Oregon fans? Fans who will likely say at the first little slipup by the Ducks: "Chip wouldn't have done that"?
Helfrich is off to a great start. He and his assistant coaches did a masterful job with the 2013 recruiting class just days after former coach Chip Kelly soared off to lead the NFL's Eagles. Helfrich's humble and low-key demeanor at his first press conferences was refreshing after Kelly's smart-ass snarkiness.
When asked by a reporter at his hiring presser how he would be different than Kelly, Helfrich's deadpan delivery "I will eat more vegetables" was an indication that, yes, he does have a sense of humor.
Oregon fans like their new home-grown coach, and they will cut him slack during his honeymoon period. But what can Helfrich do during this period to endear himself to the fans and cement his place in their hearts?
Here come a few ideas.
Begin Slideshow

»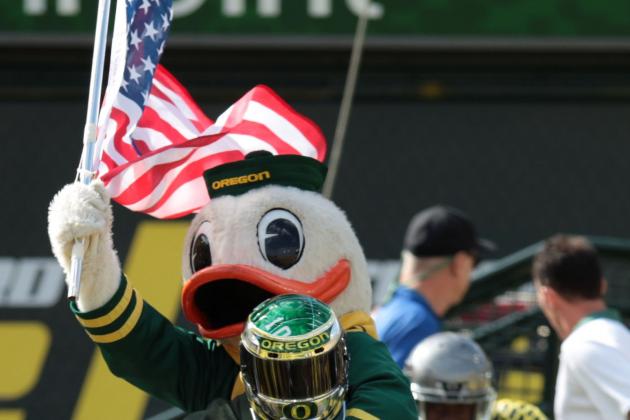 Scott Olmos-USA TODAY Sports

The question of the month is "Will he or won't he?" It refers, of course, to whether Helfrich will allow public access to any or all of the Ducks' practices.
The media is salivating over the prospect of being allowed inside after four years of being shut out by Kelly. It should be said that beat reporters who cover the Ducks aren't eager to give away all of Oregon's secrets to the competitors; they just want to see with their own knowledgeable eyes what's going on to better inform their readers.
It should also be said that this issue of access to practice isn't just a media one. There are hundreds of parents, mostly in the Eugene area, who miss the opportunity for major bonding time with their kids by taking in a Ducks' practice for an hour or so on a fine spring day.
Does the U of O really believe that Aaron Fentress of The Oregonian or Susie's dad are going to call Lane Kiffin from the practice field and tell him what plays the Ducks are working on?
The solution to make most everyone happy is probably some combination of allowing the public in on certain days during spring practice with no photography allowed (except for accredited media) and cell phones turned off. If anyone breaks the rules, they are immediately ejected.
Oregon should keep certain days "public free" (to work on the trick stuff!), and should restrict access even further during fall camp, especially while the new recruits settle in.
Easy, and everybody's happy.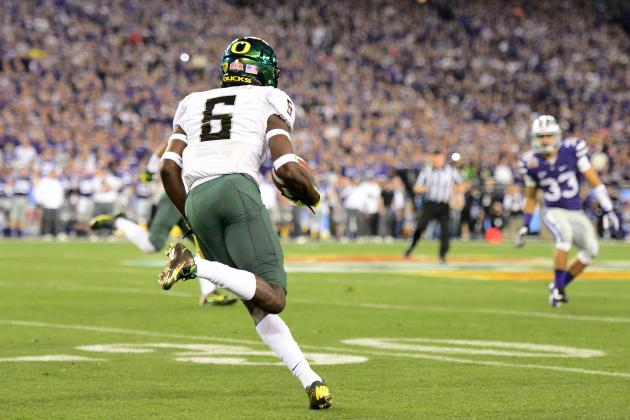 Mark J. Rebilas-USA TODAY Sports

Oregon fans love their Ducks—all of their Ducks. But they really love De'Anthony Thomas.
Despite a very solid sophomore campaign, some fans felt that Chip Kelly kept Thomas bottled up a little too much to protect the little guy from the big meanies. On the other hand, some fans felt that Thomas was a victim of the Sports Illustrated cover curse.
Whatever.
Coach Helfrich can further win the hearts of Ducks everywhere by unleashing DAT. Let him run free. Use him more. Make sure DAT is in the Heisman Trophy conversation. What are you saving him for—Christmas?
More DAT. Every game.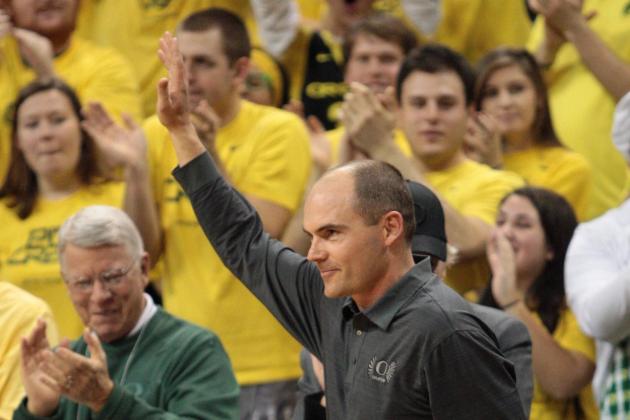 USA TODAY Sports

Chip Kelly once said that Mark Helfrich was one of the funniest guys he knew. That's kind of like the pot calling the kettle black, but, never mind, it's a good endorsement.
Helfrich appears to have a charming personality and he should let it out at every opportunity—a halftime interview at the Oregon vs. Louisville Sweet 16 basketball game would be a good start!
Don't let anyone script you, Mr. Helfrich, and always tell it like it really is. Duck fans are grownups (for the most part) and they don't need spin from you.
Tell them the truth, mix in a little humor when appropriate and remember it's supposed to be a fun game, and Duck fans will be yours forever.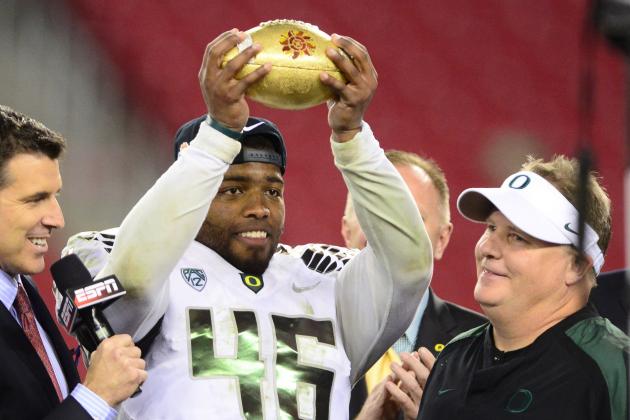 Mark J. Rebilas-USA TODAY Sports

When I was in the corporate world, I always hated it when a new CEO would come in and just to mark his (and it was almost always "his") territory, would immediately set about to change everything. Some things may have needed changing, but everything?
Helfrich is too smart to fall into that trap. Except for the possibility of NCAA recruiting sanctions, it's quite clear that the Oregon football program is not broken and does not need fixing.
Oregon fans like the program just the way it is, thank you. Put your personal mark on the Ducks certainly, Mr. Helfrich, but where it's not broken, please don't try to fix it.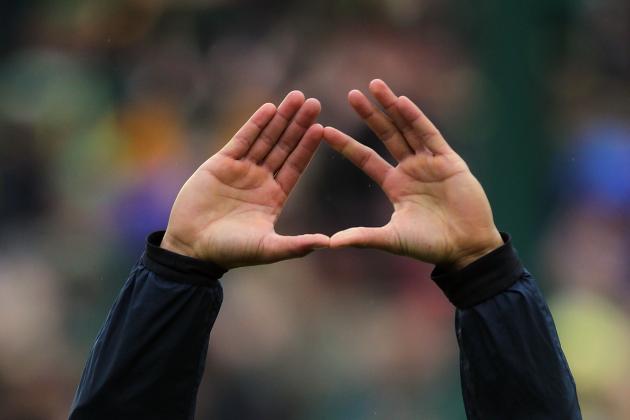 Jonathan Ferrey/Getty Images
Olympic decathlon gold medalist Ashton Eaton throws the O
The previous four slides are all bunk. There is, after all, only one surefire way for Helfrich to endear himself to Duck fans.
Win.
Yes, you should be charming, graduate as many student-athletes as you can, make the game entertaining and be a fun guy. But it really all comes down to one word, doesn't it?
Win.
Kay Jennings is a member of the Football Writers Association of America.