Brian Cashman was at it again.
The Yankees general manager lured back the team's former ace on Friday night, signing Chien-Ming Wang to a minor league deal.
OFFICIAL: #Yankees sign RHP Chien-Ming Wang to Minor League deal.

— New York Yankees (@Yankees) March 23, 2013
Bryan Hoch of MLB.com said Wang will report to the Yankees camp on Monday in preparation for the 2013 season.
Yankees officially have signed Chien-Ming Wang to a Minor League contract. He will work out on Monday.

— Bryan

Hoch

(@BryanHoch) March 23, 2013
The 32-year-old pitched for the Yankees from 2005-2009 and went 55-26 during that time before running into injuries.
After suffering a season-ending shoulder injury that required surgery, Wang missed all of the 2010 season but has pitched the last two years with the Washington Nationals.
Wang has been trying to get back to his old form while with the Nationals, pitching both as a starter and reliever during that time.
Looking for a job for the upcoming season, Wang used the World Baseball Classic as an audition in hopes of signing a deal. The Yankees sent scouts to watch Wang pitch and liked what they saw.
Wang tossed 12 scoreless innings, scattered 10 hits, allowed one walk and struck out three in two games for the Chinese Taipei squad.
How many wins for Chien-Ming Wang in 2013?
After the WBC ended, the Yankees brought Wang down to their complex in Tampa for a workout to get a first-hand look at how he's been pitching.
What Cashman saw was Wang's fastball around the 92 to 93 miles-per-hour range and that his sinker had the bowling-ball action of being heavy, which is what it had when Wang was with the Yankees.
And it was enough for Cashman to sign him with an opportunity to make the team in 2013.
Personally, I love this signing for the Yankees because it adds even more depth and gives them some much-needed insurance to the rotation.
Some doubters might say that Wang is 32 and hasn't pitched like his old self in several years, which is true.
He's also a pitcher who suffered two devastating injuries that are tough to the anatomy of a pitcher: his foot and his throwing shoulder.
Before 2009, Wang was one of the most successful pitchers in the game, but some pitchers can't avoid the injury bug.
If Wang is getting his old form back, he should be able to breeze through the minor leagues and get called up.
With the Yankees having a set rotation, he could start out as a long reliever or on mop-up duty and wait for an injury or pitch well enough that Joe Girardi can't not put him in the rotation.
Back in 2011, the Yankees did the same thing with Bartolo Colon, who started out in the bullpen and eventually got moved up once Phil Hughes went on the DL.
And with the Yankees rotation filled with age, Wang's signing could come in handy.
What if Andy Pettitte suffers an injury? What if C.C. Sabathia or Hiroki Kuroda goes on the DL unexpectedly?
The back end of the rotation, which is Hughes and Ivan Nova, isn't always a sure thing. Hughes has a tendency of getting hurt, and Nova suffered a huge setback in 2012 with a terrible second half.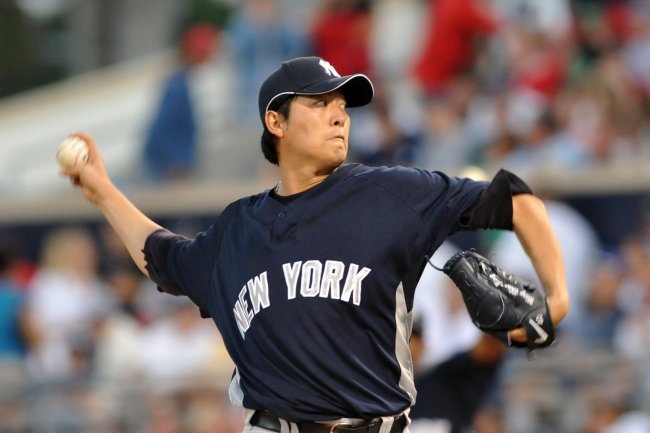 Al Messerschmidt/Getty Images
Then, there's Michael Pineda, who isn't set to return to the Yankees until sometime in the summer, and he hasn't pitched in the majors since the end of 2011 with the Mariners.
Like I said before, Wang will probably begin 2013 in the minors and take the route Pettitte did when he returned from his retirement last year.
Think of Wang as an "ace in the hole" that the Yankees have in waiting, as he'll go through his own spring training.
When you see Wang pitching, never mind the velocity. Look at his location, especially at his sinker.
When his sinker is down and batters are chopping it into the ground, that's when you know his form is really back.
If all goes well and Wang looks anything like the guy that pitched for the team a few years ago, the Yankees have an opportunity to put together one of the strongest pitching staffs in the game.
With the offense suffering injuries the way it has, the Yankees will need all the strong pitching they can get.
Stay tuned, Yankees universe.