Carolina Panthers: Pros & Cons of Signing Munnerlyn and Edwards to 1-Year Deals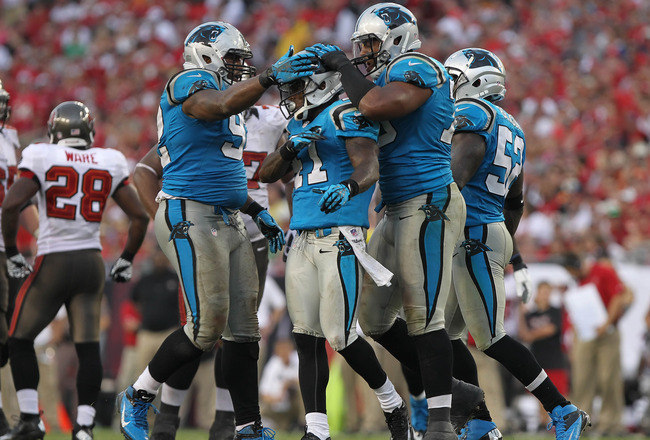 Dwan Edwards (92) and Captain Munnerlyn (41) look to continue celebrating the Panthers future sucess.
Kim Klement-USA TODAY Sports
The Carolina Panthers enter the weekend after being fairly busy signing deals and plugging holes with veteran players whom they were able to afford with their stringent cap room. A couple of those deals saw the return of cornerback Captain Munnerlyn and defensive tackle Dwan Edwards.
Both have been offered a one-year deal, and their long term future with the team still remains in the air. Carolina lacks the cap space to make a significant long-term deal for any free agent, as its recent signings have been relatively short, one-and-done contracts. Joe Person of the Charlotte Observer put it best in describing the signings of Munnerlyn and Edwards:
Dave Gettleman said this wk #Panthers had a "puncher's chance" to re-sign @captain_41 and Dwan Edwards. Dude has a haymaker.

— Joe Person (@josephperson) March 23, 2013
Their deals carry a lot of positives, but there are also some negatives.
Since these two were considered key players to re-sign during the offseason, the next few slides will discuss the pros and cons of playing under a one-year contract, not only for them, but also for the Panthers.
Pro: Ability to Mentor the Younger Players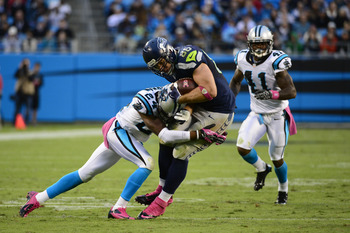 USA TODAY Sports
This is by far the best positive one can take from a short-term deal. Regardless of who Carolina drafts in April, both Captain Munnerlyn and Dwan Edwards will be able to mentor and groom the incoming rookie talent.
For Munnerlyn, he can continue to work with promising second-year corner Josh Norman and turn him into a solid defensive back in the secondary. And he would be afforded the opportunity to do the same with Josh Thomas, who has a lot of potential.
Edwards will be able to work with Frank Kearse and help mold Sione Fua into a better interior defensive lineman. While the early projections have both of them in a rotational role, Edwards has the experience to teach a them couple more things and perhaps see increased production from them when they are on the field.
If anything, both players will be a positive presence in the locker room. More on that later.
Con: A Good Year May Prove Costly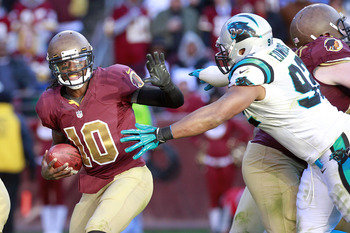 Geoff Burke-USA TODAY Sports
As fans, we want to see the players signed in free agency do well. Any front office executive would feel the same way, especially if that particular player helps the team win games and make a playoff run. However, there is the drawback about the contract year that can come back to haunt a team.
If Dwan Edwards is able to repeat his success from 2012, it's a certainty he will be on a lot of teams' radars. Another productive year from the journeyman defensive tackle and last season will not be seen as a fluke.
The same thing goes for Munnerlyn.
In the end, Carolina may not be able to sign either one to a long-term deal, as both could chase the money offered in the first week of next year's free-agency period. Edwards would probably draw the bigger deal, as he would have two good seasons under his belt, while Munnerlyn would still be adjusting to the starting cornerback position.
While it would be great to see both players perform at a high level, it could also spell the end of their tenure in a Panthers uniform.
Pro: Positive Locker Room Presence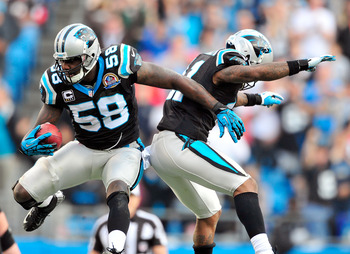 Grant Halverson/Getty Images
Carolina maintains a reputation for keeping locker room cancers out of the organization. The team has been blessed with proven leaders in Steve Smith, Jon Beason and Thomas Davis. Additionally, the younger guys, like Luke Kuechly and Cam Newton, are learning how to become leaders of the team.
Munnerlyn and Edwards are two likeable guys, and they bring a positive atmosphere to the locker room, sideline and game. They may not be captains (despite one being named Captain), but they carry themselves in a manner that the younger players can look up to and go to for guidance.
The upside of a one-year deal with both of them is that Carolina knew what kind of players it was signing and who will be representing the team for one year.
Con: No Room for Injury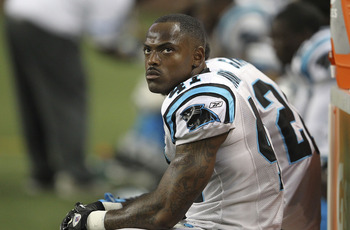 Leon Halip/Getty Images
Staying healthy is always important for a player and his team, regardless of contract length. For the team, it wants to make sure it is getting the most out of its investment. Spending time on the trainer's table nursing an injury is not what a team wants to see from any of its players.
Anyone signed to a one-year deal understands this too.
Munnerlyn and Edwards have proven to be durable while in Carolina. However, the injury bug is no stranger to the Panthers, and losing game time because they are unable to play will present more questions than answers.
Teams tend to shy away from players with injury history—even those with a hint of it. If either onegoes down, the Panthers may not want to risk signing them to a new deal. Their history with Jon Beason and Thomas Davis battling injuries is evidence enough.
While Carolina has overlooked it in the past, it should be noted that Dave Gettleman is not Marty Hurney. He will not make a move he feels could be detrimental to the team's success.
Pro: Shorter Deal Allows for Immediate Transition of Up-and-Coming Player
Bob Donnan-USA TODAY Sports
The Panthers have a lot of talented players on their current roster and will look to add more in April's draft. If these rookies and young second-year players emerge as potential playmakers, a more permanent spot will need to be found for them.
While Munnerlyn and Edwards may do well in 2013, they could be replaced in favor of a younger option who has another year or so under contract with the team. Plus, there is the possibility the Panthers may not want to invest more money when they what they want in place.
It's a catch-22 when you think about it: The Panthers find a suitable replacement for the future, but at the same time, they have to sacrifice depth, experience and leadership.
The NFL is a business, and every player from year one to their final act acknowledges that fact.
If this year reveals a gem at defensive tackle and cornerback, Carolina will have no problem cutting ties with either man. As far as replacing a player goes, that situation seems to be the most ideal.
Final Analysis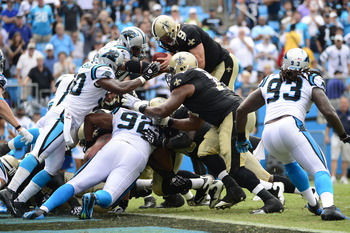 Bob Donnan-USA TODAY Sports
While the deals for Munnerlyn and Edwards are for just one season, the general consensus from the fans and the organization is a positive one. Both players have made substantial impacts on the team and community, and it will be great having them around for another year.
There is no telling what will happen in 2013, but the Carolina Panthers have made the most of a dire situation. They were able to bring back two of their free agents without having to hurt themselves further financially.
It's doubtful the Munnerlyn and Edwards signings will impact the draft in any way, except to aid in the development of the incoming rookies and teach them all that they know so they can go on to have a bright future in Carolina.
While it would be nice to see them finish out their respective careers with the Panthers, nothing is ever certain, and it should be considered a strong possibility that neither Munnerlyn nor Edwards returns for the 2014 season.
Keep Reading

Carolina Panthers: Like this team?