Michigan vs. VCU: Live Score, Updates and Analysis for Round of 32 Matchup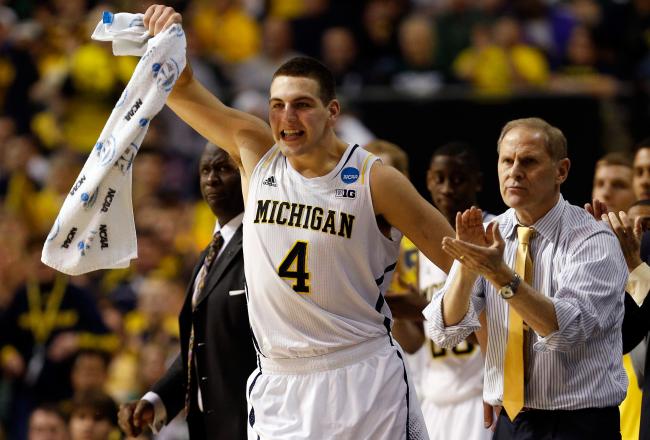 Mitch McGary will play a major role in Michigan's tilt with VCU on Saturday.
Gregory Shamus/Getty Images
The fourth-seeded Michigan Wolverines found out what makes them a national title contender in their 78-53 rout of the fifth-seeded VCU Rams this afternoon. When Mitch McGary is making plays, finishing at the basket and grabbing rebounds the Wolverines are arguably the best team in the South Region.
McGary scored a career-high 21 points, which led all scorers, and pulled down 14 rebounds, four of which were of the offensive variety. The freshman big man made 10-of-11 field goal attempts and provided Michigan with energy throughout with countless hustle plays.
Wooden Award candidate Trey Burke returned to form with a 18-point and seven-assist performance against the Rams. Tim Hardaway Jr. and Glenn Robinson III also continued their respective hot streaks by combining for 28 points on 12-of-21 shooting.
Michigan took over the game with a 20-6 run to close out the final 10 minutes of the first half. The Wolverines led 38-23 at the break, but VCU made a run early in the half and started to force turnovers.
The Maize and Blue responded by maintaining their composure and continued to attack the lane, which opened up easy baskets for McGary.
Head coach John Beilein's much maligned defense held the Rams to 39.7 percent from the field, which helped the Wolverines extend the blowout.
Burke and Co. will await the winner of the North Carolina Tar Heels vs. Kansas Jayhawks game tomorrow. Michigan will be making its first Sweet 16 appearance since 1994 next week in North Texas.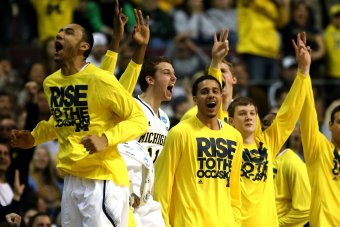 Jonathan Daniel/Getty Images
Mich. 78, VCU 53 - Final Score
The only thing to say about this afternoon is that Mitch McGary is the difference for Michigan, and with him playing well it is a national title contender. Very impressive victory for the Wolverines today. All of a sudden, the 6-6 stretch Michigan closed the year on seems like a distant memory.
Mich. 78, VCU 53 - 12 seconds remaining
The benches have emptied for Michigan. Josh Bartelstein, Corey Person, Blake McLimans, Matt Vogrich and Eso Akunne are all on the floor.
The biggest stat of the game thus far, aside from McGary's play: Michigan is out-rebounding VCU 34-19 overall, and 10-6 on the offensive glass.
Mich. 76, VCU 48 - 2:51 2nd Half
Burke back in the game after a short breather, and he immediately feeds McGary for an easy layup on the inbounds pass. Michigan needs this kind of balance to win it all.
Robinson - 14 points
McGary - 19 points
Burke - 18 points
Hardaway 14 points
Hondo Carpenter of Spartan Nation believes Michigan is a Final Four contender playing the way it is right now:
The UM team today can make a Final Four run.Problem is that they haven't sustained this all year.You want to peak in March & they are.

— Hondo Carpenter (@HondoCarpenter) March 23, 2013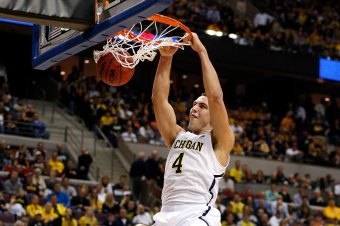 Gregory Shamus/Getty Images
Mich. 68, VCU 41 - 7:24 2nd Half
McGary with another tip-in basket. The freshman has 17 points and 13 rebounds. The rout is on at the Palace. Look for Beilein to pull McGary at the next media timeout for some rest.
Mich. 64, VCU 39 - 9:48 2nd Half
Burke hit a couple of step-back jumpers, and Tim Hardaway Jr. put the exclamation point on the game with a reverse two-handed dunk.
What a performance by the Wolverines today.
Mich. 60, VCU 37 - 11:30 2nd Half
Tim Hardaway Jr. with another wide-open three. VCU cannot counter quick enough, and the Wolverines are extending the rout. Great to see Michigan settle in after a rough start to the second half.
Burke and Co. have done a great job of keeping their composure.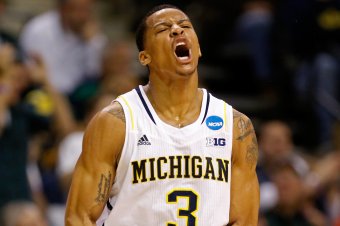 Gregory Shamus/Getty Images
Mich. 57, VCU 35 - 12:31 2nd Half
Spike Albrecht drills a three-pointer. Michigan weathered the storm of turnovers and its offense has started to take over again. Burke nails a three to blow the roof off of the Palace.
It is all Michigan.
The Block M's Senior Sports Editor Colleen Thomas details how impressive Mitch McGary's day has been:
McGary's at a new career-high in points (15), tied a career-high in rebs (11), and there's still lots of game left.

— Colleen Thomas (@colleenthomas_) March 23, 2013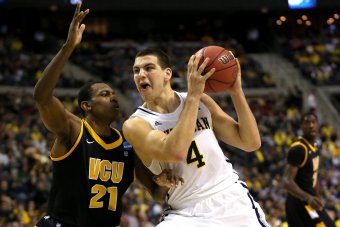 Jonathan Daniel/Getty Images
Mich. 49, VCU 33 - 15:03 2nd Half
Burke and the Wolverines got away with a mistake there. The Rams threw one away after a turnover in the backcourt. The run-out led to a McGary dunk, and the freshman big man cleaned up a Robinson miss on the next trip down the floor.
McGary is the difference between Michigan being just another team in the field, and a national title contender. The future certainly looks bright for McGary.
Mich. 45, VCU 31 - 16:10 2nd Half
Darius Theus heading to the bench again due to foul trouble. Nik Stauskas draws a foul inside and knocks down a pair of free-throws.
Juvonte Reddic is starting to do work inside again for VCU, though. McGary counters with an offensive rebound and put-back of his own. Count the basket and the foul on the ensuing possession as well. McGary is 5-of-5 with 11 points and 10 rebounds.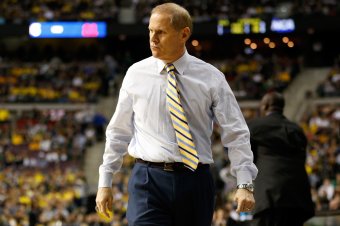 Gregory Shamus/Getty Images
Mich. 38, VCU 27 - 17:30 2nd Half
Burke is starting to get trapped near the sidelines now. The Wolverines have to stay away from the boundaries, because VCU will trap there every time. Michigan has three turnovers in its last four possessions.
Mich. 38, VCU 25 - 19:10 2nd Half
VCU's pressure is starting to get to Burke a little bit. Back-to-back turnovers, one near the time-line and the other on a poke from behind. Michigan has to slow down a bit and regain its composure. The Rams are still very much in this game.
The second half is underway!
Wolverine Nation's Michael Rothstein tweeted out that Burke has reached yet another career milestone:
With one 3-pointer in the first half, Trey Burke moved into 12th in career 3's at Michigan with 123, breaking a tie with Jimmy King.

— Michael Rothstein (@mikerothstein) March 23, 2013
Michigan's play-by-play broadcaster Matt Shepard provides a troubling stat, but this has been a result of the Wolverines' improvements on the defensive end of the floor. Every jumper has been contested:
missed one....VCU 3 for their last 20

— Matt Shepard (@ShepMatt) March 23, 2013
Some individual stats from the first half:
HALF - Individuals - Burke: 11 pts, 3 ast | Robinson: 10 pts, 5 reb | Hardaway: 9 pts | McGary: 6 pts, 9 reb

— Michigan Basketball (@umichbball) March 23, 2013
Jeremy Werner of ESPN believes Michigan has returned to mid-season form:
This is mid-season Michigan, the one I man-crushed on.

— Jeremy Werner (@WernerESPNCU) March 23, 2013
Much of this closing stretch had to do with Juvonte Reddic being in foul trouble for VCU:
Michigan finished the last 10 minutes of the half on a 20-6 spurt.

— Rod Beard (@detnewsRodBeard) March 23, 2013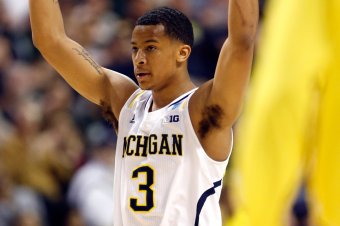 Gregory Shamus/Getty Images
Mich. 38, VCU 23 - Halftime
Very impressive first half for Michigan at both ends of the floor. The Wolverines only committed a couple of turnovers as a result of the Havoc and every shot VCU has been contested. Michigan's defense has allowed it to pull away thus far.
This is a team that finally looks like it wants to make a run to the Final Four. I've never seen the Wolverines play with this much energy this season.
Mich. 36, VCU 21 - 1:10 1st Half
McGary making another impact play for Michigan. Briante Weber ran right into a picking McGary, which allowed Burke to dribble inside the arc and knock down a jumper.
Michigan is starting to run away with this one at the end of the half.
Mich. 34, VCU 21 - 1:56 1st Half
Oh my, Tim Hardaway Jr.! The junior shooting guard just pulled up from NBA range with Teddy Okereafor in his face and knocked down the trey. Glenn Robinson III gets a transition layup to extend Michigan's lead.
The mini-run helped Michigan break a 1-of-9 shooting funk.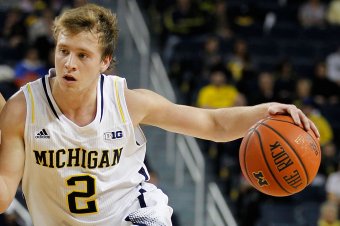 Gregory Shamus/Getty Images
Mich. 25, VCU 19 - 3:47 1st Half
Spike Albrecht is showing tremendous poise and ball-handling abilities thus far. Albrecht has not had any problems bringing the ball up the floor and is penetrating VCU's defense.
Jon Horford missed a few opportunities in the lane, and will come to the bench in favor of McGary.
Three-pointers are not going down for Michigan, but all of them have been open looks. Burke's bunny shot from the baseline rattled out. Both teams have gone cold.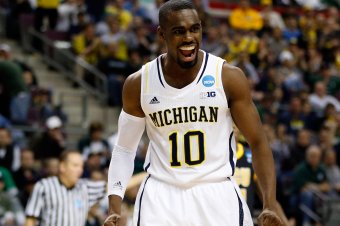 Gregory Shamus/Getty Images
Mich. 25, VCU 17 - 6:30 1st Half
Michigan has all of the momentum right now. VCU has missed its last eight field goals, while the Wolverines continue to penetrate the lane and swing the ball around the perimeter for open looks. Great ball movement by the Wolverines in the half-court.
The Maize and Blue are also doing a much better job at the defensive end of the floor. The guards are keeping their man in front of them at all times and forcing VCU into contested jumpers.
It helps that Reddic is out with two fouls, but there is still a noticeable improvement on defense for the Wolverines.
This article is
What is the duplicate article?
Why is this article offensive?
Where is this article plagiarized from?
Why is this article poorly edited?

Michigan Wolverines Basketball: Like this team?