Phillies Spring Training: An Eye-Witness Take from Clearwater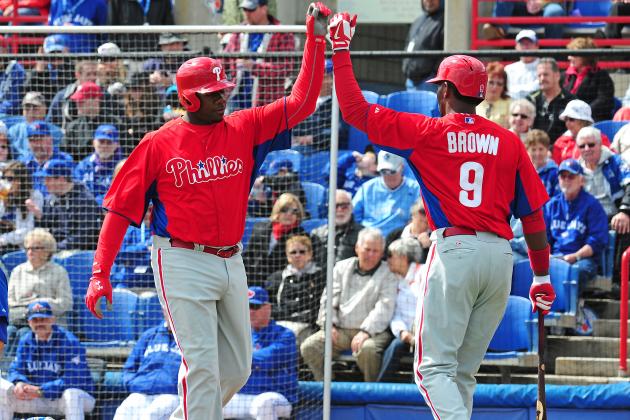 Scott Cunningham/Getty Images

A lot of questions confronted the Philadelphia Phillies as they headed into spring training. Would their aging stars bounce back from long stints on the disabled list and regain their effectiveness? Would those who had avoided the DL be able to avoid Father Time for one more year? Would youngsters come up and fill voids left by core players departing?
With Opening Day less than two weeks away, the answers to those questions are going to finally start being answered. Some are already sharpening into focus.
This weekend, my girlfriend and I have jetted down from the New York Metro area to Clearwater, Florida, to soak in some spring matchups. Here are some eyewitness takes on some of the team's biggest issues after Friday's win against the Braves, from the health of men like Ryan Howard and Chase Utley to general news and notes.
Begin Slideshow

»
Al Messerschmidt/Getty Images

The health of Chase Utley's knees has been the hottest story of the last two seasons. When he returned to the team in 2011, he just didn't look strong in his lower body. Last season was an improvement over that result, but it wasn't the Utley we're all used to seeing—and the one the Phillies need to see to be competitive.
Utley hasn't played in as many games as fellow injury returnee Ryan Howard this spring, and his numbers aren't outstanding, mostly because he hasn't built too much of a rhythm. But from what I could see Friday, Utley is looking better and healthier than he has in years.
His first at-bat wasn't particularly strong, ending with a pop-up to right field. But it was his second plate appearance that, even though Utley didn't reach base, was the most encouraging part of his day.
Batting with one out and the bases empty in the third inning, Utley grounded a Paul Maholm pitch to Atlanta shortstop Ramiro Pena. Pena had to move his feet, but it was still a routine play. Utley flew up the first base line, and even though he hit the ball fairly hard, he was only a step behind Pena's throw.
It was the kind of running that endeared Utley to Phillies fans as he established himself as one of the best second basemen in the game—and it wasn't the only time it was seen on Friday afternoon. After he led off the seventh inning with a single, he cruised from first to third when Domonic Brown singled two batters later. He was eventually stranded at third and was replaced by Kevin Frandsen in the top of the eighth.
Altogether, it was an encouraging display from Utley, one that I hope I get to see as the weekend goes on.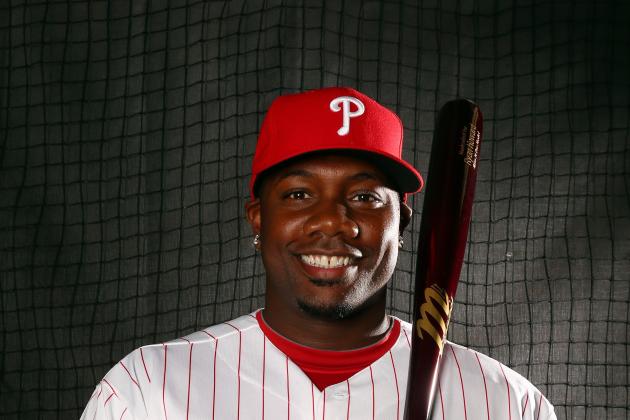 Elsa/Getty Images

Ryan Howard continued his strong spring performance with a 2-for-4 day on Friday. He blooped a single down the left field line in the first to put runners on first and third with two outs, but Brown was unable to capitalize and Howard was forced at second to end the inning.
His second at-bat, in the third, very nearly added to the Phillies' early 1-0 lead. He slammed a long drive into right-center field that would have been out of the park on a normal day, but a strong right-to-left wind knocked it down enough to see Paul Maholm get a reprieve. The ball smacked into the top of the wall, with Howard cruising into second base with a two-out double.
It was another encouraging outing against left-handed pitching for Howard, who needs to improve upon his atrocious numbers against southpaws from a year ago.
He didn't get tested much in the field, but he has long since gone from being an absolute butcher defensively to, through some hard work with former coach Sam Perlozzo, being at least a serviceable defender who can be counted upon to make his regular plays.
As for running—a huge concern after his Achilles injury two years ago—it's unlikely that he'll ever be 100 percent back to the way he was before the injury. There is a definite hitch in his gait that wasn't there at the beginning of the 2011 season.
That being said, he's come a long way from the way he looked when he returned last year, which was truly a piteous sight to see. He won't be the clog on the basepaths that he was in 2012, which will be a boon for a Phillies offense hoping to improve on last season's performance.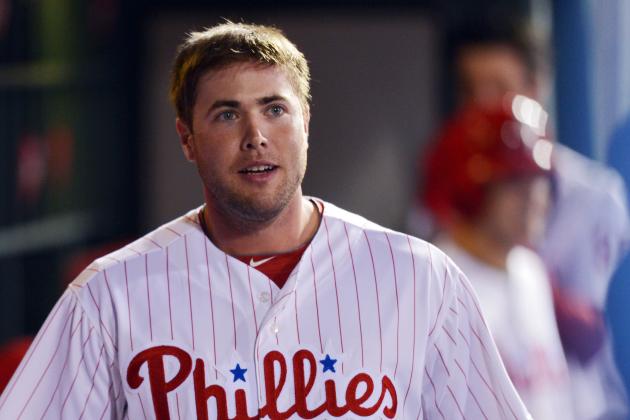 Drew Hallowell/Getty Images

Darin Ruf
Darin Ruf looked very good at the plate on Friday. He was 2-for-4, reaching on an error, drawing a walk, hitting a single and scoring three runs, including a monstrous walk-off homer that hit the roof of the Tiki bar in left at Bright House Field.
Thirty minutes after his walk-off shot, Ruf was optioned to Triple-A Lehigh Valley in order to get him regular reps in left field so that he can iron out his defensive issues. He looked better than I've seen him in left, with his shaky moments being somewhat less shaky than they were at the beginning of the spring. Nevertheless, he has a long way to go, and it's the right move to send him down and let him get comfortable in left.
Jonathan Papelbon
Early panic about Papelbon's early outings was probably unwarranted. He's put in three straight scoreless performances now, and Friday was one of his best yet. He struck out one and induced a fly ball to center and a grounder to short. Even better was that that performance came in a non-save situation, which caused Papelbon problems a year ago. Fans can probably expect the usual for Papelbon this year.
Domonic Brown
Brown was only 1-for-5 Friday, but he continues to look much stronger than he has in years past, both offensively and defensively. He came into the day slugging .714. It's a significant stat, because statistician John Dewan has determined that players who exceed their career slugging percentage by 200 or more points in spring training exceed their career average in the regular season 60 percent of the time.
Brown is currently outstripping his big league career mark—.388— by nearly 350 points. Dewan's theory has held true on eight of 12 Phillies who have met the criterion since 2005. Two of the four who failed to exceed their slugging percentages in the regular season were bench players, and another—Jim Thome in 2005—was hurt midseason and missed the rest of the year. If Brown makes it nine of 13, it could go a long way toward relieving the pressure on the Phillies offense.
Adam Morgan
Morgan was given a surprise call-up from minor league camp to start Friday, and the top prospect (he's either top-five or just outside, depending on who you listen to) had a strong day.
He cruised through an Atlanta lineup that brought a good deal of its regulars to Bright House Field before running into trouble in the fifth and eventually being removed for Chad Durbin after four and two-thirds innings.
The 2011 third-round pick had a 3.35 ERA and struck out 9.6 per nine innings between Single-A and Double-A last year. It was an encouraging performance for the youngster from Alabama and gives fans hope for the future with questions surrounding top pitchers like Roy Halladay.
Erik Kratz
Kratz was the offensive hero for the Phils until Ruf's game-winner. The catcher doubled twice and hit a solo homer to kick off a two-run eighth that tied the game at six.
He drove in three runs total and looked more like the player who capably replaced Carlos Ruiz last season than the one who struggled below the Mendoza line through Philadelphia's September comeback attempt.
With Carlos Ruiz suspended 25 games to start the year, Kratz's production is crucial for the Phils' attack. Friday was an encouraging sign that the journeyman backstop can shoulder the load until Chooch's return.