UNC Survives Villanova's Rally to Win 78-71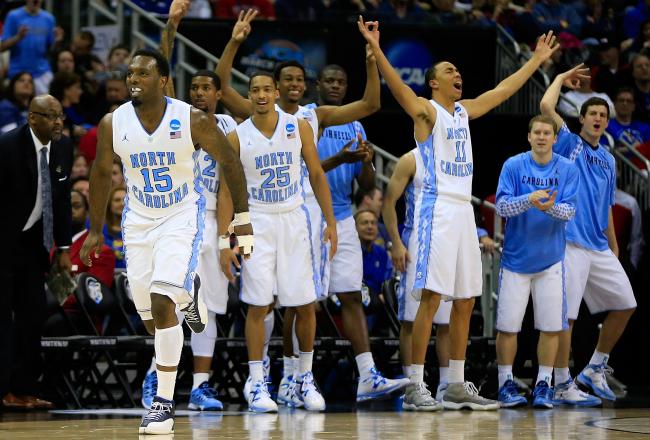 Jamie Squire/Getty Images
You can usually expect some ugly games in the Round of 64, but this one could very well top them all. No. 8-seed North Carolina had to overcome 18 turnovers to top No. 9-seed Villanova, 78-71.
'Nova didn't impress either, giving up 16 turnovers on the night.
In the first half, it appeared North Carolina was just going to run away with the game, building a 34-15 lead with 5:18 remaining. Strickland's jumper at that mark would be the last field goal the Tar Heels would score in the half.
They managed just three free throws, allowing Villanova to cut the lead to 37-29 at the half.
The lackadaisical play by the Tar Heels continued for the final 20 minutes, and JayVaughn Pinkston put the 'Cats on top with a layup at the 14:25 mark.
The Wildcats continued to play hard-nosed defense, and even broke out the full-court press. But P.J. Hairston and Reggie Bullock got hot for a few minutes, allowing the Tar Heels to pull away again.
The duo hit treys on three-consecutive possessions to give UNC a 63-54 lead with 5:13 to go. 'Nova was never able to get the lead back.
In the end, it was the difference in three-point shooting that won this game. Both teams took 21 of them, but the Wildcats were only able to sink four. Carolina knocked down 11 of them.
Hairston nailed five of those, and led all scorers with 23 points. James Michael McAdoo, Reggie Bullock and Marcus Paige added 17, 15 and 14 points, respectively.
Villanova also had four players in double figures.
Pinkston led the way with 20 points and eight boards. Darrun Hilliard helped keep Villanova in the game with his 18 points and six rebounds. Mouphtaou Yarou contributed with 18 points and eight boards.
Ryan Arcidiacono was never able to get in his groove, though. He scored 10 points, but was just 2-of-11 from the floor.
Carolina will move on and possibly play Kansas (barring an upset by Western Kentucky) in the most highly-touted matchup of this tournament thus far. Roy Williams left Kansas for North Carolina, and he doesn't have too many fans in the area anymore.
We should be in for a good one on Sunday.
UNC 78, VILL 71 (FINAL)
That's game. Hats off to Villanova for making this a game. It was just outmatched talent-wise.

UNC 77, VILL 71 (0:08.3 2nd Half)
Ouch. Simmons missed both free throws, but managed to get his own rebound. How is that for irony after 'Nova killed UNC on the boards?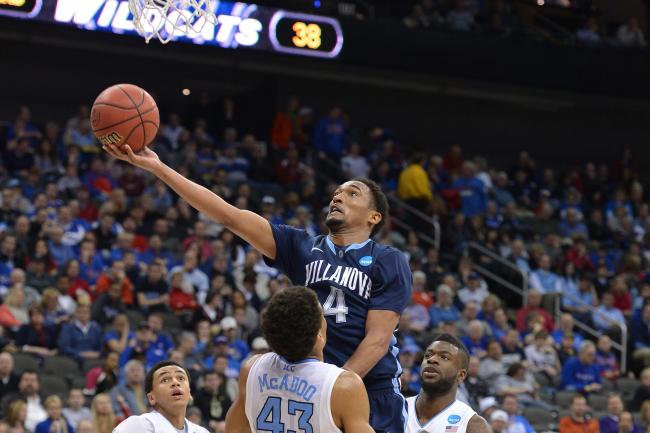 UNC 76, VILL 71 (0:37.3 2nd half)
Hilliard buries another three on the other end to negate Hairston's points. He has 18 points tonight, and has played a great second half.

UNC 76, VILL 68 (0:42 2nd Half)
Then Paige gets the ball to Hairston on the break, scoring and completing the and-one play. That could be game right there.

UNC 73, VILL 68 (0:53.6 2nd Half)
Hairston goes 1-of-2 from the line. The Tar Heels are going to have to make some free throws down the stretch to pull off this one. Not a good start.

UNC 72, VILL 68 (1:00 2nd Half)
Arch came up bloody after a scramble for the loose ball. The trainers better get him back in the game fast.

UNC 72, VILL 68 (1:27 2nd Half)
Bad bad shot from Arch. 'Nova has been so consistent in the half court. There is no reason to immediately pull up for three.

UNC 70, VILL 66 (1:50 2nd Half)
Wow! Clutch three from Paige. Bell dared him to take it, and he buried it in his face.

UNC 67, VILL 64 (2:53 2nd Half)
Bell just buried another three for the 'Cats to bring them within three. This is going to be a tight finish, folks!

UNC 67, VILL 59 (3:23 2nd Half)
Arch gave Paige a nice fake and buried a three as he flew by. Then Paige made Arch eat the floor on the other end on a step-back jumper.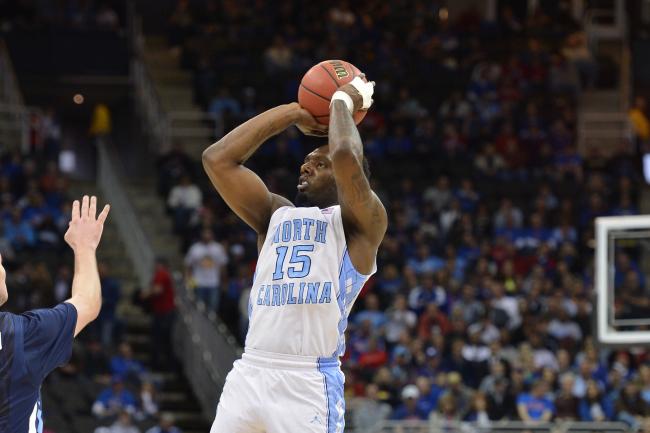 UNC 63, VILL 54 (5:20 2nd Half)
The Tar Heels just ripped off three treys in a row. Two from Hairston and one from Bullock. Wright immediately called a timeout after the last one.

UNC 54, VILL 50 (7:29 2nd Half)
'Nova is slaughtering the Tar Heels on the boards. It has twice as many, with the 28-14 edge. That's some sorry rebounding right there.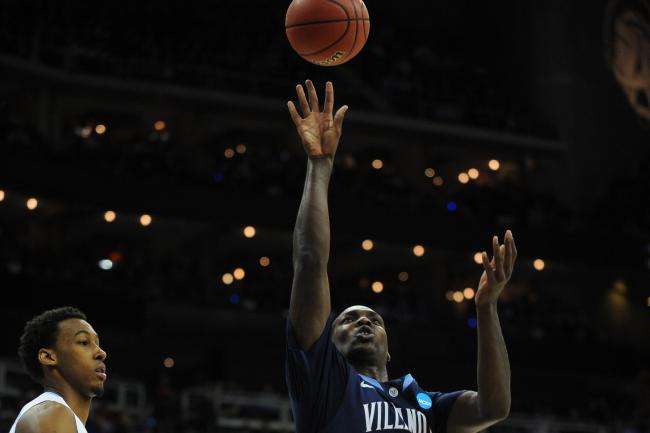 UNC 54, VILL 50 (7:57 2nd Half)
Both teams have three players in double digits. Pinkston leads the way with 16 on the night.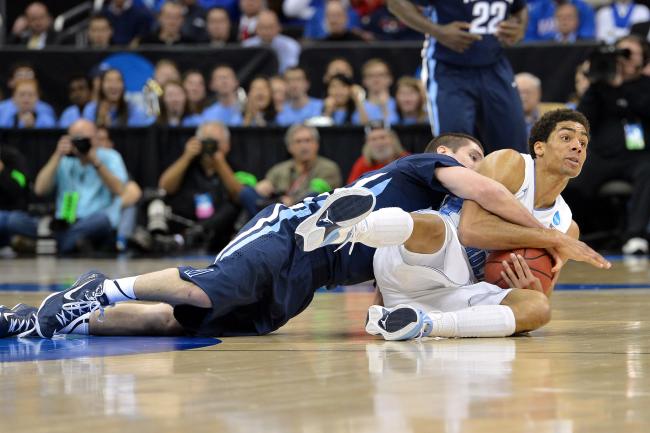 UNC 52, VILL 48 (9:10 2nd Half)
Carolina is giving Villanova a lot more space on the defensive end. Intensity left this squad as soon as it built that 19-point lead in the first.
Despite the UNC lead, its beginning to look like 'Nova's game to lose.

UNC 50, VILL 45 (11:01 2nd Half)
Hairston adds another three for Carolina. The team is still too three-happy, and it looks like it could cost them this game.

UNC 47, VILL 45 (12:06 2nd Half)
We are up to 30 turnovers in this one (15 apiece). What a nasty pile of ugly.

UNC 47, VILL 45 (12:06 2nd Half)
Bullock finally buries a three to end the Tar Heel slump. He has five of Carolina's 10 points this half.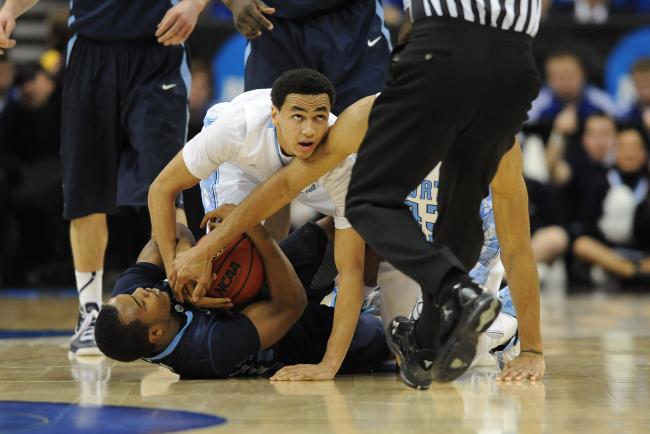 VILL 45, UNC 44 (13:01 2nd Half)
Carolina has 14 turnovers already, which is the most this small lineup has given up over its 11 previous games.

Nova with an 8-0 edge in second-chance points this half. Meanwhile, UNC hasn't made a 3-pointer in over 14 minutes.

— InsideCarolina (@InsideCarolina) March 23, 2013
VILL 44, UNC 44 (14:10 2nd Half)
Johnson made up for his poor defensive effort with a dunk on the other end. Roy called a timeout to put his starting five back in. We'll see if they got the message.

VILL 44, UNC 42 (14:25 2nd Half)
Villanova gets its first lead since it was 4-3 off a Pinkston offensive rebound and score. Brice Johnson never even attempted to get the ball.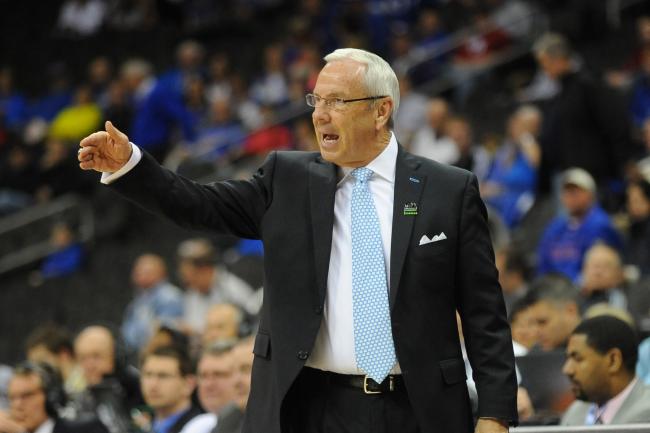 UNC 40, VILL 40 (16:04 2nd Half)
It appears Roy Williams has had enough, and I can't blame him. Five-for-five replacement coming up.

UNC 40, VILL 40 (16:04 2nd Half)
Hilliard just tied the game with a layup. He has the hot hand tonight, shooting 5-of-7 from the floor. He and Pinkston are carrying the team with 24 points between the two.

UNC 40, VILL 36 (16:45 2nd Half)
Strickland isn't doing his team any favors by taking that three. He is 4-of-22 on the season, and took it just nine seconds into the shot clock.
This article is
What is the duplicate article?
Why is this article offensive?
Where is this article plagiarized from?
Why is this article poorly edited?

UNC Basketball: Like this team?