Predicting Miami Dolphins' Starting Lineup Post Week 1 of Free Agency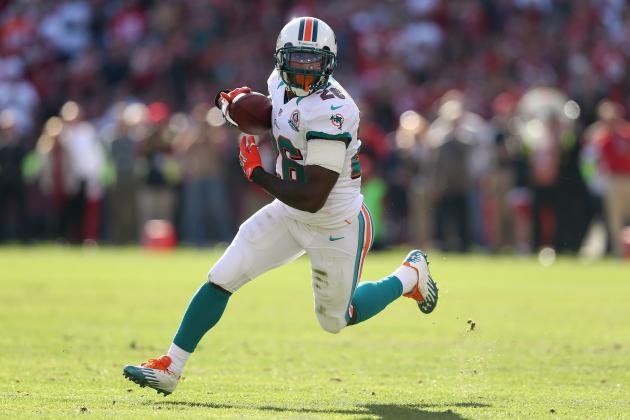 Ezra Shaw/Getty Images

After being one of the more active teams during the start of free agency, the Miami Dolphins appear to have a solid base in place for next year.
They brought in Mike Wallace in order to help out Ryan Tannehill and the passing game. They were also able to re-sign Brian Hartline while bringing in Dustin Keller and Brandon Gibson. At linebacker, Miami decided to get younger and more aggressive, bringing in Dannell Ellerbe and Philip Wheeler to replace Karlos Dansby and Kevin Burnett.
The offseason is far from over and the Dolphins are still willing to make some moves. Positions such as right tackle, cornerback, pass-rusher and guard can still be upgraded either through free agency or through the draft.
Miami was able to bring in some key pieces while upgrading the talent at some positions. After a little over a week after free agency began, this is what the Dolphins' starting lineup would look like if the season started today.
Begin Slideshow

»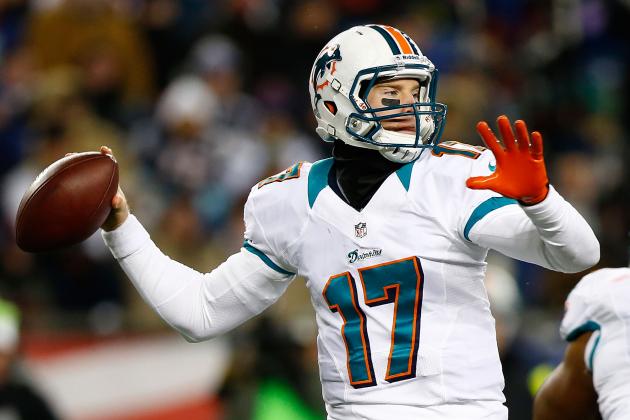 Jared Wickerham/Getty Images

Predicted Starter: Ryan Tannehill
There's really no debate here. Ryan Tannehill will not have any competition for the top quarterback spot as the organization has invested so much on him.
Tannehill is expected to take the next step forward this year after showing improvement week after week. Now that he has the weapons he needs to be successful, he should not have a problem solidifying himself as one of the top young quarterbacks in the league.
The re-signing of Matt Moore is insurance in case something happens to Tannehill (as was the case against the New York Jets). He has proven to be a serviceable starting quarterback while proving to be one of the best backup quarterbacks.
Miami is finally getting some quality play from under center and it should keep improving as Tannehill keeps developing.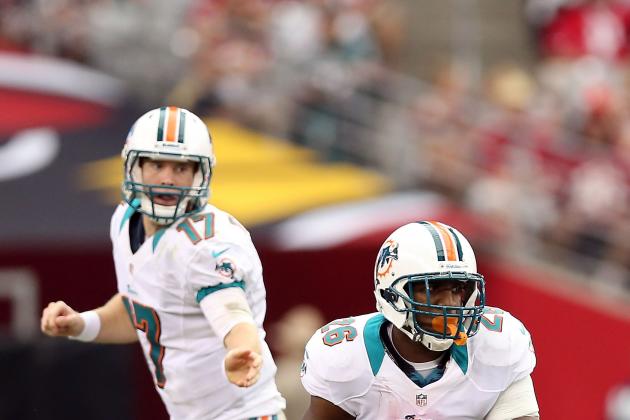 Christian Petersen/Getty Images

Predicted Starter: Lamar Miller
After Miami decided not to re-sign Reggie Bush, it became apparent that it would be all in on sophomore running back Lamar Miller.
Miller saw limited action last year as the third running back on the depth chart, but really impressed coaches with what he was able to do with his limited carries. In 51 carries, Miller ran for 250 yards and scored one touchdown with an average of 4.9 yards per carry.
Not only does he show potential carrying the ball, but also working as a receiver out of the backfield. Miller caught six passes for 45 yards with an average of 7.5 yards per catch. His explosiveness and vision are what makes him so special and what has the coaches believing he can carry the load.
Before Miller was drafted, the Dolphins expected Daniel Thomas to emerge as the leading ball-carrier after using a second-round pick on him. However, concussions and fumble problems have made it hard for the coaches to believe he is the answer. Miller and Thomas have two very different styles of running which can be complemented beautifully, but Thomas has to be more consistent.
Miami will also bring Jonas Gray into camp this year after he spent all of last year on injured reserve. Gray is a powerful runner that would be perfect for short-yardage and goal-line situations. Gray will most likely compete with Thomas to be the second running back on the depth chart when the season begins.
It's also not out of question that Miami drafts a running back in the later rounds. The Dolphins have their doubts on Thomas and aren't exactly sure how Gray will respond during his first full training camp. Marcus Lattimore, Leveon Bell or another rookie running back.
As for the starting fullback, Jorvorskie Lane has the position pretty much sealed. The use for fullbacks in today's pass-happy league has significantly decreased, so Lane won't be having too much competition. Lane was solid as a rookie last year, especially on 3rd-and-short and goal-line situations.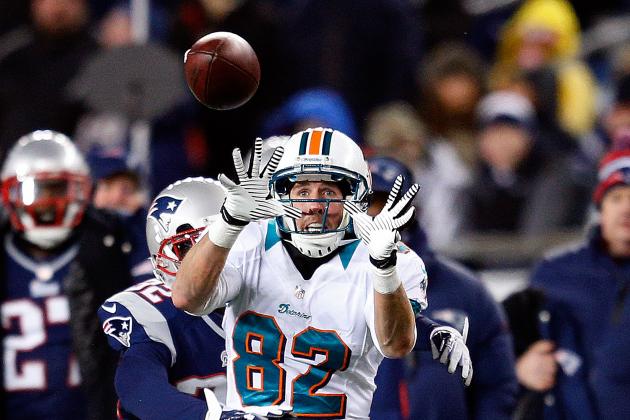 Jim Rogash/Getty Images

Predicted Starters: Mike Wallace, Brian Hartline
Miami did a great job re-signing Brian Hartline while also bringing in Mike Wallace to help the offense. Hartline returns as Ryan Tannehill's favorite target and will continue to develop chemistry with the young quarterback.
On the other hand, Wallace gives Tannehill the deep threat he lacked a year ago. Not only does Wallace allow Tannehill to throw the deep ball, but he also allows other receivers, like Hartline, to have more room to work with in the middle of the field.
Another free-agent acquisition the Dolphins made was wide receiver Brandon Gibson. Gibson can not only work out of the slot, but he can line up wide as well. He is a very good possession receiver that allows Tannehill to have a secure target on third downs. Many people focused mainly on the Wallace signing (and for good reason), but Gibson brings another dimension to this offense, which is lacked just a year ago.
Rounding out the top four wide receivers is Davone Bess. He has been as consistent as can be during his time with Miami. He is mainly a slot receiver who can make the tough catches, but he won't gain many yards after the catch. It is unclear if Bess will remain a part of the organization for much longer now that they decided to bring Gibson in, but, for the time being, Tannehill will be happy to have him.
Aside from the top four wide receivers, the Dolphins also have Rishard Matthews and Armon Binns, who was brought in late last season. The Dolphins appear to think highly of both players, allowing them to compete for starting spots.
With the new talent at wide receiver, I don't expect the Dolphins to draft a wide receiver in the early rounds. If they do bring one in, he will most likely see limited action and will instead be molded for the future.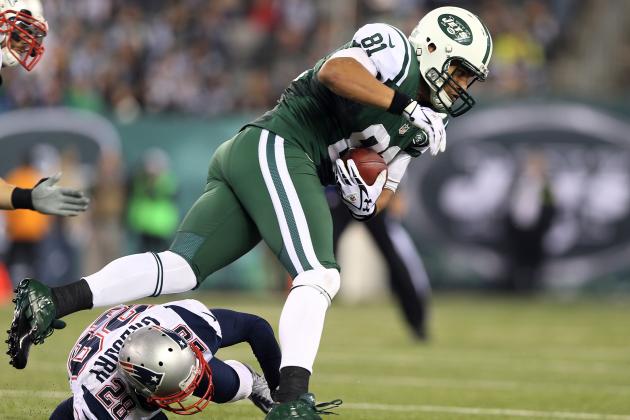 Elsa/Getty Images

Predicted Starter: Dustin Keller
After Anthony Fasano signed with the Kansas City Chiefs, tight end became one of the biggest needs for the Dolphins. There was no one with enough experience to step in right away.
That's when Miami decided to sign Dustin Keller. After losing out to the St. Louis Rams for Jared Cook, the Dolphins had to look for the next best thing and they found it in Keller. Even though his blocking is suspect, Keller is one of the best pass-catching tight ends in the league. Miami needed someone at the position that could create mismatches in the middle of the field and would give its young quarterback an extra target.
Other than Keller Miami has Charles Clay and Michael Egnew at tight end. That shows you just how desperate Miami was in adding a tight end.
Clay has been somewhat disappointing during his time with the Dolphins. Many expected him to be a game-changer due to his athletic ability and receiving skills, but he has failed to take advantage of either. He had some solid performances last season which make you believe he's capable of reaching his potential, but he shouldn't expect the Dolphins to hold their breath for a long time.
Miami invested a third-round pick on Egnew and it has yet to see any type of result. Egnew failed to play a single snap last season and has been outgrowing Joe Philbin's patience. If he's unable to develop at all this season, he probably shouldn't expect to be on the roster in 2014.
Even with Keller's signing, it's not out of the question for Miami to bring in another tight end. The Dolphins y still need someone who can block, as Keller is mainly a pass-catching tight end. Miami could use a mid-to-late round pick on a prospect who can hopefully contribute his first year.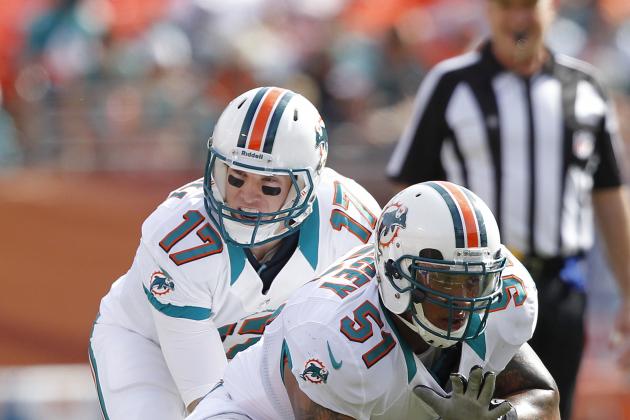 Joel Auerbach/Getty Images

Predicted Starters: Mike Pouncey, Jonathan Martin, Richie Incognito, John Jerry, Nate Garner
After losing left tackle Jake Long to free agency, the Dolphins became weaker on the offensive line.
Mike Pouncey has become one of the best centers in the league and will have no competition for the starting spot. He has been in the league for only two years and already plays like a seasoned veteran. Pouncey is the building block for this offensive line and will only get better as he gains more experience.
Jonathan Martin looks to be poised to make the move from right tackle to left tackle after the departure of Long. As a second-round pick in last year's draft, Martin stepped in right away and started all 16 games for Miami. He stepped in at left tackle when Long got hurt and proved he could handle playing the position. Like Pouncey, Martin is a young player that will help guide the line in the right direction and give them a solid player for years to come.
At left guard, Miami will be fielding a Pro Bowl player in Richie Incognito. He has proven to be one of the better guards in the league in recent years and has helped create running holes for Miami's running backs. As Miami moves to a zone-blocking scheme, Incognito's future with the team is unknown, but for now, he will continue to create a wall next to Pouncey.
As for right guard, Miami currently has John Jerry penciled in as the starter. Jerry has been disappointing during his time with Miami after being a third-round pick. He has shown up overweight for camp and has struggled in pass protection. A move to right tackle could be in the works for Jerry, but for now, he is Miami's right guard.
Miami was able to re-sign Nate Garner, who is a solid backup as he showed when Martin was forced to move to the left side and Garner was asked to take over at right tackle. As of now, Garner is the starter, but I don't expect that to last for very long.
If the Dolphins chose to pursue an offensive tackle in the early rounds of the draft, Garner would most likely lose his starting job to the rookie. Miami has also been in negotiation talks with Eric Winston, who can push Garner back in the depth chart. Even if Miami drafts a guard in the early rounds, it may be inclined to push Jerry over to right tackle and take over for Garner.
Ezra Shaw/Getty Images

Predicted Starters: Cameron Wake, Jared Odrick, Randy Starks, Paul Soliai
This group was Miami's strongest last season. They need some pass-rushing help at the defensive end spot opposite Cameron Wake, but all four are stout against the run.
Wake is clearly the best player out of this group as far as impacting a game. He is constantly in the opponent's backfield and has led the team in sacks for the past few years. Wake's job is secure for a few more years when age begins getting the best of him, but for now, he's the clear-cut starter.
With Miami using the franchise tag on Randy Starks, it will have him starting at defensive tackle without much competition. Starks has been a key component of Miami's defensive line since he arrived five years ago. His high level of play had mostly gone unnoticed until this year, when he made the Pro Bowl. Wake and Starks are Miami's two best players and will be at the top of the depth chart for a few more years to come.
Alongside Starks, Miami has Paul Soliai, who has transitioned nicely from a 3-4 nose tackle to a 4-3 defensive tackle. He is one of the main reasons Miami is so good against the run. His big body takes up blockers and allows those players around him to constantly make plays. Soliai's contract is up after this season, but for now, there's no denying he should be starting next to Starks.
Rounding out the group is Jared Odrick, who many know has been playing out of position as a defensive end instead of moving to the inside and playing defensive tackle. He is too inconsistent as a pass-rusher, which is natural because it's not his position. He excels against the run, but Miami needs him to create pressure in the backfield. Odrick's job is safe for now, but if Olivier Vernon shows improvement when camp begins, he may be looking up at him.
It's not out of the question for Miami to draft a pass-rusher as early as the first round. The Dolphins have also been linked to Osi Umeniyora and John Abraham in free agency. Jeff Ireland knows they have to create more pressure and he knows Odrick is unable to do that. Miami may wait until Soliai's contract is up or it may look to deal him before in order to get some compensation. At this point, Miami will most likely look to move Odrick inside to his natural position.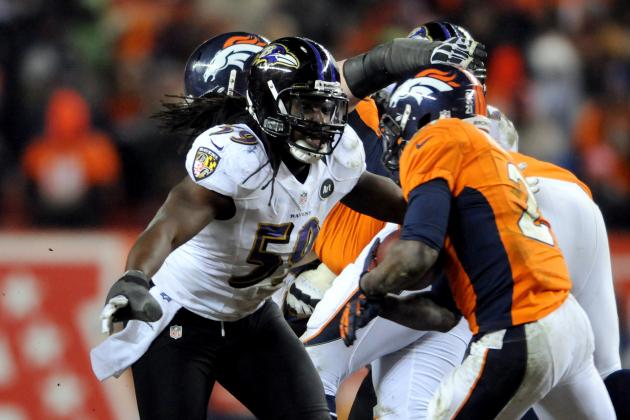 Dustin Bradford/Getty Images

Predicted Starters: Dannell Ellerbe, Philip Wheeler, Koa Misi
As I mentioned in the previous slide, Miami lacked pass-rushing last season. As a result, Jeff Ireland went out and signed two linebackers that excel at blitzing and putting pressure on the quarterback.
Replacing Karlos Dansby is former Raven Dannell Ellerbe. This was one of the most surprising pickups in free agency as Miami wasn't in dire need of a linebacker and Baltimore had pegged Ellerbe as its priority. Ellerbe proved his worth last season helping the Ravens capture their second Super Bowl. He brings youth and pass-rushing to this new linebacker group and is poised to help Miami maintain its top defense.
Along with Ellerbe, Miami also brought in Philip Wheeler to replace Kevin Burnett. Like Ellerbe, Wheeler also brings a new dimension to this defense. He is known for his ability to blitz and generate pressure on the quarterback. Wheeler also brings youth to a group that will likely be more athletic overall.
The only returning starter for the Dolphins at linebacker is Koa Misi, who showed improvement last season, but has yet to reach the potential the Dolphins saw when they drafted him with a second-round pick. Misi's strength is also pass rushing, but he hasn't been consistent enough to really make an impact. With the addition of Wheeler and Ellerbe, Misi's pass rushing should also improve.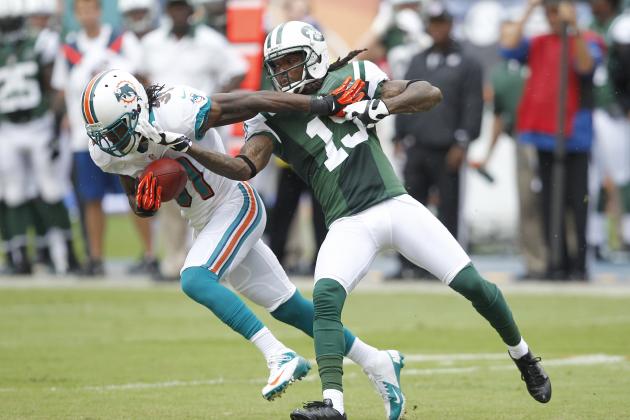 Joel Auerbach/Getty Images

Predicted Starters: Richard Marshall, Dimitri Patterson
At the moment, cornerback is Miami's weakest position. The Dolphins traded Vontae Davis before last season began because they felt comfortable with Richard Marshall fulfilling the same role. Now that they've lost Sean Smith, Miami looks really thin at the position.
If the season were to begin today, Richard Marshall would be the Dolphins' No. 1 cornerback. He's a talented cornerback that can contribute a lot, but being the top option is concerning. There's nobody that would challenge him for the starting spot, which shows just how badly Miami needs cornerbacks.
Behind Marshall, Dimitri Patterson stands as Miami's No. 2 option at cornerback. Patterson was brought in late last season as the coaching staff tried to improve the talent in the secondary. The coaches have seen limited reps which makes it tough to project where he would be placed in the depth chart, but as of now, it's safe to say he's ahead of Nolan Carrol.
Miami will most definitely draft at least two cornerbacks in the early rounds this year. There are a few players in the first round that can come in and contribute right away. Players such as Dee Milliner, Xavier Rhodes and Desmond Trufant would come in and compete for the No. 1 spot and would greatly improve the talent level. It wouldn't be a surprise if Miami went into the first game of the season with a pair of rookies like it did when it drafted Davis and Smith.
Matt Sullivan/Getty Images

Predicted Starters: Reshad Jones, Chris Clemons
One of the better moves Jeff Ireland was able to make in free agency was to bring Chris Clemons back. It's important to have a duo at safety who has had experience playing together and knows each other's strengths and weaknesses. Miami has that with Clemons and Reshad Jones.
At strong safety, Jones had his best season as a professional thus far. When you look at the tape, you can see Jones making plays all over the field. He was great when he played inside the tackle box, rarely letting the running backs get by him. He was also much improved in pass coverage, where he struggled previously. Jones was one of the best safeties in the league this year and should only get better next year.
Taking care of the free safety position, Clemons was also much improved. He didn't make as many plays as Jones, but was really good in pass coverage. Clemons needs to force more turnovers in order to become an impact safety, but his game has really developed.
People said Kevin Coyle can perform miracles with safeties and this season wasn't any different as we saw a lot of improvement from Miami's safeties.
Since Miami signed Clemons to only a one-year deal, it shouldn't be surprising if it drafted a safety. This is a class full of safety talent and Miami could take advantage by selecting a safety as early as the second round.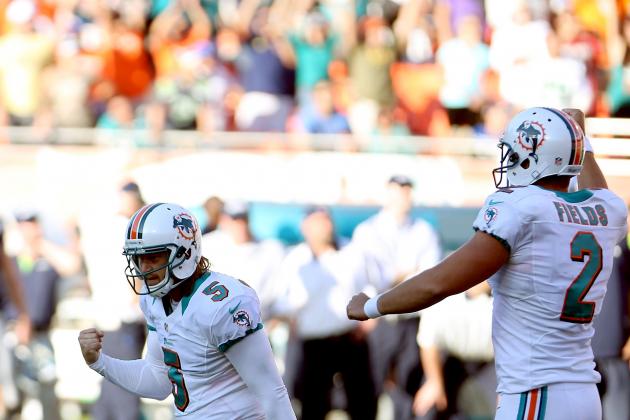 Marc Serota/Getty Images

Predicted Starters: Brandon Fields, Dan Carpenter, Marcus Thigpen
Miami had it's ups and downs in the special team's department.
Brandon Fields was one of those that solidified himself as one of the best punters in the league. The Michigan State product consistently pinned the opposition inside their 20-yard line and allowing Miami to win the field position battle. With Miami's offense being stagnant at times, Fields became one of the Dolphins' biggest weapons. He should have no competition when camp opens up and should be able to keep booming the ball as he's done thus far.
Dan Carpenter, on the other hand, had his worst season as a Dolphin. His inaccuracy cost the Dolphins games against the New York Jets and Arizona Cardinals early in the season. He got better as the season progressed, but his inability to make kicks was evident. Carpenter should be able to make a higher percentage of his kicks, especially if he's making almost $3 million per year.
In the return game, Marcus Thigpen was able to give Miami the weapon it was missing on special teams since Ted Ginn Jr. left. He was able to return a punt and a kickoff for a touchdown while giving Miami good starting field position on a lot of its drives. He showed he has the ability to be a dangerous return man and should only improve next season.
Miami appears to be set at punter and in the return game, but Carpenter may be looking to have some competition when camp opens up. The Dolphins will have three seventh-round picks, which they can easily use on a kicker. They can also bring in an undrafted free agent to compete with Carpenter.