Chelsea Transfer Prospects: 8 Players Fans Desperately Desire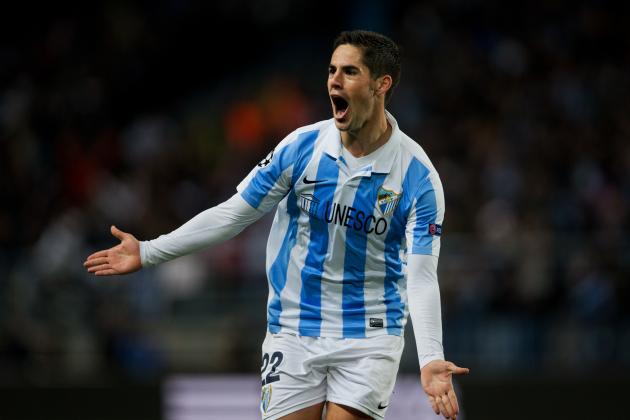 Jasper Juinen/Getty Images
Malaga's sensation Isco is the latest player to be included in Chelsea's never-ending rumor mill.
Although there is way too much transfer talk, transfer talk is like Rice Krispies Treats—and there is no such thing as too many Rice Krispies Treats, am I right, Pop?
And with the summer transfer window just 104 days away, what better time to delve into some serious speculation on who Chelsea fans would like to see most come to Stamford Bridge than right here and right now?
This slideshow includes eight high-profile football players in Europe who have been gossiped about by fans as Blues targets, a decent number of them strikers and forwards with so much speculation that Fernando Torres will be leaving West London this summer.
And almost all of the bigger-name players on this list hail from the two top leagues on the planet right now—Germany's Bundesliga and Spain's La Liga.
So let's dive in and get our gossip on before the water starts to get too cold...
Begin Slideshow

»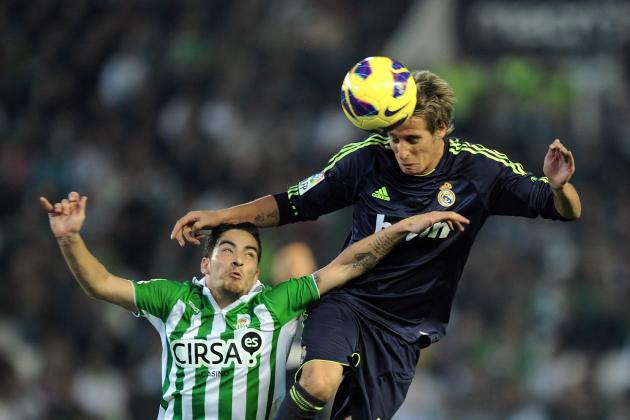 Denis Doyle/Getty Images

Chelsea and Real Madrid somehow seemed to be joined at the hip and what a perfect place to start our speculative voyage through Rumorville.
Portuguese international Fabio Coentrao is fairly versatile but is most often deployed as a left-back at the Santiago Bernabeu. The 25-year-old has one goal and one assist in 14 appearances for Real Madrid in league play this season.
He is in his second season with the holding Liga and Super Cup champions since coming over from Benfica, and every once in a while Madridista manager Jose Mourinho uses Coentrao in the central midfield or as a left-winger on the attack.
But after spending a pretty penny on so many advanced midfielders last summer, having so many possible options in the holding midfield and being set at left-back after re-signing club legend Ashley Cole and still having his understudy Ryan Bertrand in the fold, do the Blues really need Coentrao?
And is he really worth pursuing with a potential price tag in the £18 million range?
Denis Doyle/Getty Images

Sticking with the expensive, re-hashed candidates from Real Madrid, 30-year-old attacking midfielder Kaka could be the target of a summer bid from Chelsea.
The former World Footballer of the Year has only started five games for Los Blancos this season. At Stamford Bridge, the veteran Brazilian international could try to reignite his career alongside fellow countrymen David Luiz, Oscar, Lucas Piazon and Ramires.
But is Kaka getting too old? Is he rusty from riding the bench at the Bernabeu this season? How can he possibly be worth £20 million? And isn't Chelsea already stacked in the advanced midfield with Juan Mata, Eden Hazard, Oscar, Yossi Benayoun, Ramires, Marko Marin, Victor Moses, Kevin De Bruyne and Piazon, among others?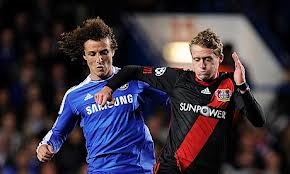 Photo/guardian.co.uk
Bayer Leverkusen forward/winger Andre Schurrle has long been talked about as a Chelsea target and seems to be one of the darlings of many Blues fans on message boards.
But with that aforementioned glut in the attacking midfield and guys like Ba and loanee Romelu Lukaku as strong options at striker waiting to prove themselves, making an effort to sign—and possibly overspend—for the 22-year-old German international seems like an awful big gamble.
Another area of concern is that German national Schurrle has scored just six goals in 26 Bundesliga games, one fewer than Fernando Torres (seven) for the Blues so far in English Premier League play this season.
With the pursuit of some possibly more talented scorers, expect Schurrle transfer talk to dwindle around Stamford Bridge.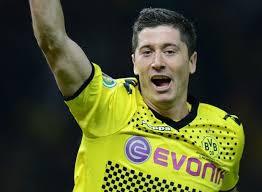 Photo/sport.gadu-gadu.pl
Staying in Germany's top flight with another name that's been bandied about for at least as year it seems is Borussia Dortmund's Robert Lewandowski.
Last month, the 24-year-old Polish international said he will not be signing a new contract to stay with Dortmund and late last year, the Daily Mail said both Manchester United and Chelsea were interested in the talented striker.
No doubt Lewandowski (19 goals in Bundesliga) would come at some expense. He may end up having more value staying with his current club which advanced to the quarterfinals of the UEFA Champions League tournament last week where it will next face Malaga.
But Lewandowski—also a possibility for Serie A champions Juventus and Bayern Munich—seems like the type of player who will produce wherever he ends up and could be the European champion's next great striker if he somehow ends up in West London this summer, although this talk seems to have cooled off as of late.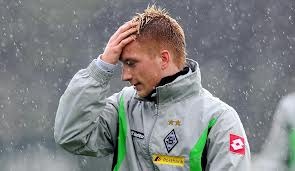 Photo/llewafc.wordpress.com
Defending Bundesliga champions Borussia Dortmund paid about £15 million for forward Marco Reus last year and may be seeking a bid possibly in excess of £35 million for the 23-year-old German international, who has 10 goals and eight assists for Dortmund in league play.
If he does become available and the Blues do decide to get in the running for the services of Reus, Chelsea will undoubtedly have to fight off several other top European clubs who also have him on their radars.
Fans love Reus, and it's very easy to see why.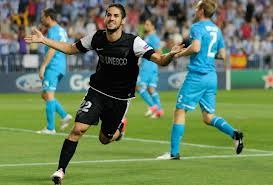 Photo/Bleacher Report
James Dickenson of the Daily Express recently reported that defending Premier league champions Manchester City would be fighting Chelsea for the services of the talented Isco this summer.
In the story, the 20-year-old attacking midfielder from Spain said he would consider a move away from La Rosaleda saying, "If a club decides to come and sign me they'll have to be a big club because it'd be a lot of money. Therefore, if it would help Málaga, I wouldn't have a problem accepting a transfer, if it benefited both of us."
The exciting Isco, who has eight goals for Malaga in La Liga play this season, was named the Golden Boy award winner in December, a prestigious honor bestowed on the best under-21 player in Europe.
Any Chelsea fans envisioning Isco carving up opposition defenses in a royal blue-and-white uniform in the future certainly can't be blamed for doing so. This wunderkind is the real deal.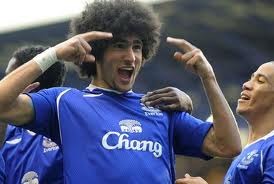 Photo/yorkvision.co.uk
Blues management and fans showed little interest in Everton midfielder Marouane Fellaini a year ago, but with the 25-year-old having his best year to date—he has 11 goals for the Toffees in Premier League play—the 6'4" Belgian is suddenly a very hot prospect.
Other clubs will undoubtedly show interest in Fellaini, who wants desperately to play Champions League football.
"Am I interested in Chelsea? It's normal, right? I've never played in the Champions League," Fellaini said in a story from Goal.com. "I'm happy here, I know everyone, I get along with my teammates. It's my home. On the other hand, I also want to take the next step. Fate will decide."
Everton paid Standard Liege £20 million for Fellaini and stands to make a very nice profit should it decide to part ways with and sell the fuzzy force who is a huge reason the sixth-place Toffees are still in the hunt for a coveted Champions League spot in the Premier League.
Fellaini is the type of player who would fit in perfectly with the new-look Blues roster and would surely evolve into a fan favorite quickly at Stamford Bridge.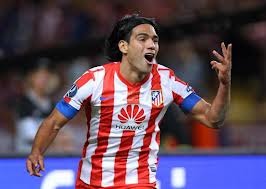 Photo/talksport.uk
You little buggers knew I wouldn't forget about Radamel Falcao, the guy who quickly replaced Hulk on most fans' Most Wanted Players List after the much-talked-about Hulk signed with Zenit St. Petersburg in the Russian Premier League in September.
The 27-year-old Falcao snatched the attention of Blues fans and management this fall in the same manner a black widow spider does its prey—with quick force and deadly consequences.
For Chelsea, that deadly consequence was getting embarrassed by Falcao's Atletico Madrid in the UEFA Super Cup on Aug. 31 when the Colombian notched a hat-trick against the helpless Blues in the European champion's first of many failed attempts at winning some silverware this season.
The Blues tried to activate the £51.7 million release clause in the striker's contract over the winter transfer window, but with Los Rojiblancos in the thick of La Liga race, Falcao decided to stay put, for the time being, with Atletico.
Chelsea are expected to make a heavy push for Falcao—who has 21 goals for Atletico in league play—this summer with £50 million man Fernando Torres likely headed for the exits.
According to a story in Goal.com from Greg Stobart, Chelsea will be competing with Manchester City for Falcao, and earlier rumors of Blues loanee Thibaut Courtois would be part of some deal for maybe the most-talked-about transfer prospect seem to have all gone up in smoke.
If there is one guy Blues fans would absolutely love to have it would be Falcao, as the lack of productivity at the striker position has been a sore spot for the club for the last two years now.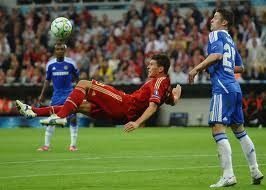 Photo/zimbio
Few teams in European football have their name associated with as many transfer rumors as Chelsea does and this trend will no doubt continue into the future.
Other big names the Blues could pursue include Real Madrid's Gonzalo Higuain and Bayern Munich's Mario Gomez. Soon the number of players deemed Chelsea's "No. 1 summer transfer target" may hit double digits.
Hopefully, the thrifty signings of Moses (£9 million) from Wigan Athletic and Ba (£7 million) from Newcastle United over the last two transfer periods will show that the club has turned a corner in terms of seeking out the best available talent for the best price and is done overpaying for big names possibly past their prime.
So who do you want Chelsea to pursue in the future? And who do you think are the biggest names and talents Blues fans want to see come to Stamford Bridge next season?
Leave your thoughts below, and if there are other candidates you'd like to see play for the Blues who haven't been mentioned, please express your opinion.
>Follow me on Twitter: @KevinStott11