Miami Dolphins Mid-Free Agency Complete 7-Round Mock Draft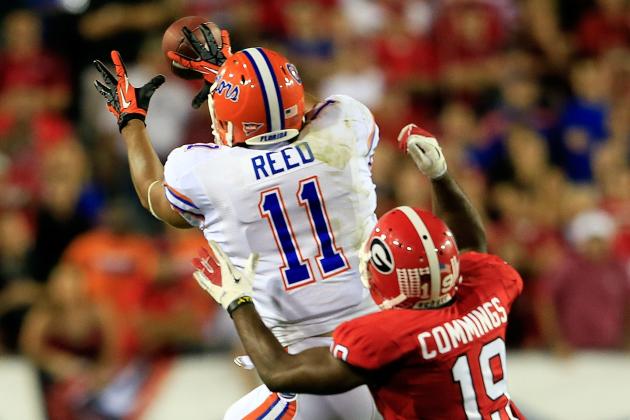 Sam Greenwood/Getty Images

With the major moves in free agency complete, it's officially time to look ahead to the draft. The Miami Dolphins were big spenders in free agency for the first time in a long time, but they still have some major spots where they need to improve.
The offense has been revamped, and Ryan Tannehill now has some real weapons at his disposal. But there is still some work to be done to ensure the offense really takes a major step forward.
The defense got younger and faster but still has plenty of room for improvement. Miami needs quality and quantity in the secondary, and its front seven could use a boost as well.
This is an interesting draft because of the lack of elite quarterbacks and offensive skill players. There is not much consensus about the top prospects, and there are few if any "lock" picks at the beginning of the draft.
The Dolphins have five picks in the first three rounds and got an extra selection in the fifth and seventh rounds from free-agency compensation.
With all of their free-agent signings, the Dolphins are really going to be looking for quality over quantity, but they need to hit on their biggest needs with the first couple of picks.
Here's a look at how the draft could shake out for Miami.
Begin Slideshow

»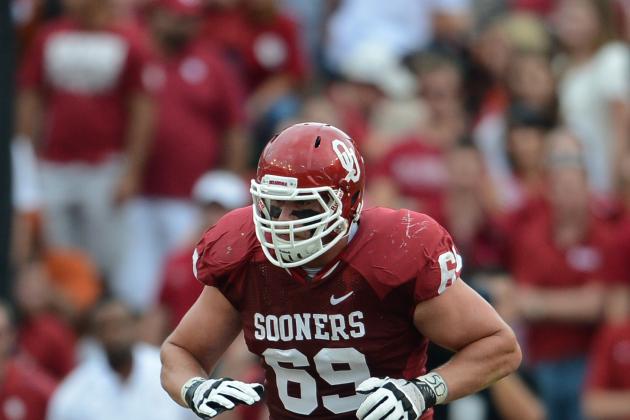 Matthew Emmons-USA TODAY Sports

This could change over the course of the next week or so, but right now the Dolphins are in desperate need of a left tackle. With Jake Long signing in St. Louis, they are currently left with Jonathan Martin and Nate Garner as their tackles.
Martin is good but still inexperienced and looked better on the right side than he did when he got switched to the left. Garner is simply a depth guy and has no business starting.
So if the Dolphins want to protect their investment in Ryan Tannehill, they need to make sure he is literally protected from defenders. Lane Johnson is Miami's best and most realistic option to do this.
While it would be better, in my ,opinion for them to pursue a veteran tackle, they may choose to wait and get a cost-effective solution in the draft. Johnson could be there at 12 and would conceivably fit right into Miami's system.
Johnson is incredibly athletic and has played quarterback, tight end and defensive end before gaining weight and moving to the left tackle position. He would be more than athletic enough to play in Miami's zone-blocking scheme.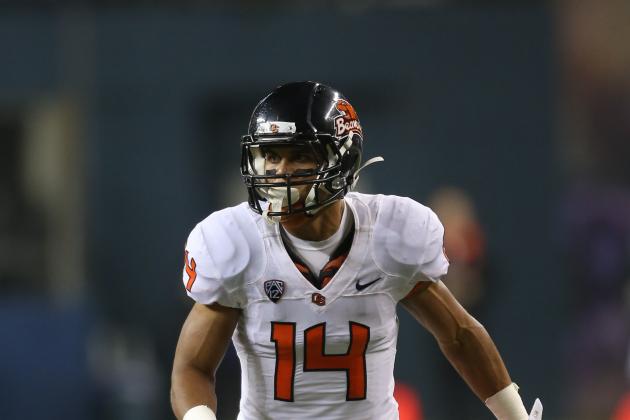 Otto Greule Jr/Getty Images

Miami has yet to bring in a cornerback via free agency, and after trading away Vontae Davis and letting Sean Smith walk, the Dolphins really need to bring in some talent to fill the gaping hole that's been created.
Poyer is a good-sized corner at 6'0", 191 lbs. He's a balanced athlete who does everything well but nothing spectacularly, which should help him fit right into Miami's tendency to use zone coverage.
Poyer has a lot of experience and is a pretty smart player, which will help him step right in and contribute immediately. The Dolphins will put a lot of responsibility on his shoulders from day one.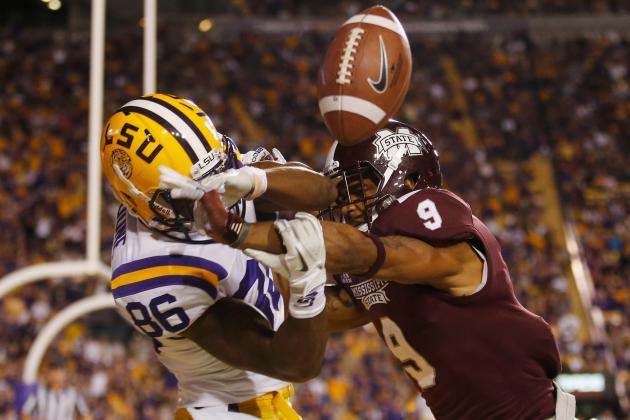 Chris Graythen/Getty Images

And with the other pick in the second round, Miami continues building back its secondary and takes another cornerback. Richard Marshall is best suited as a nickelback, and adding Slay would give Marshall more opportunity to play there.
Slay is the exact same size, with just one extra pound on Poyer, and possesses a somewhat similar overall build and skill set. He was overshadowed by Johnthan Banks last season but is a very talented ball hawk.
Slay is a little more athletic but also far more raw than Poyer. He played at community college for two years before transferring to Mississippi State, where he played just one season.
So although he's inexperienced, his ceiling may actually be higher than Poyer's, and they could form a dangerous tandem.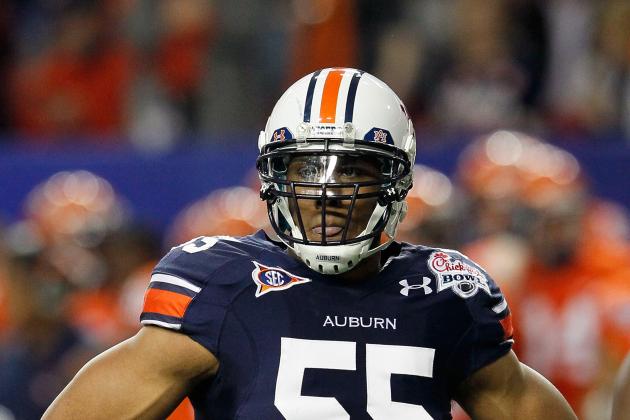 Kevin C. Cox/Getty Images

Last season it became evident that Jared Odrick was not the answer as a defensive end in Miami's new 4-3 defensive set. He just did not have the athleticism to get around the edge and consistently get pressure in the backfield.
Odrick will most likely move inside and become the primary relief for Randy Starks and Paul Soliai. Olivier Vernon has some upside as a pass-rusher but is not ready to be a starter yet.
Corey Lemonier was underappreciated last season because of Auburn's struggles, but he is an impressive athlete who could end up being a steal for Miami in the third round.
He's a bit of a "tweener"—that is, his size puts him somewhere between a 4-3 defensive end and 3-4 outside linebacker, but I think he has great potential to complement Cameron Wake on Miami's defensive line.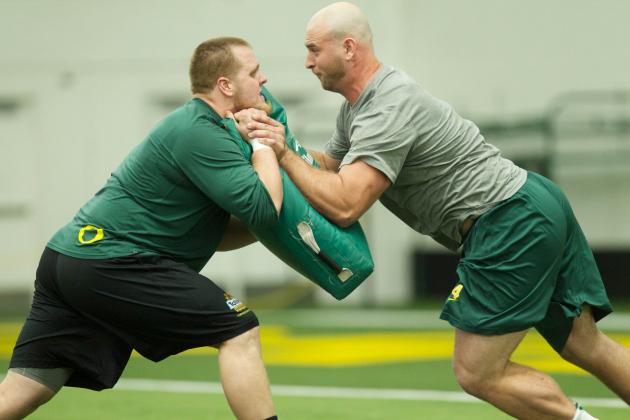 Jaime Valdez-USA TODAY Sports

Long would be a bit of an experimental pick here after Miami fulfilled its biggest needs at offensive tackle, cornerback and pass-rusher. He would be an ideal fit for a couple of reasons.
First, he is a phenomenal athlete who pitched at Florida State for a year before deciding to switch back to football. He is 6'6", 313 pounds, giving him ideal size for an offensive lineman in the NFL. He has the potential to play either guard or tackle, which would make him a valuable asset.
He also has as good of a football pedigree as it gets—his dad is Howie Long, NFL Hall of Famer, and his older brother Chris was the second overall pick after Jake Long (no relation) in 2008.
Long has great quickness and lateral movement, which would make him a perfect fit anywhere in Miami's zone-blocking scheme. He is still raw, however, and would need a lot of coaching and time to develop his skills.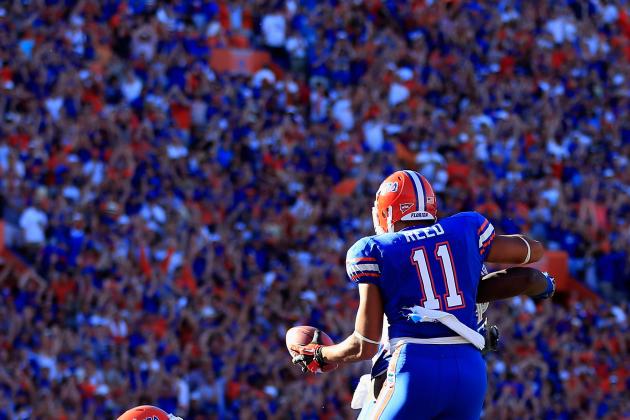 Chris Trotman/Getty Images

The Dolphins' signing of Dustin Keller allows them to wait a little and try to get some value in the middle of the draft after addressing other more pressing needs. Dion Sims would actually be a better complement to Keller, but Miami does not need two tight ends with durability issues.
Reed is similar to Keller in his build and athletic ability. He blends quickness, good hands and jumping ability with the capability of using his frame to make tough catches.
He would need to add some bulk on his frame and work on his blocking technique, but he's definitely an upgrade over Michael Egnew and should be a solid No. 2 tight end.
Drafting Reed would really round out Ryan Tannehill's arsenal of weapons nicely. They will be twice as athletic and dangerous as they were last season.
Ronald Martinez/Getty Images

The Dolphins got younger and faster at linebacker when they replaced Kevin Burnett and Karlos Dansby with Philip Wheeler and Dannell Ellerbe, but they didn't improve their depth at the position.
Jason Trusnik is an average backup, but they really need to beef up their linebacker corps. Nico Johnson would be an excellent candidate to do just that.
Johnson is a well-built 6'2", 248 lbs and was a force on the inside of Alabama's defense last season. He is a physical player who tackles well and reminds me a bit of Ellerbe with his playing style.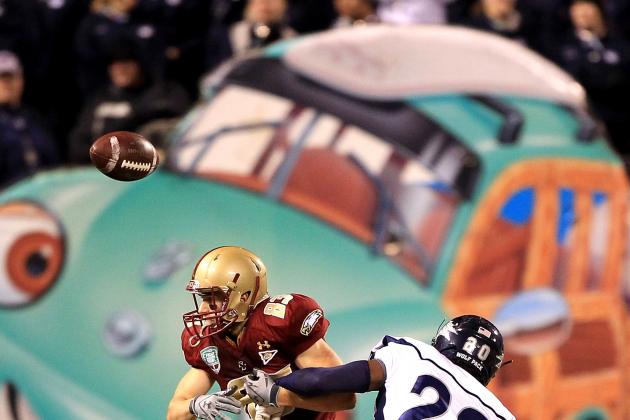 Ezra Shaw/Getty Images

The Dolphins re-signed Chris Clemons last week, but it was only to a one-year deal. Williams is extremely talented as a ball hawk and overall athlete, but he has a number of shortcomings that could lead him to be there in the fifth round.
Williams has incredible speed and quickness but is a bit undersized and has a tendency to overpursue on plays. With the right coaching, his aggressive nature could be curved and actually become an asset.
He has also had some off-the-field incidents that may cause Miami to be wary of selecting him, although they could also see it as getting a talented athlete and possible future starter at a discounted price.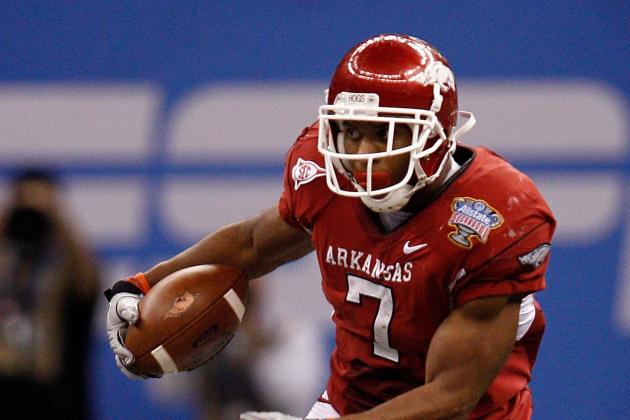 Chris Graythen/Getty Images

The Dolphins have a current three-headed rushing attack of Lamar Miller, Daniel Thomas and Marcus Thigpen. While the trio has some potential, it is not the most intimidating of groups in the league.
Davis entered the 2012 season as one of the top backs in the country, but he saw his stock slip dramatically after his injury woes continued and his play suffered. But he had a good combine and still has a lot of positive qualities.
Davis has a great blend of size and speed, and his breakaway speed is among the best in the draft. He also has good hands out of the backfield and was named a team captain in both 2011 and 2012.
If Davis is gone, other options include Zac Stacy, Rex Burkhead, Miguel Maysonet and Ray Graham.
Rob Carr/Getty Images

With an extra pick in the seventh round, the Dolphins actually look for a player who could be of huge relief right away. Dustin Hopkins and Caleb Sturgis are two of the better kickers to come out of college over the past few years, and would be very useful to Miami.
The Dolphins are paying Dan Carpenter way too much to be a mediocre kicker, and could use the extra couple million in cap space elsewhere.
Hopkins, out of Florida State, and Sturgis, out of Florida, were both Lou Groza Award Finalists and have the potential to be solid kickers in the NFL. Should one of them be available here, it makes sense that Miami would look to grab one.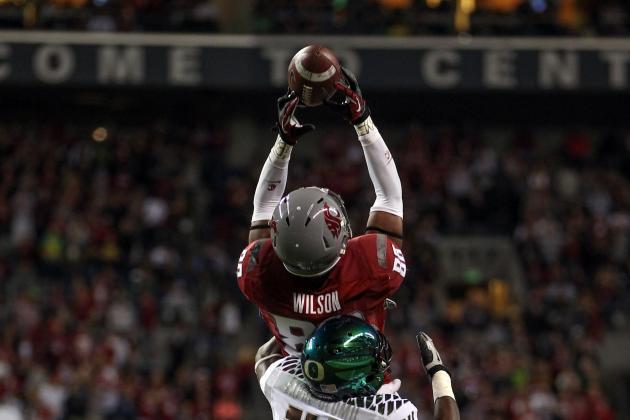 Otto Greule Jr/Getty Images

The Dolphins really sured up their receiving corps by signing Mike Wallace and Brandon Gibson, but Marlon Moore is now gone and Rishard Matthews is solid but nothing special.
Point being, there is still some room at the bottom of the depth chart. Wilson seems like the perfect selection here, because, although he comes with a lot of baggage and question marks, he still is a talented receiver.
If he comes to camp and is just a huge distraction, then he gets cut and no harm is done. But I think he was in a bad situation at Washington State and may actually turn out fine. If he made the roster or even the practice squad, it would be a great value here at the end of the draft.