Lower Seeds Most Capable of Surviving Week 1 of March Madness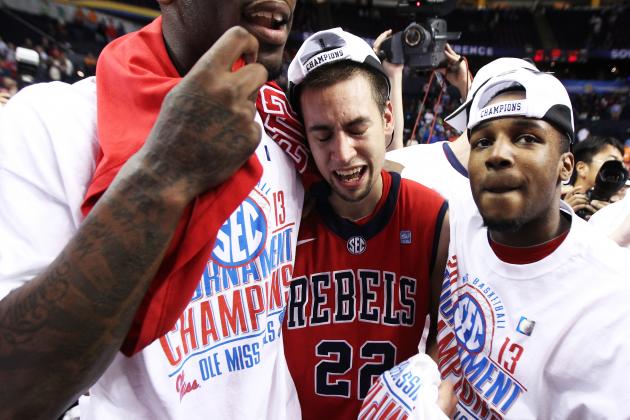 Andy Lyons/Getty Images

Selection Sunday left many teams feeling slighted after stellar seasons heading into March Madness. Unfortunately for the favorites, these teams will have something to prove as the slates are wiped clean come tourney time. The lower seeds as always will be ready to feast.
Week 1 of March Madness can leave even the most confident fans saturating their brackets with tears of defeat. Last year saw two No. 15-seeds advance past the round of 64, and while that is highly unlikely to take place again, everyone wants to be able to brag about how he or she picked the biggest upset.
At the same time, when a No. 14 takes down a No. 3, and you go, "I totally called that!!," you'll still look like a fool if you picked a bracket loaded with upsets, and that turned out to be your one shining moment. It's okay, we've all been there.
Which Cinderella stories will make it past the first chaotic weekend is anyone's guess.
Begin Slideshow

»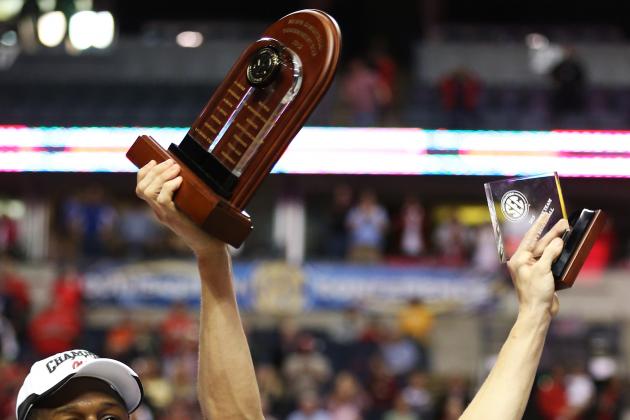 Andy Lyons/Getty Images

The No. 12-seed Rebels went 26-8 and capped it off by winning the SEC tournament over the vaunted Florida Gators.
Led by the volatile Marshall Henderson, Ole Miss is one of the safer 12-seeds we've seen in quite some time. Its recipe for success is very simple: the Rebels win when Henderson shoots well.
This team has shown that it can very easily get hot and go on a powerful run that is difficult to stop. Sporting the seventh-ranked offense in the country, the Rebels are a bit of an anomaly because of how heavily they rely upon Henderson. Other than him, they are not great from three-point range and are awful from the free-throw line, which could come into play during a close game.
In their first game, they will take on Wisconsin and its well-known defensive prowess. Henderson and senior forward Murphy Holloway will need to stay hot as they were in the SEC tournament. If that happens, there is no telling how far the Rebels can go riding Henderson's momentum.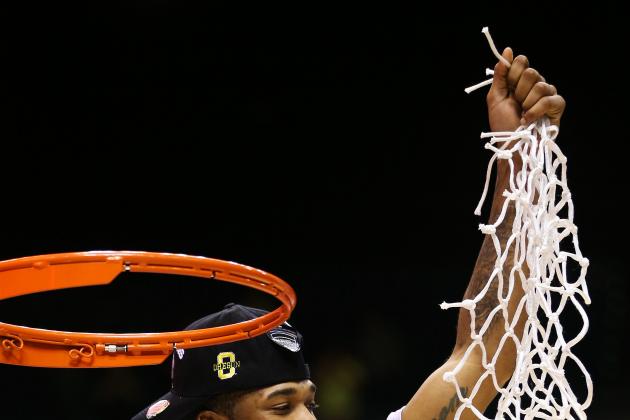 Jeff Gross/Getty Images

Can anyone recall a more grossly under-seeded team than this Oregon squad?
After winning the Pac 12 tournament, the Ducks ended up as the lowest-seeded team from the conference. They were the only team in the conference to win 26 games and were 3-0 against UCLA and Arizona.
Their seeding alone should be enough to motivate them, inspiring them to prove to the selection committee just how wrong it was.
In order for the Ducks to stay hot, they need to eliminate their turnover problem. Averaging 15 turnovers a game and not lighting it up from three is not a good combination this time of year. Despite that, Oregon has proven that it is very deep and talented and are a very unfavorable matchup for the No. 5-seeded OK State Cowboys.
The Ducks are very hot and cold, and right now they are very hot. This is not a team to be taken lightly, and even as a 12-seed, they are a safe bet to make it to next week.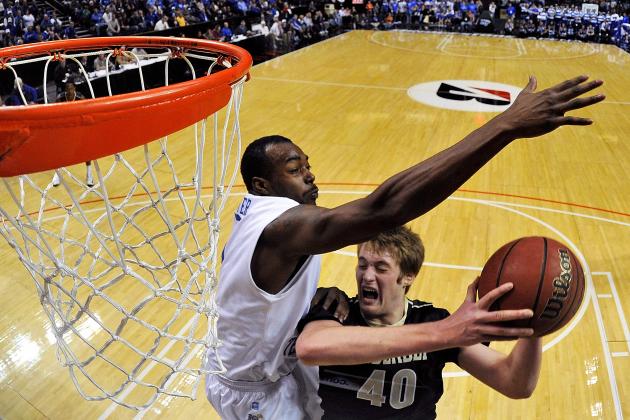 Frederick Breedon/Getty Images

The Blue Raiders are no tournament veterans. This is unfamiliar territory for them, but there is no reason why they cannot hang with the big boys.
VCU's run to the final four in 2011 set the bar high for mid-majors, but it is not out of the realm of possibilities for Middle Tennessee to do the same. The Blue Raiders face a St. Mary's squad in the play-in round, which could serve as a momentum-builder heading into a matchup with Memphis.
This team slipped up in the conference tournament, falling by four points to Florida International to end their 17-game winning streak. Surprisingly, MTSU ranks 28th in the country in RPI. The team has played substantial out-of-conference opponents although it has only one win over a team ranked in the RPI top 100. Regardless, they sport a 28-5 record despite an inflated 19-1 conference record.
The Blue Raiders' strength lies in their depth. They have a plethora of athletic guys who are all efficient and battle-tested. A very deep rotation will keep them fresh and keep defenses constantly guessing. This team could very easily use St. Mary's as a springboard to reach week two of the tournament.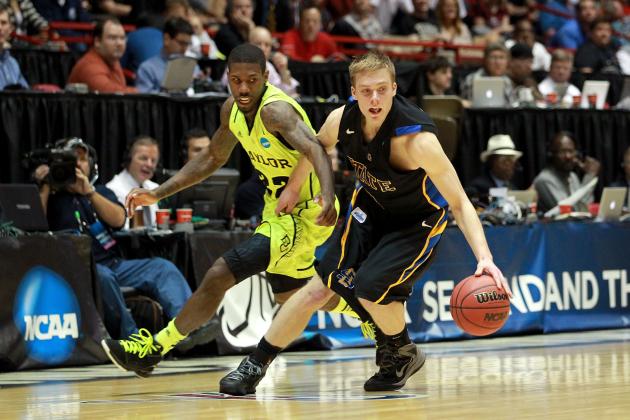 Ronald Martinez/Getty Images

Jackrabbits' senior guard Nate Wolters is one of the most dynamic players in the country. He is exactly the type of player who, when hot, can carry his team on a spirited run through March.
While SDSU has drawn an unfavorable first-round matchup with Michigan, expect Wolters to go toe-to-toe with Trey Burke. Michigan is full of underclassmen and will undoubtedly have fits with Wolters' game-changing ability. Never was this more evident than when he thrashed No. 16 New Mexico to the tune of 28 points and seven assists on a bum ankle. Better yet, the Jackrabbits were the only team to win on the Lobos' home floor this season.
After narrowly missing out on an upset of No. 3-seed Baylor in last year's tournament, Wolters and his boys will be back for revenge. This could be the classic case of a powerhouse big-six conference team overlooking a supremely talented yet unheralded player. With a huge upset, Wolters will be seething to give No. 5 VCU a taste of its own medicine in the second round.
March Madness is all speculative. Everything sounds good in theory until your favorite upset pick shoots itself in the foot and gets blown out by 30, but this South Dakota State team will be an unquestionable tough out. It is as scary as an No. 13-seed in this field and will give the untested Wolverines fits. Michigan is not used to being the hunted after an outstanding season. Wolters will be gunning for the Wolverines.
Chris Chambers/Getty Images

Pitt has a legitimate gripe that it is under-seeded as a No. 8.
Nothing about this team is impressive on paper, but the Panthers just know how to win. They are balanced and highly efficient, ranking seventh in the nation in assists despite fifth-year senior point guard Tray Woodall averaging just five per game. They play strong defense and do not turn the ball over whatsoever. Added up, that is a melting pot of looming disaster ready to be poured on an unexpected foe.
No. 1-seeded Gonzaga will be ambushed with this team's physical ability should Pitt make it past Wichita State in the first round. The Panthers will not be the slightest bit scared of the Zags, as they have already beaten Georgetown, UConn, Syracuse, Cincinnati and Villanova twice as well as taking Michigan, Marquette and Louisville right down to the wire.
This possible matchup in the round of 32 would be a nightmare for Gonzaga. A bitter Pittsburgh team is not something the Zags have encountered this season with their cakewalk schedule. The Panthers play a hard-nosed and brutal style that would not mesh well with Gonzaga.
If Pitt can slow the game down—the Panthers ranked towards the bottom of the country in three-point attempts—and keep it low-scoring and to their style, Gonzaga will be in big trouble. The Bulldogs better hope they can turn it into a track meet, or they will find themselves heading home early once again.