Projecting the Germany Starting XI at World Cup 2014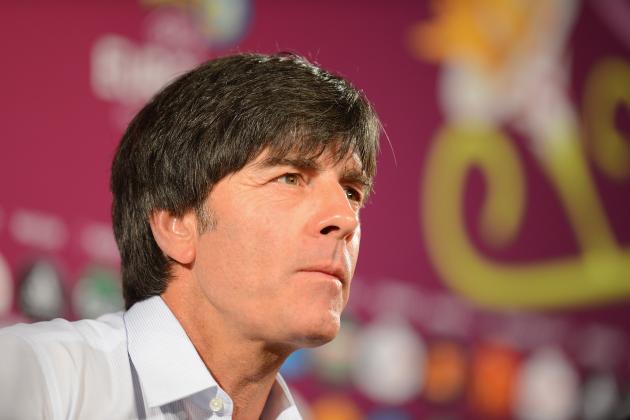 Handout/Getty Images

The 2014 World Cup is less than 15 months away, and Uefa associations are well into their qualifying campaigns.
Germany currently lead Group C with 10 points from four matches, and are favorites to secure automatic qualification for the summer tournament.
Assuming the DFB team does qualify, the question of who Joachim Low will use in his preferred lineup is one that can be highly debatable. Injuries and form will of course play a role, as will stages of career development. It still is possible to make a prediction based on Low's previous decisions and forecasting.
Click "Begin Slideshow" for a rundown of the most likely XI to feature for Germany at the 2014 World Cup.
Begin Slideshow

»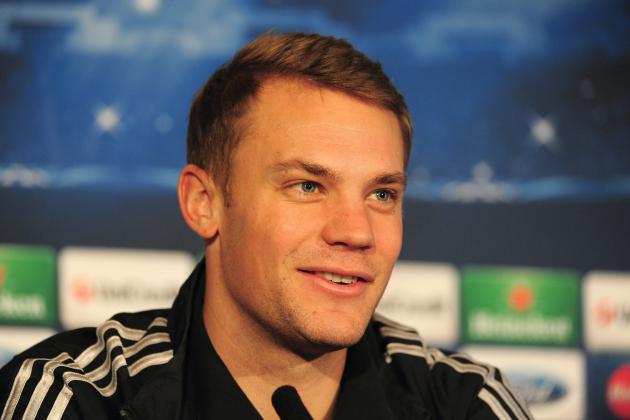 Shaun Botterill/Getty Images

A look around the Bundesliga will reveal a large number of highly qualified, young goalkeepers. But Manuel Neuer, who has started for Germany ever since 2010, remains decisively the first choice ahead of former rival Rene Adler and up-and-comers Marc-Andre ter Stegen and Bernd Leno.
Neuer has commanded an extremely successful Bayern defense this season, which has conceded just 11 goals in the Bundesliga. He's played in the Champions League final and in three penalty shootouts in Europe's elite club competition, and his experience and consistent performances make him an easy choice for the starting role for Germany at the 2014 World Cup.
There will be challengers to Neuer's position in the coming years, but not before they amass some considerable experience at a high level. There is simply no goalkeeper in Germany with better qualifications.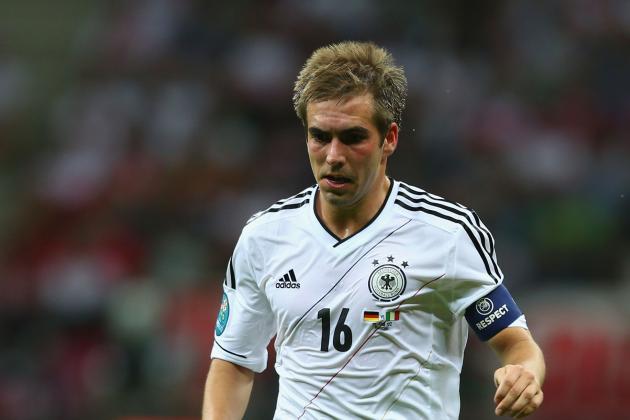 Michael Steele/Getty Images

Philipp Lahm may turn 30 this year, but the Bayern and Germany captain has shown no signs of slowing down. To the contrary, he's having arguably the best season of his career right now, as Bayern are alive and well in three competitions and are among the favorites to win the Champions League.
Lahm's years may be limited, but he surely will be first choice for Germany at the 2014 World Cup. The skipper has amassed 96 international caps and will be hungry to earn top honors in what may be the last international tournament of his career.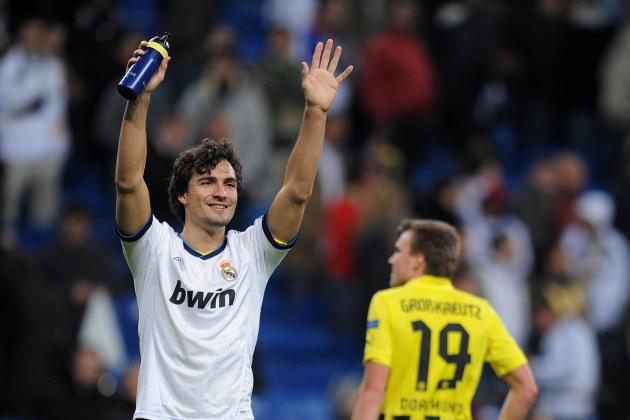 Denis Doyle/Getty Images

Until about a year ago, Mats Hummels was somewhat of an outsider in the German national squad. The defender had played exceptionally well for Dortmund, but never realized his potential for Joachim Low's team.
At Euro 2012, Hummels established himself. He was arguably the best player of the tournament before a fateful slip-up in the semifinal against Italy, but his performance in the four games prior marked a decisive turn in his career.
Hummels will have to compete with Per Mertesacker in the games leading up to the World Cup, but expect the BVB man to prevail.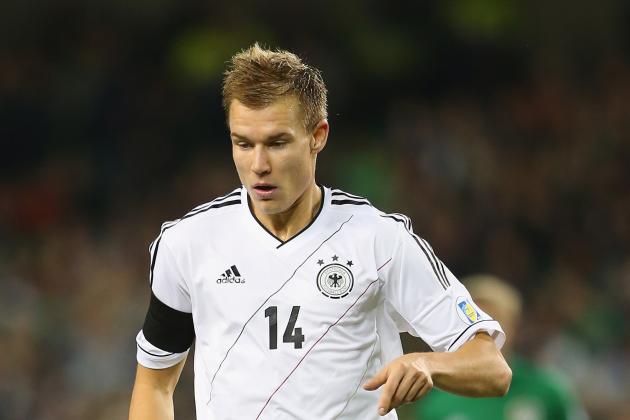 Alex Livesey/Getty Images

Holger Badstuber did not exactly have the greatest Euro 2012, but Joachim Low has since kept his faith in the Bayern centre-back, who has started in all four of Germany's World Cup qualifiers (albeit once on the left of defense).
The Memmingen native has long been an established member of Low's starting XI, with the only competition for a defensive role taking place between Per Mertesacker and Mats Hummels.
And although Badstuber is currently recovering from a torn ACL, he is expected to return to action at the beginning of next season. Assuming he makes a full recovery, there is little reason to believe Badstuber won't return to his top form and start at the World Cup.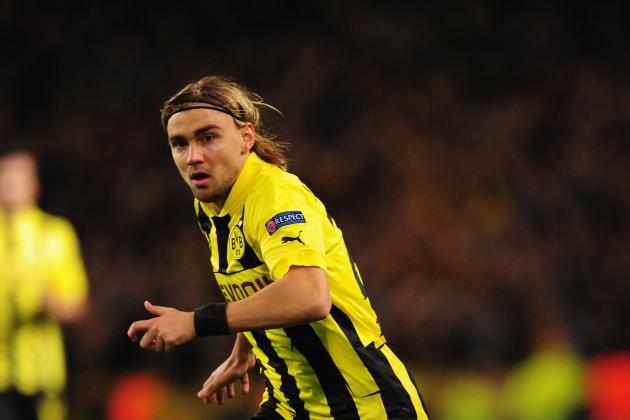 Stu Forster/Getty Images

Philipp Lahm, Marcel Schmelzer, Dennis Aogo, Marcell Jansen, Jerome Boateng and Holger Badstuber are among the many players Joachim Low has used at left-back in recent years, and none of the aforementioned has been able to become a permanent starter in Low's team.
Lahm of course has the quality to play on the left, but Low decided last fall that he will play at right-back during qualifiers, presumably with the intent of using him in the same position at the World Cup. Schmelzer was given the nod to play at left-back in the early qualifiers, although injury limited him to just two out of four games.
Schmelzer played well in qualifiers and has been a key figure for Dortmund in their run to the Champions League quarterfinals, and therefore has a slight advantage over the competition in the race to be Germany's starting left-back at the World Cup.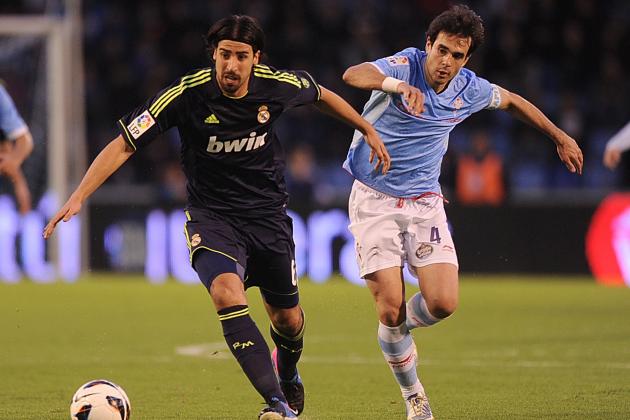 Denis Doyle/Getty Images

When he left Stuttgart for Real Madrid in 2010, Sami Khedira was an unproven player who many pundits may have written off as the next failure to join Los Blancos. The 25-year-old has since silenced the critics, establishing himself magnificently for the Spanish titleholders.
Khedira has also proven himself for Germany again and again. He was arguably the best performer in Joachim Low's team at Euro 2012, and added a certain grit to the midfield that otherwise would not exist.
He right now is keeping Toni Kroos out of the team, but his starting role is absolutely justified. Khedira knows just what he can and cannot do, and is therefore extremely reliable to provide at a high level.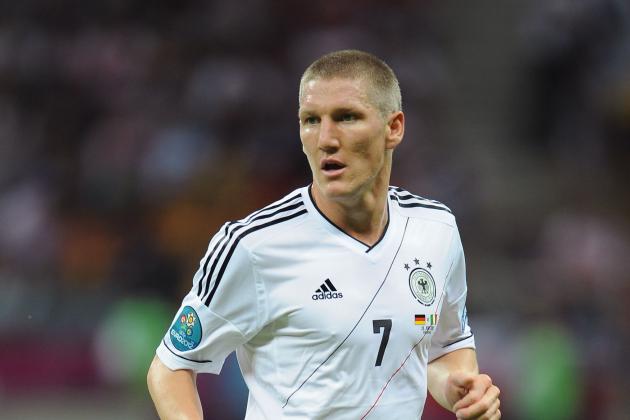 Christopher Lee/Getty Images

One day, Bastian Schweinsteiger will lose his starting role in the Germany team. That time will not come before the 2014 World Cup.
The vice-captain has made 97 appearances for Germany since 2004, and his balance and wide range of skills makes him arguably the most complete holding midfielder in the world.
And although he has had his share of mishaps in recent years, the Kolbermoor native has proven he has the resilience to step out of a slump and play at a very elite level. Right now, he is in the form of his life as Bayern Munich enter the most critical phase of their season in pursuit of a treble.
There is no question that Schweinsteiger will, just short of his 30th birthday, be a starter for Germany. Any doubt of his longevity will only set in as Euro 2016 and the 2018 World Cup approach.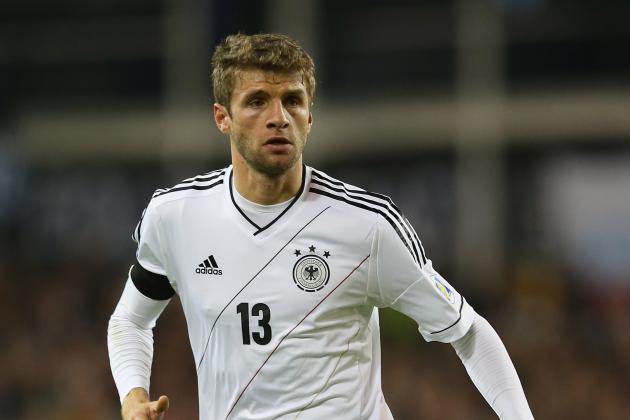 Alex Livesey/Getty Images

It isn't often that Thomas Muller is excluded from Joachim Low's starting lineup, but when he is, Germany tend to struggle. The Bayern man's suspension in the 2010 World Cup semifinals coincided with the DFB team's defeat to Spain, and Low made the mistake of keeping him on the bench for the first 71 minutes of a 2-1 loss to Italy in the Euro 2012 semifinals.
If Low is at all a student of history, it's highly unlikely that he will make the same mistake again. In short, Muller will surely be a starter at the 2014 World Cup.
A player of tremendous industry and gifted with the uncanny ability to force critical goals, Muller is just the type that Low needs to balance his team. The trainer should know it by now.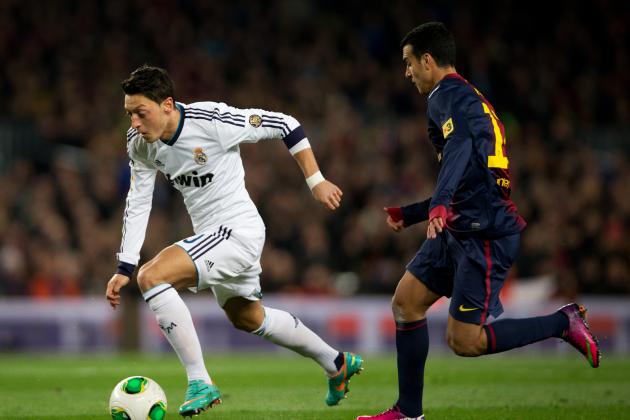 Jasper Juinen/Getty Images

Just like Lahm and Schweinsteiger, Mesut Ozil is irreplaceable in Joachim Low's team. The Real Madrid man helped revolutionize the DFB XI in 2009, his stunning playmaking converting the Germany system from one that relied on athleticism and exploiting mistakes to one that could play its own style and succeed regardless of the opposition.
Ozil may play in the same position as stars like Toni Kroos and Mario Gotze—neither of whom deserves a place on the bench, it should be added—but the ex-Bremen star's position won't be in jeopardy anytime soon.
Kroos will more likely be in competition for a spot in defensive midfield, where he has played for Germany in the past, while Gotze is more likely to feature as a false centre-forward or potentially on the wing.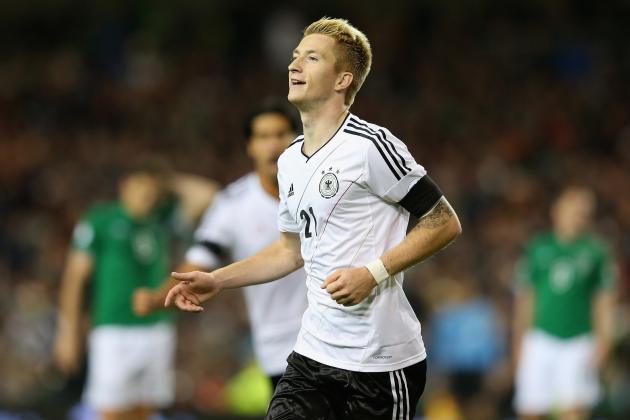 Alex Livesey/Getty Images

Lukas Podolski may have earned 107 caps and scored 44 goals for Germany before his 28th birthday, but his time as a starter in Joachim Low's team seems to be coming to an end. He's scored just twice for country since October of 2010, and is visibly a poor fit in the current team as it has evolved from a counterattacking side to one that has become more comfortable with extended spells of possession.
Marco Reus is undeniably the more dangerous player, and after years of frustration that have seen injuries keep him from taking his chances on the international stage, has fully established himself.
Since Euro 2012, Reus has appeared six times for Germany, scoring three goals and giving as many assists. Although Low has hinted that Reus could play as a central striker, the trainer's use of the 23-year-old on the left wing and Mario Gotze as a false nine against the Netherlands suggests that he prefers to have the ex-Gladbach man cut in from the flank.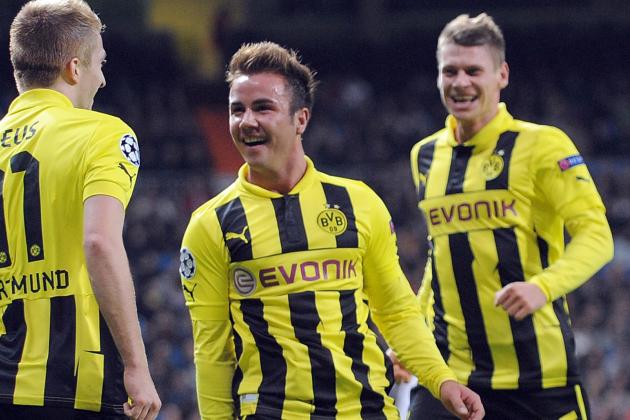 Denis Doyle/Getty Images

The most contentious debate over the Germany squad right now concerns the position of striker. And although there are some excellent centre-forwards available to Joachim Low, the trainer's most likely decision is to use a "false nine."
If he were fit and capable of inspiring confidence, Miroslav Klose would be a shoe-in for the spot. However, the veteran will turn 36 before the tournament begins and his physical decline simply cannot be ignored. He no longer has the explosiveness or pace to compete at the very highest level, especially in a system that requires high pressing from the forwards such as that which Low uses.
From here, Klose can only go downhill. He will probably make the squad and could play a key role as an impact substitute. However, expect him to play 15-30 minutes per game, not 75-90.
Mario Gomez is another option, but one that does not fit well in the context of the national team. Although he scored as many goals (3) in the group stage of Euro 2012 as any player in the tournament overall, Low did not hesitate to bench the Bayern man in the knockout rounds.
The fact is, Gomez was unable to act as Klose had in the past, opening up space for the attacking midfielders behind him. Mesut Ozil and Thomas Muller struggled uncharacteristically, and Lukas Podolski was generally anonymous.
Gomez was unable to convince Low after scoring 41 goals for Bayern last season. Especially with his Bayern future still cloudy, it's hard to see him having a realistic chance of becoming Low's favored option.
Stefan Kiessling is another formidable forward available to Low, but the Leverkusen man has failed to take his chances at the highest level and the trainer dropped a big hint last Thursday that he does not see a future for Kiessling in his team.
"He has his qualities, he has shown he can score but it is also a matter of philosophy," Low said. "I have been thinking about it a lot, about dangerous players who can switch positions. If they play with variety you don't have to have a centre-forward."
Low has experimented with Mario Gotze as a false striker in the past, and in all likelihood will continue to use the Dortmund man in a similar role. Gotze has been in tremendous form at club level, scoring 14 goals and giving 17 assists in 38 appearances this season. He's incredibly adaptable and has long been one of Low's favorites, having made his senior international debut at the age of 18.
Gotze has gotten better and better as the season has progressed, and still at just 20 years of age has even more potential to be tapped. There's a very real possibility that he may be one of Europe's very best players by the time of the World Cup; it will be impossible to leave him out of the squad.
Likewise, it's impossible for Low to omit a player like Ozil, around whom he's built his attack ever since late 2009. Muller is a lock on the right wing if not for any other reason than that he serves the purpose of a good luck charm; Germany are nearly unbeatable when he plays. And on the left, Reus is perhaps the most striker-like of the front four while having other qualities that make him a dynamic attacker.
Expect a dynamic front four from Germany at the World Cup. It will take time for the team to develop the right chemistry and make it work, but when it does, it will be Low's best XI playing what can only be expected to be beautiful, free-flowing and unpredictable football.