NJ Devils: 3 Reasons the Return of Martin Brodeur Is the Key to Success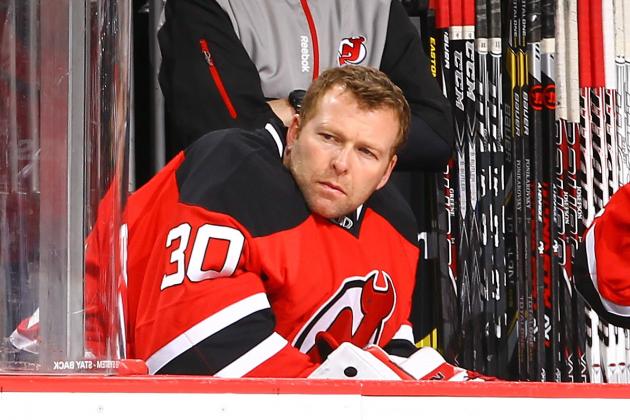 Al Bello/Getty Images

It's been three weeks and Johan Hedberg continues to start in place of the injured Martin Brodeur, the New Jersey Devils' primary goaltender of the last two decades.
The Devils hit a skid when the goalie pulled himself from a scheduled start on February 24. Brodeur was placed on the IR two days later, and the team proceeded to lose five of its next six games.
The ship seems to be sailing straighter now, as the Devils are 4-1-1 in their last six. They remain in the playoff picture and are once again playing at a competitive level.
With Brodeur still out indefinitely (via prohockeytalk), the Devils have to hope that things keep going well behind Hedberg. Their wins have not come easily, though, and the team will not be playing at full potential until its future Hall of Famer returns.
Begin Slideshow

»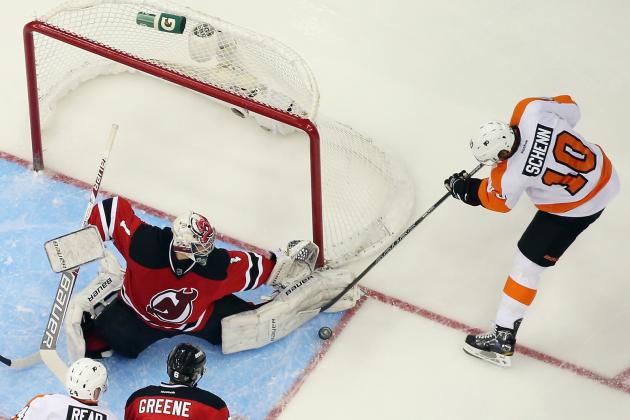 Bruce Bennett/Getty Images

When Johan Hedberg plays well, he looks like he could be a full-time starter in the NHL. When he does not play well, he is (at times) downright awful. And the problem is, there's not really a way of knowing which Hedberg is going to show up for a game.
Moose has started 12 straight games now, and those games can be easily split: During the first six games, he gave up 22 goals and the team earned a total of one point. During the next six games, he was lit up once for six goals in Carolina, but proceeded to give up just nine goals the rest of the way, as the Devils earned nine out of a possible 10 points.
Moose is playing great right now and there's no denying it. But the man is 39, he's a backup goalie and he's never been superb in his career.
He's a good placeholder, but the Devils need a No. 1 goalie if they want to be serious this postseason. That means Marty has to be between the pipes.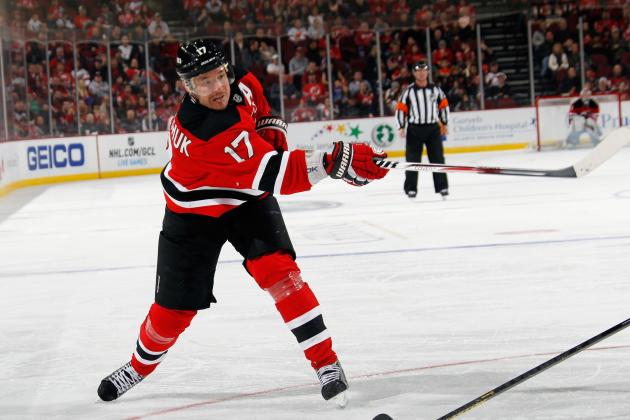 Bruce Bennett/Getty Images

The Devils offense has come a long way since acquiring Ilya Kovalchuk in early 2010. At times, they look like an exciting, dangerous team. The problem is just a lack of reliability.
Kovy plays pretty consistently, as does Patrik Elias. Then there's Travis Zajac, David Clarkson and Adam Henrique. All are capable of great play, but none have proven themselves too reliable.
And that's basically it. While Ryan Carter, Steve Bernier, Stephen Gionta, Andrei Loktionov and Alexei Ponikarovsky have all offered support at times, none are stars. The fact is, the Devils offense just isn't that great.
The team is 23rd in the league in goals per game. It hasn't scored more than three goals in a contest against a team other than the Flyers since February 9, a 4-2 win against the Lightning.
If the offense can't step up, that means the goaltending has to make up for it, and that's what Martin Brodeur has been doing for years.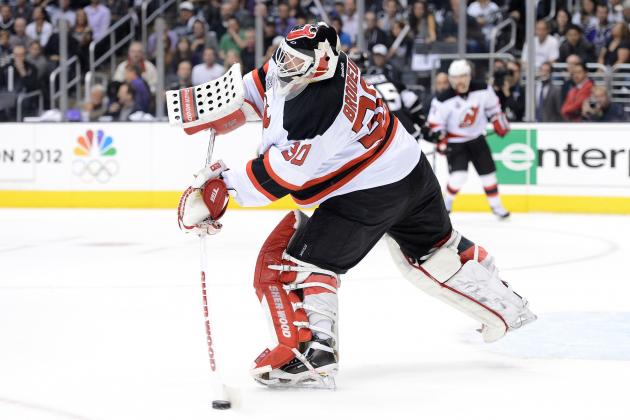 Harry How/Getty Images

Martin Brodeur is a one-of-a-kind goalie. As the all-time leader in wins, shutouts, minutes, wins in a season and many, many other records, he's shown that he is capable of things no one else is.
He's been the Devils' starter since 1993-94 and he's started most of almost every season since then. This is important, because the Devils have built themselves completely around their goalie.
Brodeur moves the puck like few goaltenders have ever been able to: His passes are spot-on all the way into the attacking zone and his stick-handling is a factor that drastically alters a game's flow. He makes every dump-in a possibility for a counter-attack.
Hedberg has admirably been trying to fill in, and sometimes he pulls it off. More often, though, his passes are off-target—sometimes to the opponent—and his attempts to handle behind the net end in disaster more than occasionally. It's not a knock against him, it's a testament to how special Brodeur is.
And that's just it. Brodeur can't be replaced.
When every skater on the Devils is used to playing in a system partially based around a puck-moving, versatile goaltender, they can't succeed in the long term with a guy like Hedberg.
The team's identity and play is based around its goalie. If it wants to make a late-season push or a playoff run, it needs No. 30 tending the goal.