The Best Fan-Filmed Footage in Sports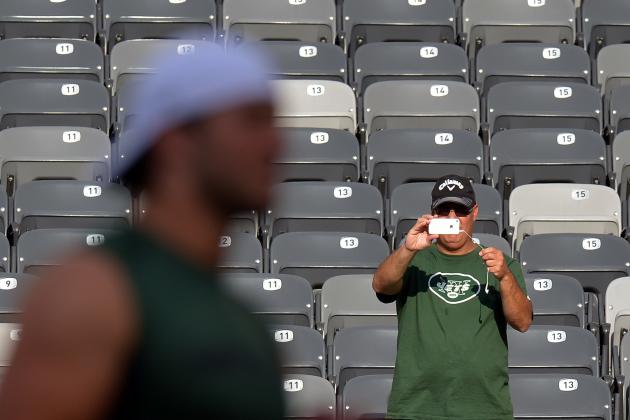 Drew Hallowell/Getty Images

Who doesn't enjoy a good old-fashioned fan-filmed video?
They're all over the place, most of them shaky-handed and pixelated messes no human beings should ever have to endure. But then there are the few that manage to transcend this swirling mire of ill-lit videography and become art.
The following are some of the best fan-filmed videos out there. None of these clips will ever be mistaken for James Cameron's early work, but they happened to be in the right place and have their camera phones rolling at the right moment.
Begin Slideshow

»
Huddled in the corner of the couch, cradling his knees in his chest and whimpering ever so softly—that's how a real man watches football.
This Ravens fan lost his mind after a third-quarter touchdown run by Ray Rice during Baltimore's 2013 playoff matchup with the Denver Broncos.
Amid the high-pitched keening and racked sobs, you can hear the man whimpering, "I can't... I can't take it..."
This isn't an act, which you can tell by his child's amused reaction to the meltdown: "You all done, Daddy?"
Clearly he knows his father isn't dying of a gunshot wound to the stomach—this is just how Daddy cheers for the team.
This video isn't the "best" in the typical sense of the word. But it's an important and controversial bit of footage.
This fan-filmed video taken during a Nationwide Series race at Daytona International Speedway in February showed the real dangers fans can face while attending NASCAR events.
And of course, NASCAR attempted to block this video on YouTube due to "copyright infringement." Definitely had nothing to do with potential lawsuits, or anything like that.
And who says we don't do cricket here in the Swagger division?
Well, we don't, actually. But when we do, it's for silly, childish events like this.
Former Australian bowler Brett Lee was one of the fastest bowlers in cricket, but he wasn't quite fast enough with the hand this day.
As you can see, a man who appears to be a fan of Lee's offers a handshake, but gives Lee the slipparooski when he comes in for the clasp. Lee attempts to salvage the slight with a tap on the goon's head, but the advantage has to go to the random prankster.
Trolls gonna troll, right?
The only words you can understand during this video are the only ones that matter, and those words are "OH (BLEEP)!!"
Warning: Video contains strong language and insufferable onlooker commentary.
An oldie, but a goodie—this fan-filmed dispute between some guy and an elderly couple at a US Open match in 2010 never gets old.
This big brassy woman allegedly got into it with this young man over his use of language while watching the match (Novak Djokavic was playing Philipp Petzschner).
Obviously looking to end the hostility, the woman slapped the man in the mouth and things went south.
By far the worst part of this amazing video are the onlookers, who combine to create a lynch mob chorus of tattered "Throw the bum out!" complaints.
Warning: Video contains coarse language and man-tears.
Booze and sports have walked hand-in-hand since the first fan ever purchased an over-priced ballpark beer.
Knocking back a few brews and watching the game is fine and all, but when your team loses and you crack up into a teary stupor like this Giants fan... well, it just looks bad.
But, of course, his friends would've been remiss if they didn't document it for posterity's sake.
Warning: Video contains strong language from a very hefty boy.
Easy there, Hoss—you're going to break something.
After his team lost to the Patriots in the 2012 AFC Championship Game, this husky Ravens fan let everyone know just how he felt about the situation.
What did we learn today? Joe Flacco is unreliable and terrible, of course (awkward silence).
Parents can be cruel, but this is just inhumane.
This young hockey fan was left heartbroken after his parents decided to mess with his mind by cheering for the Detroit Red Wings.
That, obviously, was not something he cannot allow.
Warning: Video contains strong language and drunken college-age rambling.
The NFL replacement refs caused the head of many a Packers fan to spin after blowing a now-infamous call in the final minutes of a Week 3 matchup against the Seahawks in 2012.
This young man, like so many others, took extreme exception to the call. Arms were punched and friendships were tested, but at the end of the day we have this solid-gold footage of a kid throwing the biggest temper tantrum of his life.
Of course, the Utah Jazz have a bear as a mascot. And of course he is going to mess with people.
Some fan filmed this awkward interaction between the Utah Jazz bear and a Phoenix Suns fan, whose only crime was sitting courtside with a Suns hat on.
The bear chucks it to half court, and then goes for the man's shoes, presumably because they featured Suns colors.
I like to think the fan's best response would've involved pulling on a pair of these amazingly terrible slippers.
Three Ravens fans. One Chiefs fan.
There can only be one Highlander.
Tony Romo fumbling the ball in the final minutes of a 2006 NFC Wild Card game is an unforgettable moment in NFL history.
And this fan footage of the terrible end captures the moment better than any expensive television camera. It truly puts you in the moment, and shows what this win meant to the Seattle Seahawks and their fanbase.
Oh, Rex—you cut right to the core of us.
The New York Jets head coach was heading into the tunnel after a disappointing loss to the Patriots in 2011 when a fan yelled a remark that hit Ryan square in his soft, tender pride.
"Hey Rex! Belichick is owning you!"
Obviously, Rex didn't exactly high-five the man for his wisdom.
Warning: Video contains strong, naughty language.
Downtown Baltimore was an absolute madhouse when the Ravens Super Bowl parade went through town in February.
Barricades were turned over, fans ran into the streets and general pandemonium was the soup of the day.
The franchise had opened M&T Bank Stadium to fans for a celebration ceremony, but the 71,000 capacity building filled quickly and its gates were eventually closed.
Obviously, that didn't stop die-hard Ravens fans from climbing the compound's outer fences and slipping inside.
This video has everything you could ever want besides JaVale McGee airballing a dunk.
The Utah Jazz bear pulled off a bit of amazing (and fake) drama at a home game by pretending to get into it with a Cleveland Cavaliers fan.
I don't care if it was all a set up, it was priceless.
This is why you never EVER check into a Turkish hotel under your God-given name.
This particular Galatasaray fan decided to give Manchester United striker Ashley Young a wake-up call around 2 a.m. in his hotel room the night before a match.
After a couple minutes of jiving and lying to the concierge, this intrepid fan managed to get on the line with Ashley, who clearly had no idea what was going on.
Then the fan serves him the line, effectively proving that Hell is an early morning wakeup call from a menacing Turkish man.