Indiana Hoosiers' Blueprint to Win the 2013 NCAA Tournament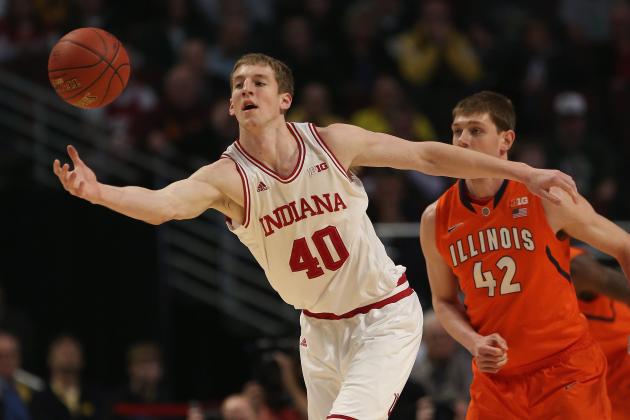 Jonathan Daniel/Getty Images

The die is cast, the bracket released—and Indiana fans are cranky.
The Hoosiers' road to the Final Four will lead through Washington, D.C. and not Indianapolis, as previously hoped. Still, the workload does not change. Six games await, with a pool of 15 other hungry teams in the way of reaching Atlanta.
Matchups are always key, and there may be a few that don't play to IU's strengths. Still, those strengths are what the Hoosiers have to travel on, so here are the ways that Indiana can give itself the best opportunity to hoist a trophy in three weeks.
Begin Slideshow

»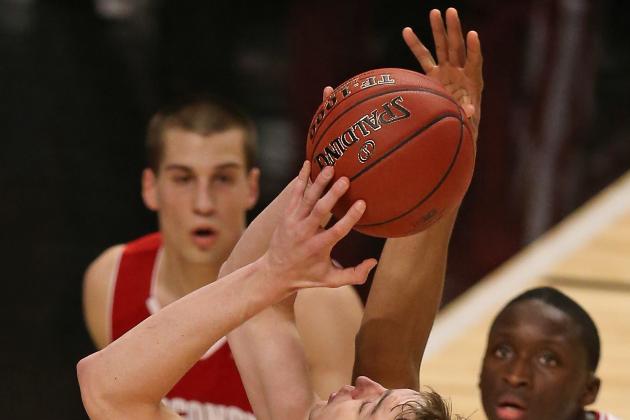 Jonathan Daniel/Getty Images

Wisconsin's win in the Big Ten tournament semifinal kept one trend going for Indiana, and it's not a good one.
In five of the Hoosiers' last seven games, they recorded a defensive rebounding percentage less than 65. They're 2-3 in those games, winning the other two.
The East Regional sports only two teams averaging better than 35 percent on the offensive glass. Unfortunately for the Hoosiers, those two teams are No. 4 seed Syracuse and No. 3 Marquette, who both have solid chances of crossing IU's path. Also, Indiana's old friends, the sixth-seeded Butler Bulldogs, are close to the magic mark at 34.6 percent.
Christian Watford is second on the team in defensive rebounding percentage for the season, but he's averaging just 3.3 defensive boards per game over his last eight. Cody Zeller will need all the support he can get on the glass.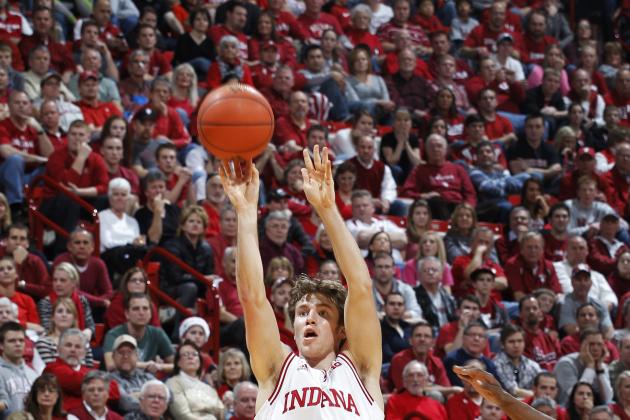 Joe Robbins/Getty Images

Over IU's last five games, the three-point shot has been largely a mirage. Around solid shooting days at Michigan and against Ohio State, the Hoosiers could not throw the ball in the ocean against Iowa, Illinois or Wisconsin.
As a whole, IU shot 31.6 percent from beyond the arc in those five games, a steep decline from the team's 41.1 percent average for the season.
No. 8 NC State, No. 4 Syracuse, No. 5 UNLV, and No. 11 Bucknell are all in Indiana's region, and all four are also in the national top 60 in three-point field goal defense. Syracuse and NC State sit in the top 20.
The usually reliable Jordan Hulls shot 1-of-10 in the Big Ten tournament, and as his shot goes, so go the Hoosiers as a whole. Yogi Ferrell needs to resist the impulse to jack up every open look that he gets, especially after missing all five deep attempts in an otherwise decent game against Illinois.
This will be Watford's primary role on the offensive end, finding openings for his shots. A 50 percent shooter from long range in conference play, Watford made at least one bomb in every Big Ten game except the March 2 win over Iowa.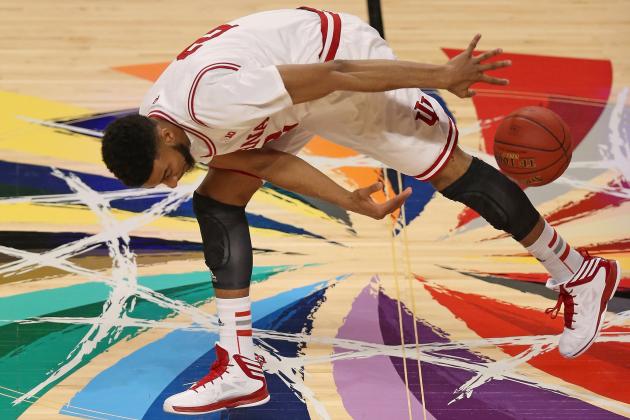 Jonathan Daniel/Getty Images

Turnovers are the bane of IU fans' existences, and they're largely difficult to predict. Michigan sits 234th in America in opponents' turnover percentage, but in Indiana's narrow season-ending win at Ann Arbor, the Wolverines forced turnovers on nearly 22 percent of Hoosier possessions.
IU has committed turnovers on 21 percent of its possessions over the last four games after a six-game run where the rate sat closer to 17 percent. The difference is that three of those six games were against teams that are not in the NCAA tournament, while the last four have been against teams in the field of 68.
The good news for IU is that it sits in a region that isn't loaded with high-pressure defenses. Syracuse (26th) and Illinois (69th) are the only teams in the East that rank in the national top 100 in opponents' turnover rate.
Still, turnovers will always happen if the offense tries too hard to push tempo or loses its focus. See the above note about Michigan.
The man who needs tightening up in this regard is not Yogi Ferrell, who's averaging two turnovers per game over his last five. It's Victor Oladipo, who's committed 17 turnovers in that same span, a rate of 3.4 per game.
Oladipo's turnover percentage in those five games is a ghastly 30.9. For a guy who does so much to put IU in a position to win, he may need to tone down the highlight-reel heroics to keep the Hoosiers on the right side of a close game.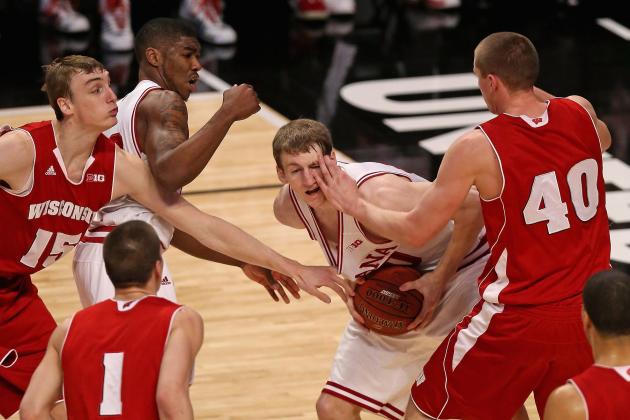 Jonathan Daniel/Getty Images

A team that shoots 25 free throws per game should be outraged at itself for shooting 14 or fewer in three of its last four games.
With the size and maneuverability of Cody Zeller combined with the quickness of Victor Oladipo, those two players alone should attempt 14 foul shots per game. Oladipo has taken 17 foul shots combined over his previous six games. Those attempts come up small against his 60 field-goal tries for a free-throw rate of 28.3.
The downside for IU is this: it's stuck in a region with a host of teams that have interior presence and don't put opponents on the line with a lot of cheap fouls. No. 10 seed Colorado, eighth seed NC State, 11th-seeded Bucknell, second seed Miami and fifth seed UNLV are all in the top 50 nationally in opponent free-throw rate.
Bigs like NC State's Richard Howell, UNLV's Khem Birch and Miami's duo of Julian Gamble and Reggie Johnson will provide stiff resistance around the basket, making it even more important that the Indiana offense run through Zeller and make a decent living inside.
Make your picks for the 2013 NCAA Tournament here with the Bracket Challenge Game
For more from Scott on college basketball, check out The Back Iron.