How Cody Zeller and Victor Oladipo Can Lead Indiana Deep into the NCAA Tourney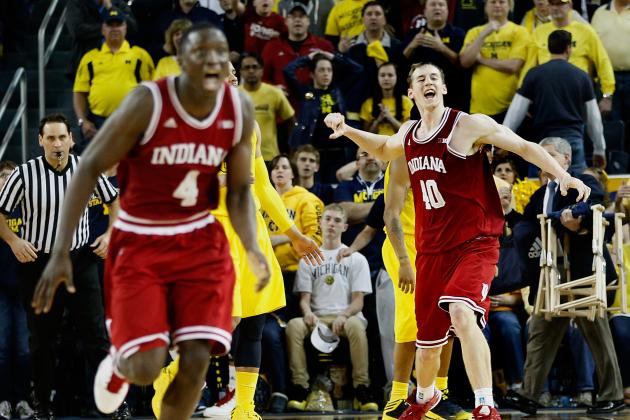 Gregory Shamus/Getty Images
These two can bring a sixth banner to Bloomington.
Doubt is beginning to surround the Indiana Hoosiers, but Cody Zeller and Victor Oladipo are preparing to lead the team to a very deep run in the NCAA tournament.
The loss to the Wisconsin Badgers in the Big Ten Tournament has created a lot of uncertainty among the critics despite their difficult schedule and No. 1 ranking for a large part of the season. Luckily for the Hoosiers, their regular season Big Ten title and 27-6 overall record rewarded them with a No. 1 seed in the tournament.
With two of the best players in the country, all eyes will be on the Hoosiers in the next few weeks. With so much talent, there's more than a few ways that they will help their team make a big push in the NCAA tourney.
Begin Slideshow

»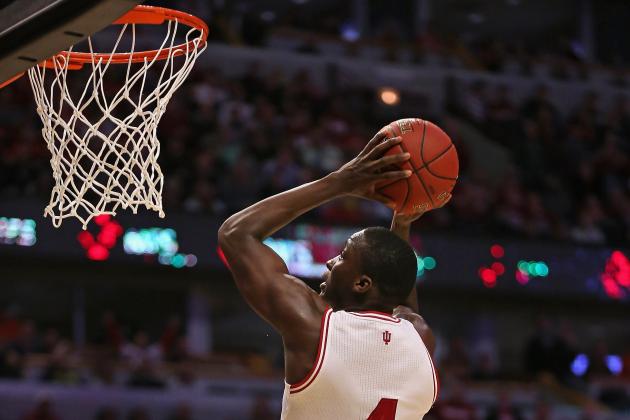 Jonathan Daniel/Getty Images

There's a good reason that Zeller and Oladipo are considered two of the best players in the country.
They both know how to score.
The Hoosiers' two leading scorers combine for 30.5 points per game. With the team averaging 80.0 points per game, the duo combine for 38.1 percent of the team's scoring.
Not only do these two players score a lot of points, they also do so in a very efficient manner. Oladipo is shooting 59.9 percent from the field, putting him at sixth in the NCAA and first in the B1G in field goal percentage. Zeller isn't far behind, shooting 57.3 percent and putting him just behind Oladipo in the Big Ten.
These two players really know how to put points on the board, and that kind of offense is what a championship-caliber team needs.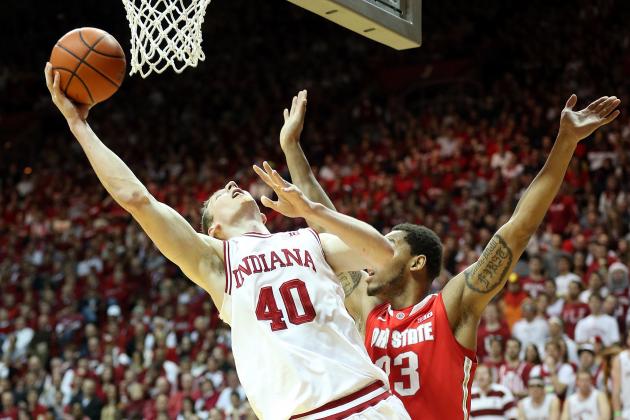 Andy Lyons/Getty Images

The combination of Zeller and Oladipo create some big mismatches, and for a couple of reasons.
First, the two are physically some of the more impressive players at their positions.
Zeller is 7'0'' tall as a center and put on a lot of muscle from last season. This had made him more dominant in the post, especially against smaller and weaker centers.
Oladipo is an incredible athlete. His speed as well as his strength help him on both sides of the ball. Mix this together with his impressive vertical and he's truly an impressive player.
Second, the two are very skilled players in multiple aspects of the game.
Oladipo seems to be capable of doing anything on the floor. He is able to shoot from behind the arc, as well as drive to the bucket for an acrobatic layup or dominating slam dunk. On defense, he can frustrate opponents by playing tight on them and creating turnovers or making some big blocks.
Some critics believe that Zeller is only capable of playing in the post, but that simply isn't true. He is also capable of shooting from outside of the paint with a pretty solid jumper. On the defensive side of the ball, he can handle playing defense away from the basket, even coming away with some steals.
It will be hard for opponents to plan for these two guys, as they are capable of adjusting to different strategies.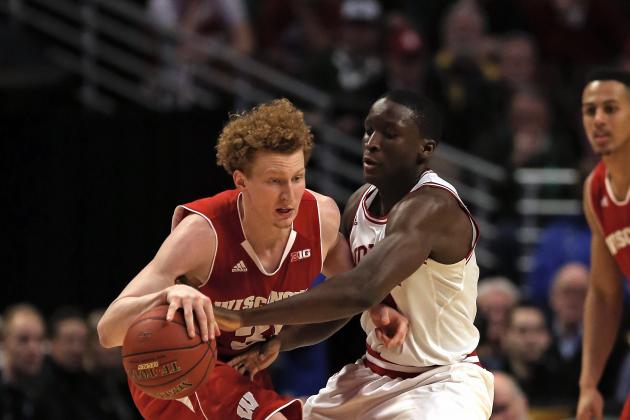 Jonathan Daniel/Getty Images

What makes the Hoosiers exciting is that they are capable of making big plays on defense that create big scores in transition.
These two guys are quite good at starting those fast breaks.
Although Zeller is an intimidating presence when going up near the basket, he's also a sneaky player who is capable of getting steals. He is averaging 1.3 blocks and 1.1 steals per game, starting some key plays in transition. His height misleads some to believe he's a slower player, but he can be quick and deceptive when stripping the ball.
What makes Oladipo one of the more popular nominees for the Wooden National Player of the Year award is his defense. According to Sports-Reference.com, Oladipo's defensive rating of 86.5 was the second best in the B1G. Combine that with 2.2 steals and 0.8 blocks per game and you have a dominating defender that can quickly shift the momentum of a game.
If anyone wants to upset the Hoosiers, they need to find ways to not get frustrated by Zeller and Oladipo.
That's a tough challenge.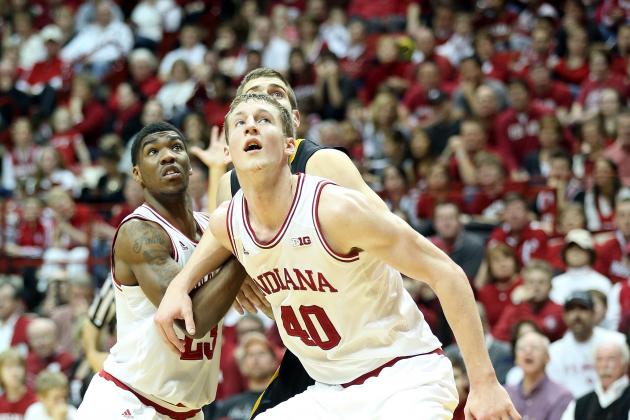 Andy Lyons/Getty Images

One of the things that has hurt the Hoosiers at times has been rebounding. The Minnesota Golden Gophers proved that in February when they out-rebounded the Hoosiers 38-25 while grabbing 17 on offense.
In order for the team to make a push, Zeller and Oladipo will need to do a better job boxing out and grabbing the rebounds.
The duo have been pretty solid on the glass this season, combining for 14.6 rebounds per game. However, they can't slip up in the tournament and have another game like Minnesota.
The rebounds will be important for the Hoosiers, and the rest of the teams know it. Zeller and Oladipo will need to be prepared for this and keep opponents from dominating them on the glass once again.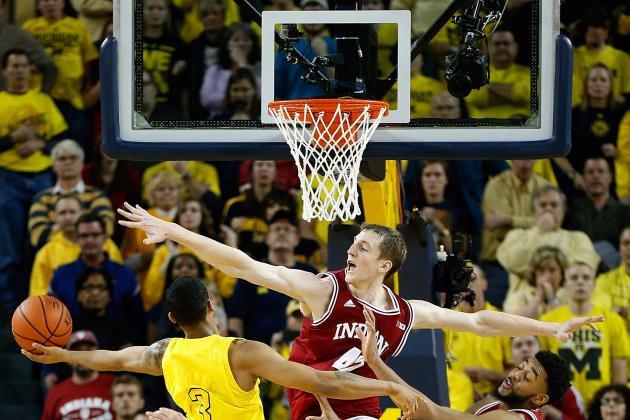 Gregory Shamus/Getty Images

A lot of teams call upon their star player in a close game to bring them to victory.
In the Hoosiers' case they have two.
Both Zeller and Oladipo have stepped up big in close games to pull out some wins. With the luxury of having two guys to look for in the clutch, it makes it harder for opponents to predict where the ball is going.
Recent games have shown that these two can be counted on in crunch time. Against the Michigan Wolverines, Zeller was able to get the ball down low and make the game-winning shot. Oladipo was able to make some big plays against the Michigan State Spartans, helping the team pull away in a close one.
If the Hoosiers get caught in a close game, at least they have a couple of guys they can count on to help them pull away and advance.

Make your picks for the 2013 NCAA Tournament here with the Bracket Challenge Game