It's been an exciting World Baseball Classic in 2013, and we've finally reached the championship round. With all four teams seeded and locked into the semifinals, it's time to start looking toward the finals.
This year's final four is a diverse group. On one hand there's Cinderella stories Puerto Rico and the Netherlands. On the other there's the dominant squads of Japan and the Dominican Republic.
With world bragging rights on the line, here's a look at each semifinals team and its chances at making it to the WBC finals.
Puerto Rico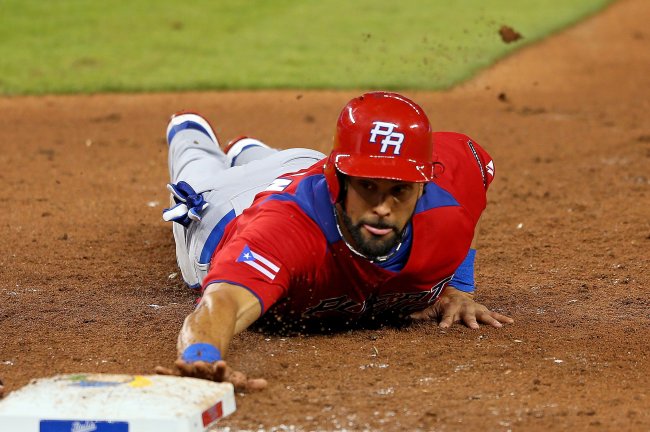 Mike Ehrmann/Getty Images
The Puerto Ricans have been one of the grittiest teams at the WBC, refusing to back down. Things looked bad when they lost their first Round 2 game to the USA, but then they stormed back to win their next two and advance.
Puerto Rico doesn't have the most star-studded of casts, especially on the pitching end. That rotation is highly volatile, which is how it lost to the USA 7-1 one day and three days later beat it 4-3.
Offensively it has speed but lacks heavy hitters. Puerto Rico has the lowest slugging percentage of any team advancing to the semis, with only one home run (hit by Mike Aviles).
The Puerto Ricans have made a real showing of it so far, but they'll have a tough time against Japan.
Despite their determination, it's doubtful Puerto Rico makes it out of the semis.
Chance at finals: 10 percent

Kingdom of the Netherlands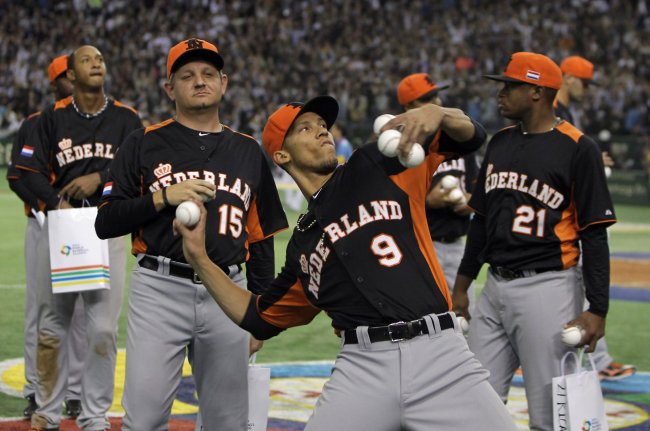 Chung Sung-Jun/Getty Images
Just like Puerto Rico, the Netherlands has been one of this year's better Cinderella stories.
The Dutch have a strong mix of youth and experience. That energy helped carry them through Round 2 with two huge wins over offensive powerhouse Cuba.
Atlanta Braves prospect Andrelton Simmons has led the way for the Dutch offense. The young shortstop leads his team with a 1.104 OPS in seven games.
When it comes to pitching, the Dutch are much like the Puerto Ricans: sporadic. They've run through five different starters in the tournament, and only two—ace Diegomar Markwell and Orlando Yntema, who had a no-decision—have no losses.
Another necessary factor to consider is if the Netherlands faces Japan in the finals. The Japanese have already trumped the Dutch twice in the WBC, by a wide margin of 26-10.
They may have a great story, but the Dutch just don't have enough talent to get past the tournament's best teams.
Chance at finals: 15 percent

Dominican Republic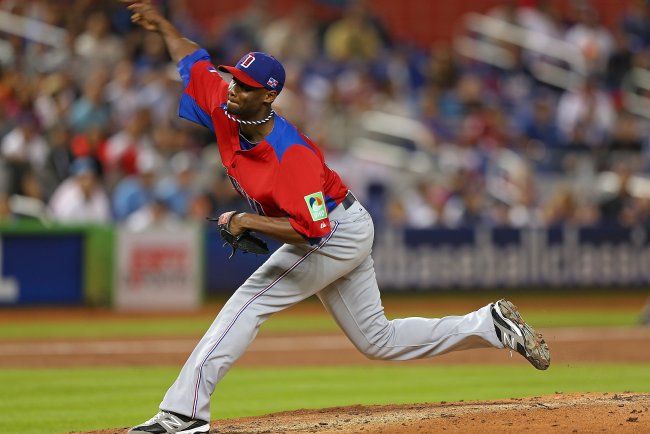 Mike Ehrmann/Getty Images
Each WBC analysts talk about the Dominican Republic as a powerhouse of talent, yet the team continually falls short.
The Dominicans took home fourth place in 2006 and didn't even make it out of Round 1 in 2009. But this could be their year.
The Dominicans looked unstoppable in Rounds 1 and 2, with an average margin of victory close to three runs.
Offensively, they've been unstoppable. New York Yankees second baseman Robinson Cano leads the squad with a 1.407 OPS and two home runs. Right behind him is Cleveland Indians catcher Carlos Santana's 1.229 OPS.
The Dominican Republic might not have the deepest pitching staff, but it's gotten the job done.
Pittsburgh Pirates starter Wandy Rodriguez looked solid in two starts, and Minnesota Twins pitcher Samuel Deduno (1-0, 1.13 ERA, 12 K's) has emerged as the staff ace.
The semifinals matchup against the Netherlands will test the Dominicans, but if they can get into the finals, they have a great chance at finally attaining WBC glory.
Chance at finals: 60 percent

Japan
Koji Watanabe/Getty Images
And now we get to the Japanese, whose dominance at the WBC is well documented.
Japan has won each of the last two WBCs, and with ease. This year has been no different, with the Japanese winning five of their six games, posting a combined score of 43-24.
The one hiccup in this year's tournament came against Cuba, which dropped Japan 6-3 in Round 1. But the Japanese rebounded, taking all three of their Round 2 games.
Japan is the most well-rounded team in the semis. Offensively, it has more home runs (eight) and stolen bases (seven) than any other team to get this far and the second-highest OPS.
As usual, the pitching is sound. The staff hasn't been as good as years past but still holds a 3.98 ERA and 1.15 WHIP. The Japanese also have a tournament-leading 68 strikeouts.
Staff ace Kenta Maeda has been as dominant as can be, going 2-0 with a perfect 0.00 ERA and 15 strikeouts to just one walk.
Japan's biggest competition this year has to be the equally dominant Dominican Republic. Surprisingly enough, Japan has never faced it in the WBC.
Should those two meet, it's sure to be a great game. But with experience and two past victories under its belt, Japan still has to be considered the heavy favorite in this year's WBC.
Chance at finals: 80 percent