Kansas Jayhawks' Blueprint to Win the 2013 NCAA Tournament
Jamie Squire/Getty Images
A rough draft for the successfully navigating the South region of the NCAA tournament might feature two simple points in hitting the open shots and not turning the ball over.
That South region features, like Kansas, a half-dozen versatile and diverse rosters that could certainly capitalize on poor defensive body position, loose perimeter defense and quick triggers from the Jayhawks' guards.
Luckily, maybe, for Bill Self's team is that versatility of the South region. If KU reaches the Final Four for the second-straight season, they will not be staring a new system, style or roster in the face. Those potential Final Four matchups would likely feature a similar team to that of North Carolina, Michigan or Florida, thus making their 2013 NCAA Tournament blueprint rather simple.
Embrace the Shot Clock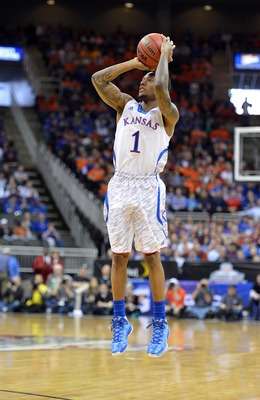 Peter G. Aiken-USA TODAY Sports
Kansas has an innate ability win a variety of games, whether that's a low-scoring affair, a run-and-gun style, or back-and-forth nail-biting matchup.
That being said, they can also lose each of those games. Their ability, and oftentimes willingness, to control the offensive tempo is largely the determinant.
The Jayhawks' offensive system heavily relies on the recognition of defensive tendencies and understanding of when to break off the pass-heavy rotation.
Early perimeter shots, specifically from Elijah Johnson and Naadir Tharpe, destroy rhythm and allow opponents to quickly penetrate the lane in transition without the presence of a trailing Jeff Withey or Kevin Young.
The shot clock is an asset, not a time-ticking enemy for Kansas.
Head, Shoulders, Knees and Toes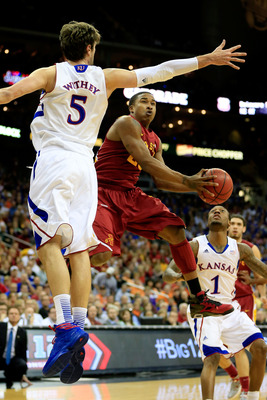 Jamie Squire/Getty Images
Quick feet and good hands defensively will propel Kansas to their second title in six years.
The South region features a bevy of versatile forwards that could keep the Jayhawks off balance and shifty guards that could abuse poor backside switches.
Iowa State's Georges Niang repeatedly capitalized on inadequate body control in the paint and along the baseline, something North Carolina's James Michael McAdoo or Villanova's JayVaughn Pinkston could duplicate. Withey must not allow opposing forwards to use his size against him.
Naadir Tharpe and the KU backcourt must trust their feet and eyes in reading the first moves of playmaking guards.
.
Offensive Instincts and Communication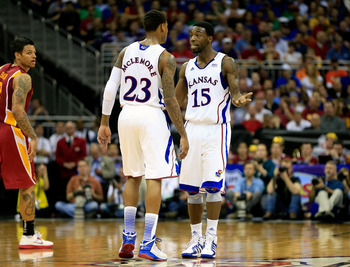 Jamie Squire/Getty Images
It is too late in the season to be making foolish non-instinctive cross-court passes.
Elijah Johnson fired a wayward bullet into press row in the Big 12 title game, incorrectly anticipating the route of Travis Releford. The senior point guard misfired on two more over-the-shoulder passes as a result of poor communication and wrong instincts.
The Jayhawks rank 206th in the nation with 13.6 turnovers per game, a number largely the result of unforced errors. Potential Sweet Sixteen foe VCU leads the country in turnover margin and four other South region teams are ranked in the nation's top 25 in that category.
Luckily for them, their transition defense has improved alongside a suffocating unit inside the paint to make up for many of their poor instinctive offensive decisions.
Defend Three-Point Shooting Teams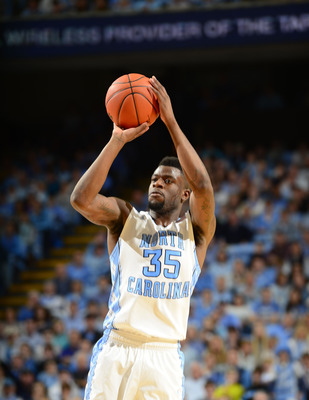 USA TODAY Sports
Kansas' perimeter defense has been inconsistent all season and they could face a couple excellent three-point shooting teams during a potential Final Four run.
Both Michigan and North Carolina rank among the nation's best in made three-point field goals and three-point field goal percentage. Those teams could present matchup issues along the arc if Kansas cannot efficiently rotate defensively.
While neither team should force Jeff Withey, Kevin Young and the other KU bigs outside, the Jayhawks' guards must communicate in limiting the Reggie Bullock's and Trey Burke's of their region.
Perry Ellis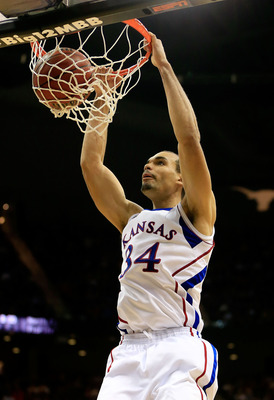 Jamie Squire/Getty Images
Perry Ellis sure picked a great time to play his best basketball of the season.
The freshman forward's newly discovered aggressiveness has launched him into a key role as Kansas rolls into March Madness.
"He played great," Bill Self said following his 23-point performance in KU's win over Iowa State on Friday. "But the plays he made are plays I think he can consistently make if he just stays aggressive and stay confident."
The soft-spoken reserve scored 43 points in the Big 12 tournament on 18-for-23 shooting, while pulling in 19 rebounds and hitting all six of his foul shots.
He instantly became a crucial piece to the Jayhawks' tourney hopes and must embrace his confidence and aggressiveness.
Keep Reading

Kansas Jayhawks Basketball: Like this team?