The Pros and Cons of Montreal Canadien David Desharnais' New 4-Year Deal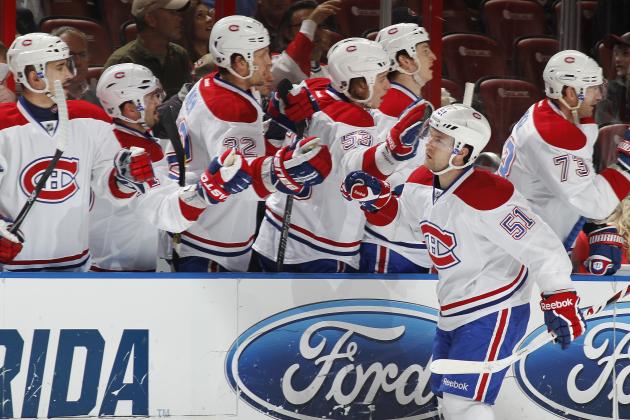 Joel Auerbach/Getty Images
Montreal Canadien David Desharnais celebrates a goal with his teammates.
No matter what, you had to believe David Desharnais was going to stay a Montreal Canadien.
He was only going to be a restricted free agent at the end of the season, he would be on pace for his second straight 50-point season had there not been a lockout and he just fits in Montreal.
No, not just because he's just 5'7" (the city is a pretty big place and could fit most anybody in the league), but because he's a French-speaking Quebecer and the Habs have as many as those as they do Stanley Cups in the last 20 years. Yes, it has really been that long.
So, general manager Marc Bergevin's hands were tied to a certain extent when he signed the diminutive center to a four-year, $14-million extension on Friday. Was it the best thing for the Habs to do, though? Here are the benefits and drawbacks to the deal:
Begin Slideshow

»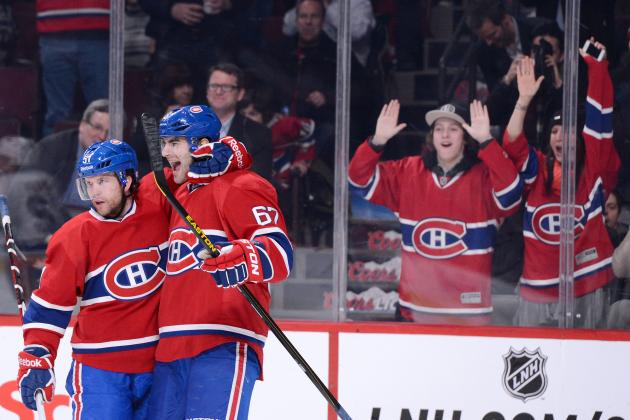 Richard Wolowicz/Getty Images
Max Pacioretty (right) and David Desharnais of the Montreal Canadiens.
Dating back to their days with the Hamilton Bulldogs, Max Pacioretty and David Desharnais have had an unbreakable bond and chemistry, to the point of the former calling his centerman "the best player" he's ever played with (via the National Post).
That means better than Carey Price, better than Mike Cammalleri and even better than either Kostitsyn brother. Shocking, I know.
What's truly surprising, though, is in the wake of the signing, Pacioretty indirectly said he was even better than he is (via The Globe and Mail):
He's had to work his way on to every team, he had to work his way to being the best player on every team and he's done it at every level. He's done what it takes and no one in the sport deserves a contract like that than him.
While Habs fans may disagree on Pacioretty's assessment of Desharnais' worth to the team as a whole, no one can deny his overall playmaking ability or that last year their "Two and a Half Men" line (with Erik Cole) was near dominant most nights. And if you've seen Erik Cole play recently, you'll pretty much know it at least wasn't because of him.
Bottom line: Even if logic, any stat you can find and all your God-given senses may indicate Pacioretty is more valuable than Desharnais to the Habs, the fact remains: If Desharnais is what the team's leading scorer (not counting recent addition Michael Ryder) needs to keep him going, the team needs him just as much.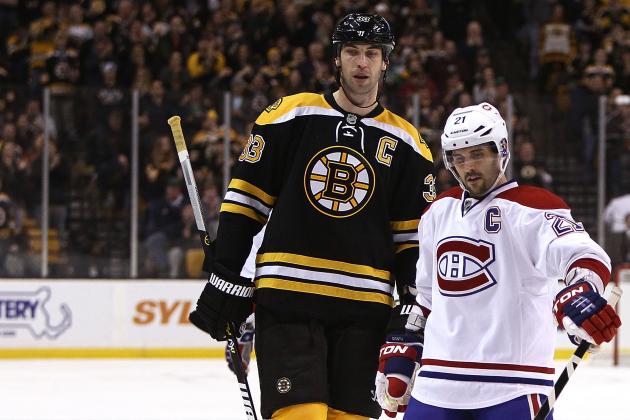 Alex Trautwig/Getty Images
Brian Gionta of the Montreal Canadiens and Zdeno Chara of the Boston Bruins.
At 5'7", Desharnais is pretty small. However, he's not even the smallest Hab. He shares that dubious distinction with captain Brian Gionta. You be the judge of whether or not it's troubling that the team could conceivably right now ice a top-two line of players 5'9" or less (Brendan Gallagher).
There's little debating each player's intangible contributions to the team (Desharnais brings chemistry with Pacioretty, Gionta leadership and Gallagher grit).
Coincidentally, they share the same amount of points with 16, so, individually, they are putting the puck in the net, at least for now. However, it's generally good practice to not get outmatched by the much bigger Philadelphia Flyers each and every offseason. Just saying.
While it's definitely not a bad thing to have a 6'3" goaltender, ignoring the team's defensemen, including recent call-up Jarred Tinordi (6'6"), Carey Price is the team's tallest player. But the last time I checked, he plays 200 feet away from the opposition's net (but will probably still score before Colby Armstrong).
The game is different than it once was and skill alone isn't enough of a counterbalance to size. It takes size and skill to have a fair shot to win the Stanley Cup.
That isn't to say the Habs, who average 5'11" up front, can't possibly win it all this year with the roster they have now, just that they'd be severely handicapped from the get-go.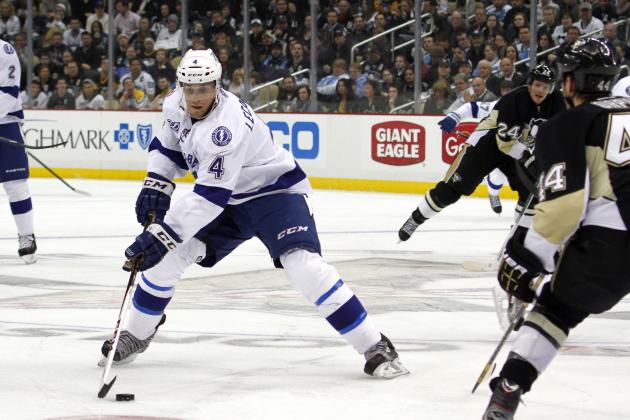 Justin K. Aller/Getty Images
Vincent Lecavalier of the Tampa Bay Lightning.
Anaheim Ducks captain Ryan Getzlaf just signed an eight-year, $66 million deal. That number is impressive. What isn't are the 57 points (11 goals) he scored last year. On that basis alone, getting Desharnais, who scored 16 goals and 44 points, for as much as he did is a serious feather in Bergevin's cap.
Of course, Getzlaf's great season to date (31 points in 26 games, nearly double Desharnais' output) is conveniently being overlooked here, but the fact remains that, not only did Desharnais earn this contract, as Pacioretty argued in an earlier slide, he arguably earned more.
In fact, if you look at the top five earners in the National Hockey League last year, Desharnais scored more points than each of the three who were tied with the second-highest salary at $10 million.
That includes fellow center and Tampa Bay Lightning captain Vincent Lecavalier (49 points), who, coincidentally, is always the subject of trade rumors that consistently have him ending up in Montreal to take Desharnais' top center position.
Admittedly, the other two aren't forwards at all. Buffalo Sabres defenseman Christian Ehrhoff had 32 points and Philadelphia Flyers goalie Ilya Bryzgalov had two assists. While it might not be fair to compare the seasons of players at two different positions, I'm sure in regard to the latter at least, most would agree Desharnais' better performance transcends mere statistics.
Forget taking each individual's salary into account—Desharnais is more valuable to the Canadiens than Bryzgalov is to the Flyers. Period. Of course, looking at stats this time, so is backup goalie Peter Budaj.
Bruce Bennett/Getty Images
Lars Eller of the Montreal Canadiens leads an offensive rush.
Currently, one can make the argument that David Desharnais is right where he belongs, centering one of Montreal's top two lines along with Tomas Plekanec. However, what happens in years three and four of this deal when Alex Galchenyuk and Lars Eller are presumably ready for larger roles?
Even assuming the Habs let Plekanec walk after 2015-16, when he becomes an unrestricted free agent, that still leaves three pivots and just two spots. Their pedigrees alone indicate Galchenyuk and Eller might have the inside track to securing them.
Desharnais is by no means old, and at 26, he's arguably just entering his prime as a professional hockey player. However, Eller (23) and Galchenyuk (19) bring something to the table that can't be taught: size, which, as mentioned previously, is something the Habs may eventually realize they need to push them over the hill and become legitimate contenders.
Assuming common sense is correct when it dictates one needs size and defensive acumen to play effectively on the bottom two lines, Desharnais would be out of his element playing third string at center. That would conceivably lead to one of three unpleasant scenarios:
Bergevin being forced to trade the 5'7" center and try to convince another general manager in the league that Desharnais can still contribute offensively without Pacioretty on his wing,
Head coach Michel Therrien being forced to play him above Eller and/or Galchenyuk in order to keep him contributing in Montreal or
Desharnais being buried in the lineup, potentially making him the most overpaid fourth-line Hab taking up valuable cap space since Alex Kovalev, admittedly, minus the not-showing-up part most nights (even if most would have to look down to make sure he is in fact literally showing up).
While Eller and Galchenyuk can each play the wing, it just doesn't make sense to give up the chance to ice two big centers at their natural positions every night just to accommodate a single player at the expense of the team as a whole.
Desharnais is good, but despite what Pacioretty thinks, Galchenyuk and Eller project as being better.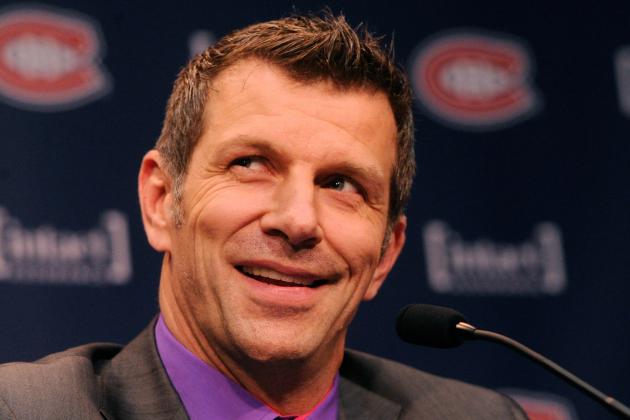 Richard Wolowicz/Getty Images
Marc Bergevin of the Montreal Canadiens.
With possible exception to the recent Price contract (six years, $39 million), this deal marks the third time during Bergevin's tenure that a game-breaking player has left significant amounts of money on the table negotiating new deals.
Max Pacioretty signed a six-year, $27 million extension through 2018-19, which averages out to $4.5 million per year, an undeniably paltry amount in today's game for a 30-goal scorer who will be just 30 at the end of the contract.
Most notoriously, however, P.K. Subban, who ranks fourth among all defensemen with 21 points (first in goals with seven) despite missing six games earlier this season, just signed a two-year, $5.75 million deal.
While some might look at Desharnais' contract and consider it a snub toward Subban, Bergevin has consistently been about keeping salaries down by inking players entering their second professional contracts to less financially lucrative bridge deals. Subban's deal was indeed his second pro contract. This is Desharnais' fourth.
This contract doesn't disrespect the admittedly more valuable Subban. It shows him that Bergevin is a man of his word and will reward his future franchise defenseman once the time is right, as long as the deal makes sense financially. Overall, despite the few drawbacks, this deal does just that:
It shows Montreal is willing to commit to individual players while not breaking the bank.
As a result of Bergevin's few moves, the team, of which Desharnais is clearly a big part (pardon the pun), is in incredible shape moving forward.