Oklahoma QB Battle Has Taken on a New Twist: Who's Going to Protect Them?
Use your ← → (arrow) keys to browse more stories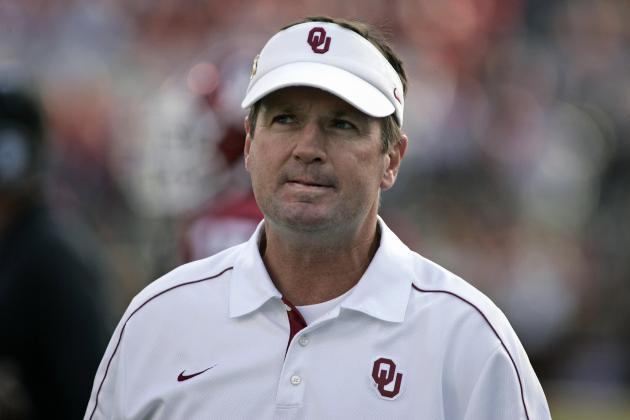 Brett Deering/Getty Images
Oklahoma head coach Bob Stoops
The Oklahoma Sooners started spring practice with two main areas of concern: rebuilding the defense and replacing quarterback Landry Jones.
After four days of spring practice, head coach Bob Stoops has a new item to add to his list of concerns: two veteran offensive linemen suffered serious injuries.
Center Gabe Ikard fractured his snapping hand during the second day of spring practice. With 37 starts on his resume, the loss of Ikard is tough. Although he'll miss spring camp, he should be healed for the second set of practices in late summer—his absence will give the center reserves more reps against the defensive starters. With the Sooners' horrible luck on keeping linemen healthy, this is probably not such a bad consequence.
Tyler Evans was also hurt in spring practice but this isn't something that can be rehabbed before the 2013 season officially kicks off in late August—the senior guard with 29 starts tore his right knee's ACL and is out for the season. Last August Evans tore his ACL on the first day of fall camp, the same ACL he re-tore this week. More from ESPN:
After receiving a medical hardship and another year of eligibility, Evans spent the last several months rehabbing the knee and was hoping to rejoin the team in contact drills later this spring.

Stoops said it was doubtful that Oklahoma would pursue a second hardship for Evans.
Heartbreaking doesn't even describe the latest news out of Norman, Okla. The Sooner offensive line was dinged up last season when Tyler as well as center Ben Habern (retired due to injuries) were lost for the 2012 season. Still, the line regrouped and saw three of its Big Uglies named to the 2012 All-Big 12 (coaches): Ikard (first team), Evans (honorable mention) and Donald Stephenson (honorable mention).
Of course, the quarterback battle is still on in Norman. Blake Bell, Trevor Knight and Kendal Thompson are all in it to win it, but they'll have to adjust to the changing faces in charge of their protection in the pocket as well as creating holes for the running game.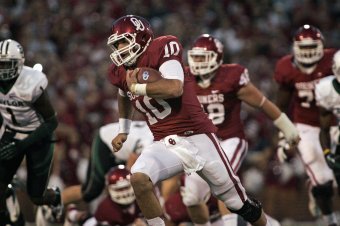 Brett Deering/Getty Images
While Oklahoma looks fairly loaded in the offensive skill positions, the offensive unit will still have to deal with having a different center playing with the starters and then Ikard playing with the starters when he (presumably) returns to fall camp. Center-quarterback exchanges are tricky but the more the two starters practice together, the higher the comfort level gets, the better the exchanges get. The rest of the line also has to adjust to the center's snap, body movements and rhythm.
Landry Jones didn't appear to have any long-term effects taking snaps from Habern and then Ikard last year, so Sooner fans have some positive history to comfort their souls. But the concern is obviously there as spring practice marches on.
Will the protection be there?
Breaking in a quarterback is tough enough but a solid running game at least eases the pressure on the new quarterback. If the running game doesn't materialize because the line can't get enough push off of its blocks, then the quarterback is going to have to pass the ball to move the chains. Defenses will key on that and blitz which can hurry throws, cause sacks and shake a quarterback's confidence.
How worried are Sooner fans regarding the latest injury news?
How the offense regroups after these tough injuries is important and unfortunately, Stoops has been in this position before.
But maybe his experience—unpleasant as it was—in rallying the troops and moving forward after serious losses is something that shouldn't be overlooked.
Right now, all Sooner fans can hope is that Stoops' things-to-do list doesn't keep getting bigger.