Milwaukee Brewers: Biggest Winners, Losers of Spring Training 2013 Thus Far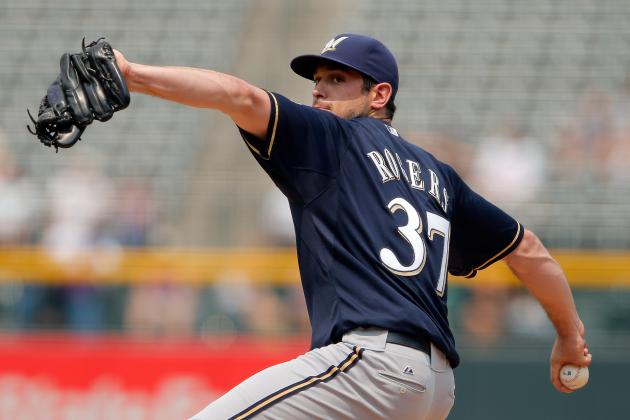 Doug Pensinger/Getty Images

Every year, it seems there are at least a handful of players on each major league roster whose job security hinges on their performance over the course of spring training.
At Milwaukee Brewers camp this spring, there are a number of players who have either elevated their Opening Day roster spot security, increased their likelihood of being sent to minor league camp or increased their likelihood of being released from the organization altogether.
Just past the midway point of spring training, now seems like a perfect time to pinpoint those players who have impressed and disappointed. Here is a look at a few winners and losers of Brewers camp thus far.
Begin Slideshow

»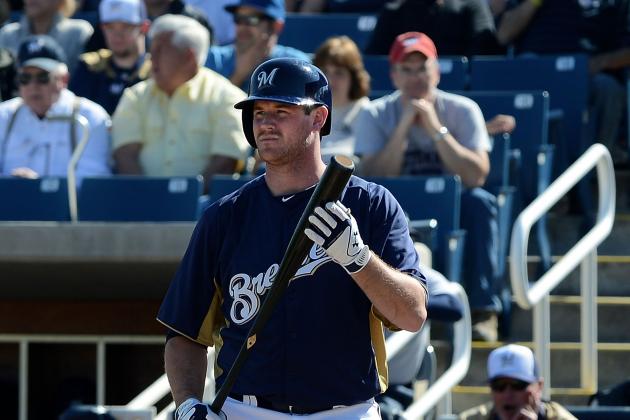 Jennifer Stewart/Getty Images

Although Hunter Morris' scintillating 2012 campaign warranted national recognition—he hit .303/.357/.563 and with 74 extra-base hits—scouts questioned his big league power potential at the next level, with many saying his swing had too many holes for him to become a productive everyday first baseman.
In his first go-around with the big league camp this spring, he seems to be proving those evaluations correct.
The 24-year-old Huntsville, Ala., product is hitting .120/.185/.280 with six strikeouts and just two walks in 27 plate appearances.
With Corey Hart out for what could be the first month of the season, Morris hasn't done much this spring to increase his value within the organization. His chances of landing an Opening Day roster spot (and major league salary) have taken a hit this spring, to be sure.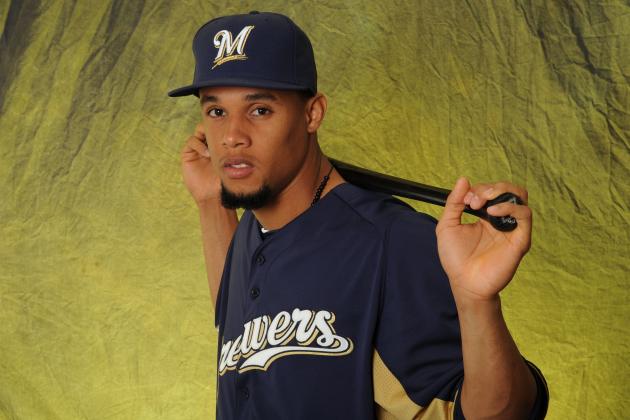 Rich Pilling/Getty Images

Carlos Gomez has cashed in this spring—literally.
After his best season as a professional, hitting .260/.305/.463 with 19 home runs and 37 stolen bases, the 27-year-old center fielder procured a four-year, $28.3 million contract extension from Milwaukee on March 13. The deal will keep Gomez with the club through the 2016 season and presumably validates the team's confidence in his ability to be the starter in center field for the future.
Exactly what compelled general manager Doug Melvin to extend Gomez? His aforementioned 2012 campaign had a lot to do with it. However, a terrific spring training may have also had a strong affect. In 28 plate appearances, Gomez is presently hitting .474/.615/.684 with six walks to just five strikeouts and 13 total bases.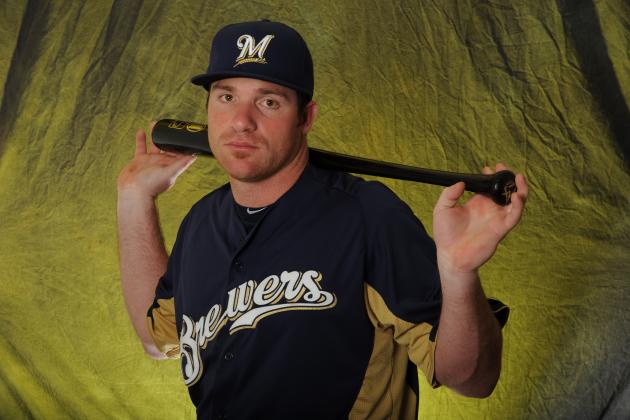 Rich Pilling/Getty Images

Mat Gamel doesn't have much to smile about these days.
Once considered the heir apparent to Prince Fielder as Milwaukee's first baseman of the future, the now-27-year-old suffered his second ACL tear in consecutive springs.
The difference between the two? Last year's came well over a month into the season, whereas this year's incident came before he stepped into the batter's box in spring training.
Unfortunately for Gamel, this year's ACL tear will cause him to miss the entirety of his 2013 season.
With the injury, Gamel's future with the organization is put in jeopardy. No player at camp this spring has lost more than Gamel has.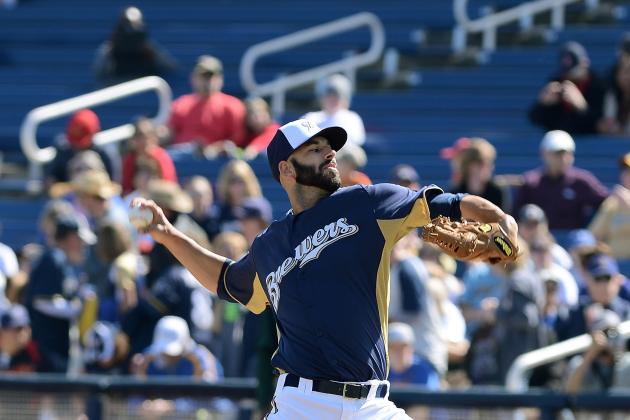 Jennifer Stewart/Getty Images

It's funny how dramatically a person's situation can change over the course of 12 months. Mike Fiers is a perfect example.
At this time last year, the Nova Southeastern University product was having a rough spring training, registering just eight total innings while allowing 10 earned runs on 12 hits, three of which were home runs.
This spring training, Fiers is rekindling the stuff that gave him an opportunity for the Brewers' starting rotation from midseason onward. Over 12.1 innings, the 28-year-old right-hander boasts a 2.19 ERA with 11 strikeouts to four walks.
The concerns that surrounded him toward the back end of last season seem to be fading away with each preseason appearance. Should he continue at this pace, he may find himself as the team's No. 3 starter come April in a rotation that's desperate for stability.
Mike McGinnis/Getty Images

Mark Rogers wishes he could push the "redo" button this spring.
After getting his long-awaited opportunity to contribute to the starting rotation last season, garnering a 3.92 ERA, 1.28 WHIP and a 9.5 K/9 rate over seven starts, Milwaukee's former first-round draft selection has labored this spring to a 7.50 ERA and 3.00 WHIP over six innings. He hasn't fooled anyone with his stuff, as evidenced by his walking 10 batters to striking out just one to this juncture.
Given his respectable and often impressive 2012 campaign, many surmised at the start of spring training that Rogers would contend for a back-end starting rotation spot to start 2013. But for his command to be as shaky as it has been this spring, all signs point to him starting this season in Triple-A Nashville.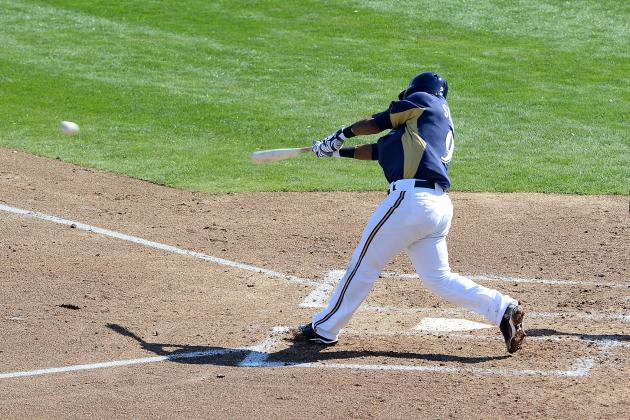 Jennifer Stewart/Getty Images

The centerpiece of the trade that sent Zack Greinke from Milwaukee to Anaheim, Jean Segura's first go-around as an everyday big league shortstop left something to be desired.
In 44 games as the Brewers' de facto everyday shortstop, the 22-year-old struggled to put consistent contact on many offerings, leading to a .264/.321/.331 slash line toward the bottom of Ron Roenicke's order. His speed on the bases wasn't utilized, and he labored a bit defensively as well.
This spring, Segura is putting to bed much of the doubt had by scouts last season.
Over 29 plate appearances, the Dominican-born youngster boasts a .321/.345/.464 slash line, with three runs scored and a stolen base. His defense has also improved, as he's committed just one error on 31 total chances while turning three double plays in 10 games.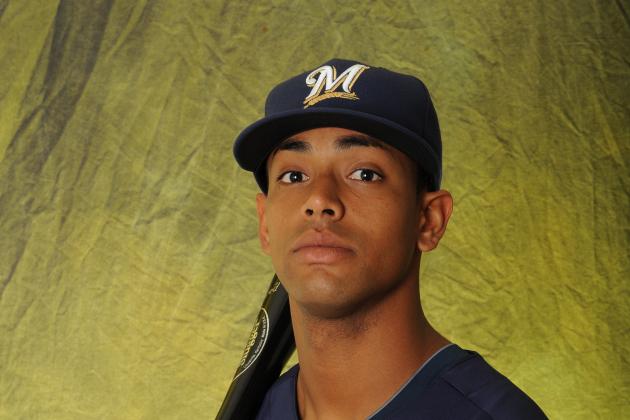 Rich Pilling/Getty Images

No minor leaguer upped his value within the system as much as Khris Davis has this spring.
Rated as my No. 10 prospect at the end of last season, the 25-year-old Davis has never been one to overwhelm scouts with his skill set. Indeed, talent evaluators seem to agree that he doesn't possess one "plus" tool. Instead, Davis has let his production do the talking.
Between Rookie, Double-A and Triple-A ball last season, Davis posted a .350/.451/.604 slash line with 15 home runs and 52 runs scored. This spring, he has made an impression on Milwaukee's coaching staff by leading all players with three home runs, eight runs batted in, six runs scored and a .655 slugging percentage over 31 plate appearances.
A spot on the Opening Day roster may not be in the cards for Davis, but if he continues to put solid contact on the ball while showing versatility defensively, he will be of great value once rosters expand in September.
Follow Alec Dopp on Twitter @alecdopp