Oklahoma State Football: Week 1 Spring Practice Stock Report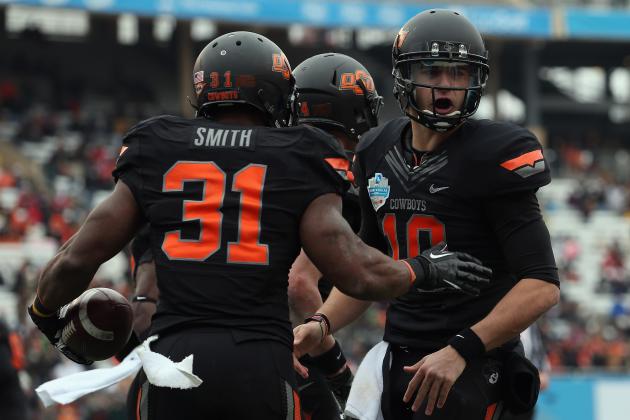 Ronald Martinez/Getty Images

The Oklahoma State Cowboys are concluding their first week of spring practices. Like every college football team, the Cowboys have players whose stock is rising or falling.
News coming out of the spring practices has been sparse so far, but most of it has been good. The new coaches appear to be assimilating well and it seems unlikely that the team as a whole has gotten worse.
The players listed here are headed up or down for a variety of reasons. Some face tough competition for their starting spot, while others are impressing coaches and others yet are revealing information that will make the Orange faithful very happy.
Begin Slideshow

»

Courtesy of OKState.com
Stock Up
According to John Helsey of The Oklahoman, Michael Wilson has been one of the most impressive players this offseason. Apparently, he has impressed the coaches so far this spring.
The redshirt freshman was one of Oklahoma State's best offensive line recruits back in 2012. At 6'6", Wilson is a huge guy and possesses all the traits coaches look for in offensive linemen.
It is good news, indeed, that he is living up to his promise and potential.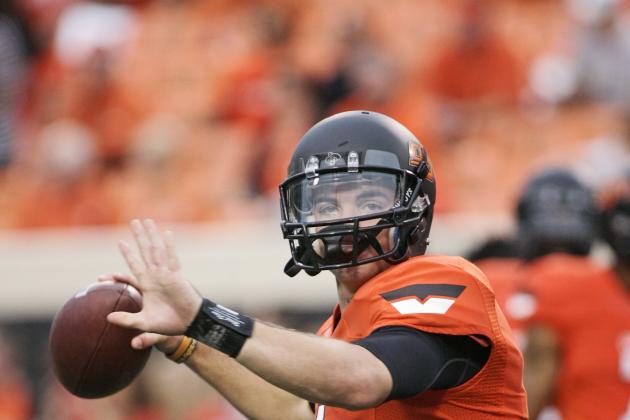 Brett Deering/Getty Images

Stock Down
I may be going out on a limb here, but I really think that, when it comes to the quarterback battle, the stock of J.W. Walsh is on the decline.
The main reason to think Walsh's stock is taking a hit is the fact that almost all of the buzz out of camp this spring has been about the other two quarterbacks battling for the starting job. Clint Chelf has been considered by the coaching staff and fanbase as the leader in the race to start and Wes Lunt has also had a bit of buzz recently that will be on one of the coming slides.
The lack of hype about Walsh could mean that he will stay relegated to his change-of-pace role as the second-team QB.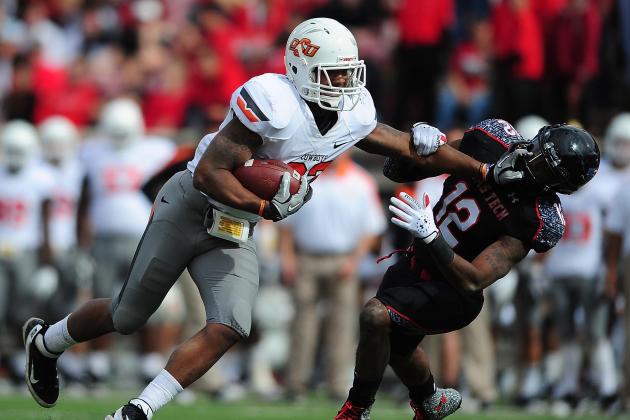 Andrew Weber-USA TODAY Sports

Stock Up
According to John Helsey of The Oklahoman, Lyndell Johnson has been moved from linebacker to strong safety.
While that seems uneventful, it is actually a big development and says a lot about Johnson's performance. While part of the reason for the switch is because of Johnson's smaller frame, it also has to do with the fact that he is a playmaker who needs to be on the field. He'll compete with Shamiel Gary for the starting job at safety and have a great chance to win that battle.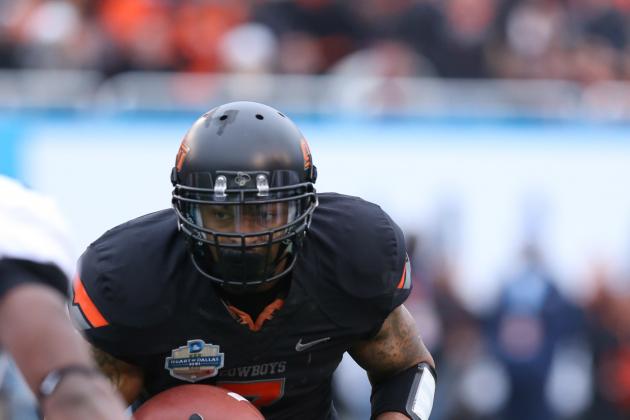 USA TODAY Sports

Stock Down
This stinks for Shamiel Gary, but the preceding slide is proof that his stock is going down.
Gary had an up-and-down season in 2012, but he did play better as the season went on. However, Lyndell Johnson is one of the best athletes on this Cowboy defense. It will be a tall order for Gary to attempt to beat him out, probably too tall an order for him to deliver.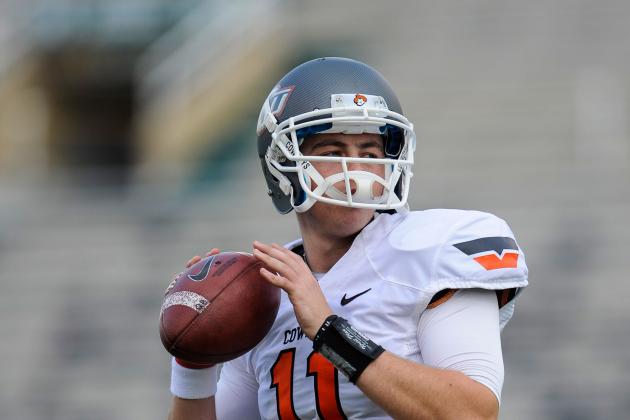 USA TODAY Sports

Stock Up
Wes Lunt spoke to the media for the first time in his college career the other day, and he revealed some very good news for Cowboy fans.
In an interview with Gina Mizell of The Oklahoman which you can view here, Lunt stated confidently that, although he had not discussed it with the coaches, he would be willing to redshirt next season if he does not win the starting quarterback job.
This is great news for the Cowboys and their fans. Lunt is by far the best pure-passer of the three quarterbacks and having him for the future is a big deal for the program.