Penn State Football: 5 Players Who Need to Emerge as Leaders in Spring Practice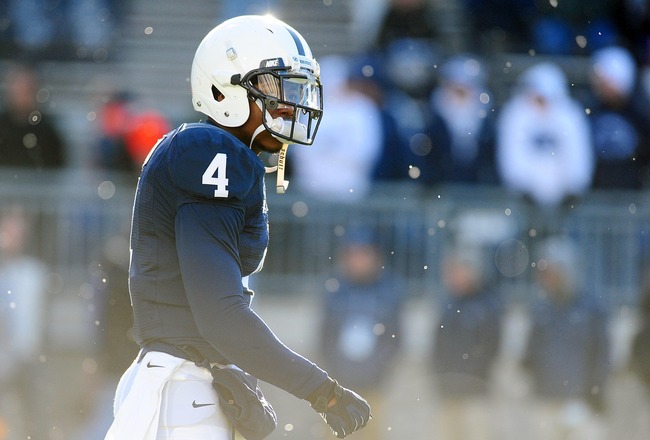 Evan Habeeb-USA TODAY Sports
Spring practice is on the horizon for the Penn State football team, meaning new faces, new starters and, consequentially, new leaders.
Prefacing this article is the need to mention the 2012 senior class.
The seniors made history by helping to navigate the the Nittany Lions through the terrible scandal and were rightfully honored.
That being said, who will replace guys like Michael Mauti and Stephon Morris as leaders?
Let's take a look.
Deion Barnes, DE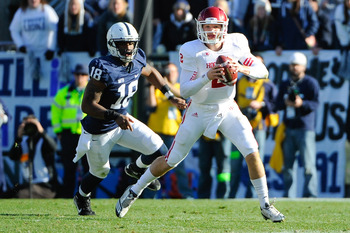 Rich Barnes-USA TODAY Sports
With the injury bug catching seniors Sean Stanley and Pete Massaro, the nurturing process with defensive end Deion Barnes was cut short.
Barnes, a redshirt freshman last year, emerged as a phenomenal talent on the front four as he used deceptive speed and quick hands to get into the backfield.
The Philadelphia native, who played in every game last year, led the Big Ten in sacks (six), was tied at fourth in forced fumbles and tallied 10 tackles for loss.
Not only did Barnes produce, but he was thoroughly recognized for his efforts. Following the 2012 campaign, Barnes was honored as Big Ten Freshman of the Year and earned multiple All-American Freshman team accolades.
With that all considered, it's time in 2013 for Barnes to do more than just produce on the field.
A product of defensive line coach Larry Johnson, Sr., it can be expected that Barnes will only improve on the field with more experience and coaching under his belt.
But, with Jordan Hill departing for the NFL and the graduation of Stanley and Massaro, the rising sophomore will need to take on more of a leadership role.
Adrian Amos, CB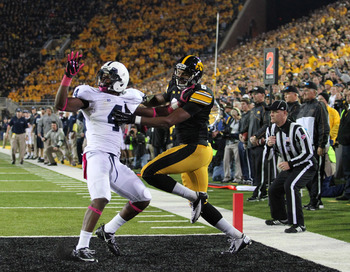 Reese Strickland-USA TODAY Sports
After appearing in every game at cornerback as a freshman, Adrian Amos did the same last year, but with an increased role.
Following the departure of four starters in the secondary, Amos proved in 2012 he's a premier defender in the Big Ten and has the sheer athleticism to go up against any receiver.
Never mind the fact that he's only 6'0'', Amos has the ability to run with and cover virtually any receiver.
On a separate note, the secondary didn't do so hot as a unit last year due in most part to a lack of depth.
But what was impressive about Amos last year was his progressions in reacting to the ball and getting position on receivers.
As his fellow cornerback Stephon Morris chases the NFL dream, Amos will become the new leader of the secondary next year as a junior.
And with a few new commits coming into the fold in the secondary and former defensive backs coach John Butler assuming the role as coordinator, expect Amos to step it up in the spring.
Glenn Carson, MLB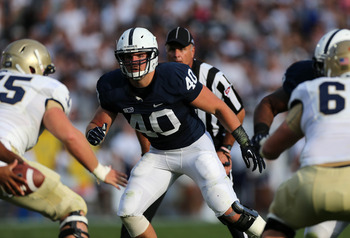 Rob Christy-USA TODAY Sports
No, that's not former Nittany Lions great Dan Connor.
Instead, the picture inset shows Penn State middle linebacker Glenn Carson—the only senior mentioned in this list.
Carson, who spent his junior year starting in the middle flanked by Mauti and Gerald Hodges, will be the lone starter of the linebacking corps returning for Penn State.
A starter in 2011 and 2012, Carson hasn't always been the most recognizable player for Penn State considering the attention the players above garnered.
While Carson led by example last year with 7.1 tackles per game (85 total), he'll likely be thrust into a vocal leadership role in 2013.
And if two full years of starting has prepared him for anything, he'll likely be a candidate for a spot as captain for the upcoming season and that emergence starts in spring practice.
Kyle Carter, TE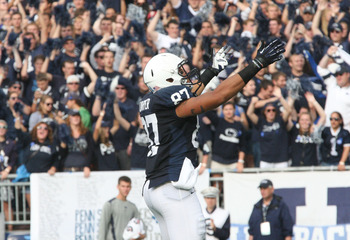 Rob Christy-USA TODAY Sports
Weighing in at 247 pounds and standing at 6'3'', Penn State tight end Kyle Carter is a physical specimen and creates matchup problems for virtually anyone who covers him.
Split out wide on a cornerback? Throw it up to him, and he'll snag it.
Line him up on the line? Carter has the speed and sharp route running to shake a linebacker.
That being said, Carter's success in Bill O'Brien's offense last year as a redshirt freshman speaks for itself.
Despite missing the final two games of the year with a dislocated wrist, Carter caught 36 balls for 453 yards and two scores.
In terms of accolades, Carter was voted by the media to a First Team All-Big Team selection—pretty good for a freshman.
Considering his effectiveness last year, it's reasonable to think it'll only grow in 2013.
With heralded recruit Adam Breneman coming in with the intention to play his first year, the Lions will have ridiculous versatility at the tight end position.
This is where Carter becoming a leader comes in.
Sure, Breneman has been to what seems like every Penn State game last year, but Carter will be a vital point of reference in regards to learning O'Brien's schemes.
If Carter can provide that type of help, not only will Breneman and the Lions be better off, but Carter will have also earned the respect as a leader early on.
Zach Zwinak, RB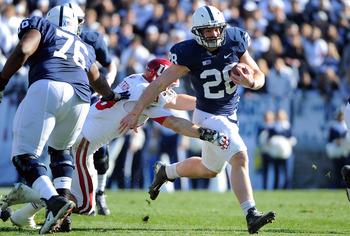 Rich Barnes-USA TODAY Sports
Prior to the 2012 season, Bill Belton was all anybody could talk about when referring to the Lions' backfield.
With Silas Redd saying sayonara as he bolted for Southern California, Belton was expected to step in and provided agility to the starting role as running back.
Zach Zwinak had other plans as he emerged as the Lions' go-to tailback when Belton landed himself in Bill O'Brien's doghouse.
Despite recording three rushing attempts in Penn State's first trio of games, Zwinak ended the season with a cool 1,000 yards on the ground and finished in the top five running backs in the conference.
In the final four games of the season, Zwinak averaged more than 147 rushing yards per game.
For a former fullback and fifth-stringer in 2012 spring camp, that's pretty incredible.
Now that he's the presumed No. 1 back heading forward, he'll carry plenty of the offensive burden for the upcoming season.
Whoever is eventually named the Lions' starting quarterback will come in with a plethora of inexperience at the Division I level, meaning a stable running game bolstered by Zwinak will likely be leaned on.
Zwinak was the new kid on the block last year. Now it's time for him to step up and assume a leadership role with so much on his back.
Keep Reading

Penn State Football: Like this team?