NCAA Tournament 2013: Teams Poised for a Massively Disappointing March
Kevin C. Cox/Getty Images
The NCAA tournament is known for its upsets. This year will exemplify that more than ever.
After a regular season that featured Top Five teams regularly losing to unranked opponents, it will not be surprising to see a bunch of highly seeded squads go down before the Sweet 16.
Of course, some teams have a better chance to lose than others. These squads feature some glaring weaknesses, and each of them should expect an early exit in the Big Dance.
Be sure to watch Selection Sunday at 6 p.m. ET and print out your bracket for all the action.
Syracuse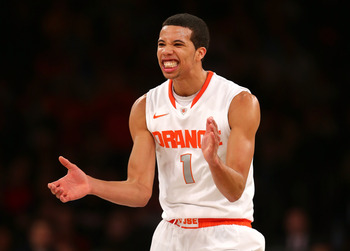 Elsa/Getty Images
Although Syracuse is no longer considered one of the best teams in the country, the talented squad is still expecting to go far in March.
Unfortunately, it might be time to temper expectations.
The Orange rely a lot on the three-point shot, but they only shoot 32 percent from behind the arc. Guards Brandon Triche and Michael Carter-Williams shoot less than 30 percent from deep.
When the shooting goes cold, this team really struggles to put up points. If the Orange match up with an opponent that can shoot threes over the zone, they will be in trouble.
Miami (FL)
Kevin C. Cox/Getty Images
When Miami plays well, this is one of the top teams in the country. The Hurricanes play great defense with the quick backcourt, and Kenny Kadji is a matchup nightmare.
Unfortunately, this is one of the more inconsistent teams in college basketball.
During the season, Miami has lost to Indiana State, Florida Gulf Coast, Georgia Tech and Wake Forest. These are not losses a top seed should have on its resume.
The inability to keep focus has been a problem all year and will continue to be a problem in the postseason. If that happens in the NCAA tournament, Miami will be out before the second weekend.
Ohio State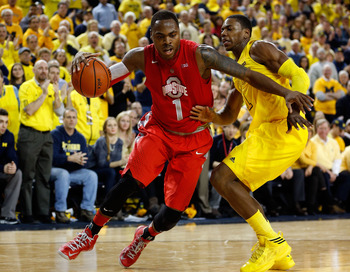 Gregory Shamus/Getty Images
Ohio State ended the regular season as one of the hottest teams in the country.
With wins over Indiana and Michigan State in the last few weeks to go with earlier victories over Michigan and Wisconsin, the Buckeyes are poised to earn a very high seed in the NCAA tournament.
The problem is where the scoring is coming from. Deshaun Thomas was the Big Ten's leading scorer this season, but his support on the offensive end comes and goes. When the forward starts missing his shots, the entire team struggles to score.
This could end up being a problem in March Madness. An opponent that keys on Thomas could realistically shut down the Buckeyes unless Lenzelle Smith or Aaron Craft step up their efforts.
Based on what they have shown in the regular season, this is not likely.
New Mexico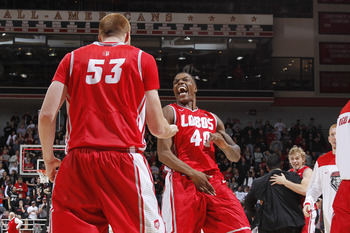 Joe Robbins/Getty Images
As the No. 2 team in the RPI, New Mexico is going to get a very high seed in the NCAA tournament. This will certainly be deserved after winning a very tough Mountain West.
The question remains, however, of how battle-tested the Lobos really are at this point.
Wins over Colorado State and UNLV are impressive, but they are about to see some very talented and athletic teams once the NCAA tournament begins.
During the non-conference season, the Lobos had wins over Cincinnati and Connecticut, but no elite teams. If the scoring can go cold against a squad like San Diego State, imagine what can happen against a team like Georgetown.
New Mexico is expecting a lot this year, but a deep run is unlikely.
Florida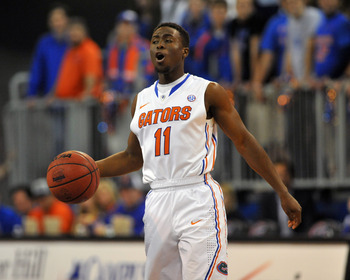 Al Messerschmidt/Getty Images
The last seven-and-a-half minutes against Kentucky showed everything you need to know about Florida.
During that stretch, the Gators were unable to score a single point as the Wildcats took the lead and eventually won the game. These scoring droughts are a major problem.
In their six losses, Florida is only averaging 61.5 points per game. This is a veteran team, but no player really takes over offensively when things go bad.
This squad has a few good wins, but it struggled at times against a very weak SEC. This is not a good sign for the Big Dance.
Keep Reading