UFC 158: 5 Reasons Why the UFC Fears a Nick Diaz Win over Georges St-Pierre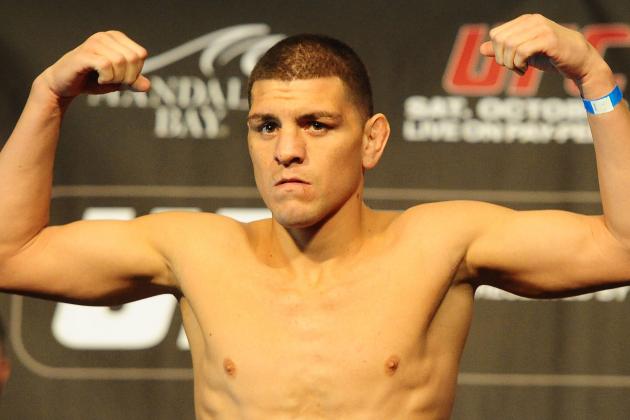 Mark J. Rebilas-USA TODAY Sports

Georges St-Pierre has been the UFC welterweight champion for nearly four years and 11 months. On Saturday night at UFC 158, that epic reign could come to an end at the hands of one of the most controversial figures in the sport, Nick Diaz.
Diaz, a former Strikeforce champion in his own right, has been one of the top fighters in the sport for years, but that doesn't mean that everyone is excited at the prospect of having him as the champion in the world's top mixed martial arts promotion.
In fact, some within the UFC itself might secretly be hoping that St-Pierre retains his belt, thus preventing Diaz from being the new face of the welterweight division.
Why would they care who wins on Saturday night? There are plenty of reasons, but here are the five biggest reasons that the UFC fears Nick Diaz defeating Georges St-Pierre at UFC 158.
Begin Slideshow

»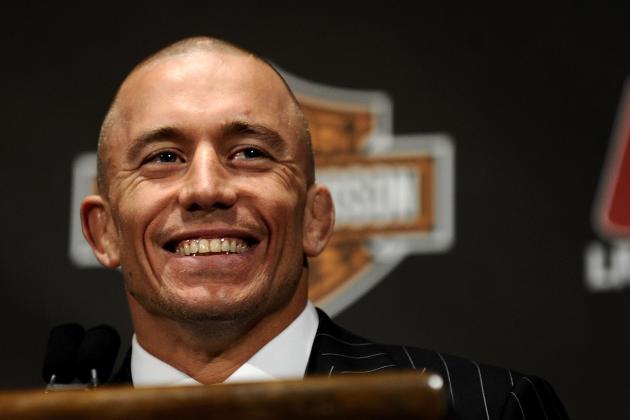 Jeff Zelevansky/Getty Images

When you add up all of his charity work, corporate sponsors, professional appearance and generally positive demeanor, it's no wonder that Georges St-Pierre is one of the greatest ambassadors for the sport of mixed martial arts. It's also no wonder that he's one of the highest revenue-generating fighters in the world today.
St-Pierre began as a relatively unknown Canadian fighter who spoke broken English and really struggled to connect with the American fans. He has now grown into one of the most beloved fighters throughout not only Canada and America, but the entire world.
Since winning the UFC title back at UFC 83, every single event that St-Pierre has been a part of has grossed over 600,000 pay-per-view buys. In fact, all but one has generated at least 700,000 buys. By comparison, the average UFC pay-per-view in 2012 drew less than 455,000 buys.
Needless to say, St-Pierre is a cash cow that the UFC has been milking for years and would love to continue to promote.
A Diaz win wouldn't completely end St-Pierre's marketability, but without the title, the excitement would be considerably less from the media, and more importantly, the fans.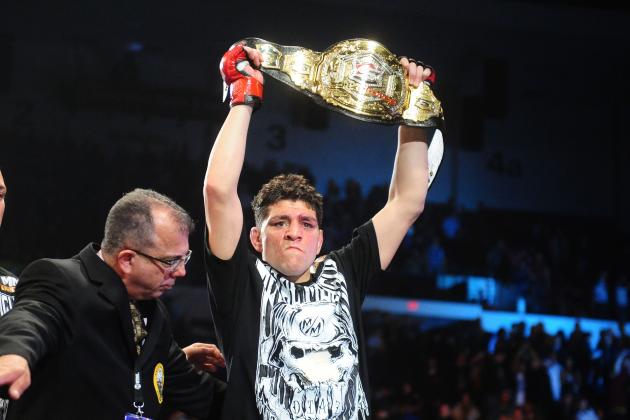 Mark J. Rebilas-USA TODAY Sports

If you're one of a large group of fans who simply doesn't care about the pre-fight hype or whether or not a fighter acts with professionalism, then Nick Diaz is probably right up your ally.
But for the UFC, that complete lack of giving a damn has to be terrifying.
Even UFC President Dana White admitted earlier this week that he is worried about the prospects of Diaz winning and what it would mean for the division.
"If he wins, you know, we are seriously going to have to have a 'come to Jesus meeting,' you know what I mean?" White said on the Jim Rome Show (h/t bloodyelbow.com). "The guy is very, very hard to deal with, we'll see what happens."
In a now infamous interview during his time in Strikeforce, Nick Diaz stood right in front of one of the sport's top journalists, Ariel Helwani, and practically told him that he was completely disinterested in doing an interview with him.
Helwani handled it fairly well, but awkwardness was thick throughout the nearly eight-minute conversation after Diaz called out Helwani simply for doing his job.
That wasn't the first and it wasn't the last time Diaz has created an uncomfortable atmosphere in interviews, either. Whether it's social anxiety or a genuine disliking for the media, Diaz simply doesn't seem interested in helping to market a fight through the media.
Not only is he difficult to work with, but Diaz has also been known to simply skip important press events. He did just that earlier this week when he no-showed the UFC 158 open workouts, much to the frustration of fans and the UFC itself.
Although he has a nice "bad boy" attitude that the UFC could work with in the marketing department, his distaste for promoting fights is something that certainly has to cause worry within the company.
There is absolutely no denying that Nick Diaz is a bad, bad man when push comes to shove and it's time to get in the cage and let the fighting do the talking. But on the flip side, the truth is that Diaz also has those moments outside the cage that completely baffle you.
If you're reading this, by now you're probably aware that Diaz is an admitted marijuana user. Now, regardless of your personal opinion on its medical or recreational uses, by rule, marijuana is a banned substance in mixed martial arts.
But that doesn't seem to stop Diaz.
In fact, earlier this week, Diaz admitted that he isn't completely certain that he would pass a drug test.
The story that Joe Rogan tells in this video is a funny one, but after failing another drug test after his fight with Carlos Condit in early 2012, Diaz is now on a very short leash.
One more failed drug test could result in a very lengthy suspension—something which the UFC simply could not afford to sit through with one of their champions.
Even as the best welterweight fighter in the world if he were to win on Saturday, Diaz is not above the rules. If he were to fail another drug test, he would very likely be cut from the company...and I'm sure you can imagine the negative media coverage that would result.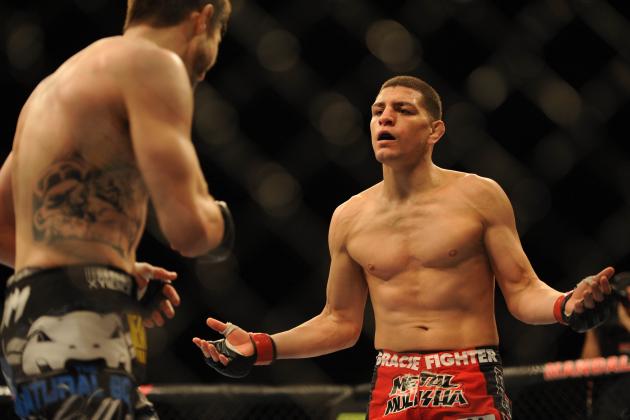 Kelvin Kuo-USA TODAY Sports

If Nick Diaz becomes the UFC welterweight champion at UFC 158, he will have achieved something that he has always set his sighs on—being ranked No. 1 in the world.
But while keeping the status as the top fighter in the world might be very important to some, something tells me that there might not be quite as much importance placed on remaining champion as there was in becoming champion for Nick Diaz.
Immediately following his UFC 143 loss to Carlos Condit, the then-28-year-old Diaz spoke candidly about the possibility of retiring from the sport. That mentality didn't change for months, either, even after his failed drug test.
While he eventually came around and has obviously made his return to the cage, the question has to be asked—does Diaz really love MMA as much as he makes us believe he does?
If he has nothing else to fight for, no further peak to climb to, will he stick around?
Sure, he has spoken about the possibility of moving weight classes to fight Benson Henderson or Anderson Silva if he beats GSP, but the realistic possibility of that happening is fairly slim. There are so many fights for Diaz at 170 pounds that it would likely be years before he ever competed in a "superfight" against another champion.
With nothing else to achieve other than remaining where he is, Diaz could find it tough to remain focused as we have seen from him in the past. If that happens, it could be a very realistic possibility that he simply walks away from the sport, leaving the UFC on the hook for trying to sell the legitimacy of a new champion.