UNC Basketball: Ranking Tar Heels' Most Likely March Madness Heroes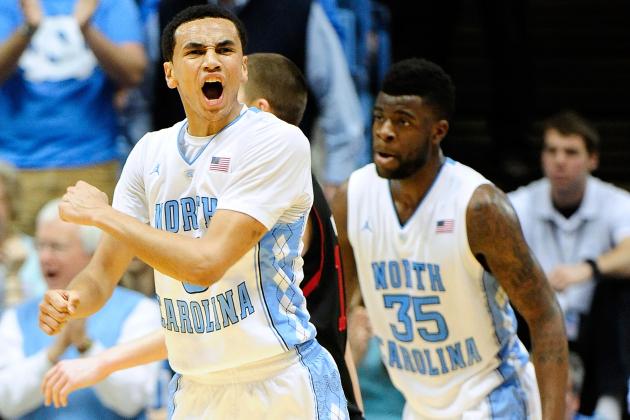 Grant Halverson/Getty Images

The mad days of March are upon us, and UNC basketball is winding up to make another run in the NCAA tournament. How far the Tar Heels will go on their journey will depend on the performances of six key players.
While each of these players has the capability of putting up big numbers, some are more likely to than others.
Consistency, skill set and importance all factor into ranking the most likely March Madness heroes for North Carolina. Each player was ranked in those categories, and their hero rank was an average of those three elements. (The lower the rank, the better.)
The Tar Heels who didn't make this list simply haven't been playing the minutes conducive to heroic performances.
Begin Slideshow

»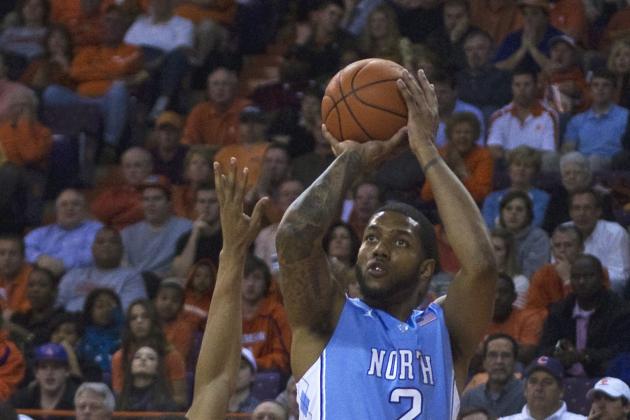 Joshua S. Kelly-USA TODAY Sports

Skill Rank: 6
Consistency Rank: 6
Importance Rank: 6
Hero Rank: 6
Leslie McDonald started the season hot but eventually went colder than an Arctic winter.
He managed two 20-point games through the first eight games. Over the last 17, he has only reached double digits four times.
Over that span, McDonald is shooting 30.3 percent behind the arc.
McDonald is a decent driver and defender, but the three is his money ball. If that isn't going down, you can't expect too much of an impact from the junior guard.
However, McDonald is a good natural shooter. He could come out of his rut and start lighting up the nylon. And as much as these guys like to jack up treys, he could certainly make a heroic impact with some late bombs in the clutch.
McDonald is just the least likely out of these six Tar Heels to do so.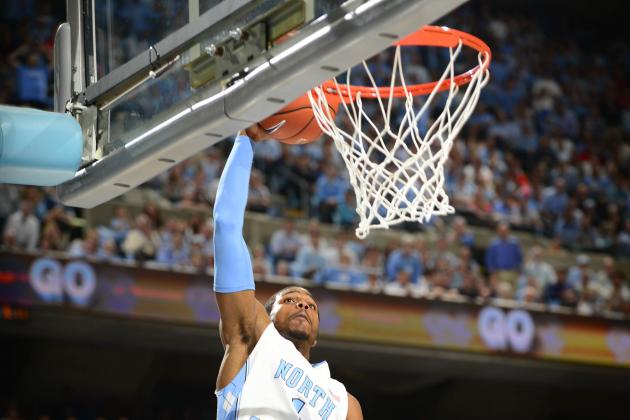 Bob Donnan-USA TODAY Sports

Skill Rank: 4

Consistency Rank: 4

Importance Rank: 5

Hero Rank: 4.3
Although Dexter Strickland doesn't offer much in the way of offensive pop, he is a skilled player who has been vital to the Tar Heels' 6-2 run with the new lineup.
Strickland has been taking much better shots lately. He has reduced his fadeaway jumpers and is taking it to the hole like the Dex of old. The result is a field-goal percentage of 49.1 over the last eight games.
He seems more confident, and that is showing on the line, too. He has been 17-of-20 from the charity stripe, and free throws are a big deal in March.
North Carolina will need a guy to get in the paint and pick up fouls consistently. And since he's one of the best finishers at the rim, we may see a few old-fashioned three-point plays.
When he isn't trying to score, he is dishing out four dimes to just 1.2 turnovers.
Strickland has also improved on the defensive end. He hasn't quite reached his old form, but he is certainly good enough to impact that end of the floor, too.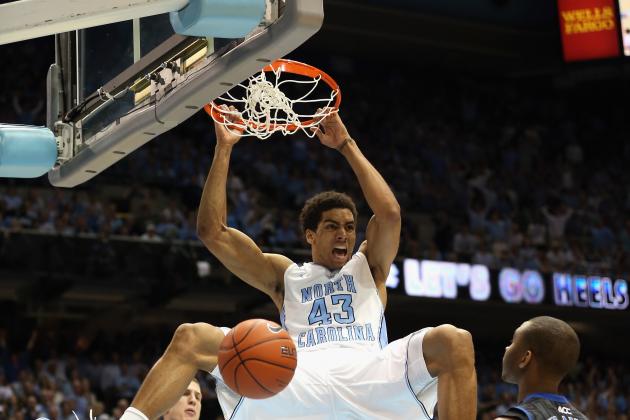 Streeter Lecka/Getty Images

Skill Rank: 5

Consistency Rank: 3

Importance Rank: 4

Hero Rank: 4.0
When you see James Michael McAdoo's skill rank, don't confuse skill with God-given talent. While the ceiling is high for this sophomore, he hasn't developed a very broad skill set compared to the others.
This is why he is only shooting 44.8 percent as a post player.
McAdoo's shooting has been inconsistent from both the floor and the free-throw line. But he is a consistent scorer.
He has only been in single digits four times this season and has five 20-point games to his name.
McAdoo has typically been a solid rebounder, too. He is averaging 7.6 boards per game for the season and was snagging nine per after switching to the 5. Over the last four games, though, he is only pulling in 3.3.
This may be because the bulging disk in his back has been flaring up lately, which makes it tougher for him to be physical.
He's still picking pockets and taking them coast to coast, though. That is where he is most likely to make a huge impact.
McAdoo leads the team with 1.5 steals per game, which is pretty good. But we saw him turn it up a notch in the 2012 tourney, when he averaged 2.3 steals in those four games.
If his back doesn't get in the way, we could see more of the same in 2013.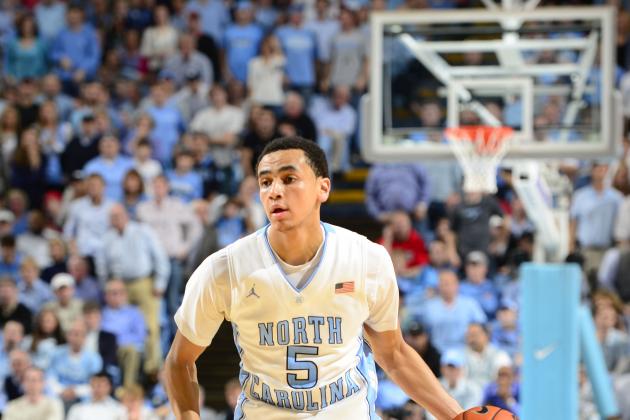 Bob Donnan-USA TODAY Sports

Skill Rank: 3

Consistency Rank: 5

Importance Rank: 1

Hero Rank: 3.0
Obviously, the point guard is the most important position, which is why Marcus Paige tops that category.
Yes, the Tar Heels can win without him doing well. But the team operates much more efficiently when he is on his game.
Unfortunately, he is one of the most inconsistent players on this list. Every time it appears Paige has broken the freshman wall, he puts up some stinkers that make you wonder.
A prime example would be his first six games with the small lineup, compared to his last two.
In the first six games, Paige put up 9.8 points, five assists and just 1.7 turnovers per game. In the last two, he has averaged 3.3 points, 4.5 assists and 6.5 turnovers per game.
Even through his offensive struggles, he is still one of the most active and pesky defenders Roy Williams has. Not all of them turn into steals, but if there was a stat for poking the ball loose, Paige would be leading the team in that category.
A lot of that comes from his transition defense, too. There may not be anyone better in transition on this team, either.
Paige is one tough freshman, and if he gets back in his zone, he could become the hero the Tar Heels need the most.
"If" is the operative word, though.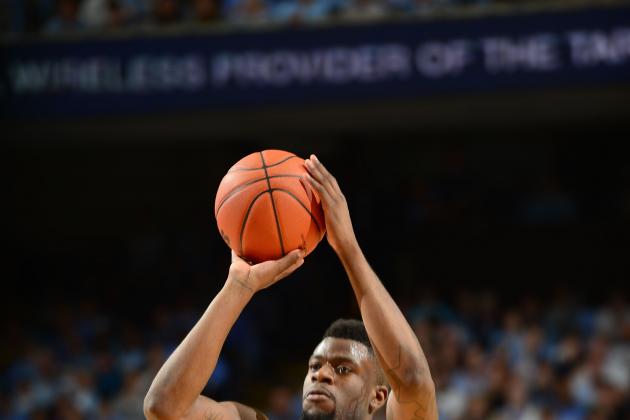 USA TODAY Sports

Skill Rank: 2

Consistency Rank: 1

Importance Rank: 3

Hero Rank: 2.0
If you want consistency, look no further than Reggie Bullock.
Bullock is shooting 49.3 percent from the floor, which is good for a wing. So is his 44.2 percent mark from downtown.
He has also scored 20 or more points five times this season.
But Bullock's consistency goes beyond just knocking down jumpers. He is also the top on-ball defender and one of the best distributors and rebounders on the squad.
Even his poor performance against Duke did very little to cut into the monster numbers he has put up in the last five games. Over that span, he is averaging 16.2 points, 3.6 assists, one turnover, 10 rebounds and 1.4 steals per game.
This is a guy who was sitting in the corner and jacking up threes last season. Now he plays the 3 and has become a vital part of the starting crew—in just about every category.
And when a team has a do-it-all kind of guy like Bullock, you have to consider him to be one of the most likely players to have a heroic moment in the NCAA tournament.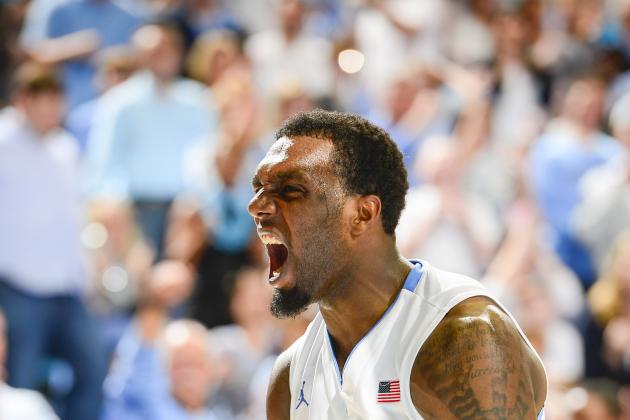 Bob Donnan-USA TODAY Sports

Skill Rank: 1

Consistency Rank: 2

Importance Rank: 2

Hero Rank: 1.7
Even though Reggie Bullock is the more consistent shooter, it seems that the great performances from P.J. Hairston have been more impactful.
I believe this is because when he is lighting up the net and dunking on people, he releases an intense energy that supercharges the players surrounding him. Intensity and confidence are contagious, and that is what Hairston exudes every time he is on the floor.
Beyond the raw emotion he brings, he is also a deadly shooter when he is on. He'll jack it up from 30 feet and bury it like a free throw.
When the Tar Heels have given up a big lead, he is always the one who becomes the centerpiece of the comeback.
Similar to Bullock, he is a well-rounded player who can impact every column of the stat sheet. On the season, he is averaging 13.6 points, 4.2 rebounds, 1.4 assists, 1.2 steals and 0.4 blocks in just 22.1 minutes per game.
Like the other two corners of the Triangle Trio, Hairston has five 20-point games to his name. Three of those have come since being inserted into the starting lineup eight games ago.
Hairston is the main reason this team is 6-2 over that stretch.
The man has ice in his veins and fire in his soul. That's what heroes are made of.