Worst Philadelphia 76ers Roster Moves of All Time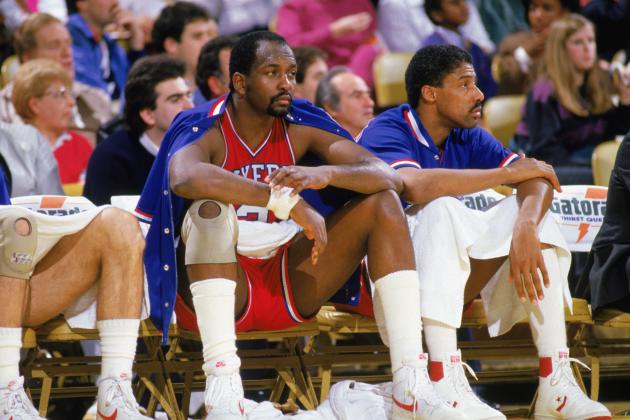 Rick Stewart/Getty Images
Getting rid of Moses Malone while he still had prime years left was one of the more regrettable moves the Sixers ever made. But was it the worst?
So, as we all know by now, last summer, the Philadelphia 76ers parted with an All-Star and Olympian (Andre Iguodala), one of the top young centers in the league (Nik Vucevic), a nice looking rookie swingman (Moe Harkless) and a future No. 1 pick.
In return, they have received three bum knees and one large, shattered dream in the form of Andrew Bynum and Jason Richardson.
Knowing what we know now, it's fair to say that it was a pretty awful trade. But the worst in franchise history? Nope. Not even close, in fact.
Yes, for a team rich in tradition and success (although not much of either over the past quarter century or so), the Sixers sure have made some boneheaded decisions. The following are some of the biggest oopsies of them all.
Begin Slideshow

»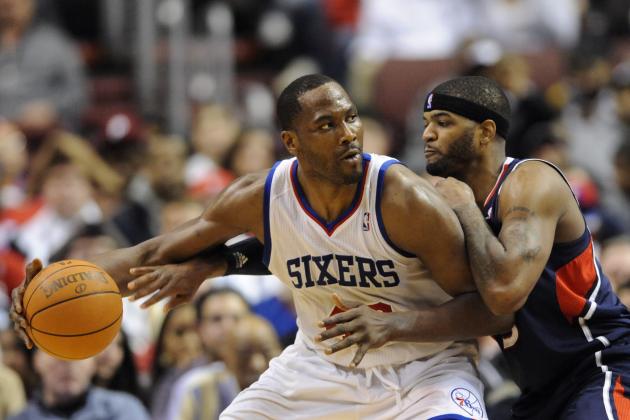 Howard Smith-USA TODAY Sports

Last summer wasn't the first time the Sixers picked up a gimpy big man with a history of injuries whose best days were behind him. Oh no, the last time they travelled that road is still quite visible in their rearview mirror.
During the summer of 2008, the Sixers flirted with the possibility of signing restricted free-agent Josh Smith. They wined him, dined him...and then decided on putting all their money into Elton Brand. Nearly five years later, Brand continues his steady regression (now with the Dallas Mavericks, after the Sixers amnestied him last offseason), while Smith may not have yet reached his peek.
And with the news that they almost traded for him at February's deadline, Smith will instead be due for another big payday this offseason—but probably not in Philly.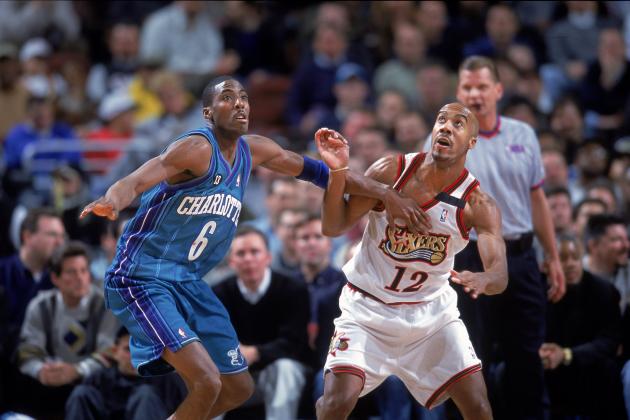 Doug Pensinger/Getty Images

On Feb. 16, 2000, as part of a three-team deal with the Chicago Bulls and Golden State Warriors, the Sixers ostensibly traded Bruce Bowen, Larry Hughes and Billy Owens to acquire Toni Kukoc.
Owens continued his disappointing regression and was out of the league two years later. Hughes bounced around a bit but put together a very respectable post-Philly career, including two season averaging over 20 points and one where he led the league in steals. Meanwhile, Kukoc lasted just a year in town before getting shipped off for Dikembe Mutombo.
But the biggest piece of them all may have turned out to be Bowen.
Yes, before he was a key component on three San Antonio Spurs championship teams, before he was named to five NBA All-Defensive first teams and three more second teams, before he led the league in three-point percentage and finished his career at nearly 40 percent, Bruce Bowen played a season for the Sixers. A very forgettable season that he most likely has, in fact, forgotten about.
In Philly's defense (pun intended), he was immediately released by the Bulls and also played for the Miami Heat and Boston Celtics prior to his brief tenure in Philadelphia to very little fanfare as well, but, needless to say, it too let a good one get away.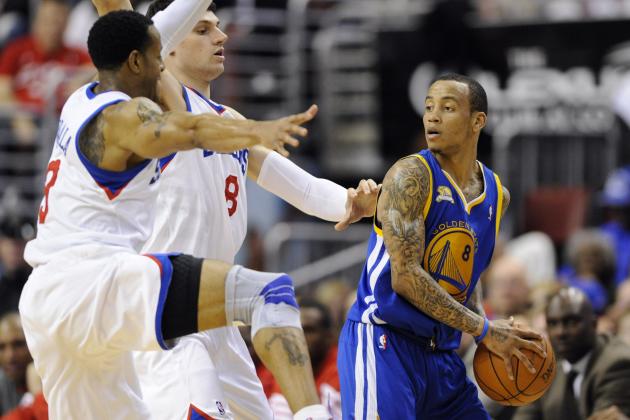 Howard Smith-USA TODAY Sports

If Vucevic becomes a perennial All-Star, if Iguodala leads the Nuggets to a championship and if that future No. 1 draft pick turns out to be something special, I reserve the right to move this higher up the list.
For now, though, there are four moves that remain historically worse. Part of that reason being that very few people realized how bad the worst-case scenario of this trade really could have been. Which is this, what we have now.

However, there weren't many naysayers at the time. Hell, it looked pretty damn good on paper. It was time for Iggy to go and Vucevic didn't really look like much of a sacrifice. In hindsight, that could be because Doug Collins didn't give the kid much of a chance, but hey, water under the bridge of failed moves now.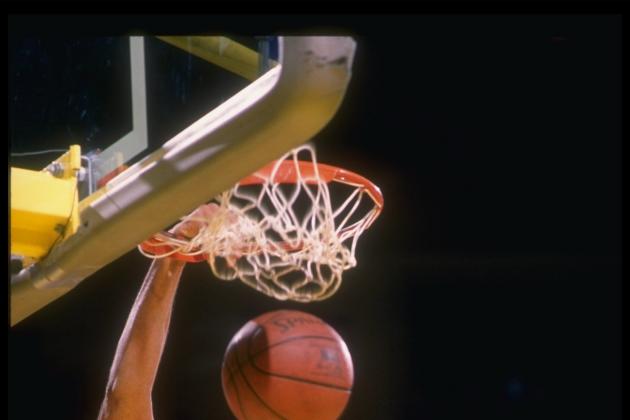 Mike Powell/Getty Images

It was a move that culminated in 1986 (frankly, a terrible year for the Sixers GM, as you'll soon see further proof of), but its history goes back seven years prior, when Brad Daugherty was just 14.
In 1979, the Sixers trade Joe "Jellybean/Kobe's Dad" Bryant for the San Diego Clippers' No. 1 pick in '86. The day before that draft, they then traded the rights to the pick they had been sitting on for so long—a pick that wound up being No. 1 overall!—to the Cleveland Cavaliers for Roy...um, hold on, let me double check this...
Roy...Hinson??
Yup, Roy Hinson. Who had one decent but not spectacular year prior to that. Who would last all of two seasons in a 76ers uniform. For a center who wound up averaging nearly 20 and 10 for his career and, if not for his own debilitating injuries, would be Hall of Fame bound.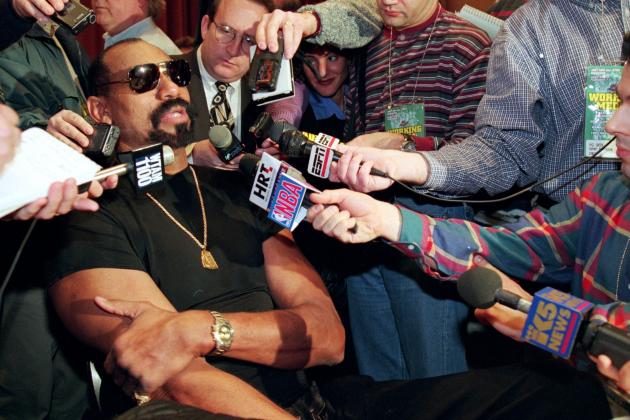 Brian Bahr/Getty Images

The Boston Celtics cost the Sixers a chance at a dynasty during the first half of the 1960s. The Los Angeles Lakers may have helped quash any additional chance during the second half of the decade.
Just one season after the Sixers won their first title with Wilt Chamberlain leading one of the most dominant squads in NBA history, off he went to L.A., where he made another four All-Star appearances and helped win another championship for the Lakers, for another all-time championship team.

The return yielded the Sixers Jerry Chambers, Archie Clark and Darrall Imhoff. Chambers never suited up for them, while Clark and Imhoff both had a couple good years in Philly (but, naturally, Clark had his best season right after being traded to the Baltimore Bullets, where he averaged 25 a game). But this was a case, like most of the others, where a change for the sake of change didn't pan out.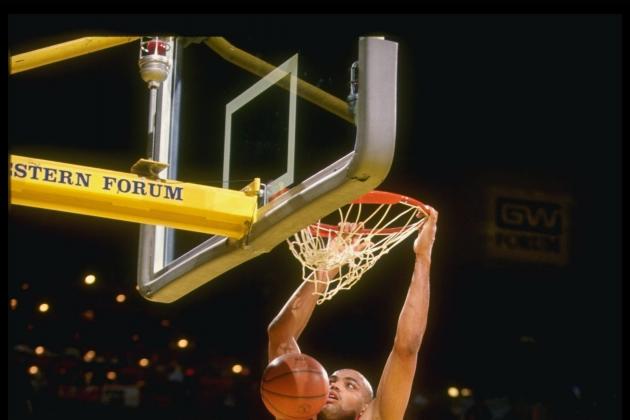 Mike Powell/Getty Images

The term "getting three quarters for a dollar" may have been coined (pun intended) with this deal.
In June of 1992, it was becoming increasingly more apparent that Charles Barkley had officially worn out his welcome in Philadelphia. Fine. It happens. But to only get back two quasi-stiffs in Andrew Lang and Tim Perry plus a one-trick pony in Jeff Hornacek from the Phoenix Suns in return—and nothing else—is inexcusable.
Oh, and not one of them last more than three full seasons with the team.

The very next year, Sir Charles would, of course, lead the Suns to a championship appearance and win MVP, followed by seven more mostly dominant seasons, en route to a Hall of Fame plaque in Springfield as one of the greatest forwards to play the game.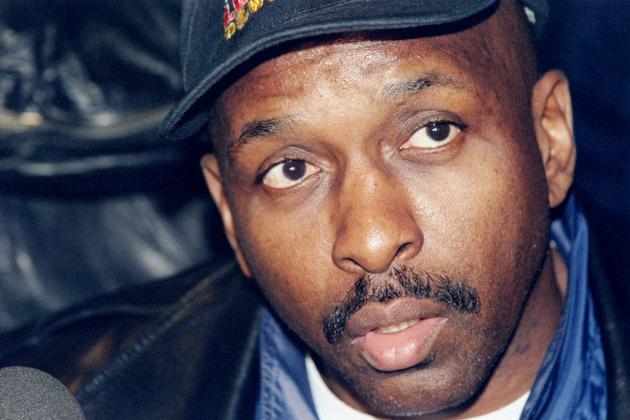 Brian Bahr/Getty Images

Ugh. Not only was this the worst move in franchise history, it could go down as one of the worst basketball trades ever.
Okay, so not only do you trade one of the greatest all-time centers who still had several very good years left in him, but Terry Catledge, a formidable forward who once averaged over 19 points in his post-Philly career, and two—count 'em, two—No. 1 draft picks, one of whom turned out to be Harvey Grant, who also had a nice NBA run, notching three seasons of over 18 points per game.
In return? The Washington Bullets provided a gimpy Cliff Robinson, who never played more than 62 games in a year for them, and a far gimpier Jeff Ruland, who played 18 total games for them in two seasons that spanned five years.
Yes, Ruland was a dominant force when healthy for Washington. The problem is that, when the Sixers traded for him, he had played in 30 and 37 contests, respectively, in his previous two campaigns. To this day, if you utter his name, a collective sense of nausea sets in throughout the entire Delaware Valley.
So Philly took an uncalculated risk, and it essentially set them back...let's see...to basically present times, as the search continues for their next franchise center...