New York Knicks vs. Denver Nuggets: Postgame Grades and Analysis for NYC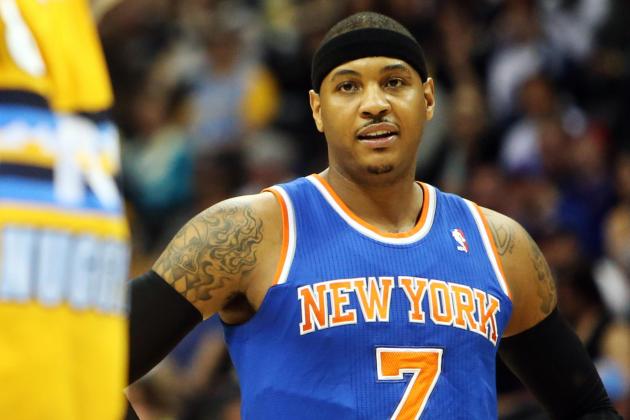 Chris Humphreys-USA TODAY Sports

The New York Knicks continued their West Coast road trip on Wednesday night, facing the Denver Nuggets at the dreaded Pepsi Center. The up-tempo Nuggets ran the Knicks out of the building, where they are now 29-3, beating them 117-94.
Iman Shumpert led the way for New York with 20, while six Nuggets players scored in double digits. Ex-Knick Wilson Chandler led all scorers with 24 points on 9-of-12 shooting from the field.
It was Carmelo Anthony's first game in Denver since the blockbuster trade in February 2011 that shipped him from the Nuggets to the Knicks.
Melo received some cheers and a loud contingent of boos from the home crowd for his seven-plus seasons with Denver. Former Nugget J.R. Smith got a somewhat warmer welcome despite contributing much less to the franchise.
But it was a bitter homecoming for both. Carmelo exited the game for good early in the third quarter when his sore right knee stiffened up. That only compounded the sting of Tyson Chandler's left knee contusion suffered late in the second quarter, which ended his evening.
The narrative of this one ran as follows: The Knicks completely fell asleep in the second quarter and never woke up.
They scored just four points in the first seven-and-a-half minutes of that frame, allowing Denver to reel off a 17-0 run. Wilson Chandler looked like he was running a layup drill, beating all defenders down the court for three consecutive buckets in transition at one point.
The Nuggets abused New York's transition defense early on and dominated on the glass in the first half (31-15), especially on the offensive end (11-2).
The points differential in the paint was staggering; the Knicks were outscored 38-14 through two quarters. Denver also persisted in drawing contact and getting to the line early on, shooting 24 free throws to New York's four.
It was a repugnant showing for the Knicks, who look to be disintegrating just as the stretch run heats up. They are porous on defense, schizophrenic on offense and have been hampered by injuries. Though they are capable of good ball movement and a balanced attack, that only comes in fits and starts.
Denver is now 44-22, in fifth place and just 5.5 games out of first. They own a 10-game winning streak and extended their streak at home to 14 games.
New York finds itself 38-24, many miles behind the Miami Heat and a full game behind the Indiana Pacers for second place. The Brooklyn Nets are now only 1.5 games behind New York for the Atlantic Division lead.
The Knicks are in dire straights, and I was tempted to fail the entire classroom after watching this debacle.
Begin Slideshow

»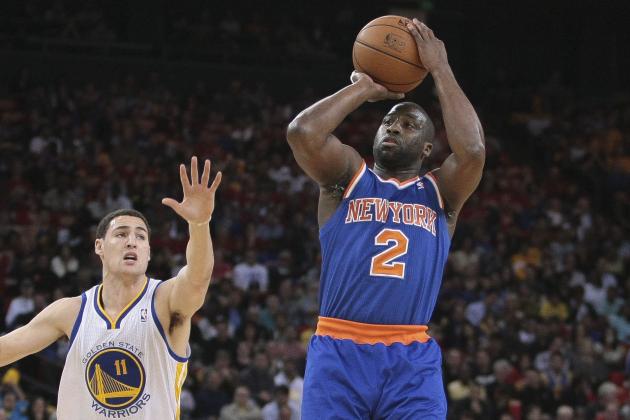 USA TODAY Sports

Raymond Felton, PG: C+
Felton scored five points in the first half, adding two boards, two blocks and one assist.
But he also committed four turnovers, which was as many as the entire Nuggets team had through two quarters.
Felton finished with an OK stat line (eight points, four assists, three steals), but New York needed a much better night from its point guard, as everything unraveled in the second quarter.
After a sensational start to the season, Felton has struggled mightily since returning from a broken finger. His production has been wildly inconsistent, as his assists have gone down and the turnovers have risen.
Much like the Knicks, Felton has been floundering just when the games really begin to matter.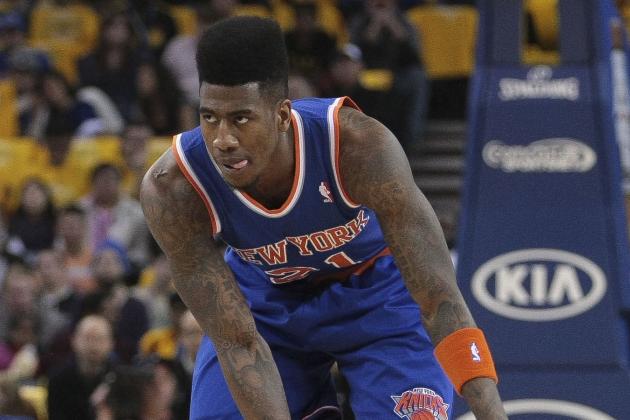 USA TODAY Sports

Iman Shumpert, SG: A
Shumpert was the lone bright spot for the Knicks, shooting 8-of-10 from the field and nailing both his three-point attempts in the first half.
He finished up with 20 points and made 80 percent of his shots, including 4-of-5 from downtown. It was his best game of the season. This served as the silver lining to the dark, stormy cloud that was this game.
But the Knicks needed so much more than just one standout performance. They'll have to hope that Shumpert can sustain his play at such a high level, as the Knicks have become desperate for offense.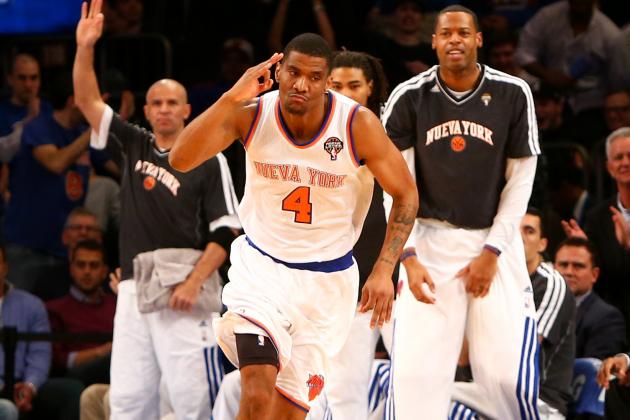 USA TODAY Sports

James White, SF: B-
"Flight" White saw under six minutes in the first half and scored four points. His replacement, J.R. Smith, played 17 minutes in the first half and scored five points.
White added to his scoring in garbage time and finished with 10 points.
By virtue of playing only 15 minutes in the game, White finished with the second-best point differential on the team, plus-two.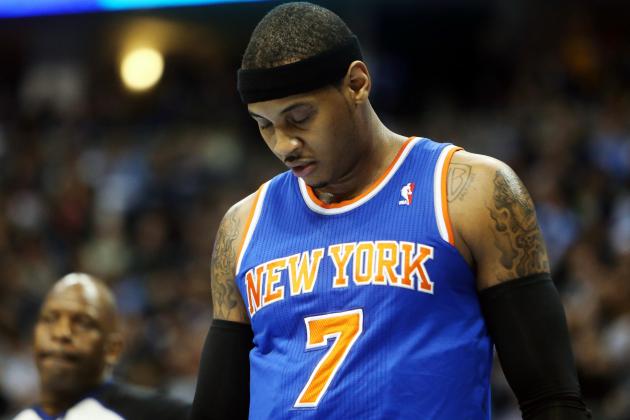 Chris Humphreys-USA TODAY Sports

Carmelo Anthony, PF: Incomplete
Anthony is still far from 100 percent, as his right knee swims in its own fluid. He moved sluggishly throughout the game, lacking the energy or physicality that the Knicks need from their starting 4.
He was removed just two minutes into the second half because of his sore knee, mercifully ending his return to Denver early. His exit came shortly after looking quite awkward while pursuing a loose ball early in the third quarter.
Carmelo shot just 3-of-12 and finished with nine points even though Denver did not double-team him until the latter part of the second quarter. Anthony did chip in five boards, three assists and a block, but also committed a trio of turnovers.
The Knicks are anxiously awaiting a prognosis on Anthony, as they undoubtedly need their superstar at 100 percent to prevent a precipitous drop in the playoff picture.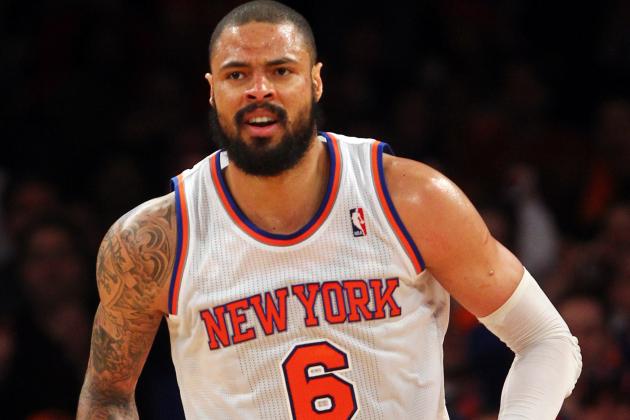 USA TODAY Sports

Tyson Chandler, C: Incomplete
Chandler crumpled to the floor with 88 seconds remaining in the first half. It was a terrifying sight for Knicks fans, as Tyson clutched his left knee, pounding the hardwood with his hands and right foot in a mix of frustration and pain.
It was an awkward-looking play to say the least; Corey Brewer moved over to cover under the basket, and Chandler hit the deck without almost any contact whatsoever.
After a tough loss on Monday night, this sight was probably the nadir of New York's season to date: Chandler writhing on the court in pain and the Knicks losing by 20 points before halftime.
Having just recently lost Amar'e Stoudemire for the remainder of the regular season, the Knicks can ill afford to be without their starting center and reigning Defensive Player of the Year for any stretch of time.
MSG reported at halftime that team doctors called it a "knee contusion." Chandler finished with four points and two rebounds.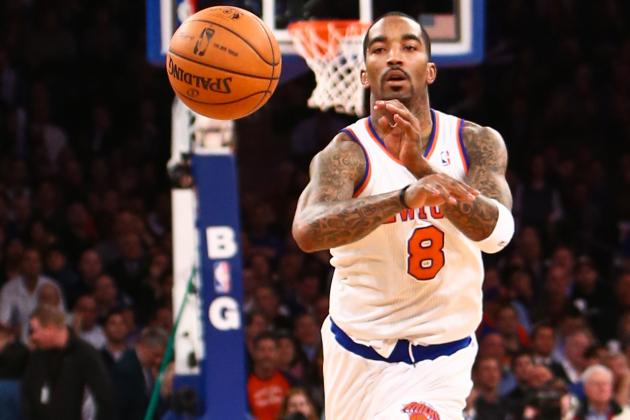 USA TODAY Sports

J.R. Smith, SG: B+
After getting ejected from the Knicks' brutal loss to the Golden State Warriors on Monday for a flagrant foul, Smith should have been seeking redemption in this one, especially against his former team.
But J.R. was off the mark early, shooting 2-of-7 for five points in the first half. He did tally four dimes and a steal, however, so it wasn't all bad, but this game was over by halftime.
Smith piled up some points in the second half, only serving to make the box score for this complete blowout seem less embarrassing.
J.R. finished with 15 points on 5-of-12 shooting, five boards and eight assists, so it's hard to blame him for the team getting their doors blown off, but an early boost from Smith could have at least kept the Knicks in the game for a while.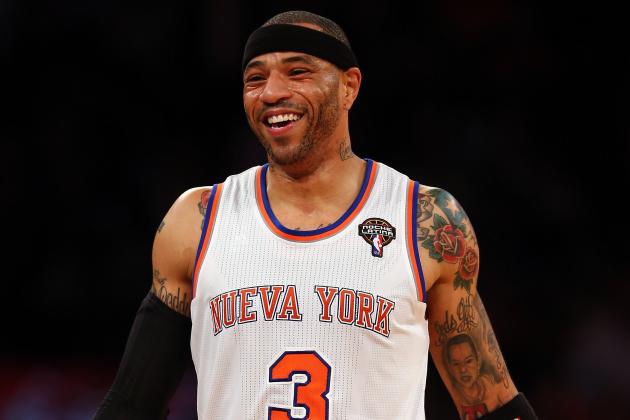 Elsa/Getty Images

Rest of Bench: C+
Kenyon Martin played with enthusiasm, making him one of the few players in a New York uniform to do so on Wednesday night.
In six first-half minutes, K-Mart notched two points and three boards. He also committed three personals in that time, which is fast becoming his modus operandi. Martin was almost unable to hit a free throw, missing five of his six attempts.
Martin played some sparkling defense in this one, blocking four shots and snatching a pair of steals.
Martin became the primary substitute for Tyson Chandler in this one, though Kurt Thomas saw some minutes in the second half as the game could not end soon enough for New York.
Jason Kidd hit a three-pointer in the first half, which is always encouraging. Those were his only points, and he played fewer than nine minutes.
Chris Copeland saw some early minutes but did not attempt a shot until garbage time rolled around later in the game. He finished with seven points (1-of-5 from the field, 5-of-5 from the line) and six rebounds.
Steve Novak couldn't get things going yet again, shooting 0-of-5 from downtown and ending with four points.
Pablo Prigioni didn't see any minutes until garbage time, which began in the third quarter. He committed three turnovers in a three-minute span at one point, though his plus-four rating was the best on the team.
To be fair, the bench mob did go on a 12-1 run to start the fourth quarter, but that only served to make the final score somewhat more respectable. It's also possible that Denver took their foot off the gas slightly, which is understandable when you're up by 30 points.
The Knicks continue this dreadful road trip when they head to Oregon and face the Portland Trail Blazers on Thursday night.
With Carmelo Anthony and Tyson Chandler questionable due to injury, New York will have to say a prayer and hope for the best. Oh, and then they play the L.A. Clippers on Sunday afternoon. Yikes.