LSU Football: What Zach Mettenberger Must Do to Reach Elite Status in 2013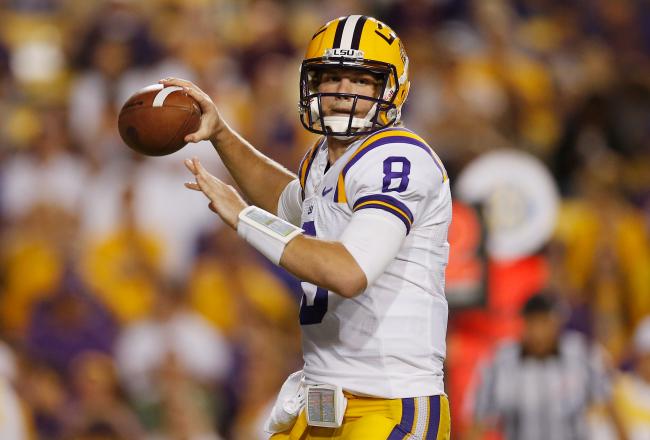 Chris Graythen/Getty Images
There was a time when LSU quarterback Zach Mettenberger was going to be the next great quarterback. He had the height, the arm strength and just the overall look of a legitimate collegiate starter and possible NFL player.
For a Tigers team that has struggled to produce a true passing threat, this was wonderful news to the folks down in Baton Rouge.
But then last season came and the Tigers finished the year ranked 11th in the SEC in passing offense. Mettenberger completed only 58.8 percent of his throws and had seven interceptions to only 12 touchdown passes. This wasn't what anybody expected from the young man and certainly wasn't good enough to help get this offense over the hump.
Now there is a new offensive coordinator in Cam Cameron calling the shots and Mettenberger has yet another chance to begin living up to those expectations.
Can he get the job done and maybe play the way he did late in the year for an entire season? The possibility is there. Here are some of things he must do in order to take that next step and solidify himself as one of the top quarterbacks of the 2013 season.
Stop Telegraphing
When watching Mettenberger on film, the first thing I noticed was that he can't keep a secret. On every pass, he was telling the defense when and where he was going to throw the ball. He might as well have announced the play before snapping the ball and just handed the defender the football.
In a play against the Alabama Crimson Tide, Mettenberger lines up in a basic I-formation.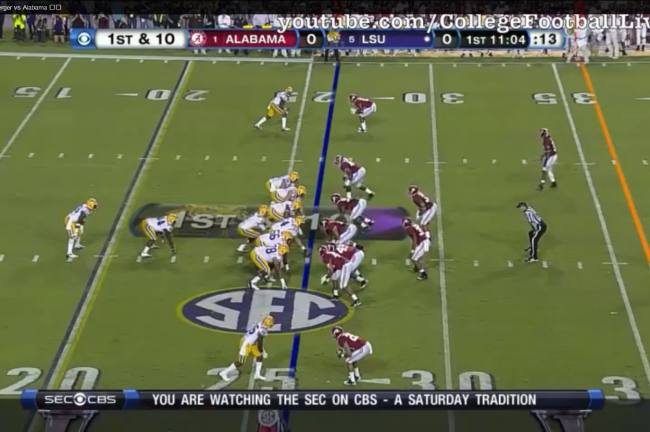 Photo via: http://www.youtube.com/watch?v=Z7rGNiRoXeg
The thing to like about Mettenberger is that he stands tall in the pocket even with the Crimson Tide pressure quickly breathing down his neck. As the pocket is starting to break down, he doesn't flinch and is determined to deliver a strong throw.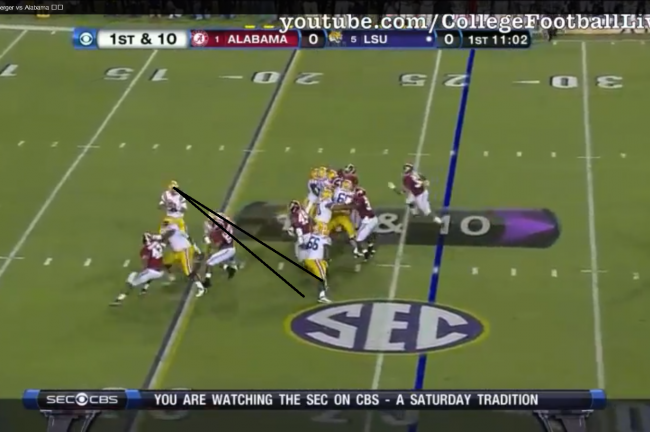 Photo via: http://www.youtube.com/watch?v=Z7rGNiRoXeg
The problem is that he hasn't looked elsewhere besides the right side of the field, where wide receiver Kadron Boone is being covered by cornerback Dee Milliner.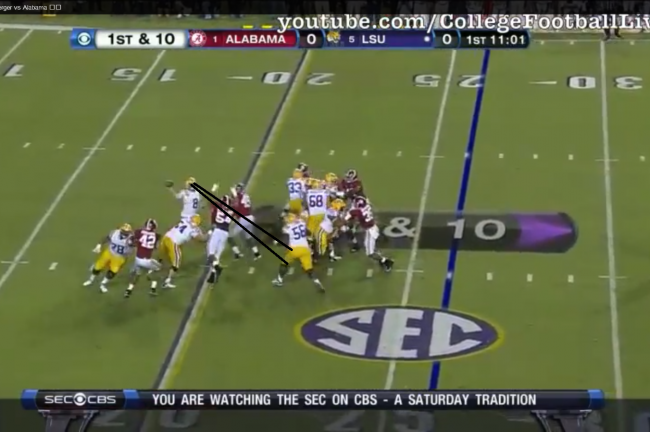 Photo via: http://www.youtube.com/watch?v=Z7rGNiRoXeg
He ends up putting the ball right on the money and just barely over the head of the star corner, but he never took his eyes off of Boone from the beginning of the play. This also allowed Nick Perry extra time to come over and he would have landed a huge blow on the LSU receiver if he had actually held onto the football.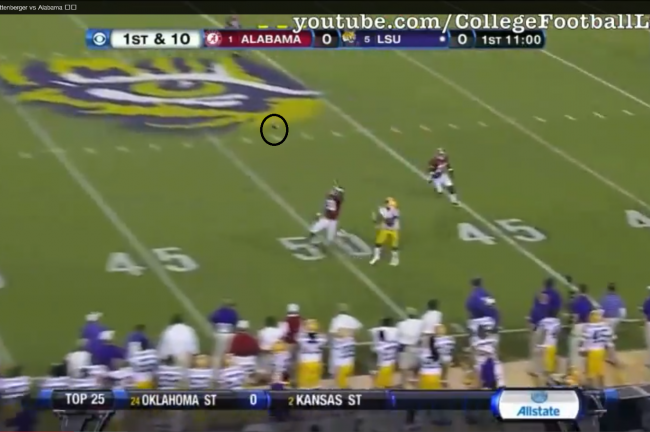 Photo via: http://www.youtube.com/watch?v=Z7rGNiRoXeg
While that play didn't exactly kill LSU, besides the dropped pass of course, this was a common theme when it comes to Mettenberger.
He rarely looked off a safety, went through his proper progressions or kept a defender guessing. Once he had his mind set on throwing the football somewhere, there was a good chance he was going to throw it and it didn't take defenses long to figure this out.
In a game against the South Carolina Gamecocks, LSU is setting up to do a quick pass to Boone.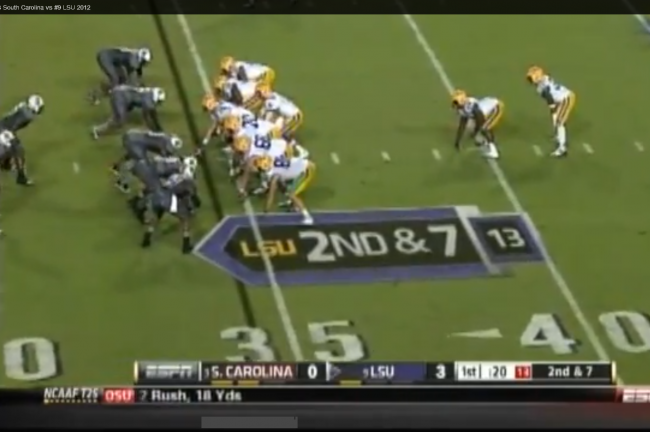 Photo via: http://www.youtube.com/watch?v=8_rOiiAg3RM
On a 2nd-and-7, a pass like this should be available and would help build some much-needed confidence heading into the second quarter. The problem is that cornerback Jimmy Legree knew this play was coming, helped bait Mettenberger into throwing the ball and quickly jumped the pass, turning a sure first down into an interception going the other way.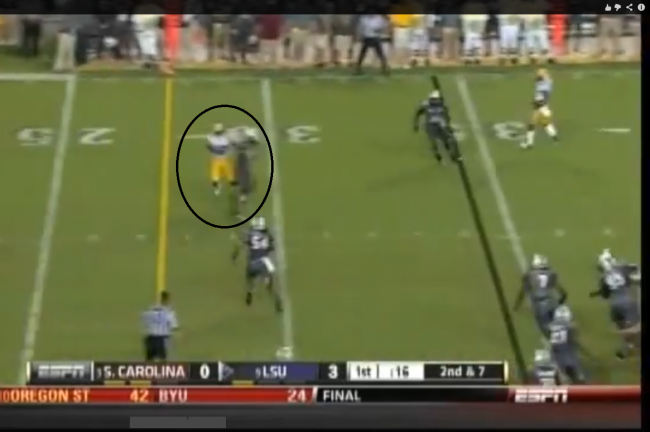 Photo via: http://www.youtube.com/watch?v=8_rOiiAg3RM
Trends get around. Kids these days watch tape and pick up little things like this.
One of the absolute worst things you can do as a quarterback is tell the defense where you are going to throw the football. And when you have the reputation of locking onto receivers, it just makes the defender's job that much easier because they know there is a good chance you are going to make that throw.
A simple thing such as giving a receiver a look or two would make all the difference in the world as far as making those easier throws that much easier.
Be More Patient in the Pocket
LSU has one of the best offensive lines in the country, so it isn't a question of if the protection is there or not. Mettenberger has the guys that can help keep him on his feet for a long time, and when you consider his toughness, he should be able to stand in there a little longer than he did last year.
Sometimes, he threw the ball a little sooner than he should have.
Will Zach Mettenberger be an elite QB in 2013?
The Tigers settled for way too many short passes last season. In fact, their 94 passes for more than 10 yards ranked 11th in the SEC and a lot of the longer passing plays were the result of a receiver breaking free and taking the play upon himself. Mettenberger has the arm strength to let it fly downfield, the offensive line to protect him and the athletes are there to get downfield.
Why not open the playbook up a bit and give the secondary something to worry about?
Head coach Les Miles recently told Jim Kleinpeter of The Times-Picayune that he would also like Mettenberger to be a little more patient and realize that there are better opportunities available on the field:
He probably needs to be a little more patient with the deep ball and understand some of our throws maybe even a little bit better. Miles said. We would expect the leadership component and the ability to play better.
LSU spent much of last season running a lot of the shorter routes, trying to get the ball out of the signal-caller's hands quickly. Receivers ran a ton of slants, quick outs, hooks and curls, resulting in more of a conservative style of play-calling.
With Cameron and his Air Coryell offense coming to Baton Rouge, this should create more opportunities for Mettenberger to hit the deep ball.
The chance to take advantage of mismatches and man-to-man coverage is something Mettenberger will be given a lot of in this new style of offense. What makes things even better is that he has also shown the ability to put the ball right on the money in these situations.
Going back to the game against Alabama, Mettenberger had man coverage with no safety help over the top on wide receiver Jarvis Landry.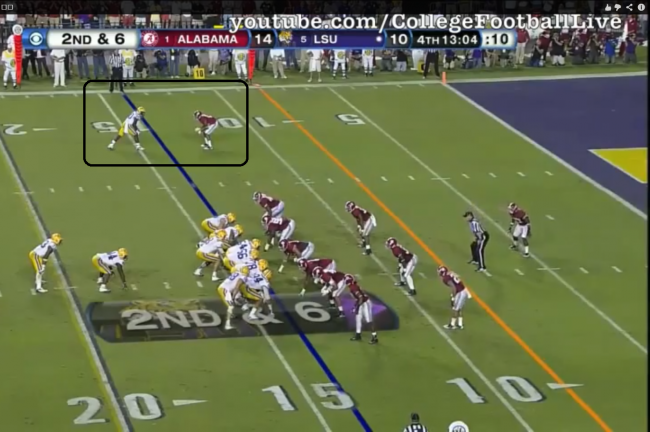 Photo via: http://www.youtube.com/watch?v=Z7rGNiRoXeg
With cornerback Deion Belue playing solid coverage, Mettenberger threw a perfect football on the corner's back shoulder, putting the ball only where his receiver could catch it. This was by far the prettiest football the LSU quarterback threw all season long and it showed that he does have the touch it takes to take advantage of man coverage.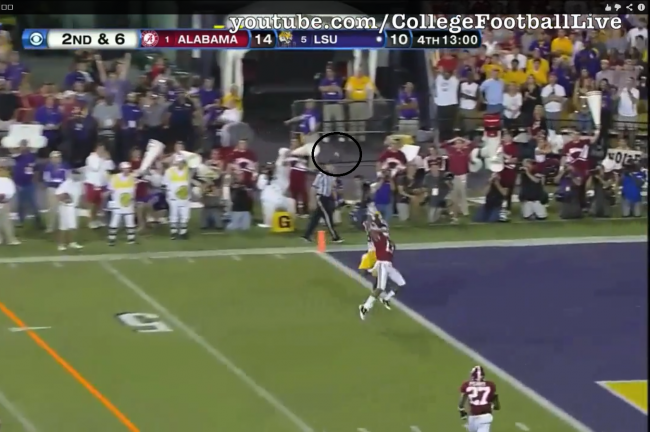 Photo via: http://www.youtube.com/watch?v=Z7rGNiRoXeg
Much like Mettenberger coming out of high school, he still has the traits to be successful. He just has to help himself a little bit more by not giving away his passes and being a little more patient than he was a season ago.
With a few tweaks made heading into next year, LSU may end up having its best quarterback since JaMarcus Russell.
There could finally be a passing game to go along with that tough-nosed running game.
This article is
What is the duplicate article?
Why is this article offensive?
Where is this article plagiarized from?
Why is this article poorly edited?

LSU Football: Like this team?