Full Update of Surprises, Busts and Injuries at Yankee Camp
J. Meric/Getty Images
No team has had a worse spring training than the Yankees. With more than two weeks to go before the regular season starts, the team has already lost Curtis Granderson, Mark Teixeira and Phil Hughes to injuries.
There have been a couple bright spots offensively, but overall it's been a disappointing camp for the Bronx Bombers' lineup; especially for a few players who entered camp in heavy competition for starting jobs.
The Yankees' pitching have been impressive for the most part, leaving them with a surplus of starting and relief options that gives them great depth and flexibility, should injuries and trades come up.
As of March 14, here are the biggest surprises, busts and injuries from Yankee camp.
Surprises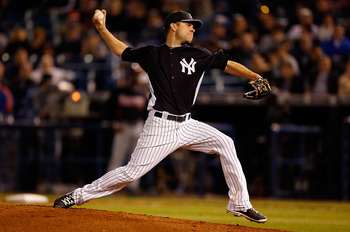 J. Meric/Getty Images
It's not a major surprise that the Yankees' presumptive leadoff hitter, Brett Gardner, would hit well. He's a good hitter. But it is impressive considering he missed almost all of 2012 with a major wrist injury, yet is showing almost no signs of it. He's 12-for-30 (.400) and looks ready to go come April 1.
Juan Rivera was brought into camp to compete with Matt Diaz for the right-handed backup outfielder/part-time platoon partner with Ichiro Suzuki, but that job description changed when Curtis Granderson broke his arm. Now the starting left field spot is open at least through April, and Rivera has seized the moment. He's taken advantage of the opportunities Joe Girardi has given him and is 12-for-32 (.375). At this point, it would be a major surprise if he does not travel north with the club.
Coming into spring training, Ivan Nova and David Phelps were set to compete for the fifth starter job. Then Phil Hughes got hurt, which created a potential opening for both starters to open the season in the rotation. But now that Hughes looks back on track, Nova and Phelps are back in competition with each other and both have been, somewhat surprisingly, exceptional.
Nova has allowed just one run on eight hits and one walk in nine innings, while Phelps has also let up just a run on ten hits and three walks in 14 innings. Girardi has a difficult decision to make between the two, but on the bright side, it looks like there is no wrong answer.
There are also three minor league pitchers who surprised while in major league camp: Preston Claiborne (5 IP, 0.00 ERA, 6 H, 1 BB, 5 K), Brett Marshall (12.2 IP, 2.84 ERA, 9 H, 2 BB, 11 K) and Jose Ramirez (9 IP, 0.00 ERA, 4 H, 1 BB, 5 K).
Busts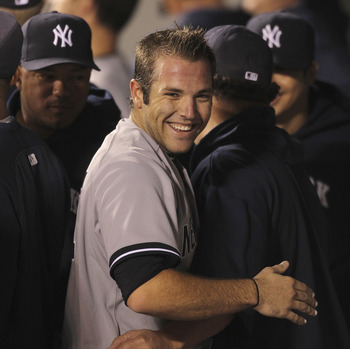 Otto Greule Jr/Getty Images
Entering spring training, the battle for the starting catcher job seemed to be a three-way race between Francisco Cervelli, Austin Romine and Chris Stewart. Romine was a long-shot from the start, having missed much of 2012 with a back injury and being the only one of the three still with options left (meaning he is the only one who could be sent to the minor leagues without being put on waivers), but he did nothing in the Grapefruit League to help his cause.
In his eight at-bats, he mustered just two hits, both singles. Neither Cervelli nor Stewart are doing much better, but Romine had to do much better given the disadvantages he was facing to make the team and he didn't. He was optioned to Triple-A Scranton/Wilkes-Barre on Monday.
Dan Johnson has a real chance to make the roster as a first baseman who could start for at least the first month of the season as Mark Teixeira comes back from a strained wrist, but has done nothing to help his cause either. He's just 1-for-20 (.050) with seven strikeouts and five walks.
One of last year's biggest surprises has been one of this year's busts so far. Cody Eppley, who pitched to a 3.46 ERA in 46 innings last year, has been dreadful in Grapefruit League play, allowing seven hits and four earned runs in five innings.
Adam Warren has also struggled, allowing seven hits and five runs in nine innings. He may have been hoping to break camp as the team's long reliever, but that now seems unlikely.
Injuries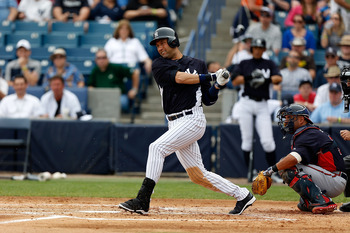 J. Meric/Getty Images
Needless to say, injuries have taken their toll on the aging Yankees this spring training.
Alex Rodriguez had hip surgery well before camp and will be out at least until the All-Star Break.
Phil Hughes has a bulging disc in his back, but he is progressing well and may still pitch shortly after Opening Day.
The major losses are Curtis Granderson and Mark Teixeira. Granderson's injury appears to be less severe; he broke his forearm on a hit by pitch, but once that heals he should be back and good to go.
But Teixeira's injury is chronic and could require surgery. He has a strained wrist, which does not require surgery, but if it tears it could require Tex could go under the knife and miss more time. The Yankees are hoping that four weeks of rest followed by four weeks of rehab will give his wrist enough time to heal and not risk tearing.
In positive injury news, both Derek Jeter and Mariano Rivera have returned from a fractured ankle and a torn ACL, respectively, and have played effectively in limited Grapefruit League action.
Over the next two and a half weeks, the Yankees are hoping for more content in the "Surprises" category and much less news to report under "Busts" and "Injuries." But that's why they play the games.
Keep Reading

New York Yankees: Like this team?