Serie A: 8 Best Unknowns Set for Transfers to Bigger Teams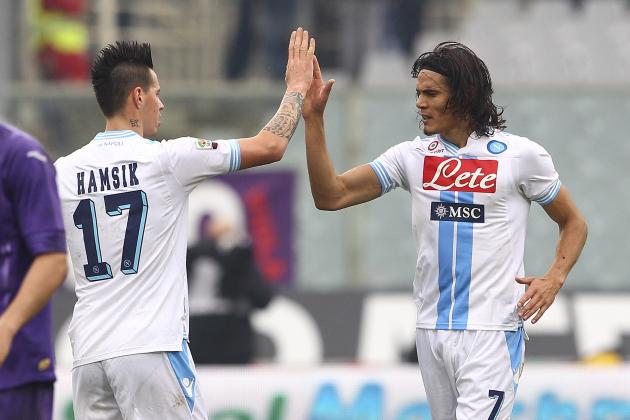 Marco Luzzani/Getty Images
Whilst Edinson Cavani garners the most interest, could his Napoli teammate Marek Hamsik also be heading for the exit?
Away from the pontiff elections in the nearby Vatican City, Serie A is producing the most tantalising title tussle of the European leagues, where even divine intervention could not render it more competitive.
The difference between teams—whether at the top, middle or bottom—can be so precious, that formerly little-known players can evolve into match-winning heroes.
Because this is Europe, those who do find themselves thrust into the ephemeral echelons of being quasi-messiahs will find themselves, just as rapidly, the victim of transfer speculation.
We are in the maelstrom of competitions where teams are constantly searching for their next competitive advantage. If a player hits form and produces eye-catching performances, the retinas of Europe's leading clubs will, indeed, be caught.
But with just over four months until the summer transfer window flings open, which lesser-known players can we expect to see on the move?
Begin Slideshow

»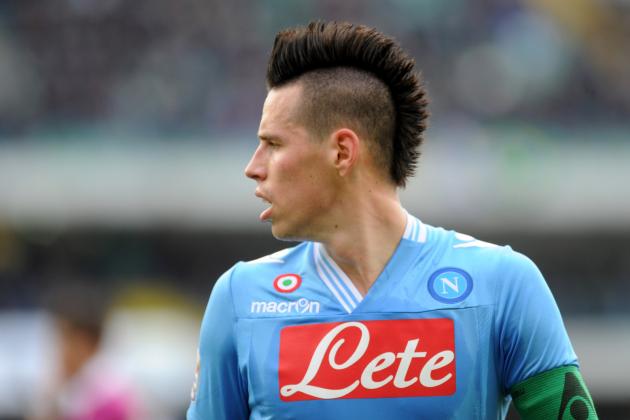 Dino Panato/Getty Images

Napoli, like their eccentric film-maker owner Aurelio De Laurentiis, are synonymous with drama, whether that be the Diego Maradona-led team who twice captured the title in the '80s or their flirtation with extinction after being declared bankrupt in 2004.
They are team who had, for so long, been in the doldrums of mediocrity. They were only promoted back to Italy's top flight in 2007-08 and yet here they are, in second place, and pushing leaders Juventus to the hilt.
Whilst that challenge may have subsided over recent weeks—last weekend's defeat to lowly Chievo came on the back of four successive draws—and the chasm may have extended to a potentially insurmountable nine points, Napoli players have played with gusto and heart.
Whilst it is Edinson Cavani who courts the most attention, with suitors in England, France and Spain, it is Marek Hamsik who may be leaving the Stadio San Paolo.
With his extravagant mohawk and distinct buck-toothed grin, the 25-year-old Slovakian formed a formidable trident last season with Cavani and the now-departed Ezequiel Lavezzi.
He has carried that blistering form over into this season. In addition to his nine goals, he also tops the assists with 11, many of which have aided Cavani's surge to top the goalscorer charts.
Napoli will demand top money for their principal playmaker. A return to the Champions League looks likely, so he shouldn't have to leave to find that. However, if Napoli's implosion continues, he may push through a move.
Chelsea have previously been linked with Hamsik, whilst Manchester City have announced that, after a summer clear-out, they will be in the market. Both would have to stump around €30 million for his services.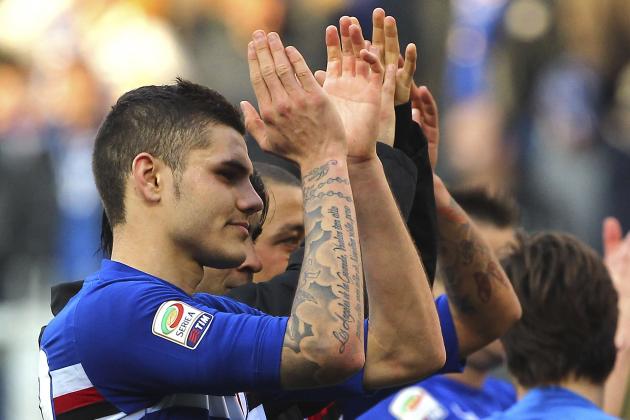 Marco Luzzani/Getty Images

Last season's Serie B champions have experienced a positive return to Italy's premier competition.
Sitting in 11th, they have a comfortable cushion of 11 points between themselves and the dreaded trapdoor. In addition, not even the most fickle of critic could blame for fans for looking towards European qualification, but the 12 points needed may prove beyond reach.
In amongst all this bonhomie though, one player stands out. At the age of just 20, Mauro Icardi, in his debut season in a top flight, finds himself nestled into the leading goalscorers chart.
His return of nine strikes may not have the likes of Edinson Cavani fretting about the accolade, but for a player who played just 79 minutes of football last season, it is an impressive haul.
The pinnacle of his season was, undoubtedly, January's game against Juventus. With the new year only six days old, nobody backed Sampdoria to get anything from their trip to the reigning champions. Nobody thought they would come away with anything.
Nobody thought a player would single-handedly make a name for himself.
And nobody would dare to think that this lad from Rosario would score both his team's goals as they overcame La Vecchia Signora to win 2-1.
Later that month, he bagged four goals against dropzone-dwellers Pescara in a 6-0 win. Whilst those two games equate two-thirds of his season total, the fact remains he is a predatory player with vast amounts of potential.
Teams further up the division may make tentative bids, but it is likely Sampdoria might, to aid his development, seek a dual-ownership deal, thus benefiting all parties concerned.
Claudio Villa/Getty Images

West Bromwich Albion fans may guffaw at this, but here is a classy midfielder who has been instrumental in Fiorentina's rise up the table.
After finishing 13th last season, the decision makers of La Viola took action. As well as inserting former Italy international Vincenzo Montella as coach, they also recruited goalkeeper Emiliano Viviano and a quartet of playmakers: Alberto Aquilani, David Pizzaro, Matias Fernandez and Borja Valero.
It is the latter who has particularly caught the eye. Whilst Stevan Jovetic's 12 goals have helped achieve noteworthy victories—namely the recent scalps of Lazio and Inter Milan—it is Valero who has ran the show in midfield.
Signed for €7 million from relegated Spanish outfit Villarreal, he has started every league game for Fiorentina so far this season. He is behind only Francesco Totti and Marek Hamsik in the assists table, as he consistently delivers displays which have contributed to La Viola gaining fourth spot.
If he were to move on—and bringing European football back to Stadio Artemi Franchi may assuage that fear of Fiorentina fans—potential destinations are mixed.
His solitary season in England for the Baggies wasn't disastrous, but he never fulfilled his potential. A return to Spain looks unlikely considering his previous, doomed experience at El Madrigal.
It could be Italian teams who come knocking. With no clear successor to the ageing Massimo Ambrosini, Valero could be a potential new recruit for AC Milan.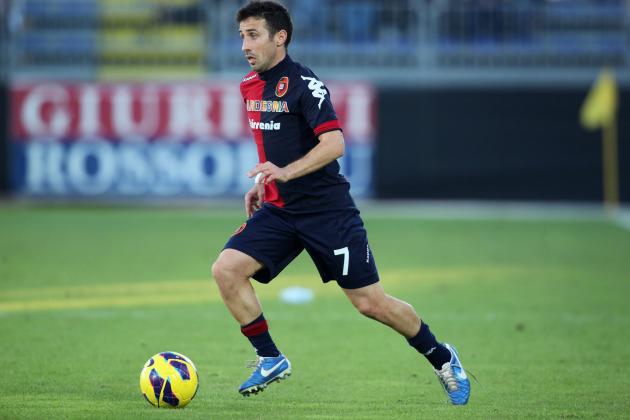 Enrico Locci/Getty Images

Things seem settled for Cagliari on Sardinia.
After finishing only three places above the relegation zone last year, they look to avert such a nervy crisis this season with ten points cushioning them in the heady heights of 13th.
And it is the seasoned midfield general Andrea Cossu who has helped deliver such stability. Signed for just €500,000 back in 2007, the diminutive attacking midfielder has accrued over a century of appearances.
With Cagliari suffering only two defeats out of their 10 games so far this year—a run which has included a 4-2 victory away to Roma—much has been owed to the form of Cossu.
Whilst he has yet to register a goal during this campaign, he has chipped in with seven assists.
His only black mark came during January's 2-1 loss to Lazio. Leading 1-0 courtesy of a Marco Sau goal, Lazio equalised with only 10 minutes of the game remaining. Taking a point of the team who were then in second place would have been some scalp.
But in the last five minutes, Cossu was shown red for a rash challenge and conceded a penalty kick which, ultimately, lost his team the game.
That aside, he has been a faithful servant to the Isolani. At 32, his options appear limited; he may choose to see out his career with Cagliari.
But if he were to reassess, a newly-relegated team in England may look favourably on his industrious work ethic and also his self-assured nature. He would also be available at a cut-price value due to his age and decreasing contract.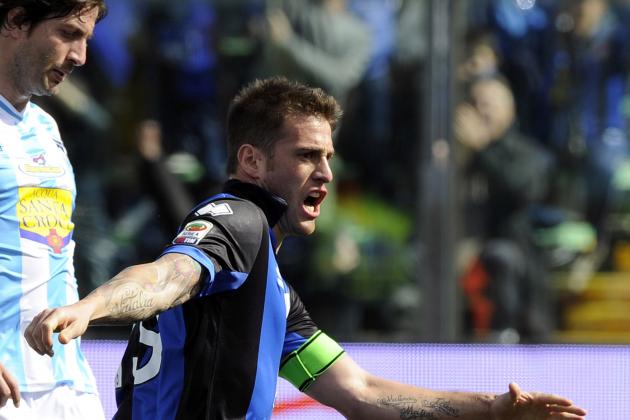 Claudio Villa/Getty Images

Serie A is a sanctuary for those from Argentina.
Inter Milan's evergreen Javier Zanetti is, at 39, now playing in his 18th season with a ferocity that does not show signs of abating. His teammate Esteban Cambiasso is a perennially consistent force. Rodrigo Palacio and Diego Milito are, despite the latter being injured, also enjoying fruitful spells with the Nerazzurri.
The former Inter stalwart Nicolas Burdisso was a constant starter at Roma until being relegated to the bench under former boss Zdenek Zeman. Lionel Scaloni, who racked up 200 appearances for Deportivo La Coruna, is still submitting solid performances for Atalanta.
And then there is German Denis. Whilst his name may not be as synonymous with the trophy-winning performances of his compatriots, here is a journeyman who has found a home alongside Scaloni at Atalanta.
Following a successful loan spell last season—when he scored 16 goals in 33 appearances—his switch from Udinese was made permanent. He has resumed that rich vein of form this season: From 27 starts, he has bagged 11 goals.
With five caps to his name, he does have international pedigree. But at 31, the list of potential suitors is diminishing. With Atalanta in 14th—seemingly safe from relegation—he appears to thrive in ascertaining a mid-table finish.
Having played for 10 different clubs, he is a nomadic individual. His rugged and determined approach could make him a shrewd signing for a team who play with the physicality of Stoke City or West Ham.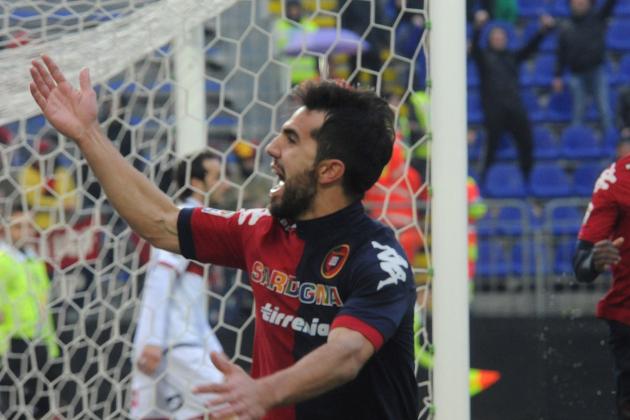 Enrico Locci/Getty Images

If the inclusion of Andrea Cossu on this list was indicative of the stability currently encapsulating Cagliari, the fact they boast a player who has scored more league goals than Mirsolav Klose and Francesco Totti is testament to their current euphoric mood.
With 11 strikes from his 19 starts, Marco Sau is the current owner of a very reputable games-to-goal ratio. At 25, he is entering his pomp.
But this is no random foray into form: After various loan spells in the lower divisions, last season had Cagliari fans excited about this left-footed striker. At Juve Stabia, he bagged 21 goals in 36 appearances, displaying signs that he was ready for the top flight.
He has produced the goods when needed. Last month, he got both goals as Cagliari beat lowly Pescara 2-0, in a game which had potential for an upset.
Prior to that, there was his goal in the Stadio Olimpico as Roma were outmaneuvered 4-2.
And then there was his brace in the San Siro against Inter which would have delivered a gargantuan 2-1 win, save Davide Astori's late own goal.
Because of his relatively young age, he still has a lot of maturing to do. But his slight frame coupled with his zippy pace make him an attractive proposition to a number of clubs.
Those goals in the big stage will have alerted the teams who he obstructed. And with the average age of Inter Milan's squad over 30, he may appeal to the San Siro faithful.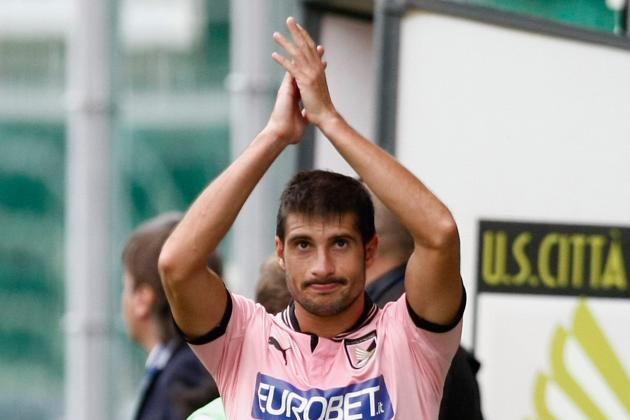 Maurizio Lagana/Getty Images

This season represents a disappointment for Palermo. The team from Sicily has, at times, played with the urgency of a headless horse: Last weekend's 2-1 home defeat to fellow strugglers Siena, who used the victory to spring towards safety, was the nadir.
The startling fact is that the last time they won was back in November when "Gangnam Style" was still plaguing the world. Of the 15 games since, they have lost eight and drawn seven.
Seven points from a possible 45. It is only because the teams around them have played equally bad that they have not already been consigned to the drop.
Having changed manager six times, four different coaches have been at the helm: The recently-departed Gian Piero Gasperini had the dubious honour of being sacked twice, whilst the newly-installed Giuseppe Sannino, in his second stint, may still befall the same feat.
In amongst this dark uncertainty, the crowning moment came when the one bright spark was diffused. Before being taken on loan by Atalanta in January, Franco Brienza played with intent.
Back in the autumn, Palermo did not resemble a team in disarray. They managed to take valuable points from Siena and Torino, they beat Sampdoria 2-0 and, in a rare moment worth celebrating, they drew with AC Milan 2-2.
All good results, but the Milan coup represents the biggest scalp, especially because just after half-time, they were 2-0 up. Brienza bagged the second and, in an assured performance, should have added to his tally.
The full details of his loan move are not known, but if Atalanta do not make the move permanent, Brienza is a player who, as his two international caps will attest, has the quality to play in the top flight.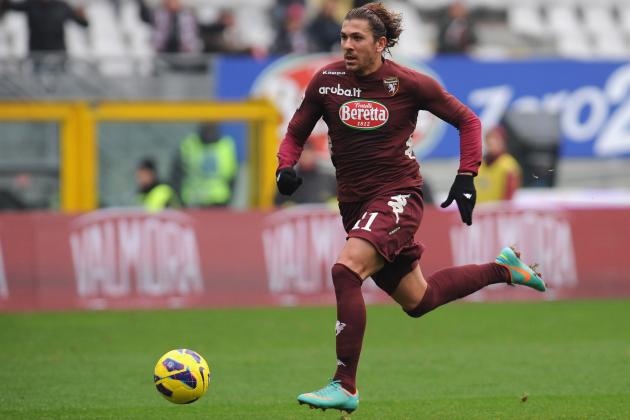 Valerio Pennicino/Getty Images

Because of the dynamic nature of the Italian transfer market, players can find themselves out on loan, co-owned or straight-up shipped out each season.
Alessio Cerci is a great example of how flexible players have to be. At 25, he has already played for six different clubs.
Starting out with Roma, a team he supported as a boy, he drew comparisons with Thierry Henry: flamboyant in attack, graceful on the ball but, above all else, clinical. He was a vital component of the youth team who won the 2004-05 Campionato Primavera.
But things never worked out at the Stadio Olimpico. In between various loan moves—including a frustrating spell on the sidelines at Atalanta in 2008-09—he managed only 13 appearances for Giallorossi and no goals.
After having a bid of €4 million accepted for the then-23-year-old in 2010, Fiorentina looked like a good fit for Cerci: Competing in Europe, he would be playing alongside similarly prodigious players such as Stevan Jovetic and Adem Ljajic.
And his two seasons there were beneficial. He made over 20 appearances both seasons and waded in with 12 goals over the two years.
But now the robust left-footed winger is at Torino, a team where he has flourished. Having started 25 of their 28 games, he is getting the consistent run in the team that his talent requires.
He also contributed five goals and six assists to a team who are, in 15th place, only eight points off the dropzone.
Alessio Cerci has probably had enough of moving around. Capped at every level from U-16 other than at senior level, he will harbor ambition to represent the Azzurri. He will attract attention though: He has potential, he has talent and he would be a good fit for teams looking for youthful rejuvenation (step up Inter Milan and Juventus).