Washington Nationals: Why They Will Repeat as NL East Champs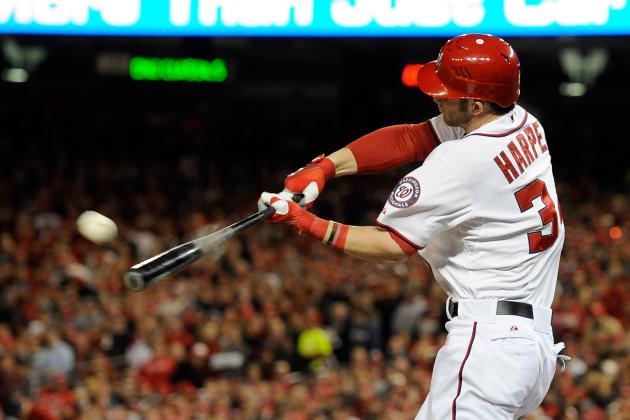 Patrick McDermott/Getty Images
For Bryce Harper and the Nationals, the future is now.
A year after the Washington Nationals had a major league best 98 wins, they've only gotten better.
There wasn't much reconstruction needed, so the Nationals tweaked the roster a little bit and added the pieces that make them NL East favorites.
A young team from top to bottom, expectations are sky high.
The division, however, is going to be extremely competitive. The Atlanta Braves have improved this offseason, and the Philadelphia Phillies have gotten healthy.
After being upset in Game 5 of the NLDS by the St. Louis Cardinals, the Nationals are hungry.
They have the makeup of a winning team. From pitching to offense, there aren't many holes.
Building on the successes of last season, here's why the Nats will repeat as NL East champions.
Begin Slideshow

»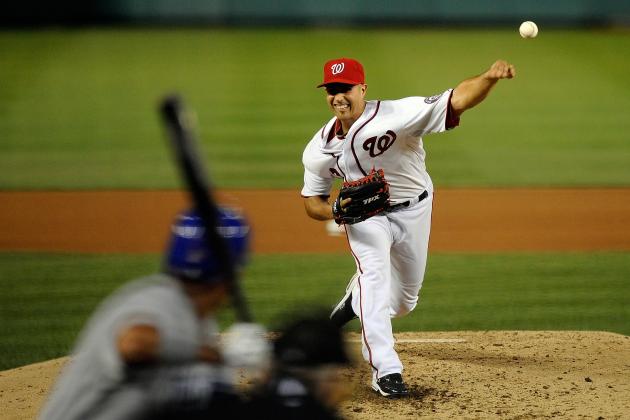 Patrick McDermott/Getty Images
Gio Gonzalez will be a major force in the rotation.
The Nationals rotation is arguably the best in baseball. There is a nice mixture of left-handed and right-handed, with two quality lefty starters.
Led by emerging superstar and staff ace, Stephen Strasburg, this pitching staff is a major strong point for Washington.
The departed Edwin Jackson was replaced with Dan Haren, and the rest of the 2012 rotation returns to the league's best team from a year ago.
Left-hander Gio Gonzalez finished third in the 2012 Cy Young voting, compiling a 21-8 record with 207 strikeouts and an outstanding 2.89 ERA. He threw two complete games and held opponents to a .206 batting average.
Jordan Zimmermann is a potential ace and is slated into the third spot in the rotation. He had an above average year in 2012 with a 12-8 record and 2.94 ERA. Not the dominating pitcher that Strasburg or Gonzalez is, Zimmermann has been quietly effective.
Ross Detwiler developed into a solid starting pitcher last season, throwing some quality innings in a spot that was supposed to just bridge the gap back to Strasburg. He will be looked at to give the Nationals similar numbers to last season, a 3.40 ERA in 164.1 innings. Holding his opponents to a career-low .241 average makes him a quality back-end of the rotation starter.
Bringing in Haren gives the Nationals some much needed depth and experience in the starting rotation. While he had a down year last season, posting a 4.33 ERA, he has always been a front-end of the rotation starter. A change of scenery, a change of leagues and a new spot in the rotation will enable Haren to go back to the success of 2011. In that year he was 16-10, threw a career high four complete games and had a 3.17 ERA.
A deep rotation, pitchers are the backbone of any team. You're only as good as your pitching, and this Nationals team certainly has developed a strong pitching staff.
A rotation with Strasburg and Gonzalez at the helm is one that's bound for glory.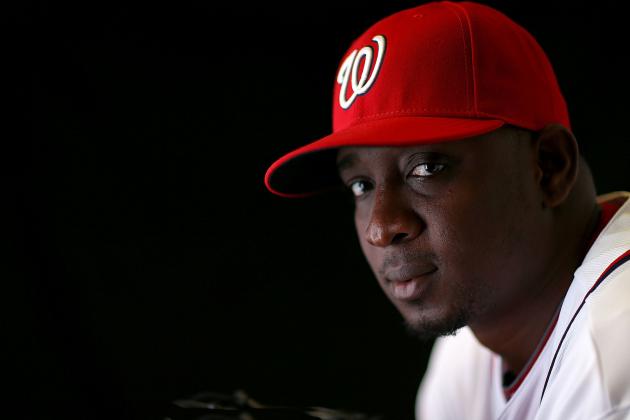 Mike Ehrmann/Getty Images
Soriano will lead the bullpen in Washington.
The Nationals also have arguably the best bullpen in the major leagues.
There are four guys in the bullpen who can close a game. Adding Rafael Soriano only strengthens the late inning relievers Davey Johnson's team has.
Soriano saved 42 games for the New York Yankees in 2012 and will start the season as a closer.
That means that Drew Storen, who saved 43 games in 2011, is being demoted to setup man. The change won't affect Storen. Anything to make the team better. Storen told Jayson Stark of ESPN.com,
Regardless of what happens outside of me, the things I can't control, it doesn't change my job. It doesn't change my job if I'm pitching in a different inning. I still have to get guys out. I still have to throw the right pitch in the right spot. … And a ring means more than anything.
Tyler Clippard and Craig Stammen both have experience pitching under pressure. With Storen injured last season, Clippard saved 32 games for Washington. Stammen, meanwhile, saw a record of 6-1, striking out 87 in 88.1 innings.
Despite just one lefty in the bullpen, Zach Duke, there are a lot of power pitchers who have pitched in crucial situations. With the options right now, the Nats don't need to add a lefty specialist. The right-handers have shown they can get anybody out.
Experience is always critical in baseball, especially concerning the bullpen. In case of injury, there are viable candidates throughout the roster who can come in and do their job: Get hitters out.
Soriano and the bullpen will propel this team to wins and ensure another playoff series for Washington.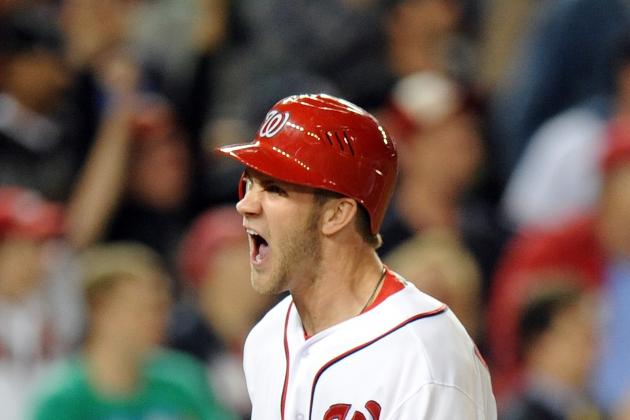 Greg Fiume/Getty Images
Bryce Harper is ready to build on his impressive rookie season.
A year ago, Bryce Harper was a 19-year-old top prospect who wasn't expected to be ready for the major leagues.
In late April, due to an injury to Ryan Zimmerman, Harper was called up to join the club.
He played in 139 games last season and was a big reason for the Nationals' success. He hit .270 with 22 homers, setting the National League record for home runs by a teenager.
His energy sparked the team. He stole home against the Phillies, stretched ground ball singles into doubles and went all out on defense. Just the type of player he was selected first overall for.
A year of experience will only benefit Harper heading into the 2013 season. He went through stretches of bad slumps, but at 19 years old, he was playing exceptionally well.
Seeing what Angels outfielder Mike Trout was able to do in his 20-year-old season, Harper will have some extra motivation to try and match those numbers himself.
Still needing some improvement and adjusting to a new position—left field—Harper has been on a tear so far this spring. He's hitting .438 with two doubles, two home runs and a two-run triple.
All signs point to a budding superstar. He is poised for a big year and will carry this team to a division title with an MVP-caliber performance.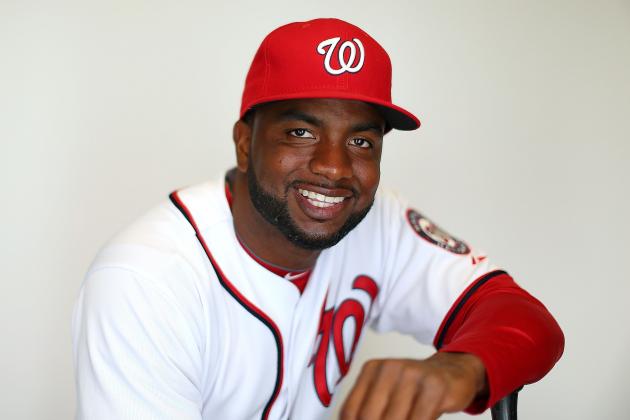 Mike Ehrmann/Getty Images
Denard Span brings speed to the Nationals.
The acquisition of center fielder Denard Span gives the Nats a solidified leadoff hitter that can steal 20-plus bases. He also has above-average range, recording an 8.5 Ultimate Zone Rating (UZR) last season.
The speed at the top of the lineup is a key addition to this team. Span has valued experience manning center field while with the Minnesota Twins. This will prove to help Bryce Harper become more comfortable in left field, knowing Span has the range to get to the balls he can't.
Back to speed, Ian Desmond stole 21 bases and Danny Espinosa swiped 20 last year. If these stats can be duplicated and Span and Harper chip in their own stolen bases, we could see a 150 stolen base season from this team. As a team, they stole 105 in 2012.
Something that often goes overlooked is the hustle this team has shown. Whether it's laying out for a fly ball, diving for a ground ball in the hole, or stretching for extra bases out of the box, this entire roster hustles.
They feed off of Harper. He has brought back the old-school style of baseball, busting it out of the box and playing the game with great energy.
The combination of both speed and hustle can be lethal for any opponent. Nothing will come easy when a team shows hustle. A routine ground ball could be forced into errors through hustle.
A bunch of gritty players, the Nationals' speed and hustle can match up with any team in the majors. That could end up being the difference maker in a loaded NL East.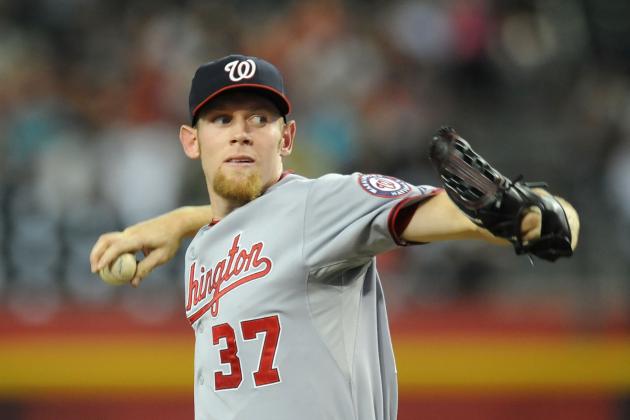 Norm Hall/Getty Images
Strasburg faces some high expectations in 2013.
Stephen Strasburg was pitching Cy Young-worthy last season, but an innings limit ended his campaign early.
A power pitcher, Strasburg recorded 197 strikeouts in 159.1 innings on his way to a 15-6 record.
Because the team failed to make it out of the divisional round of the playoffs, Strasburg is left thinking about what could have been if he was pitching the entire season.
His dynamic fastball is almost un-hittable and his curveball has been filthy this spring. Still, he faces the challenge of being that innings eater. He set a career high for innings pitched last season.
Strasburg spoke to Paul White of USAToday.com on being able to throw 200 innings,
It's going to be a test. I think I'm really ready for it. I've trained really hard this offseason. Hopefully, answer the bell and throw 200-plus innings and be a guy in the rotation who can be reliable and go hopefully seven, eight, nine innings this year every time out.
Strasburg faces some lofty expectations, projected by Bill James to strikeout 255 batters. That could be a stretch, but Strasburg still has something to prove.
He will come out eager to show manager Davey Johnson why it was a mistake to shut him down last season. There will be no innings limit this year, and with his variety of pitches, Strasburg will be in the running for the Cy Young award in 2013.
He plays a crucial role to the success of this team.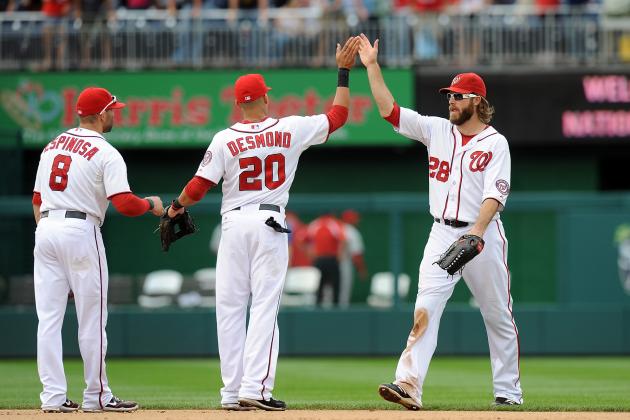 Greg Fiume/Getty Images
The Nationals still have work left to be done in 2013.
Last season, the high playoff hopes were destroyed in the ALDS. One of the most impressive seasons by any team, winning 18 more games in 2012 than in 2011, it ended sooner than the Nationals would have liked.
This team could end up being reminiscent of the 1995 Yankees. Though that Yankee team reached the playoffs as a wild card, they too were eliminated in five games of the division series. They had a new closer, a young superstar and won the World Series in 1996.
There is a lot of competition and it's far too early to be thinking World Series. However, putting it all together again will result in the Nationals' second division title in as many years.
Pitcher Craig Stammen told Bill Ladson of MLB.com,
I think we are all very positive about how last season went. Hopefully, we can continue that into this season. We're going for the World Series. That's what every team should go for, and we are excited for that challenge.
There is unfinished business for this team. They are still tasting the remnants of the Game 5 loss, and are eager to get the season going and start their quest to the World Series.
They weren't expected to do much last season and shocked the world. Now, with the quality of players GM Mike Rizzo has put together, we'll see how the players respond to the recognition they are receiving.
The hunger and determination will be on full display as the Nationals will win their second straight division title.
There's not many question marks on this team and a ton of talent.