Indiana Basketball: 4 Games That Showcased Hoosiers' Biggest March Weaknesses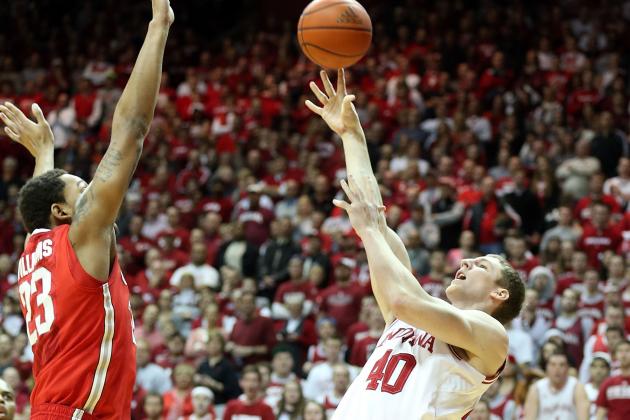 Andy Lyons/Getty Images

Every team has flaws. This season, there's been no escaping that fact as every No. 1 has abdicated the throne in short order, often with a head-scratching loss.
Indiana spent more time atop the polls than anyone, but even the Hoosiers had nights where they looked very mortal. Matchups are the key to success in the NCAA tournament, and certain matchups simply didn't work out for IU this season.
On these four nights (because five is such a cliche), some facet of IU's game worked against it, and future opponents would do well to take notice.
We'll also point out some potential NCAA opponents who could be equipped to exploit these issues.
Begin Slideshow

»
Andy Lyons/Getty Images

Early in the season, the expectation for Butler was that it would ride gunners Rotnei Clarke and Kellen Dunham, simply carpet-bombing opponents into submission from beyond the arc. Indiana seemed to have gotten that memo and fought to guard the three-point line at all costs.
It didn't work.
Not only did Indiana allow the Bulldogs to drain 11 of 24 from deep, but Butler was also allowed free rein to pillage the low post. IU allowed 42 points in the paint, still a season high.
Even when low-post threat Andrew Smith and slasher Roosevelt Jones were disqualified early in overtime, the Hoosiers were slow to adjust back outside. Back-to-back bombs from Clarke and Chase Stigall gave Butler the lead and forced IU to play from behind in the waning minutes.
Teams who can exploit this balance after the Hoosiers have had four months to improve it are few and far between. The opponents will need at least a pair of fearsome outside shooters and a slasher who can make the defense pay for running out to guard against the jumper. A skilled big man would come in handy as well.
The likes of Gonzaga and Duke may fit the bill, but Indiana's not likely to encounter either until the Final Four.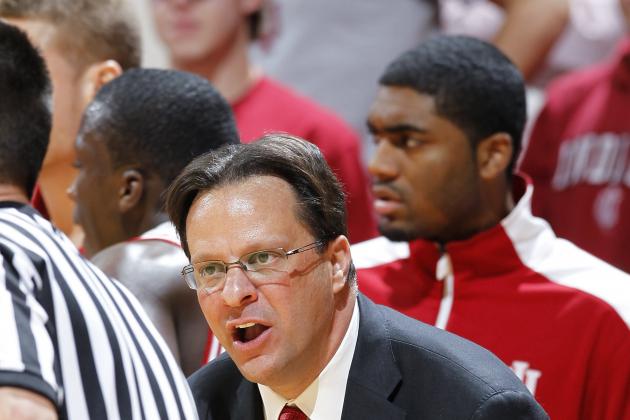 Joe Robbins/Getty Images

If IU coach Tom Crean looks cranky here, it's because his entire bench scored only two more points than he did when Wisconsin came to Bloomington.
The prior game featured Minnesota making a late rally from a 23-point deficit, only to fall just short. The IU bench didn't help much then, either, accounting for only three points. The two-point night from the Hoosiers' non-starters against Wisconsin made it a trend.
Freshman Jeremy Hollowell scored the only basket, as sixth man Will Sheehey was in the midst of a brutal 4-of-18 shooting stretch spanning four games.
IU's bench only outscored opposing non-starters in nine of 18 Big Ten games. In six of those, Sheehey accounted for at least half of the points. Only the first meeting against Michigan State and the finale at Michigan were against likely NCAA tournament teams.
Another slump from Sheehey may prove fatal if stars like Cody Zeller or Victor Oladipo run into foul trouble. Hollowell's continued growth will be highly important as well.
To force IU to delve into its bench, opponents will need to be adept at drawing fouls. Potential tournament teams like Saint Louis, Tennessee and Indiana hero Steve Alford's New Mexico Lobos have proven capable of putting opponents in such difficulty.
Points off of turnovers had become worrisome before the Hoosiers pulled into Champaign. They had surrendered 46 in recent home games against Michigan State and Michigan. Surely, though, the reeling Illinois Fighting Illini, losers of eight of 11, would provide a relaxing, easy win.
When 14 turnovers turn into 28 points, though, very little about a game ends up relaxing, especially when it's a loss off of a wide-open last-second layup (seen here, in case you were trying to forget it).
Illinois converted only eight second-half turnovers into 18 points, an obscene 2.25 points per possession. Three-point shooting was only one part of the Illini rally, as they made only five of 13 from behind the arc in the second half. Only two IU errors were converted into Illinois threes.
Still, the Illini have athletes and shooters who can force those mistakes and exploit them. Teams like VCU, Louisville or Belmont could prove difficult if IU isn't focused from the jump on moving the ball safely.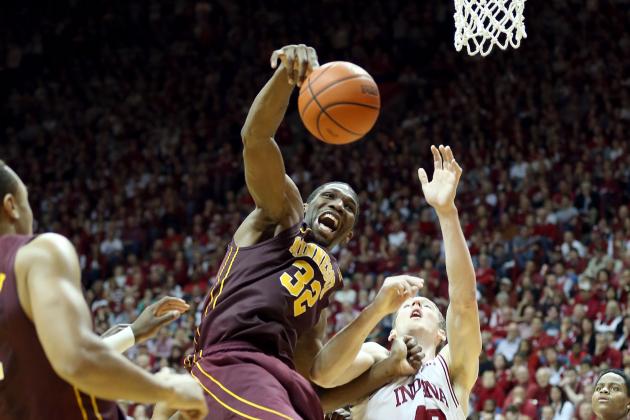 Andy Lyons/Getty Images

Apparently, Tom Crean ordered all Getty photos from February 26 deleted, because we have none in the database. Still, either of the Minnesota games qualify as troubling.
The Hoosiers have been held below 60 percent on the defensive glass four times this season. One was the Butler game, in which we did not mention that the Bulldogs ripped almost 49 percent of their own misses.
Two of the other three were against Minnesota, with the nadir coming in Minneapolis. The Gophers tore 53.5 percent of their misses out of Hoosier hands, extending more than enough possessions to put IU away.
For the season, IU carries a 68.7 percent defensive rebounding rate, ranking a surprising ninth in the Big Ten. In conference play, only Nebraska and Northwestern were beaten more soundly to offensive rebounds.
Teams like Colorado State, Pittsburgh, Missouri and Wichita State have crushed the offensive glass this season. The Hoosiers won't dominate through sheer size, so it'll take a supreme effort to outwork those teams.
For more from Scott on college basketball, including this week's players to watch at every conference tournament, check out The Back Iron.