UFC 158: Chris Camozzi vs. Nick Ring Head-to-Toe Breakdown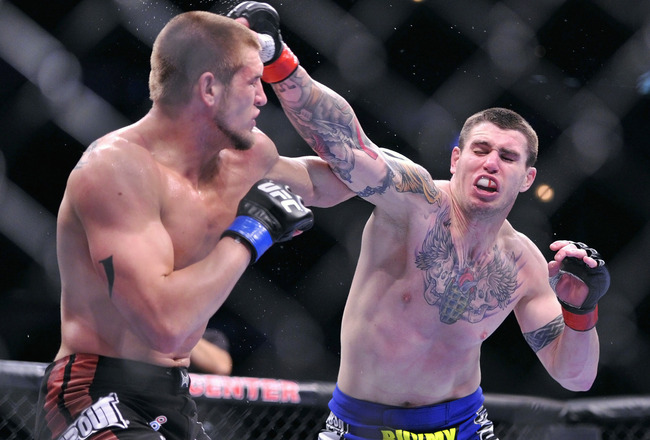 Mike Dinovo-USA TODAY Sports
UFC 158 takes place this weekend in Montreal. It will host the welterweight championship fight between Georges St-Pierre and Nick Diaz. It is a bout that is attracting lots of media and fanfare.
Meanwhile, the middleweight scrap between Nick Ring and Chris Camozzi has flown under the radar. Both men are The Ultimate Fighter 11 alums who were forced off the show with injuries (Ring with a knee injury, Camozzi with a broken jaw).
Here is a head-to-toe breakdown of their impending 185-pound scrap.
Striking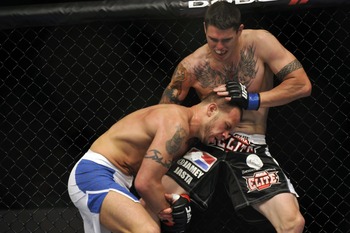 Joe Camporeale-USA TODAY Sports
The strengths of both men lie in their ability to bang it out on the feet.
Camozzi uses a Muay Thai style that utilizes the eight points well. He only owns five knockouts to his name, but he is more of a technical, "pick-you-apart" striker than a power puncher.
Of course, his latest TKO victory came as a result of a doctor stoppage against Nick Catone. He used brutal knees and strikes to open up Catone after picking him apart for 10-plus minutes.
Ring, on the other hand, uses more of a boxing style. Like Camozzi, he is not a powerful knockout guy, but more of a technical striker.
He only has two knockouts to his name, though. Ring looked underwhelming against Court McGee in a recent outing, who is not really known for his striking.
Therefore, the American owns the edge.
Edge: Camozzi
Wrestling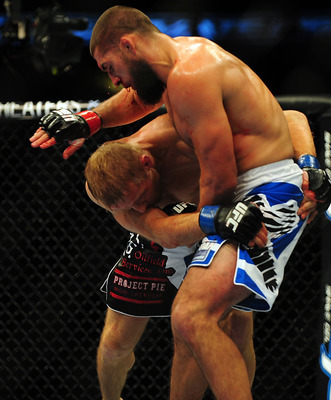 Anne-Marie Sorvin-USA TODAY Sports
Neither man is a wrestler by trade. In fact, wrestling is rarely utilized by either.
Camozzi is definitely a better counterwrestler than an offensive takedown artist. His fight against Catone showed his improvement in that aspect, as he thwarted multiple takedown attempts to batter the seasoned wrestler.
Ring has decent offensive wrestling skills, but showed holes in his takedown defense in fights against Tim Boetsch and Riki Fukuda.
Neither man really has a huge advantage here, so we will call it a draw.
Edge: Push
Submission/Grappling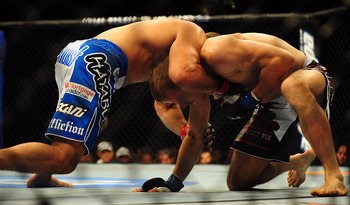 Anne-Marie Sorvin-USA TODAY Sports
While both men are strikers, both Ring and Camozzi have shown some competence on the mat.
Camozzi owns six wins via submission, including a UFC tapout of Dustin Jacoby via guillotine choke. His biggest grappling miscue came in a short affair with Kyle Noke, in which the Australian completely embarrassed him on the ground.
Ring owns six submission wins in his career as well. His most recent was a rear-naked choke of James Head, which he completed in impressive fashion.
The fact Camozzi has suffered three defeats by tapout and Ring has none gives the Canadian the slight edge.
Edge: Ring
Prediction
Mike Dinovo-USA TODAY Sports
Expect the fight between Camozzi and Ring to be a tactical, technical battle.
Both men will move forward with caution from the outset, afraid to commit too much. As the fight goes on, though, both men will begin opening up with their strikes.
This fight has the potential to be one of the most exciting of the night. If they unleash and trade on the feet, it could lead to a great finish or a fight that goes to decision. Either way, it will leave fans satisfied.
I think Camozzi will get the slight edge here, as I think his counterwrestling and striking combo will be enough to beat Ring. It will be an interesting affair, so keep your eye on this under-the-radar bout come Saturday night.
Prediction: Camozzi def. Ring via decision
Keep Reading