5 New Jersey Devils Who Need to Step Up for the Second Half of the Season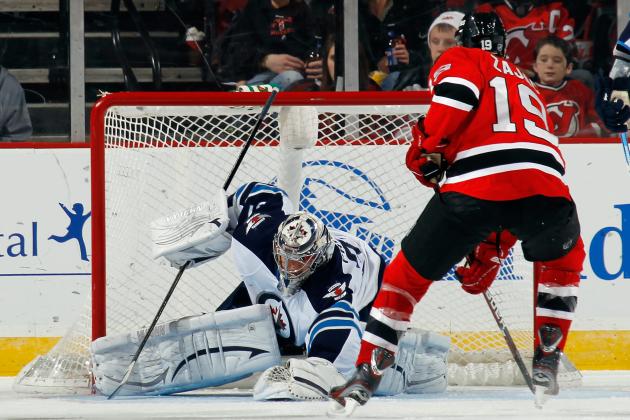 Bruce Bennett/Getty Images

The New Jersey Devils are sitting atop a slippery slope.
After a strong start to the season, the Devils began to slide in the standings. While they are 3-6-1 in their last ten games, two of those wins have come in the last three games, and it seems the team may be finally be emerging from their slump.
Now, 26 games into the lockout-shortened 48-game season, the Devils sit in seventh place in the conference with 29 points. They have just one point on the eighth-place Rangers and are only three points away from missing the playoffs entirely.
The pressure is on and it's time for the Devils to wake up. Some players have performed admirably, but many have not. There is room for improvement in every facet of the organization.
Begin Slideshow

»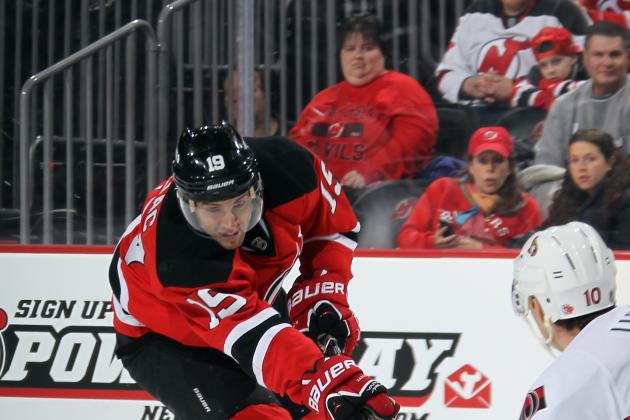 Bruce Bennett/Getty Images

Simply put, Travis Zajac has been a disappointment.
After signing a relatively monstrous eight-year contract worth $46 million during the offseason, expectations were understandably high for the top-line center. Unfortunately, he has not yet risen to the occasion.
In 26 games, Zajac has just four goals and four assists and a minus-two rating, Those low numbers come despite playing more than 20 minutes per game, the second-most of any Devils forward, a distant second at five minutes behind Ilya Kovalchuk.
Zajac is the Devils' best faceoff man and he's been consistent in that this season. His 56.5 win percentage is by far the best on the Devils. But that alone does not justify his contract and he'll have to play substantially better if he wants to actually earn his pay.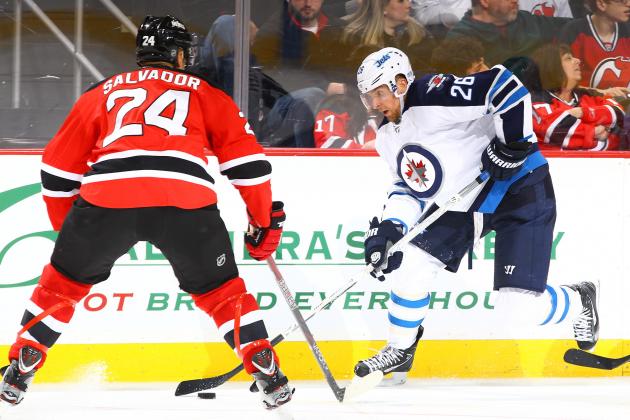 Al Bello/Getty Images

Bryce Salvador was named the Devils' captain once Zach Parise took his talents to Minnesota.
As a primarily stay-at-home defender, Sal has never put up astounding numbers. But after leading the team both offensively and defensively in last year's playoffs (4 goals, 10 assists, plus-9 in 24 games), he was a prime candidate to be the emotional leader of the team.
Sadly, Salvador has been extremely underwhelming this season. In 25 games, he has just one assist and a minus-five rating. His 16 giveaways are tied for most on the team by a defenseman, His shot-blocking is tops on the team, but he's just eighth in hits.
At this point, it's difficult to see what Salvador brings to the team. He has played the minutes of a top-line d-man, but has been only decent (and sometimes a liability) on defense. Add on the fact that he's bringing nothing to the table in the attacking zone, and one has to wonder if he should even be dressed every game.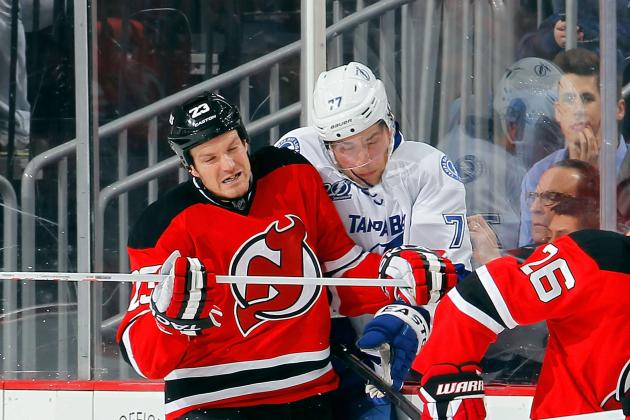 Jim McIsaac/Getty Images

David Clarkson started out the season on a blistering pace. In his first 14 games, he scored 10 goals and added 6 helpers. A focal point of the Devils offense, he was near the league lead for goals, and a focal point of the Devils offense.
Fast forward ten games, and Clarkson has done nothing. He has no goals, two assists and a minus-six rating in that time. His last goal came on February 15.
It's no coincidence that Clarkson's slump has lined up with the Devils'. Clarkson was stepping up and doing his part to fill the gap in the roster left by Parise, and the team was reaping the rewards.
Now, though, Clarkson is beginning to look more like he did years ago, playing hard, physical hockey, but not getting much to show for it in terms of goals. It is crucial to the Devils' success that Clarkson reawaken and find his scoring touch again.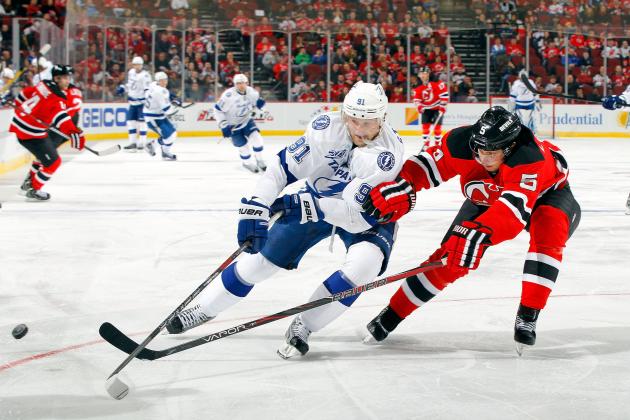 Jim McIsaac/Getty Images

Adam Larsson was the Devils 2011 first-round draft pick. He played much of last season and put together impressive numbers for an 19-year-old, with two goals and 16 assists in 65 games.
As a fourth-overall pick, there was an expectation of greatness from Larsson and, though he's still quite young and inexperience, fans hoped to see a little more than they have so far.
It's not that Larsson has been particularly bad—he's just been mediocre; bad relative to the the expectation placed on him. In 20 games, he's contributed just four assists and a plus-two rating in more than 18 minutes per game.
Meanwhile on defense, the young Swede is fifth among the Devils' defenders in blocked shots and fourth in hits. His 16 giveaways tie him with Salvador for most among d-men.
Expectations for Larsson have to be tempered, but he should be producing more than he has. The sophomore is going to need to step up into a greater role on both ends of the ice if he wants to help his team succeed.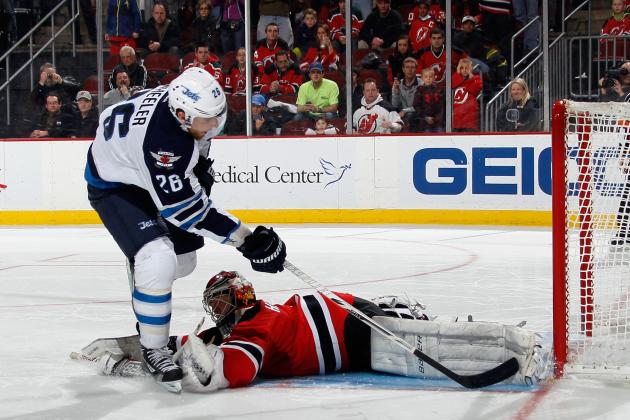 Bruce Bennett/Getty Images

Martin Brodeur and Johan Hedberg were both free agents this past postseason, and both re-signed with the Devils. The tandem have 79 years between them, but they also proved a winning combination on the road to Stanley Cup finals last season.
Earlier this season, Brodeur had to remove himself from the lineup due to back pain, and he has not yet returned to play. While Hedberg seemed a suitable fill-in while Marty rested up, he's played dreadfully the past few weeks.
Hedberg has started 13 games and has just a 4-7-2 record to show for it. His 2.97 goals-against average is too high, but it's nothing compared to his dreadful .879 save-percentage.
It may sound harsh, but Moose was a big part of the Devils losing streak. On multiple occasions he got the Devils behind by multiple goals before the team even had a chance to strike. He also allowed the first goal for nine straight games.
Hedberg may have turned his play around: he looked sharp in the Devils' last game against the Winnipeg Jets, with his glove being particularly fast. He also made three quality saves in the shootout that ended the game.
The Devils need Hedberg to play better. Perhaps they've been spoiled by Brodeur over the years, but the team is obviously not comfortable winning all-out, high scoring games.
They'll need their goalie to act less like a sieve if they want to remain in a playoff position.