Schalke vs. Galatasaray: 5 Things We Learned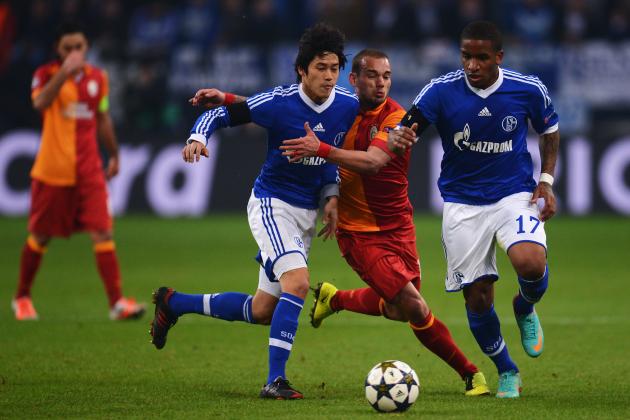 Lars Baron/Getty Images

Galatasaray edged Schalke 3-2 in Gelsenkirchen on Tuesday, sealing progression to the Champions League quarterfinals following a 4-3 aggregate win.
The match was close from start to finish, and the tie could have swung in either direction until the closing moments. Roman Neustadter opened the scoring for S04 in the 17th minute, but Hamit Altintop and Burak Yilmaz fired Gala into the lead before half-time.
Needing two goals to progress, the hosts battled valiantly in the second half. They drew level through Michel Bastos on 63 minutes but were unable to get a decisive third goal as Gala dug deep and absorbed the increasing pressure. With seconds left in injury time, Umut Bulut finished off a counterattack, sealing the result of the match and tie in favor of the Turks.
Tuesday's match was thoroughly exciting and offered a great look into the character of both teams. There are plenty of take-home messages from the fixture and tie overall. Click "Begin Slideshow" for a rundown of the most important talking points.
Begin Slideshow

»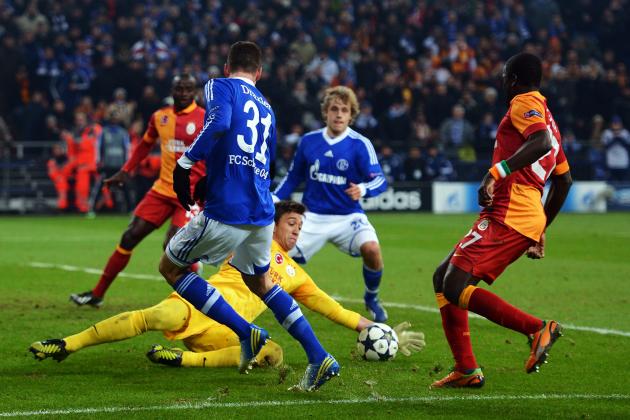 Lars Baron/Getty Images

Given that he played regularly in Schalke's run to the Champions League semifinals two seasons ago, it can be hard to imagine that Julian Draxler is still only 19 years old. The attacker is still refining his game and may not fully mature for another four or five years.
At present, Draxler is already showing signs of brilliance. He's been in scintillating form in the Bundesliga and has seamlessly moved into the playmaker role since the departure of Lewis Holtby in January.
On Tuesday, Draxler showed how far he has come in recent weeks. On the hour mark he rode a challenge from Hamit Altintop, then dribbled around two defenders before firing narrowly wide from the edge of the box. Later, he outran and outmuscled center-back Semih Kaya, dribbling into the box before his cross was collected.
There were many other moments of quality, but these in particular go to show how Draxler has grown in confidence and physically matured. He took a lot of responsibility on his shoulders on Tuesday and showed some real signs of potential. At this rate, he'll be a top, top player in one or two years' time.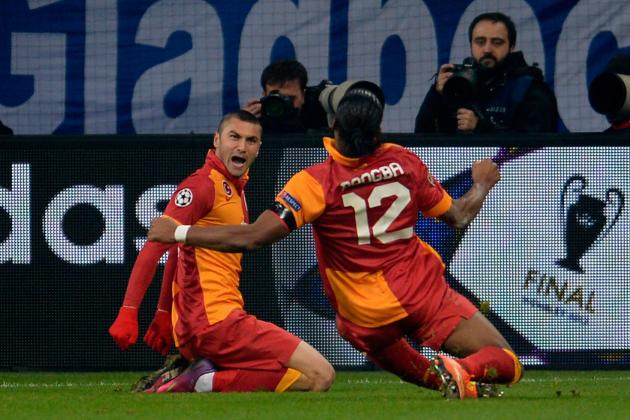 Dennis Grombkowski/Getty Images

Many who have watched Burak Yilmaz this season will be wondering where he's been all his career. The forward, who will be 28 in July, had before this season scored just one goal in 25 appearances in European club competitions. This season, he's scored eight in as many Champions League matches, making him the tournament's joint-top scorer alongside Cristiano Ronaldo.
Burak was lethal in both legs of the Schalke tie, scoring with top-drawer finishes in each game. On Tuesday, he repeatedly was able to peel away from the opposing center-backs; his movement was exquisite. And his desire to score was simply unparalleled.
Looking around teams in this season's Champions League, it's hard to find a striker who compares to Burak. There are many of high class, but none has produced as the Turkey international has, and for now he looks just as sharp as any. He was excellent in the group stage, but his performance against Schalke has affirmed his quality. Hats off for a brilliant campaign.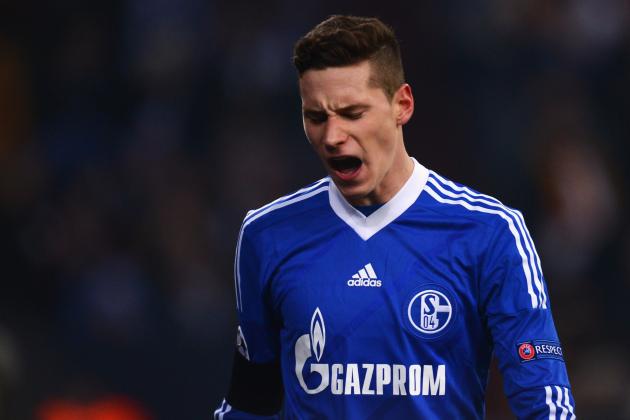 Lars Baron/Getty Images

Over the course of the two legs, very little separated Schalke and Galatasaray. An aggregate draw would have been fair, but football is rarely fair: The victors are always the more ruthless.
The Germans will be haunted by the prospect of what could have been. They played very good football for much of the tie and absolutely would have deserved a winner when the score was 2-2. Had Klaas-Jan Huntelaar not been injured over the weekend, they probably would have won. Even the presence of Kyriakos Papadopoulos (injured) or Jermaine Jones (suspended) may have made the difference.
While it may well be true that a full squad would have put Schalke through to the quarterfinals, injuries and suspension are not the only reasons for their exit. Defensively, they were a disaster.
Burak's goal in the first leg came directly from a mistake from Benedikt Howedes. The center-back didn't exactly cover himself in glory when defending against Burak's goal in the second leg, nor did goalkeeper Timo Hildebrand. And although Hamit Altintop's leveler on Tuesday did come from a staggering 30 yards, questions must nonetheless be asked of the Schalke defense: Not one player made even the slightest move to put the midfielder under pressure.
Schalke may have been understaffed, but they didn't do enough in attack or especially in defense to progress. They now will have to give everything they have in the final months of the Bundesliga season as they look to earn a chance to atone for this year's mistakes in the next Champions League campaign.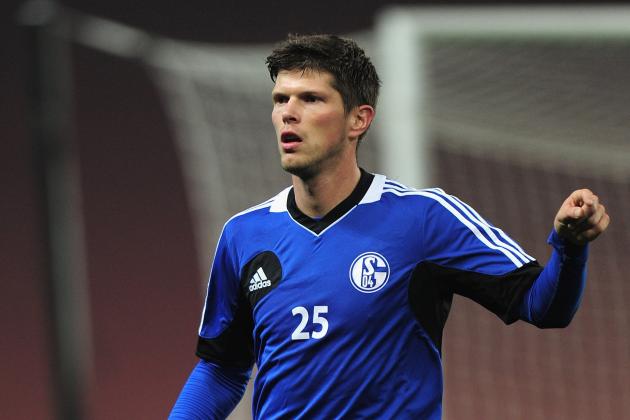 Shaun Botterill/Getty Images

On Tuesday, Schalke were given a good look at just how important Klass-Jan Huntelaar is to their success. Without the Dutch striker in the squad, the Ruhr side had no presence in the penalty area and looked toothless in attack.
Time and time again, Teemu Pukki was played into the box, but the Finland international lacked size and strength and was either wrestled off the ball or forced to pass. In the few instances in which he was able to carve out a shot, his finishing was found lacking. And with Pukki in the box, there was little point in crossing the ball in the air.
Pukki was Schalke's third-choice striker, but the second-choice, Ciprian Marica, is hardly better as a finisher. The fact is that Huntelaar is irreplaceable. He scored 48 goals last season, and takes S04 to the next level in the big games.
Huntelaar's Schalke future was in question until recently, but his decision in December to extend until 2015 has ended speculations of his possible move this summer. The striker's renewal is a huge coup for S04, who frankly would not have been able to replace him.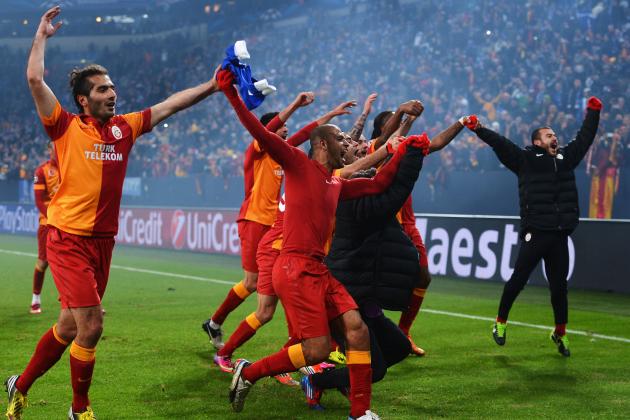 Lars Baron/Getty Images

Perhaps the only thing the separated Gala and Schalke was desire. Burak's goal to make it 2-1 was a perfect example: Howedes didn't fight him enough, and Hildebrand was too hesitant to come off his line and was ultimately caught in no-man's land, leaving the striker with an open goal into which to chip his shot. Burak desperately wanted the goal: He fought, refused to go down, beat the defender to the ball and finished.
There is certainly a hunger in this Gala team, one that makes them better as a team than their players are individually. Hamit Altintop is a tremendous asset to the team, he fully embodies his club's desire, motivates his teammates and can decide games on his own—his 30-yard goal on Tuesday turned the match around.
Looking ahead to the quarterfinals, Wesley Sneijder will only be more integrated into the team and may be a decisive player. Didier Drogba may be in the twilight of his career, but he came up aces for Chelsea a year ago and is always dangerous. It won't be easy for Gala to advance to the semifinals, but it's certainly not out of the question. And it certainly won't be easy for their opponents.