5 Ways the WWE Can Improve Its Midcard Status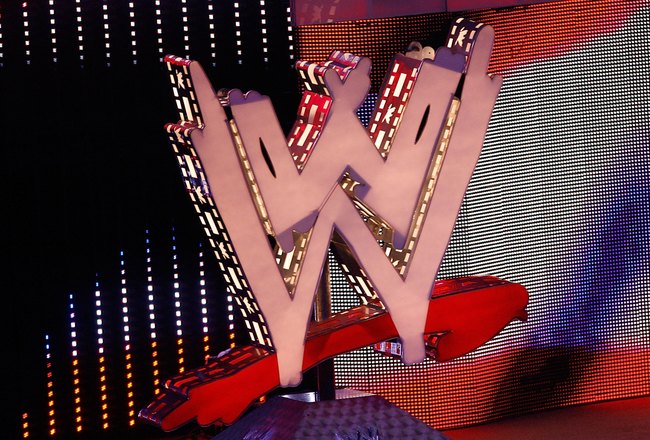 Jim Rogash/Getty Images
The WWE has absolutely no depth to its midcard roster as of right now and needs to improve tremendously before WrestleMania 29.
With just under a month remaining before the "Grandaddy of 'Em All," the WWE has a chance to make adjustments to its roster.
The midcard spots should be the deepest part of the roster, but it currently is the weakest. It's a sad thing to realize that wrestlers like The Rock, Chris Jericho and John Cena were once featured as a midcard Superstars.
Some of the wrestlers, like Antonio Cesaro and Wade Barrett, are embarrassed on a consistent basis. I just want Mike Ditka to say, "Stop it!"
The following are ways the WWE can improve the status of its midcard and its product as a whole.
Make Championships Matter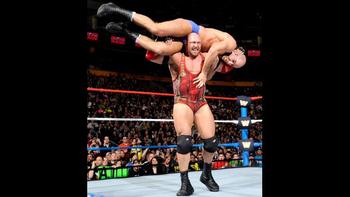 United States Champion Antonio Cesaro dropped another match on Raw two weeks ago. Courtesy of WWE.com
For the last two weeks, both WWE United States champion Antonio Cesaro and WWE Intercontinental champion Wade Barrett have both been embarrassed on WWE television.
These guys are supposed to be champions. But because WWE has become family-friendly television once again, the bad guys will almost always lose. It doesn't matter if they're the champion anymore.
To make the midcard more solid, the WWE should make these championships matter. Both titles are currently jokes.
What happened to Barrett after the match between The Miz and Chris Jericho was absurd. How does a champion get beat up like that and not really put up a fight?
I would have no problem if he was just a regular heel, but for a champion to be embarrassed like that (again) on television?
The WWE has ruined the legitimacy of the Intercontinental title. It means nothing, really, anymore. The WWE has two choices: push Barrett or have him drop the belt to someone else.
If they were to have Barrett lose the belt to Jericho, some credibility would be brought back to the belt. A championship needs to mean something to the company.
Right now, both midcard titles are doormats to current babyfaces.
Heels Need to Be More Competitive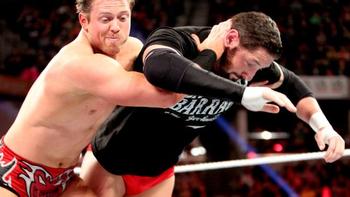 Intercontinental Champion Wade Barrett receives a Skull-Crushing Finale from The Miz. Courtesy of WWE.com
The WWE is a business and therefore needs to market to the fans, but why does that mean that heels need to be jobbers?
Maybe it's because I grew up in the Attitude Era, but a majority of heels aren't really a threat to anyone anymore.
Sure, the WWE has been like this for a majority of its history. Hulk Hogan was unstoppable in the 1980s. Bruno Sammartino was champion for over seven years. Babyfaces rule the WWE.
That doesn't mean that they need to dominate. Part of a good storyline is the babyface eventually overcoming all odds. That means there needs to be a threat to them.
Heels need to be pushing the babyfaces more. I'm not saying they need to win in the end, but they need to win in the process.
Right now, there's only five true heel entities in the WWE. Five!
The Shield, Brock Lesnar, Mark Henry, Jack Swagger and CM Punk are the only real heel wrestlers that the WWE has to offer.
All the others are nothing more than a bunch of jobbers. If the WWE wants considerable depth on its roster, heels need to have more of a presence.
More Matches, Please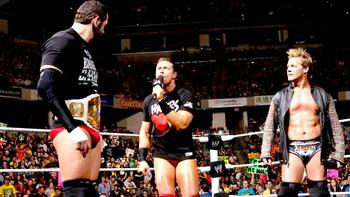 "Really?" Another pointless segment. Courtesy of WWE.com
The WWE has six hours of television during the work week between Monday Night Raw, Main Event and Friday Night SmackDown.
So why do we see some of the same Superstars repeatedly? I've grown sick of Sheamus' act.
Why not give Superstars a chance to build their reputation. Put them on Main Event if they're not going to appear on Raw or SmackDown, and don't put bigger draws on Main Event. Give Superstars equal exposure to fans so there isn't a need to overexpose any of them.
With added exposure, some of these unknown Superstars will receive momentum. There will be a refreshing change of pace to the WWE's midcard status.
The WWE could also cut some of the promos and pointless segments it has had on past episodes of Raw, like Monday's Highlight Reel and movie trailers.
Instead of wasting 10 minutes of everyone's life, have a match instead.
The WWE would be giving the fans in attendance more action, exposing new talent to all viewers and adding to the depth of the roster. It's a win-win-win for the company.
Develop Legitimate Rivalries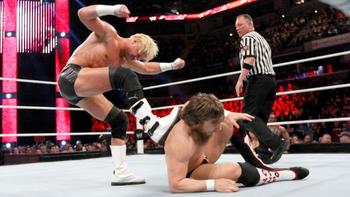 Could this be the beginning of a rivalry for Daniel Bryan and Dolph Ziggler? Courtesy of WWE.com
The biggest thing that's lacking right now in the middle of the card is a legitimate rivalry.
If the WWE could develop and continue a rivalry, it would be in much better shape. It had a decent one going with The Miz and Antonio Cesaro, but that fell off.
Mr. Money in the Bank Dolph Ziggler hasn't had a significant rivalry recently, facing The Miz and then Daniel Bryan in consecutive weeks.
There are no current significant rivalries in the middle of the card. There needs to be a lengthy rivalry for one of the midcard titles. That would hit on two of these points.
This would also bring legitimacy to whomever the champion is and add significant depth to the roster.
Move a Superstar Down the Card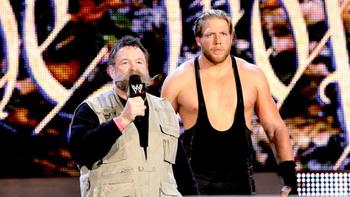 Courtesy of WWE.com
The WWE may be doing this with Chris Jericho challenging for the Intercontinental title, but the main event is pretty stacked right now.
Undertaker, CM Punk, The Rock, John Cena, Brock Lesnar, Triple H, Alberto Del Rio and Jack Swagger are all currently in main events.
It would be a perfect scenario for Swagger to come out with the United States title to go along with his "Real American" gimmick. Moving him down to have a lengthy, legitimate run with the belt would bring legitimacy and depth to the middle of the card.
With Chris Jericho and Swagger as the midcard champions, validity and meaning would be restored to these titles.
Keep Reading