Kansas Basketball: Ranking Jayhawks' Most Likely March Madness Heroes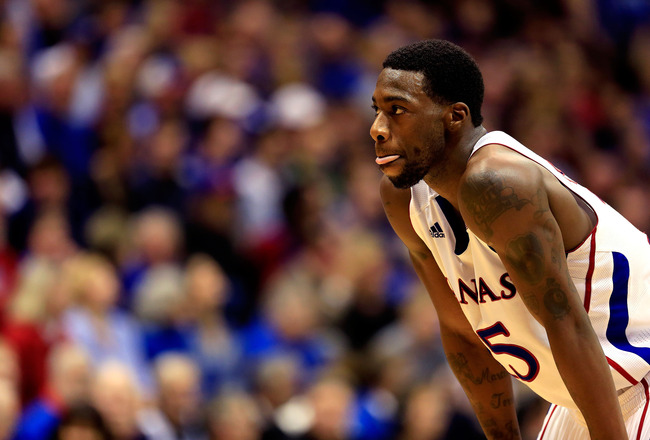 Jamie Squire/Getty Images
First came Paul Endacott and Charlie Black during the title seasons of 1922 and 1923. They were followed three decades later by dominating big man Clyde Lovellette. Danny Manning then captivated the nation in 1988 followed by Mario Chalmers 20 years later.
It is easy to get lost in a dense Phog that features 58 First Team All-Americans and 28 retired jerseys, a Phog that Mario Chalmers was able to navigate as the Most Outstanding Player in the 2008 NCAA tournament.
Chalmers and the others became Kansas legends upon leading their respective teams to titles, while other potential heroes fell short by inches or victim to the Ali Farokhmanesh's of the world. Just ask Michael Lee or Sherron Collins.
This year's Jayhawks will enter postseason play with a diverse roster, one that features a handful of potential heroes who could land in the same sentence as the revered Danny Manning or Mario Chalmers.
5. Travis Releford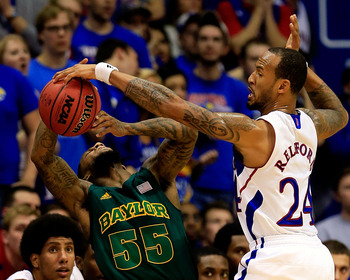 Jamie Squire/Getty Images
The fifth-year senior's importance on both ends of the floor and in the locker room cannot be overstated.
Travis Releford might be as important of a defender as seven-foot shot-blocking machine Jeff Withey but routinely plays second fiddle to the All-American candidate.
He will likely draw the most difficult defensive matchup throughout the tourney, but unfortunately for his heroic candidacy, people remember blocks and steals, not suffocating off-ball defense.
Releford's offense has dipped, but he remains efficient both inside and outside the arc, showcasing the ability to face-up any Big 12 defender. While he has shown a hesitant trigger from the perimeter in the closing weeks of the regular season, Releford has the confidence, experience and talent to hit a game-winner from anywhere on the court.
4. Naadir Tharpe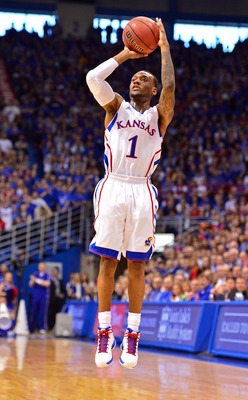 USA TODAY Sports
Naadir Tharpe isn't exactly barrelling into the postseason as he comes off sub-par performances to end the regular-season.
He shoots a team-low 32.5 percent from the field (players with 50-plus attempts) and launches from deep too often, although that quick trigger has been curbed recently.
If Tharpe can protect the ball, a big "if" as he averages a combined 3.2 fouls and turnovers in 18 minutes, he has the confidence and quickness to beat any defender off the dribble.
The inconsistently savvy sophomore does shoot 89 percent from the line and hasn't been afraid to penetrate as the clock runs down. Tharpe remains an excellent candidate to emerge as a March Madness hero if he can slow the game down and trust his quickness.
3. Jeff Withey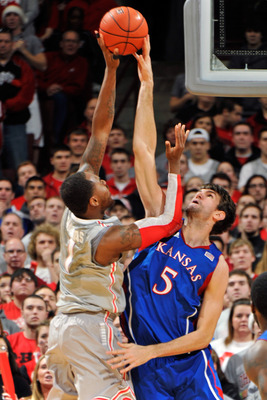 Jamie Sabau/Getty Images
Jeff Withey burst onto the NCAA tournament scene in 2012 with 31 blocked shots, a tournament record.
His offensive game around the rim is drastically improved as he added the cross-lane hook shot to his repertoire, making him near impossible to defend when gaining poor defensive position.
But if he becomes a hero, it will occur on the defensive side. Everyone remembers Kentucky center Anthony Davis as a versatile shot-blocker patiently patrolling the paint, not as a dominant scorer.
Depending upon the Jayhawks' potential matchups en route to Atlanta, Jeff Withey could quietly become a Kansas legend with dominating defensive work around the rim.
2. Ben McLemore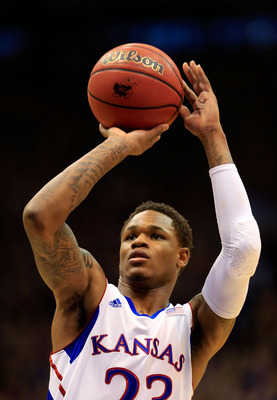 Jamie Squire/Getty Images
Ben McLemore's few and far between two-game slumps were grossly overrated as he remains KU's most dynamic scorer.
While it would have been nice to see him showcase his resourceful offensive game in the closing minutes of losses to Oklahoma State, TCU or Oklahoma, he remains an excellent candidate for late-game heroics.
He shot over 50 percent from the floor, 43 percent from three and 86 percent from the line in becoming a reliable weapon for Bill Self.
A last-second baseline jumper or two during March Madness would beautifully complement the best freshman season in Kansas' 115-year history.
1. Elijah Johnson
Reese Strickland-USA TODAY Sports
Like Travis Releford, Elijah Johnson has an abundance of tourney experience, playing in 12 games over his first three seasons.
The senior combo guard nailed critical shots in wins over North Carolina and Ohio State last March, but many wondered if Johnson could take over down the stretch this season, like numerous Kansas guards had done in years' past.
His 39-point outburst in Ames single-handedly led the Jayhawks to an overtime victory, a victory that had many gushing over his potential to take over during a six-game run to Atlanta.
Johnson finished the season with an inadequate field-goal percentage of 39 and hit only 33 percent of his three-point attempts. However, his relentless pursuit of penetration buckets was unparalleled as he became a reliable off-the-dribble scorer.
Can he repeat a superb tournament performance from another No. 15 and become KU's hero?
Keep Reading

Kansas Jayhawks Basketball: Like this team?