7 Most Underrated Players Currently on Rafael Benítez's Chelsea Roster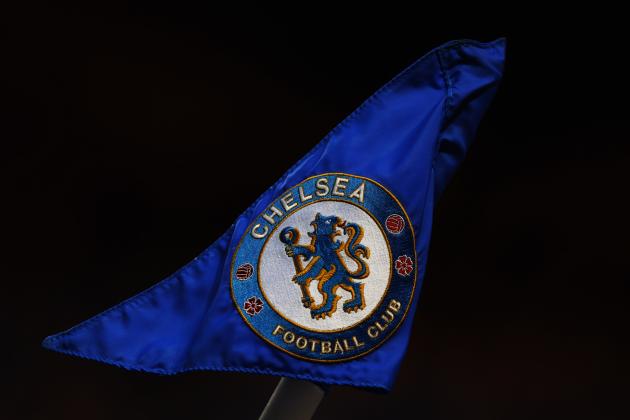 Scott Heavey/Getty Images

It's pretty hard for any players on Chelsea's roster to really be deemed "underrated" with all of the pomp and circumstance—let alone the cash—that goes along with being a professional football player for one of Europe's most renowned clubs.

But some guys get more attention than others.

And, for the most part, rightfully so.

Team legends like captain John Terry, Ashley Cole, Petr Čech and Frank Lampard will always get the lion's share of the press, especially when embroiled in contract disputes as Cole and Lampard can attest to.

Despite this reality, it's often other unheralded players who pick up the slack and help carry their teams when the more high-profile guys start getting older, become injured or lose some of their skills.

Here are a handful of Blues who have had noticeable seasons or shown signs of future promise at Stamford Bridge who, for whatever reason, may not have be getting enough recognition for their contributions to date.
Begin Slideshow

»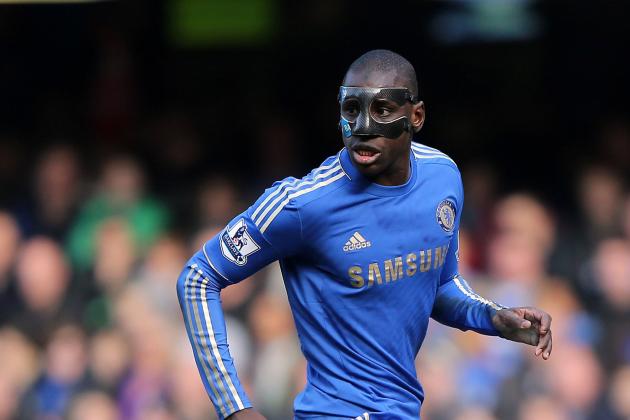 Ian Walton/Getty Images
Someday striker Demba Ba, tied for fifth in the English Premier League with 15 goals scored, will get his chance to shine at Stamford Bridge.
Although Demba Ba hasn't totally torn it up since coming over from Newcastle United early in the winter transfer window in January, it is important to remember the 27-year-old Senegal international's playing time has been limited due to the presence of the team's current recognized starter at striker, Fernando Torres.

When in at the position in Chelsea's 4-2-3-1 tactical formation, Ba has actually looked more comfortable and more fluid than Torres, who since coming to West London two years ago has had trouble controlling balls on the attack and seems to have devolved into a permanent shell of his former glorious Liverpool self.

Playing in another player's shadow usually stifles the growth of an athlete—especially a newly acquired one—but the Blues obviously knew they would be keeping Torres for at least six more months when deciding to sign Ba from the Magpies.

Although a proven talent, Ba also flew a bit under the radar while playing at Newcastle but given the opportunity he—along with Romelu Lukaku and a summer acquisition like Radamel Falcao or Marco Reus—will give the club the kind of depth it needs at the spot to try and compete with clubs like Manchester United and Manchester City in the future.

In his last two years in the English Premier League, Ba has scored 31 goals—16 goals last season for Newcastle and 15 so far this year between the Magpies and Chelsea—and should be considered an elite striker and scorer in the top flight.

Because he isn't just yet shows how far some fans and media have to go in coming to terms with Ba's talent and future impact on both the European champions and the league.

This guy is the real deal.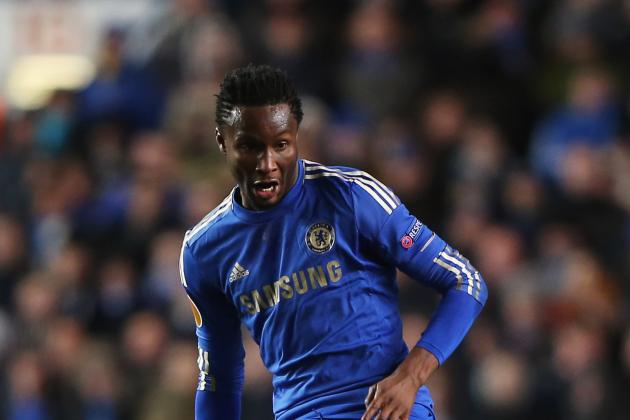 Ian Walton/Getty Images
Things just seem to go better for Chelsea when defensive midfielder John Obi Mikel is in the Blues starting XI.
Defense has always been something Chelsea has taken pride in and when that defense shines, everyone is quick to heap praise on the goalkeepers and the defenders.

In the name of Roy Keane, could a defensive midfielder get a little bit of love? Please?

John Obi Mikel has been a quiet backbone of the Blues defense for years but has often been made the scapegoat by some fans, as it's obviously sacrilege in some Chelsea circles to say anything negative about the great and mighty Frank Lampard.

Now Lampard and Ramires both play in the central midfield but are pretty much used as box-to-box guys so their ability to get some goals and headlines, and thus some recognition, is helped by this reality.

Proof of how valuable Mikel is to Chelsea lies in the fact it decided to loan out the talented Michael Essien to Real Madrid before the season, a real commitment to Mikel.

And the defense showed how much it missed the Nigerian when he played for his native country in its successful run through the Africa Cup of Nations in January.

Now granted, Mikel's passing ability could use a little work and he's scored as many league goals for the Blues as Ross Turnbull has to date, but his value for Chelsea lies as dependable defensive support in front of the back four.

And Mikel has proven he can do that job very well.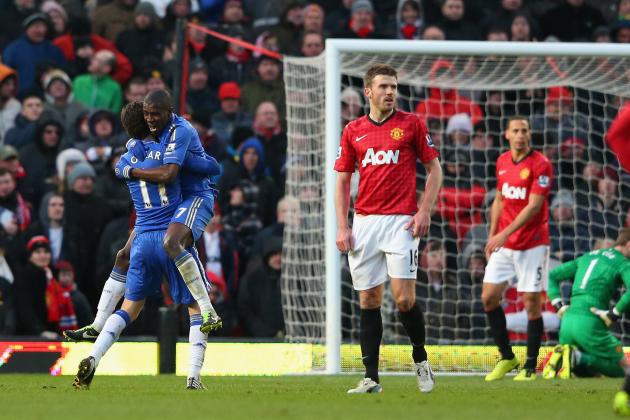 Alex Livesey/Getty Images
Ramires and Eden Hazard celebrate after the Brazilian's game-tying, second-half goal against Manchester United at Old Trafford in Sunday's sixth round of the FA Cup.
One of the most consistent players on Chelsea's roster this season, Brazilian sensation Ramires (four EPL goals) just quietly goes about doing his thing.

But where he's going to do it from match to match on the pitch is anyone's guess.

The versatile 22-year-old, who was signed from Benfica for €22 million in 2010, can and does play anywhere in the midfield from the defensive holding spot to the attack.

Ramires, who may just be the fastest player on the Blues roster and is constantly wreaking havoc on opposition defenses, has a huge upside and is slowly proving himself to be one of the team's most adept passers.

When Mikel came in as a substitute to to replace Lampard on Sunday against Manchester United in FA Cup sixth-round play, Ramires moved up from holding spot to Lampard's position in the central midfield and then promptly tied the game up at 2-2 with a wonderful left-footed equalizer at Old Trafford, essentially forcing the replay.

He may have cost a pretty penny three years ago and seldom gets much attention, but the unassuming Ramires has been a real breath of fresh air at Stamford Bridge this season.
Scott Heavey/Getty Images
Victor Moses brings a certain energy to Chelsea's offense when he is on the pitch and should be a key cog in the Blues plans for years to come.
Like Senegalese Ba and fellow Nigerian Mikel, Moses represents Africa on Chelsea's roster and, like Ba and Mikel, he represents the continent extremely well.

After going on a major summer spending spree and creating a dream line of Juan Mata, Eden Hazard and Oscar, the Blues looked to be set for the future and deadly in the advanced midfield this season.

But, like the club, things started well with the triumvirate but suddenly didn't look so great upon closer scrutiny. The differences in experience and size in the attacking midfield were revealed and Chelsea's much-vaunted "Mazacar" line became a passing phase that was sadly outlasted by rapper PSY's hit 'Gangnam Style.'

And I use the words "rapper" and "hit" loosely there. Really loosely, brother.

But, back to the business at hand, and that business is chirping about Moses being an underrated member of Chelsea's attack and a potential future solid starter.

The 22-year-old, who came over from Wigan Athletic last season, is often deployed on the left wing but has also shown some real promise when playing on the right wing as well.

Like Ramires, Moses is a hard player for defenses to mark and he can often create opportunities out of nothing with his fancy footwork and passing skills.

And Moses showed his flair for the dramatic when he came through with the game-winning header in the dying seconds of the Blues' 3-2 win over Shakhtar Donetsk at Stamford Bridge in group stage of UEFA Champions League play on Nov. 7.

One thing Moses has shown in his somewhat limited playing time for Chelsea is an ability to click with teammates on the attack—especially with Ba, Mata and Hazard so far—and the more minutes he ends up getting on the field in the future, the better for everyone involved.

And hey, if one Moses could part the Red Sea, why can't another one part the Red Devils? (I know, I know. My bad. I couldn't resist the stupidity of it all, celery breath. Please send medication. Quickly.)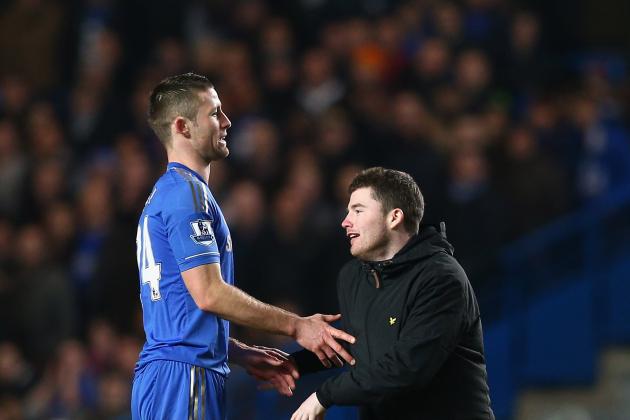 Clive Mason/Getty Images
Chelsea's Gary Cahill has even proven to be a pretty decent usher for the Blues this season.
Maybe outside of Čech, no player on Rafael Benítez's current Chelsea roster has impressed with his consistent clutch play as Gary Cahill.

The 27-year-old Englishman, who was acquired from Bolton Wanderers in 2012, has been a rock on defense and is a huge reason the fourth-place Blues (15-7-6, 52 points) are still even in a race for a Champions League spot next season.

As tough as nails, the vocal Cahill did a remarkable job in his stead of captain Terry during his absence from injury and in terms of leadership on the field, he is probably the closest thing you'll find to the irreplaceable Terry in world football.

Like Terry, Cahill is certainly not scared to throw his body in front of balls and also like the Blues captain, Cahill is great in the air and possesses a strong header and can put the ball in the back of the net (six goals in all competitions).

When talking about Chelsea's defense, it's so easy, and quite natural, to focus on legends Terry and Cole, but along with the aforementioned Čech, the most consistent player on the club this season in my opinion has been Cahill.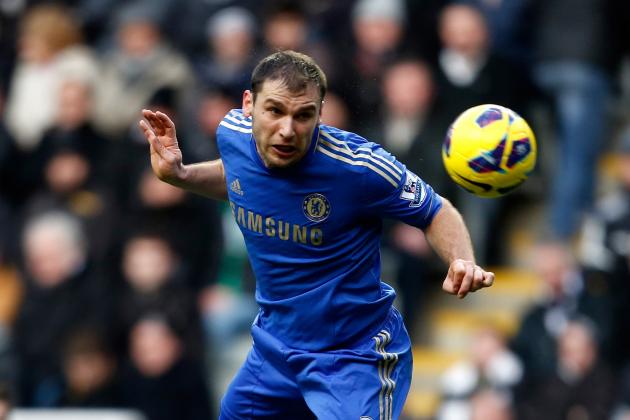 Paul Thomas/Getty Images
Branislav Ivanovic has proven to be a dangerous option for Chelsea on balls in the air over the years.
The guy who probably suffers the most from having to live in the deep and dark shadows of club legends Terry and Cole is poor old Branislav Ivanović.

With both Terry and Cole fighting through injuries and some off-field issues over the last two seasons, one would think the 29-year-old Ivanović would get finally start to get some respect for his play.
But in the constant turmoil that is Uncle Roman's Flying Circus, just staying out of the royal blue spotlight is sometimes the best idea.

Like Cahill, the big (6'2", 190 pounds) Serb brings an intimidating physical presence to the back four, possesses that Chelsea-like fighting spirit and is also a great aerial threat who can score (four goals in the Premier League).

Although he can occasionally have a brain freeze or two, Ivanović's presence at right-back or center-back is often unappreciated, but opponents' forwards can definitely attest to his ruggedness and ability on the pitch.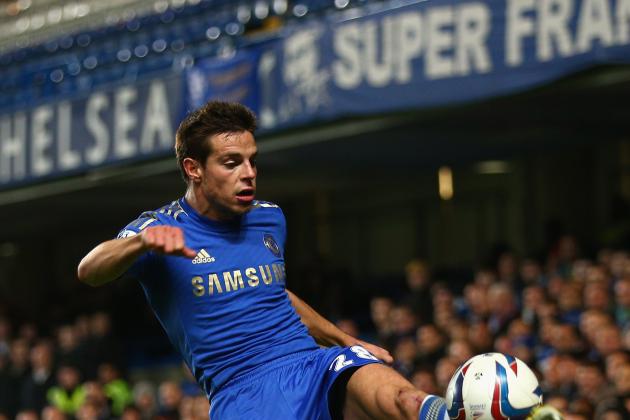 Clive Mason/Getty Images
Cesar Azpilicueta should be a mainstay in Chelsea's back four on defense for years to come.
It took awhile for César Azpilicueta to get some playing time for the Blues after coming to West London from Marseille in Ligue 1 over the summer transfer window, but now that he has, it's obvious what all of the hype was about.

Not only has the quick 23-year-old Spaniard impressed with his defensive and passing flair, but his seamless transition into the rough-and-tumble Premier League has been a welcome sight for Blues fans worrying about a slowly aging defense.

And as well as he has shown he can play at right-back, Azpilicueta may actually be pressing Ivanović for a starting spot at the position, although the first-year man's presence has given Benítez the recent option of using Ivanović, David Luiz, Cahill and Terry all at center-back.

Another nice element Azpilicueta is starting to show in his game is the ability to gel with the flow of the offensive attack (four assists in the Premier League) and even try an occasional shot on goal when the situation warrants.

Once this glorious grape named Azpilicueta—um, "Dave"—ripens and gets used to all his new teammates and they grow together, then he will start to get some recognition as well as three to five goals and five to eight assists every season.

And as the old Paul Masson commercial says, "We will sell no wine before its time."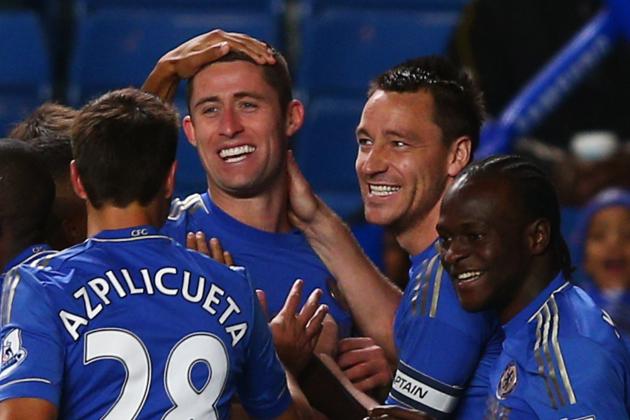 Clive Rose/Getty Images
Cesar Azpilicueta (left), Gary Cahill (left center) and Victor Moses (far right), celebrating a Cahill goal with John Terry (center right) against Wolves in the Capital One Cup, have been three underrated players for Chelsea this season and should make an impact around Stamford Bridge for years to come.
In the end, "underrated" comes down to one's perception of something in relationship to the amount of positive public perception it doesn't seem to get despite its track record.

We often hear about the same old players on the same old teams time after time, and often, unsung guys like Ramires, Gary Cahill, Leon Osman (Everton), Wes Hoolahan (Norwich City) and Michael Carrick (Manchester United)—among a number of others— get the short shrift in the process.

The only way to really tell if a player in any sport is underrated is to watch week-in and week-out and notice the consistency and quality in that player compared to the amount of accolades the mainstream media is giving that player.

If a player continues to produce and become a vital member of his team despite the sparseness of his press clippings, then maybe the "underrated" tag fits.

And one thing's for sure about professional sports players who are "underrated:" their teammates and die-hard fans certainly know and appreciate their real value.


Follow me on Twitter: @KevinStott11